You'd be hard-pressed to find a college football player in recent years who's been villainized by his own fans as much as cornerback Marco Wilson has over the past few months.
He'll always be remembered more for his infamous shoe throw that cost the Gators the game against LSU than anything else he did or didn't do throughout his career. His name will always be associated with choking a game away by making a boneheaded mistake.
More than three months later, the wounds still run deep among Gators fans. The image of him flinging the shoe 20 yards down the field has become a popular internet meme that you can't help but see at least once a day. Popular YouTuber Jomboy Media posted a humorous breakdown of the clip to his channel that has garnered more than 800,000 views. You can't mention Wilson's name on social media or a message board without someone making a snarky remark about the incident.
Quite simply, the shoe toss was an embarrassing moment for the program and its fans, and nothing will ever erase that.
That being the case, Wilson responded on Pro Day on Wednesday by doing the only things he could – turning in an impressive performance and addressing the topic maturely in his first public comments on the matter.
Wilson was the most surprising performer on the field. He ran the 40-yard dash in 4.37 seconds, according to Jim Nagy, an analyst for ESPN and the executive director of the Senior Bowl. He leaped a whopping 43.5 inches into the air to touch the very top of the vertical jump device, a figure that would've tied for ninth in NFL Combine history.
He did 26 reps of 225 pounds on the bench press. For comparison, defensive tackle Tedarrell Slaton, considered one of the biggest and strongest players on the team the past few years, did 27 reps.
"It was pretty exciting to perform these numbers I did today," Wilson said. "I wish I could have ran a little bit faster in my 40. But other than that, I was really happy for what I did. The work doesn't stop here. I've got a lot more work to do, preparing for eventually having to go to an NFL camp."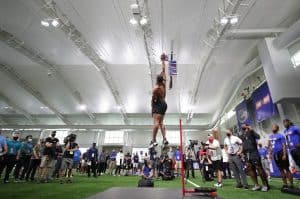 Wilson said he wasn't surprised at how well he did. He spent the past couple of months training at EXOS in Phoenix with coaches Nick Hill and Jonathan Barlow, who he believes are some of the best draft preparation experts out there. He turned in similar performances as the one he gave on Wednesday regularly over the past couple of months.
"I'm just proud of putting everything together," he said. "I knew I was going to excel in every drill. I did all these numbers in training, so I wasn't surprised at all. The only thing I just have to make sure is that I can hit all these numbers in one day. In training, I never have to do everything in one day. I just had to make sure I, boom, hit my mark here, it's time for the next drill and make sure I hit every number I needed to."
UF coach Dan Mullen said he was happy to see Wilson redeem himself somewhat after the way his college career ended.
"Marco's a guy that always has a great work ethic and acts like a professional in what he does," Mullen said. "You saw that today in his time to train to prepare for this moment. He prepared the right way. He was ready to go in that moment. I'm really happy for him. He got to come out there and turn some heads with some of the numbers he put up today.
"He's a very intelligent, great kid, smile on his face. I never had any discipline issue with him in anything that he ever did. Always a guy that would be out putting in extra time and doing what he needed to do to be successful. It was always fun to coach him."
Off of the field, Wilson said the fallout from the LSU game challenged him mentally. He received a bunch of "disgusting" messages on Instagram. Because building a social media brand is a large part of what makes a professional athlete marketable, the solution wasn't as simple as just avoiding the internet.
Wilson adjusted his privacy settings to where he doesn't see any of the hateful messages anymore. Mostly, though, he's just learned to not care about what outsiders think.
"I can't get caught up in the opinion of people who don't matter, who are not working on the field with me, who are not putting blood, sweat and tears in the weight room and everything with me and working every day at practice," he said. "I'm not worried about that. Those people don't know me personally, so I don't blame [you] if you're mad. You don't know me; that's your problem.
"I also learned that the brothers I had on this team, they're really here for me. They didn't, like, beat me up or anything in the locker room. They just talked to me. Then we had a game coming up the next week and just got ready to attack. I just learned, especially early, your mental health is just as important as your physical health because, if you don't have mental health, you're not going to be able to just accomplish the things you want to accomplish."
Slaton, who was also a teammate of Wilson's at American Heritage High School in Plantation, Florida, was impressed with how Wilson conducted himself in the days following the LSU game. He blocked out the noise as much as he could.
"He always told us to never bring the negative energy to him," Slaton said. "He don't want to see any of the negative. So, we always try to stay out of his way with bringing negative energy to him and trying to show him what this person is saying about him. I really believe that he just came out and showed them that he is what he is. He's a playmaker."
The shoe throw has also been brought up to Wilson by several NFL teams. Before an organization decides to potentially invest millions of dollars into him, they want to make sure that it was an isolated incident and not a predictor of things to come. He hasn't shied away from the topic when asked about it.
"It's part of my life, and things happen," Wilson said. "I just answer them in the way I need to, which is the LSU game, [I] had a lot of energy, made a good play. I was excited and just made an unfortunate mistake. That's how that is. I wished it never happened, but things happen. Everything's not going to go your way.
"If you watch my play, people might think I have mental issues, like, character issues, but that's never the case. I've never gotten a personal foul like that in my life. You can cut the film, break down and see that. I'm unhappy that it happened but happy at the same time because it taught me a lot of lessons for moving forward in my life."
After a poor 2020 season, Wilson's draft stock has taken a tumble. He looked like the next in Florida's line of first-round cornerbacks after a stellar 2017 season that saw him lead the Gators with 10 passes broken up. Now, even after his terrific Pro Day performance, his ceiling is probably late in the third round.
Wilson doesn't care, though. This is just the latest bit of adversity standing in his way. He tore his right ACL as a junior at American Heritage. He tore his left ACL in the second game of his sophomore season in college in 2018. He gave up some deep balls in 2020 prior to losing his composure against LSU.
After all of that, Wilson will just be grateful to get a chance to play anywhere in the NFL.
"I've honestly never looked at any draft boards," Wilson said. "I don't care about that type of stuff. I honestly don't care about where I get drafted. I just know I need a foot in the door for the NFL. I know once I get in the NFL, I can show the ability I have. I know I can play. I know I can start on an NFL team. I know I can make plays. I'm not worried about being CB1. Everybody said they get caught up in that. I'm just here to work. I'm just here to elevate my game."