The 2014 season is right around the corner and this season is all about Jeff Driskel and the Florida Gators offense. Kurt Roper was brought in to change things up offensively and Driskel has looked the part of the five-star recruit. Will Muschamp and Jabari Gorman noted that Driskel hasn't thrown an interception in any team drills this offseason and that the redshirt junior's decision making has taken a big step forward.
While there is no question about who will start at quarterback for Florida, there is a huge question mark about who will back him up. Driskel's injury history leaves reason to be concerned and the Florida coaching staff knows they need to establish a backup and get that player ready to play meaningful snaps this season.
They don't, however, know who that will be just yet.
"We'd like to (play him), by the second quarter, whoever ends up being the guy and go from there," Muschamp said. "I think that that, again, giving game situation, kind of like we did our first year."
The "first year" that Muschamp is referring to was his first in Gainesville. John Brantley was the established starting quarterback but the Gators used a freshman Driskel in the season opener against FAU and again the next week against UAB.
Kurt Roper used two quarterbacks at Duke and it was presumed he would carry that over here at Florida. While Florida may use two quarterbacks, don't expect to see a big timeshare at the position according to Roper.
"You know, really where it all started, (was when) Sean Renfree became our starting quarterback at Duke. Sean was obviously a heck of a quarterback; he's with the Falcons right now. But his skill wasn't running the football," Roper said. "It wasn't going to be zone read or quarterback powers or any of that, it wasn't really his skill. So we felt like those were good situations to bring in Brandon Connette at that time to get our numbers right in certain situations and run the football. So we felt like it was a package that we needed in low red, short yardage, that type stuff."
Driskel, unlike Winfrey, is adept at running the football. He's looked much better as a passer this offseason, so the need to play a second quarterback to "get numbers right" situationally isn't as pressing at Florida as it was for Roper at Duke.
Still, with a plan in place to get a clear backup for Driskel. Skyler Mornhinweg, Will Grier and Treon Harris have all competed this fall to earn that job but there is no clear distinction between them, or at least, not a clear enough distinction for one of them to seize the job.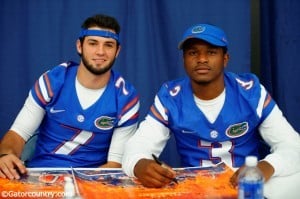 Muschamp mentions three quarterbacks but based on the reps this fall, the race is really down to just Grier and Harris. Both are sons of football coaches and played for their fathers in high school. Both had success, winning state championships and setting records at their respective schools. They are similar in many ways but very different players on the field.
"I definitely see they want to give receivers a chance to make plays," receiver Valdez Showers said. "They both have nice touch on the ball. Grier obviously has a quicker release. Treon has great touch. They definitely put the receivers in a position to make plays."
Time is running out to make a decision. The Gators will kick off and begin the season in just eight days. That's eight days to make a decision on who will take snaps behind Driskel.
Gator fans learned how important a backup quarterback can be last season. Hopefully, this season, the backup quarterback won't be forced into a starting role just three weeks into the season but he will play and a decision needs to be made soon in order to get that player the necessary reps with the first team and second team offenses.
Valuable time is ticking.
Follow the upcoming Florida Gators football season by joining Gator Country.