Yesterday we brought you a little film breakdown of why Florida was successful on a third down running play to Valdez Showers. Using screenshots we can better explain why Florida used certain personnel, what they were trying to accomplish with the play, and why the play was successful or unsuccessful.
We had a great response to the breakdown yesterday, so we decided to press our luck today and breakdown two plays that were most certainly unsuccessful.
Florida gave up two sacks to Toledo; both resulted in Jeff Driskel fumbling the ball and consequently, the Gators lost one of those fumbles. Sometimes sacks can come from a breakdown in the protection and other times there is just an outstanding play from an opposing defender. Both instances happened on separate sacks by the Rockets on Saturday.
Our first play came in the second quarter, right after the defense had stuffed Toledo on a 4th and 1. The Gators offense took the field on Toledo's 36-yard line. The defensive stand had ignited the crowd and momentum had swung in Florida's favor in a big way.
Florida comes out in "20 personnel." This means Florida has three wide receivers (Demarcus Robinson, Quinton Dunbar and Trey Burton), two backs (Gideon Ajagbe and Mack Brown) and no tight ends.
There are three things to pay attention to in the first image, Tyler Moore and Mack Brown (highlighted in blue) and Toledo cornerback Cheatham Norrils (highlighted in red). Norrils shows blitz pre-snap, something that Driskel, Moore and Brown should have picked up on. The call was for a play action pass, so once the ball is snapped, Driskel's back will be turned to Norrils and he won't be able to see the corner blitz coming.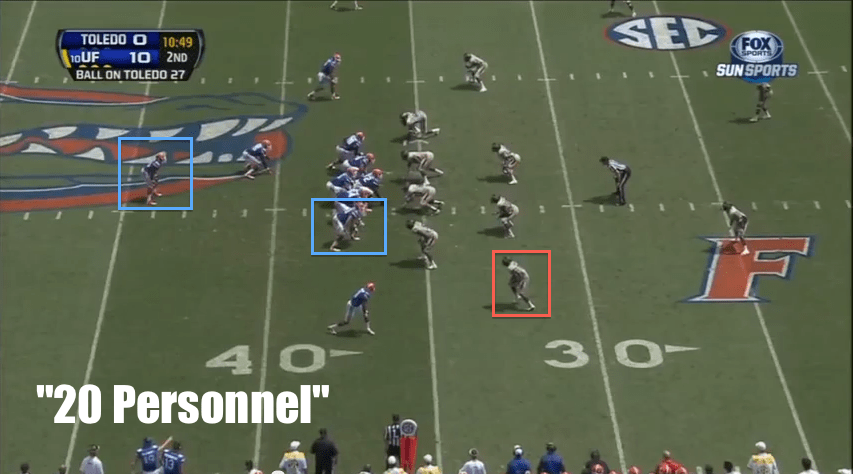 The first problem here is Tyler Moore locking on to his man, Jayrone Elliot (we'll see him again soon) rather than allowing him to feed inside to Koehne who didn't have a man to block. Picking up the corner isn't Moore's assignment on the play but he could have recognized the blitz pre-snap and made an adjustment. Moore is the least at fault on this play.
The next issue was Brown's decision. Based on the way Brown reacts, the play called for him to go out for a pass to be a dump off option for Driskel. For a split second it appears that Brown recognizes the blitzer and almost comes over to pick him up but instead chooses to run his route, leaving Driskel wide open for a sack. Both Driskel and Brown see Norrils coming (red arrows) but neither made the right choice here.
Finally, Driskel recognizes the blitz coming (you can see that in the image) but rather than tucking the ball and running, he hangs in the pocket too long and tries to make a play. Driskel didn't protect the football and Norrils is able to poke it away and Toledo recovered the football.
This is the kind of pass protection issue that has kept Brown off of the field his first three seasons in Gainesville and this ball protection shows that while Driskel has made progress in the offseason, he still has some things to work on moving forward.
The second sack wasn't a result of anything Florida did wrong, rather a player on Toledo just making an excellent play. The second sack came on an obvious passing down (3rd and 8) and Florida further tipped their hand by going with an empty backfield.
I'm not positive what Florida calls this personnel grouping with Driskel in shotgun but a generic football term for this personnel would be something like "empty left 32 gun." Again, every coaching staff uses different terminology for the same type of personnel grouping. This personnel signifies that there will be no backs on the field, one tight end and four wide receivers. Clay Burton is the tight end on the play but he is playing off-line and standing up.
On this play the defensive end Jayrone Elliot (told you we would see him again) gets an incredible jump on the snap. He might have seen something or recognized the cadence because the way he jumps off of the ball is simply outstanding. D.J. Humphries did everything he could here but he never had a chance to get in front of Elliot. In the image below, notice where Elliot is compared to the rest of the defensive and offensive line (red arrow).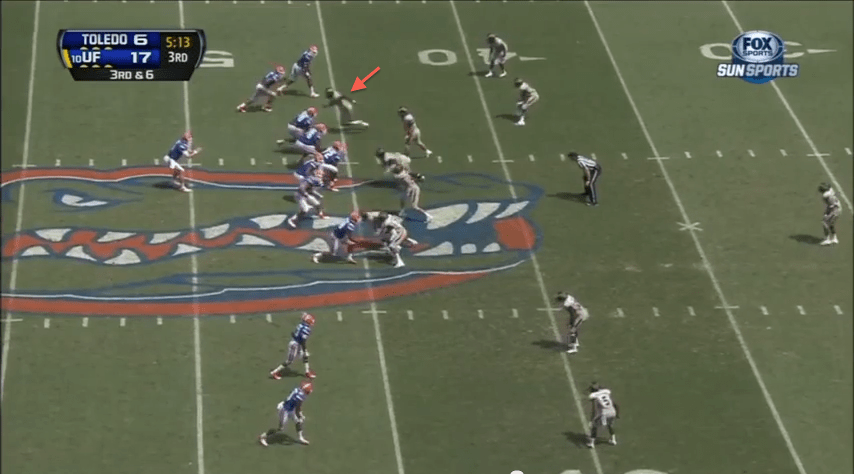 D.J. Humphries got great depth in his first step but with the kind of get off that Elliot had on the play, there wasn't anything Humphries could have done on the play. Elliot is faster and more athletic than Humphries and with the head start he got off of the line, Humphries was helpless on this play.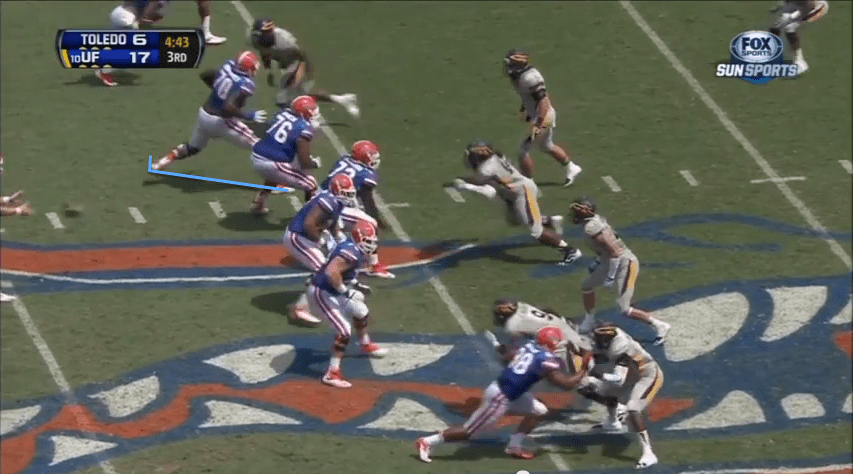 In the image below you can see that Humphries did everything he could to get in front of Elliot. With the rest of the offensive line holding their blocks, Driskel should have felt the pressure and stepped up into the pocket. He doesn't, Elliot gets around Humphries and Driskel is sacked and looses the ball. Ian Silberman was able to jump on the fumble but the drive was over and Florida was forced to punt.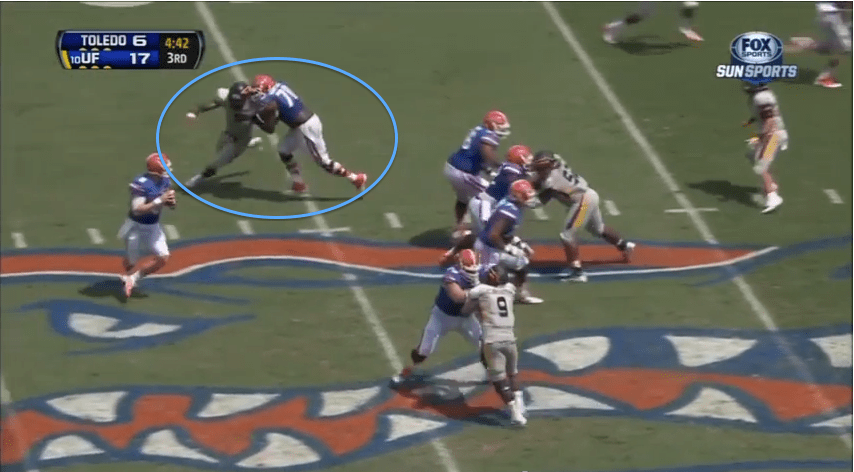 Jeff Driskel told the media on Monday that he knows that teams will go after him after he put it on tape that he will put the ball on the ground when hit. Driskel needs to work on ball security and continue improving his pocket presence. The first is an easy fix, the latter, not so much.