It has been an eventful week and, most importantly, we are only 5,875,200 seconds (give or take) away from the start of college football. Enjoy and leave your comments!
2008 Gators Not The Best Ever. Maybe Top 5…
On June 12th, former Gators head coach Urban Meyer spoke at the "Sound Mind Sound Body" camp in Detroit, Michigan.
It's a pretty good speech, in my opinion. Urban Meyer does a good job telling stories and interacting with camp participants. This speech alone shows you exactly why he is such a great motivator and great recruiter.
While his speech his worth watching, I want to focus on one small segment of the speech. About three-fourths of the way through the speech, Meyer says, "I've been a part of a couple great teams, I think the best team to ever play the game in '08 (at Florida)."
While that Florida team was unbelievable, there are at least three teams that are better than them, and probably even more.
In my opinion, the 1995 Nebraska Cornhuskers team that destroyed the Florida Gators in the 1996 Fiesta Bowl not only averaged 50-plus points per game, it played four top-10 teams never winning by less than 23 points, and had a spectacular defense that held Florida's incredible vertical attack to just 24 points in the National Championship, while throttling back and only scoring 62 themselves.
You can also look at the 1971 Nebraska Cornhuskers, 1972 USC Trojans, 2001 Miami Hurricanes, and 1999 Florida State Seminoles as teams that were also likely better than the 2008 Gators.
Do not get me wrong. The 2008 Florida team is and will always be considered one of the greats, but you cannot lose a game to Ole Miss and be considered the best team of all-time, no matter how well the team bounced back.
Was it the best team in Urban Meyer's career? Yes, absolutely. Was it the best of all-time? No.
Attendance Problems Go Global
So far, only one game (Argentina vs. Bosnia-Herzegovina) at the 2014 World Cup in Brazil has sold out and had fans fill up 100% of the stadium, while the rest are struggling with no-shows – something Florida fans have noticed over the past few years. Although the World Cup features the best 32 teams in the world and only happens every four years, fans are choosing to not attend and not re-sell their tickets either – even the best match (Spain vs. Netherlands) only had 92.8% of the seats taken up by fans.
The biggest issue is not just a lack of ticket sales; it is a lack of people showing up that DO have tickets. Florida has this problem, particularly in its student section.
The debate over the drop in attendance has been carried on ad nauseum, but if the most popular sport in the world is struggling with attendance in the fifth most populated country in the world, that will add about 600,000 tourists during the tournament, then there is a true problem.
The debate over the stadium experience will be one that is at the forefront of sports over the next decade. How will the stadium experience be improved? Should stadiums shrink in size? Should there be more comfort built into stadium seating? Is wi-fi the most important addition to any stadium that does not currently have it?
A Clean Rap Sheet for Muschamp
For the first time in a very, very long time the Gators will have had a year without a an active player getting arrested – if you do not count the silly arrest of Antonio Morrison for barking at a dog last July (a case that was later dismissed by the state attorney). The Gators last legitimate arrest was June 16, 2013 when Antonio Morrison was arrested for punching a bouncer in the famous "I am Antonio" debacle.
While there are a lot of things wrong in the Gator football program right now, team disciple seems to be getting much better and academic standings have improved under Muschamp. You can attack Will Muschamp for schemes, recruiting, coach selection, play calling, team management, lack of composure, poor press relationships, and the like, but you cannot hate on him for putting academics first and focusing on developing better people, not just better players.
Heat Torch(ed)
Much to my chagrin, the Miami Heat lost the NBA Finals to the San Antonio Spurs, in what in was the greatest team performance in an NBA series that I have ever seen. The Spurs were better shooters, better passers, played better defense, had more hustle, and seemed like they really, really wanted to win – whereas the Heat, well, they blew a 16 point lead in a quarter in the deciding Game 5.
Changes need to be made – big changes. The team needs to convince LeBron James not to opt out of his contract, figure out a way to pay Dwyane Wade and Chris Bosh, find a new point guard, and get younger across the board. How will they do that? I'm not exactly sure.
It is easy for us to tell Chris Bosh and Dwyane Wade that they should take less money, but why should they? They signed reduced contracts four years ago that hit each of their bottom lines by about $11 million, so asking them to take further cuts would be tough. This is the first time in NBA history that three perennial all-stars have gotten together and absorbed such a large percentage of a teams cap space. Their decision will likely set a precedent of how players in the future may handle a similar situation. The best example is looking at Tim Duncan, Tony Parker and Manu Ginobilli whom all took pay cuts to play together. But should Chris Bosh and Dwyane Wade follow suit after sub-par years when they could instead make $20 million by keeping their current contract?
The Heat have a major issue on their hands, one that transcends just sports but basic human decision-making and determining how important taking pay cuts to build a better team versus accepting the money you signed in a contract four years ago.
Never, Ever Do This.
If you meet someone famous that plays for one of your rivals, be smart and do not do this. You look silly and people will make fun of you, and oh yeah, that you make that fan base a laughing-stock. Be smart, use your head.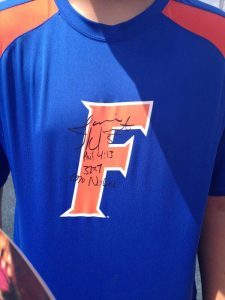 Random Piece of Americana in Honor of the World Cup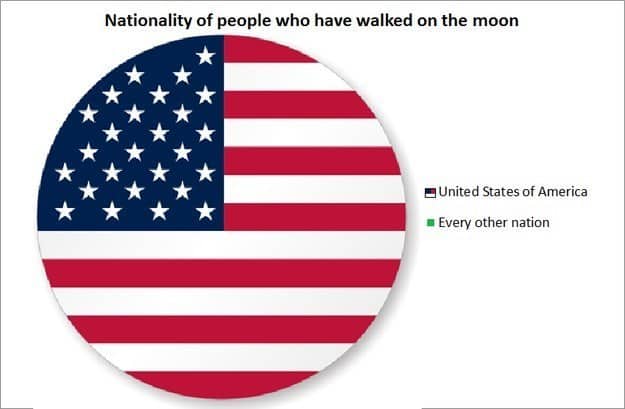 (h/t BuzzFeed)
Must Read Articles of the Week
Who Sang it Better?
Country music singer Josh Kelley recently released a cover of "Mandolin Rain" a song originally sung by "Bruce Hornsby & The Range".
Bruce Hornsby & The Range are known most by their song, "The Way It Is", which later became the inspiration for Tupac's "Changes" song, and was heavily sampled throughout the song.
I have been hearing "Mandolin Rain" a ton on the radio recently, so now it is your choice – who sang the song better?