Head coach Will Muschamp met with the media Monday and talked about how Florida's odd front is shaping up.
In basic terms, an odd front refers to the number of down defensive linemen. An odd front is when there is an odd number of defensive lineman. In juxtaposition, an even front would be when there is an even number of defensive linemen. The most typical even front is a 4-3, four defensive linemen and three linebackers.
Florida's base defense is a 3-4 or often a 3-3-5, an odd defensive front by personnel grouping. Typically, Florida will line up in what appears to be a 4-3, technically it is – there are 4 down linemen. In actuality it isn't, because the fourth man on the line of scrimmage, shown here in the orange box, is a linebacker, Lerentee McCray: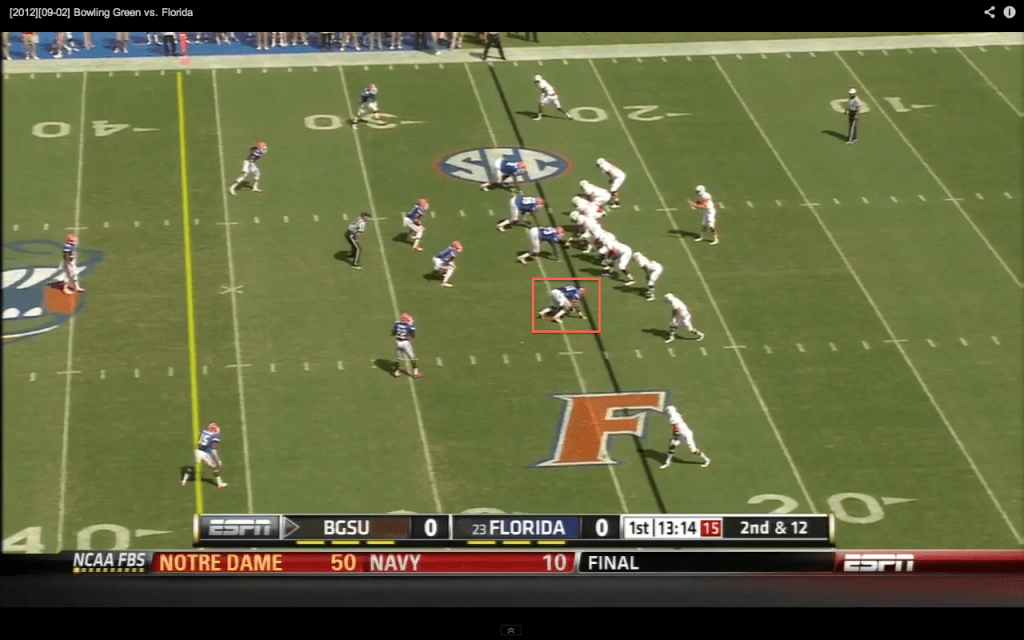 The BUCK linebacker position is a hybrid linebacker/defensive end, many times the BUCK will have his hand in the ground and blitz, sometimes he will drop into coverage like on this play again, in the orange box: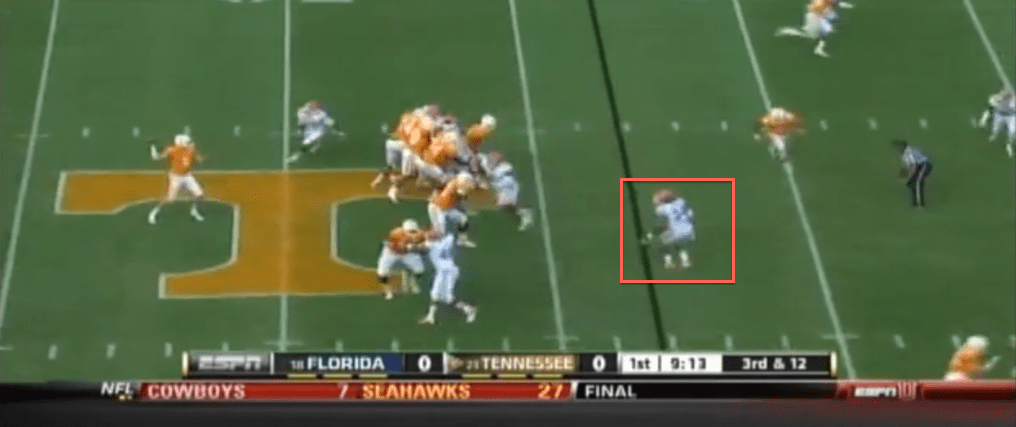 McCray started with his hand down on that play, feigned blitz, stepped back into the throwing lane and ended up intercepting the pass. Tyler Bray never had a chance on the play to make a good throw because he didn't expect McCray to be there.
Florida trots out 3-4 personnel, but routinely lines up in what looks like a traditional 4-3 alignment. Muschamp talked about having the ability to go odd this upcoming season.
"Well, you know, really from the standpoint of personnel, I think the odd man front fits us very well," Muschamp said.
This season, Dominique Easley will slide from his defensive end position inside to play nose tackle. The new look gives Florida a lightning quick option at nose that may be able to beat most centers off the ball with his first step when he's lined up directly over them. nose tackle play is what can make, or break the three-man front.
"You need to have a good nose, which I feel like, when we're in a pass rush situation, Dominique Easley would play the nose. In run down situations, right now, Damien Jacobs and Leon Orr would play the nose," Muschamp said.
Florida will still have a BUCK, it's a staple of Muschamp's defense, but to create an odd front, it may place him in more pass coverage sets, standing up at the beginning of the play, the front will then be a typical 3-4 that you're used to seeing.
"The thing you've got to have in an odd front, you better have two really good outside linebackers and I think we do in Ronald Powell and Dante Fowler," Muschamp said.
As the old adage goes, football is a game won or lost in the trenches, with Florida's ability to play either odd or even fronts, they're in good shape along the lines of scrimmage.