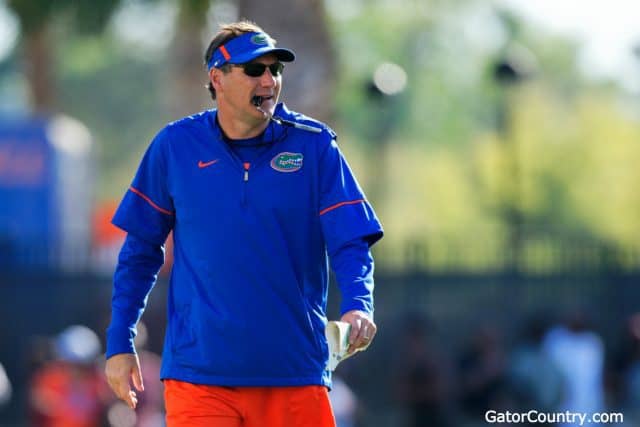 As the Florida Gators begin their first spring practices under new head coach Dan Mullen, a new era has begun. An era of toughness, an era of intensity, and most importantly, an era of confidence from the head man – something that has been lacking in Gainesville for the last seven seasons.
Since he was hired in November from Mississippi State, and throughout numerous press conferences and "Gator Club" meetings, it is not hard to notice Mullen's confidence in his ability. He accepted the Florida job knowing the expectations and mentioned countless times that he "embraces" those. Former Mississippi State quarterback Tyson Lee told Ryan Young at SEC Country, "He had a confidence that I think people followed. He had a confidence that I think players fed off of."
And Gators fans should be hopeful – because Florida has a confidence problem, especially on the offensive side of the ball.
Now, this is not an indictment on individual players and their individual confidence, it is collective group confidence that they can accomplish greatness.
Despite a roster of where nearly every offensive player ranking in the top-500 player rankings on Rivals and 247Sports, including multiple in the top-10 position rankings, they haven't been able to put it together on offense.
And it's not just the current roster, it's been the past eight years. In fact, current seniors were 12- or 13-years old when the Gators last had an offense that ranked higher than 83rd in the country.
Over those eight years, the Gators have only had two 1,000+ yard rushers; they have never had a receiver catch more than 810 yards in a season; and in fact, the Gators scored 54 points less points over the last two seasons than the Gators scored in Dan Mullen's last season at Florida as offensive coordinator (2008).
There has been a noticeable lack of confidence in their assignments, knowledge of the playbook, and in each other.
You'll notice the head hanging. You'll notice the cryptic tweets. And you'll notice a lot of players standing by themselves or staring off on the sidelines during games.
And you know what, confidence comes from leadership – and that's been missing.
Previous head coaches struggled with confidence, they struggled to engage and grow leadership, and they lost the locker room.
Mullen has already begun to engage leadership issues on the team, bringing back the "Leadership Council", something that has been missing since Urban Meyer "retired".
And if Dan Mullen can do one thing this spring, it will be to instill confidence that the current players are capable of being high-performers because these are the same players that Alabama, Ohio State, and Clemson recruited, too.