I am not a Debbie Downer, nor do I like taking the wind out people's sails, however, when I saw the news that the Florida Gators would open up eight of their 15 spring practices, I saw too much excitement.
Many fans quickly opined how excited they were or how this would allow for some true checks and balances on the coaching staff. They were excited to see the installation of Kurt Roper's offensive scheme and see the return of Dante Fowler, Vernon Hargreaves, and the rest of the defensive superstars. In fact, a few were excited to even watch the kickers and punters to see how well they have improved!
My impression, conversely, was a very resounding, "meh".
Now, sure, having the opportunity to sit outside in the warm sun and enjoy football is never a bad thing, but certainly the thunderous applause from the Gator faithful seems like a bit of an overreaction and I will try to show why below.
At its very core, spring practice is very simplistic, very boring, and is not appealing to the average fan.
Each team is allowed only 15 spring practices (plus a spring inter-squad game) over 34 consecutive calendar days. Of those 15 practices, only 12 of those practices may permit physical contact (none early than the third practice) and tackling is only allowed at eight of those twelve sessions, and of those eight practices with tackling, only three may allow 11-on-11 scrimmages amongst teammates. Therefore, only 20% of the total number of practices allowed, include any actual scrimmage with tackling, and of those practices that allow it, scrimmages usually take up less than 20% of the total practice time. Therefore, at a total of 60 hours of practice time, at most about three-and-a-half hours of time is dedicated to scrimmage time – and since fans are only invited to eight of 15 practices, what is the likelihood a fan will see any of this time at all?
There is a strategic reason why the Gators coaching staff will limit the inferences you will be able to draw from practice – they do not want to deal with fan overreaction.
For example, if the coaching staff focuses on positional drills during open fan practices and skeleton offenses/defenses fans will not immediately run to message boards or Twitter and complain about a lack of quality offensive line play or defensive pass rush – because they did not see either. They will also likely applaud quarterbacks Jeff Driskel, Skyler Mornhinweg, and Will Grier for making deep passes, even though no one was rushing them. They will see how fast linebackers run in pursuit drills, although no one was there to block them. They will see how hard each running backs hit the hole; likely because it already exists and they do not need to wait for the offensive linemen to create it for them. Ultimately, fans will leave excited and Will Muschamp solved a public relations problem.
Further, spring practice is almost purely a coaching period, not strategic game day play installation. For those that have been to a spring practice, know that the practice has a lot of different drills and more teaching than pure football. If you enjoy watching coaches physically move the hips of a defensive back, or changing the hand placement of an offensive lineman on the chest of a defensive end, or prefer watching a wide receiver work on their cuts rather than battling a defensive back, spring practice is for you. But, if you are a casual football fan, spring practice may be rather boring for you, and in fact, most will probably not understand much of what is going on. Certainly, that is no slight at the average college fan; in fact, most terms are not terms that most fans use in everyday language. You will hear coaches talk about gap play and use words like 0 gap or 8 gap. Maybe you will hear "arc block", "flanker", "fold block", "jab step" or any number of other terms that will likely confuse most, and certainly are not useful to most football talk, unless you, of course, are playing.
Finally, the pace and set-up of practice makes watching practice nearly unwatchable. The "Sanders Football Practice Facility" has three football fields, two full-length fields that are natural grass and one has artificial field turf. With that in mind, Florida has to preserve the grass of each field, so often each position group is scattered throughout each field, while the kickers and those who are fighting through injury stay on the far field, usually riding exercise bikes. The picture below shows you the set-up of practice and how impractical watching can be.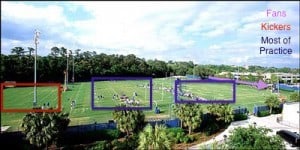 The fans are only allowed to stay on the far east side of the facility, with only select bleacher seats available. Then, depending on the day, you may see the players warm-up on the east field or the middle field. Next, you will see position groups break up half on one field and half on the other (hopefully you get the fun groups!). The groups that split up usually head down to each end-zone, with sporadic groups that run drills in the middle of the field – so actually, sitting in the bleachers gives you a full perspective of the fields, but lack of perspective on individual player groups. Finally, the groups will switch drills and switch sides of the field every 7-15 minutes depending on the drill length to another drill that may or may not tell you anything about the skill of the player or the future of the Gator football team.
Again, if you enjoy watching football drills certainly spring practice can be for you, but if you want to see beautiful football happen, you will not see in spring practice and for that reason the excitement of watching spring practice does not simply make sense to me. Sure, you may have a quick glimpse of the Gators offense, but it likely won't be pretty. Sure, you may see how well a player has recovered from injury, but it does not mean much if there is no one rushing or tackling them. Sure, you might get a quick football fix, but it won't be very exciting.
I know fans are excited for the opportunity to pick apart each of the eight open sessions, but tread lightly, because what you are watching is likely not all indicative of what you will see in the summer or fall.