Divorce is hard, but when a marriage becomes toxic — not just for the people involved in it but the people around them — it can be necessary.
That's where the Florida Gators and Will Muschamp were five months ago. Four years of the same fights, always beginning with the words "worst loss since", "fewest points since" or "worst margin of defeat since", and the Gators knew it was time to move on. It was the right thing to do for both involved.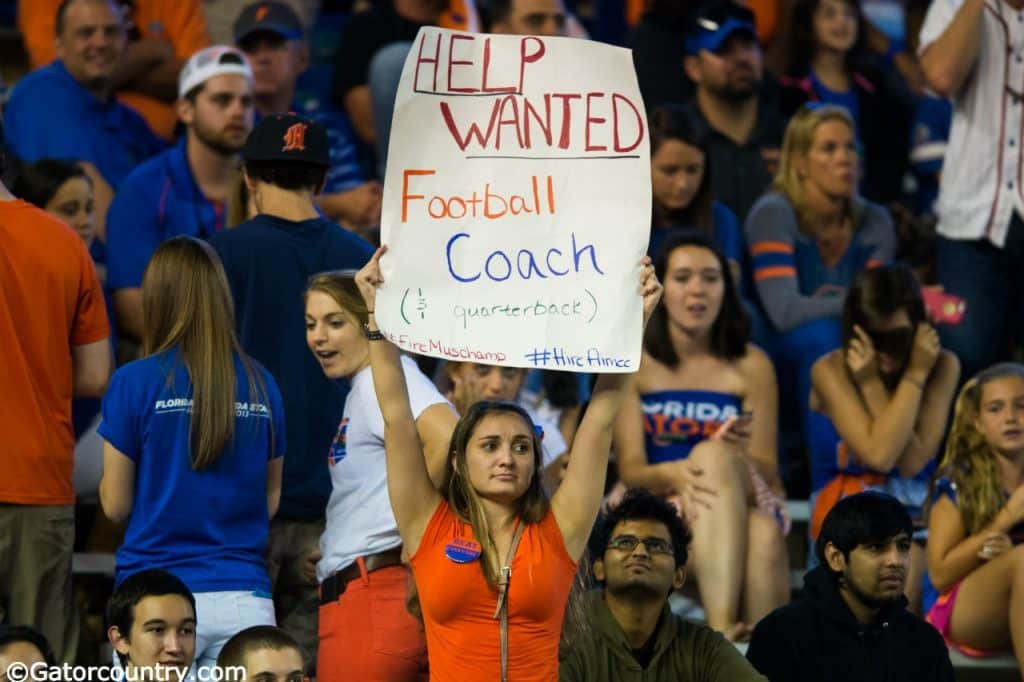 Just because it was right, doesn't make what comes next easy. You'll admit, the news that Muschamp would be taking a job in the SEC caught you off guard. It's never easy seeing your ex with someone new, especially when it's someone in the neighborhood.
Florida fans forgot about it, though, when a new love interest came into their lives. Jim McElwain was stalked outside of his home in Fort Collins, Colorado as he and his wife played host to Florida Athletic Director Jeremy Foley and UAA brass. You followed Foley's plane back to Gainesville, without McElwain, and couldn't tell if your new love interest was rejecting you or just playing hard to get. Then it came. A new marriage after just over a week of dating — things are accelerated in the high stakes world of college football.
McElwain instantly won you over with his résumé. A national championship, Greg McElroy, Mark Ingram, Trent Richardson and a turnaround of a program in Colorado State that had lost so much it had become expected and even accepted.
At his introductory press conference, McElwain boasted, "You got to understand this. I believe I can win with my dog Claribelle. That's the attitude. There's good players here. That's just our responsibility to get that going."
Then, the recruiting whirlwind that saw the Gators go from an afterthought, thanks in larger part to their former fling, to a top-10 class. In just a few short months Jim McElwain had Florida fans swooning,
Just when Florida fans thought it couldn't get any better, their new beau offered up a jab to his predecessor. You see, on his way out, Muschamp made a point to let fans know that he was leaving good players on this roster. We'd heard for two years — even from Foley — that the program was headed in the right direction. That "right direction" is what spared Muschamp's job in 2013 and Muschamp wanted to make it clear that the new guy wouldn't be able to use the cupboard is bare excuse that he was afforded when Urban Meyer left, no. "They've got a deep and talented roster, so don't let that new guy tell you he ain't got any players," he said. "I can tell you right now, there are some good football players in that locker room."
Sure, there are good football players, but Florida is currently trying to finish a spring football camp with seven offensive linemen (six with the injury to Rod Johnson last Friday), two scholarship running backs and four linebackers. You do the math. Those are the types of numbers that caused the Orange and Blue Debut fiasco two years ago when the Gators — and Muschamp — held a glorified practice of a spring game that left everyone involved with a bad taste in their mouth.
McElwain didn't dispute the fact that there are good players in the locker room, especially on the defensive side of the ball. He did, however, offer up his take of what kind of house the ex was running before he left.
"Quite honestly, the hand we were dealt is really insufficient at some of the areas," said McElwain. "And yet, at the same time, that's what you have."
Preverbal shots fired.
With Auburn's spring camp underway, McElwain's comments were brought to Muschamp's attention. A fierce competitor, Muschamp fired back, remaining friendly at first.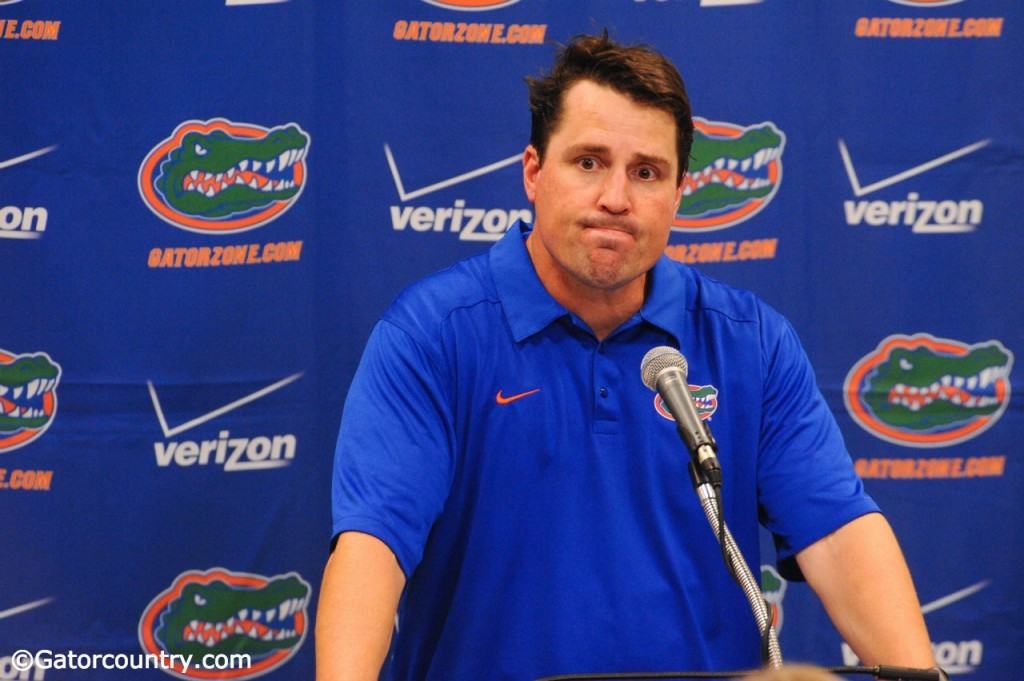 "I didn't see any comments," Muschamp told AL.com "At the time [I left], D.J. Humphries and Tyler Moore had not declared for the NFL Draft. Certainly, at that position at the offensive line, the numbers are obviously down … but I didn't know of any [of McElwain's] comments. Other than that, there's a lot of good football players sitting down there."
Covering Muschamp for two years you learn how sharp he is. He's a competitor, a fighter and he's funny. It's hard to show your good natured side when a bunch of kids from Georgia Southern are celebrating on Florida Field or Vanderbilt is winning in Gainesville for the first time (there's one of those hot topic fighting words again) since the 40s, but he has a sense of humor.
"He said he could coach a dog and win," Muschamp quipped. "Heck, [does he] like the dog better than his players?"
Oh, Will.
The attempt at humor comes off as bitter and spiteful, not to mention the fact that you're referencing a comment made while you were reportedly out of the country on vacation.
It's petty. Like season four of Mad Men when Betty sends her daughter over to Don's apartment to divulge a secret to his new wife in hopes of creating a rift.
It's time to move on.
Your calculated statement that the cupboard was far from bare has shown itself to be a façade. The storefront shows a bountiful selection but upon closer inspection it's paper-thin. You knew that leaving. You knew that when you were still wearing a different shade of orange and blue than the one you're wearing now.
Florida's new guy called a spade a spade. It's time to be happy with where you are and stop trying to make excuses for the last four years of failure.