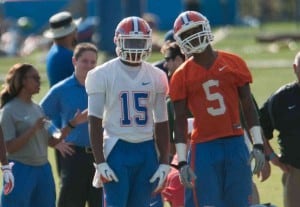 Before Tuesday's spring introductory press conference Will Muschamp released his depth chart for the spring.
A few  guys who could start will miss the spring and a few players have changed positions including one who will split time on offense and defense.
Here is the spring depth chart and also included are the players who will miss spring practice.
Quarterback:
Jeff Driskel
Tyler Murphy
Skyler Mornhinweg
Running back:
Matt Jones
Mack Brown
Kelvin Taylor
Fullback:
Hunter Joyer
Rhaheim Ledbetter
Gideon Ajagbe
X Receiver:
Louchiez Purifoy- will also play receiver this spring
Solomon Patton-he is limited this spring
Raphael Andrades- will split time between baseball and football
Z Receiver:
Quinton Dunbar
Andre Debose
Demarcus Robinson
F Receiver/H Back:
Trey Burton
Latroy Pittman
Tight end:
Clay Burton
Tevin Westbrook
Kent Taylor
Colin Thompson
Left Tackle:
D.J. Humphries
Trip Thurman
Left Guard:
Max Garcia
Kyle Koehne
Center:
Jonotthan Harrison
Kyle Koehne
Right Guard:
Jon Halapio-limited this spring
Kyle Koehne
Right Tackle:
Tyler Moore
Quinteze Williams
DEFENSE
BUCK:
Dante Fowler Jr.
Alex McCalister
Nose Tackle:
Leon Orr
Darious Cummings
Defensive Tackle:
Damien Jacobs
Joey Ivie
Defensive End:
Dominique Easley
Jonathan Bullard
Bryan Cox Jr.
Strongside Linebacker:
Darrin Kitchens
Neiron Ball-limited this spring with an ankle injury
Jeremi Powell
Mike Linebacker:
Antonio Morrison
Alex Anzalone
Will Linebacker:
Michael Taylor
Daniel McMillian
Cornerback:
Jaylen Watkins
Brian Poole
Safety:
Cody Riggs
Marcus Maye
Safety:
Jabari Gorman
Valdez Showers
Cornerback:
Marcus Roberson
Jeremy Brown
Nickel:
Brian Poole
Cody Riggs
Jaylen Watkins
Dime:
Marcus Maye
Valdez Showers
Kicker:
Austin Hardin
Brad Phillips
Punter:
Kyle Christy limited this spring
Out for the Spring:
Chaz Green
Ronald Powell
Matt Rolin
Ian Silberman