There was a 7-on-7 tournament on the football field at IMG Academy in Bradenton Florida. I was there to interview a few Florida targets including Quincy Wilson, who at the time was uncommitted. Talking to Quincy and his father Chad after one of their games they both introduced me to Marco Wilson by saying he was going to be better than either of them, Chad played cornerback at the University of Miami.
At the time Marco was all of five foot six and maybe 150 pounds soaking wet as an eighth grader with a mouth full of braces. Flash forward three years and Wilson became just the fourth true freshman to start his first game at cornerback — joining Joe Haden (2007), Janoris Jenkins (2008) and Marcus Roberson (2011). Maybe Chad and Quincy knew what they were talking about.
"I found out the week before I think when they let out the depth chart," Wilson said of when he knew he would be a starter for his first game. "It was a big deal for me because coming into college that's what I was really focused on. I didn't want to come in and be a backup because I don't like just sitting around, watching, and I knew I had the ability to get on the field and play so I was going to come out here and compete for the spot. I knew it wouldn't be easy, but when I got that spot I was just ready to get on the field and make plays."
Wilson has had to deal with the comparisons to his brother his entire life. Even Tuesday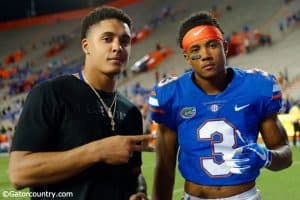 after he finished speaking with the media a reporter had a Freudian slip and said "Thanks Quincy." Marco rolled his eyes but laughed it off. He loves his brother and the two talk frequently. Quincy is his brother's biggest fan, too, but Marco wants to pave his own path and be known for what he does on the field, not who he's related to off of it.
"I don't like it, because I'm not my brother; I'm my own person," Wilson said. "I play like how I play. He's a great corner, I'm a great corner too, but we're not the same."
He showed that his freshman year, quickly becoming a fan favorite. Wilson started all 11 games at cornerback, tallied 34 tackles and led the team with 10 pass breakups and was named to the SEC All-Freshman team. Pretty impressive, unless you're Marco Wilson.
"Honestly, I wasn't impressed by my freshman season," he said. "I know I've got a lot more to do. I don't even like pay attention when everybody says, like, 'I'm good.' I know I've got a lot more to go and I've got a lot of work to do because I want to be the best, I want to be known as the best and I want to end up going on to the next level and when I get to the next level I want to be the best there too."
He's no longer the little eighth grader I met. He estimated he's put on 10 pounds since he arrived at Florida because he wasn't happy with his playing weight of 178 last season. He's filled out and he's constantly finding ways to motivate himself. There's a chip on his shoulder, just like when he was mistakenly called Quincy on Tuesday. It just continues to fuel the fire of the best player in Florida's stacked secondary.
"I just know people are always going to expect you do more, and me myself, I expect myself to do more because you do something good and one thing goes wrong, they look at the wrong," Wilson said. "So you've always got to be throwing good on yourself."