If you were worried about Florida's running game production before the Toledo game with the news of Matt Jones being held out due to viral infection, you wouldn't be in the wrong.
Nothing redshirt sophomore Mack Brown had done prior to Saturday's season opener would lead you to believe — based on prior performance — that he could be anything close to what Jones was projected to be this season. Before yesterday, Brown had 40 carries to his name, along with 167 yards. The longest run of his career came as a freshman — it was 13 yards.
Last season, Brown rushed 25 times for 102 yards in the span of 13 games. Saturday, Brown had 25 carries and gained 114 yards. Brown surpassed the longest run in his career twice. Once on a 14 yard touchdown run where he used great vision to make a cut at the line of scrimmage.
Here's guard Kyle Koehne pulling down the line of scrimmage, Brown starts left to receive the handoff.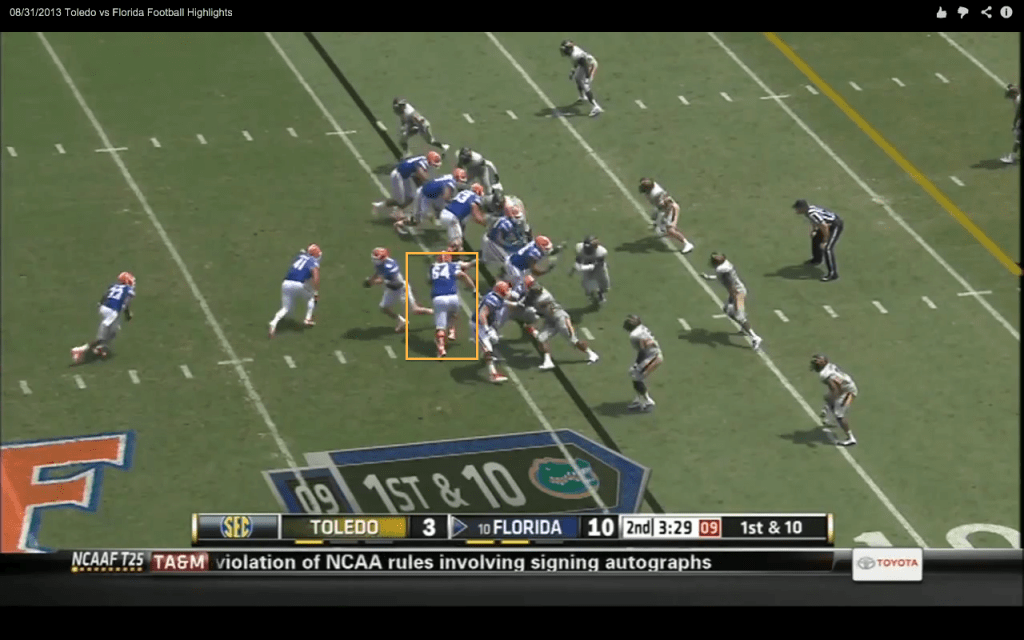 Here's Brown about to make his read of Koehne's block, who is just about to engage.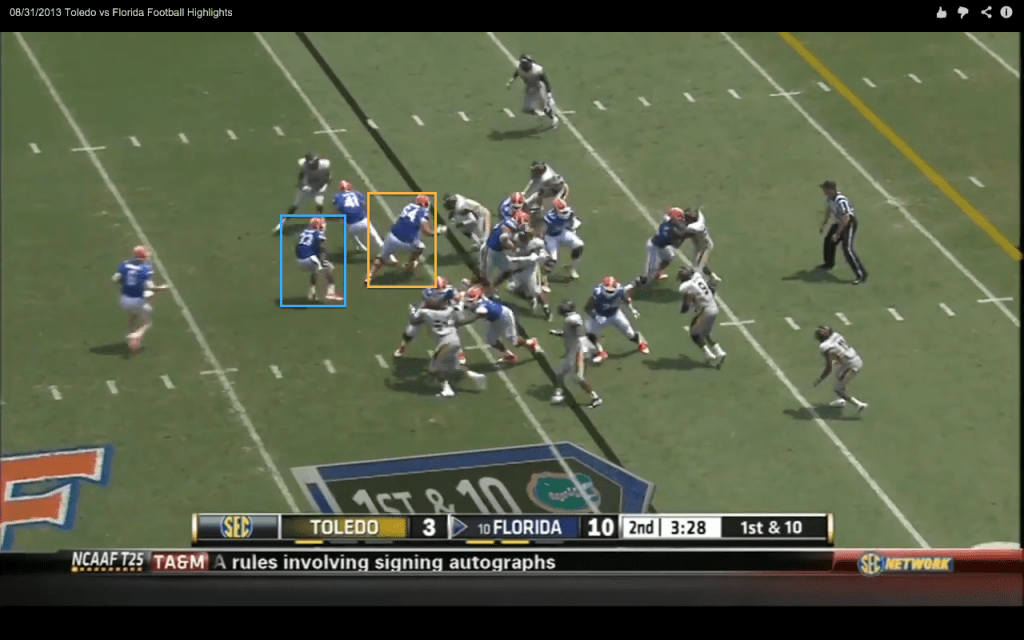 Koehne engages, Brown can take it outside or cut it back. He chooses the latter, jamming his leg in the ground and turning upfield.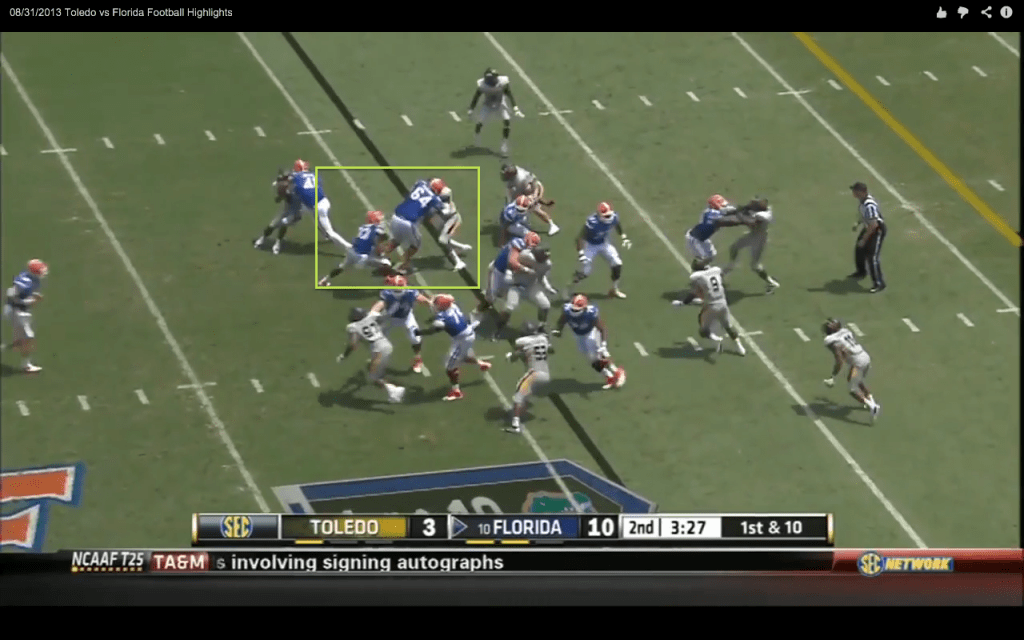 14 yards later, it proves to be the right choice.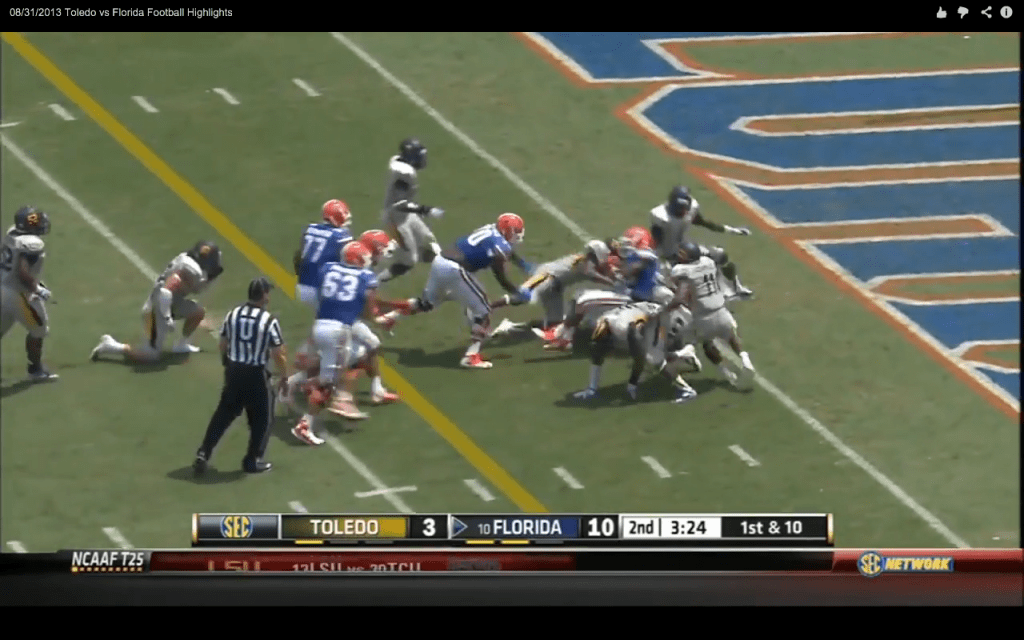 "With an o-line like that I feel like any back can do that," Brown said. "It's a blessing man, it just feels like I got a role now. The past couple of years I'd be stressed out after the game. Now I'm making plays for the team. It feels good man"
He more than has a role in the absence of Matt Jones. Brown's carry total accounted for 35.7% of Florida's offensive plays. He was a workhorse they called upon to ride early and often — the first three plays of the game, and four out of the first six — and he delivered.
For all his output on the ground, Brown's favorite play of the day was when someone else scored. It was a cut block he executed to give Jeff Driskel an extra second of time to hit fullback Gideon Ajagbe for a four yard score.
"I took my drop stance and I saw the dude trying to get Driskel and I said 'I'm going to cut him,' and I cut him as hard as I could because we needed to score," Brown said.
Here's the block.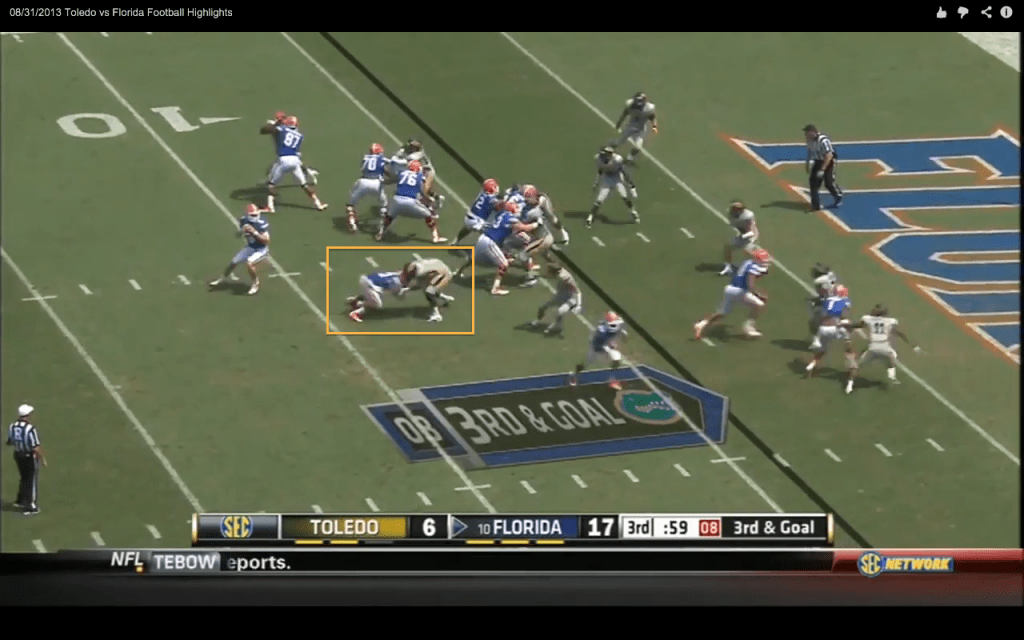 Here's the result of the extra split second that block gives Jeff Driskel to find an open Ajagbe.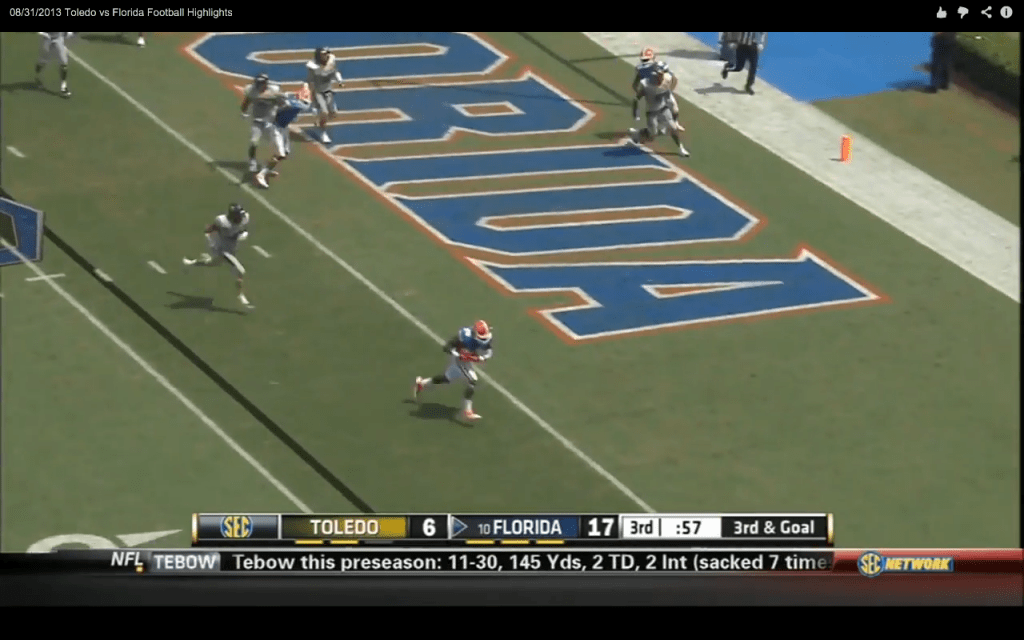 When you sit the bench as long as Brown did, you appreciate the little things. For him it's about enjoying every second as Florida's featured back, no matter how long it lasts.
"Just being on the field on first team is a blessing. Me scoring is nothing big, just me being on the field and getting my opportunity is the main thing," Brown said. "I had tears in my eyes. I felt useless the last couple of years."