University of Florida freshman Justin Watkins was booked at Alachua Country Jail today and remains in custody as of publishing.
Court records show that Watkins is facing four felony charges including two counts of battery, kidnapping/false imprisonment and domestic battery by strangulation. The two battery charges are First Degree Misdemeanors, while the following two charges are both third degree felonies.
According to Alachua Country court records there is no bond set as of 5:20 p.m. on Tuesday.
Watkins was arrested in May and booked in Marion County Jail after an incident with a female. Watkins allegedly followed the accuser to a gas station where she alleges that he kicked her car and broke her phone. A police affidavit from that incident shows that Watkins was charged with trespassing on public school grounds. He was released less than 24 hours after being booked on a $500 bond.
Watkins has been suspended indefinitely from all team activities.
"Justin Watkins has been suspended immediately from team activities," Dan Mullen said in a release from a UF team spokesperson.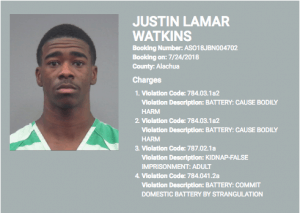 Gator Country will continue to update this story as more information becomes available.