MOBILE, Ala. — Checking in at the Senior Bowl is kind of like speed dating. As college seniors check in to the Renaissance Marriot Hotel in Mobile they fill out initial paperwork and then a tap on the shoulder. It's a scout, a coach, a general manager or some sort of staffer from one of 32 NFL teams in attendance this week. This is the first encounter of many and with it the weeklong interview process is on.
Jake McGee, maybe even more so than most, is happy to be in the situation.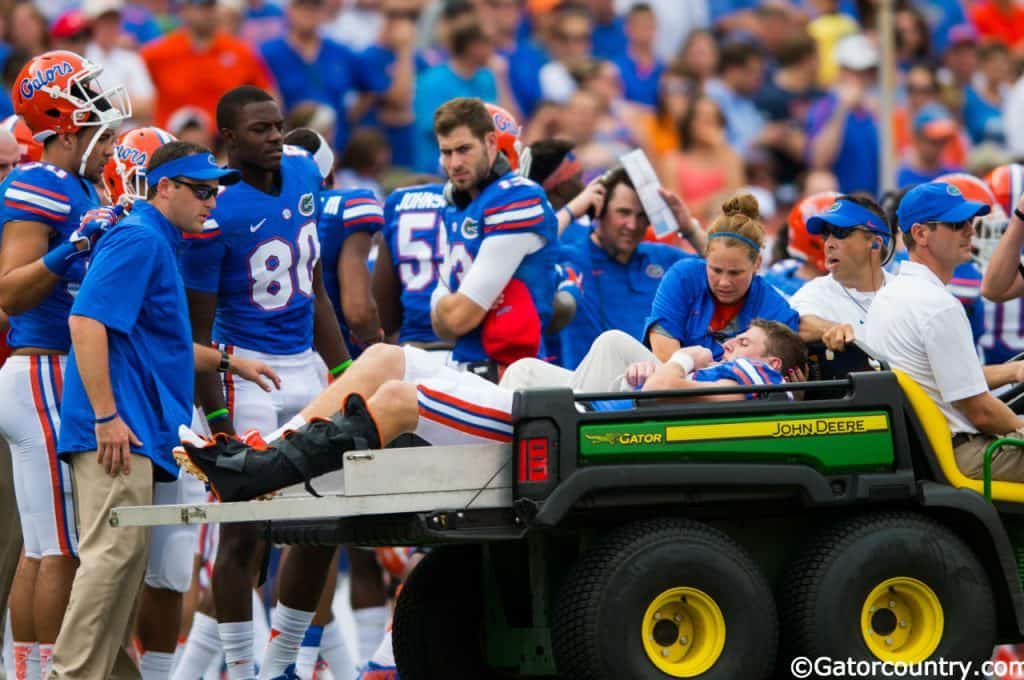 As he was laying on the field in 2014 the thoughts running through McGee's mind ranged from the pain in his leg to the new uncertainty of his immediate future. McGee had spent four years at the University of Virginia and earned a degree, commendable, no doubt. He still had a year of eligibility to play and found a home in Gainesville. He thought he would be there for a year. When the weight of Trenton Brown came down on McGee's leg he was blindsided both literally and figuratively and sent into limbo.
"It was a stressful sort of time," McGee said.
One quarter, no stats, and all McGee could do was file for a hardship waiver. The paperwork was filled out, dropped off into an envelope and sent off to the NCAA. Most figured that given the situation it would be a slam-dunk and McGee would assuredly be granted another year.
"I didn't think there was anyway I was going to get it," McGee told Gator Country. "If you go off by what the rules say I don't get it. It's something where you just have to trust the compliance department."
With the paperwork sent off McGee was left to wait. He had good numbers from his past two seasons at Virginia (71 receptions for 769 yards and 7 TD) but if he couldn't get another season of college football he would be red flagged by every NFL team as an injury concern.
The news came back and it was what McGee expected.
"Originally it got sent back and I was told that I didn't receive the year," McGee recalled.
The same day that McGee received the news he got a phone call from Florida Athletic Director Jeremy Foley. Foley told McGee that he would work for him and plead his case to the NCAA.
"My case was really the first of its kind that got overturned and I was able to get the year," he said. "A lot of people I talked to assumed that it was automatic that I would get it but, truly, I got really fortunate and owe a lot to Mr. Foley and the hard work that compliance put in that I was even in the position to get it."
On January 21, 2015 McGee received word that his initial ruling was overturned and that he would, in fact, get the opportunity to play a sixth year of college football.
Now the easy part — playing football.
McGee will still have a red flag next to his name for most NFL organizations. When he gets tapped on the shoulder by a scout or coach he knows what they're thinking already. All week McGee has been asked about why he transferred and about his injury but thanks to Jim McElwain and the 2015 season, McGee has more than just his word to show the NFL that he's moved past that gruesome injury.
"Fortunately, for me, I got the extra year and I can allow my tape to do that talking for me," he said. "If I wouldn't have been able to get this year I think there would have been questions about if I could come back."
McGee caught 41 passes for 381 yards and a career-high four touchdowns last season in Gainesville. He played in every single game until a hamstring injury cost him his final game in the Citrus Bowl. He's proved that the leg is fine and at 6-5 and 250 pounds he's the prototype of what the NFL is looking for at tight end.
McGee is happy to answer any questions the NFL teams have. He never imagined he would be in at the Senior Bowl. He never imagined he'd be in Gainesville, and might have even wished he never showed up in Gainesville as he lay on the turf in September of 2014. His journey to Mobile this week has been unconventional, even ground breaking, but he wouldn't change a thing. It's all thanks to that waiver which allowed McGee another year and an athletic director that went the extra mile to make sure McGee would get the opportunity.
"I'm really happy I got it," McGee said. "My life would have been drastically different if I didn't get it."