Last week when I compared Florida's full-roster level talent to Miami's, I mentioned that I was working on comparisons of talent in the top two levels of the depth chart to other teams. This week, I am revealing that full body of work.
I used the offensive and defensive depth charts in this year's Athlon magazine, and I had to make some adjustments that are noted in the bottom of this piece. I covered ten teams total, meaning Florida and nine teams that the Gators would want to compare themselves to.
I put Alabama and Clemson in the pot as the sport's top two programs. I also included annual rivals FSU, Georgia, LSU, and Tennessee. Auburn and Miami are also there as two teams that are among the Gators' top opponents this year. Rounding it out is Missouri, the preseason magazines' current unanimous No. 3 pick in the SEC East behind UF and UGA.
The talent ratings I used are from the 247 Sports Composite. For players who transferred in this offseason, I used 247's re-rankings as available.
Starters
Here is a table for the average player rating split out by offense, defense, and overall. In the 247 rating scale, anything above 0.9830 means 5-star, and 0.8901 to 0.9830 means 4-star.
| Team | First Team Offense | First Team Defense | All Starters |
| --- | --- | --- | --- |
| Alabama | 0.9550 | 0.9582 | 0.9566 |
| FSU | 0.9157 | 0.9591 | 0.9374 |
| LSU | 0.9008 | 0.9683 | 0.9346 |
| Georgia | 0.9492 | 0.9109 | 0.9301 |
| Clemson | 0.9300 | 0.9172 | 0.9236 |
| Tennessee | 0.9242 | 0.8985 | 0.9113 |
| Miami | 0.9171 | 0.9044 | 0.9108 |
| Florida | 0.9062 | 0.8974 | 0.9018 |
| Auburn | 0.8845 | 0.9069 | 0.8957 |
| Missouri | 0.8557 | 0.8453 | 0.8505 |
Here is a chart for you that helps visualize the difference in overall starting lineup talent.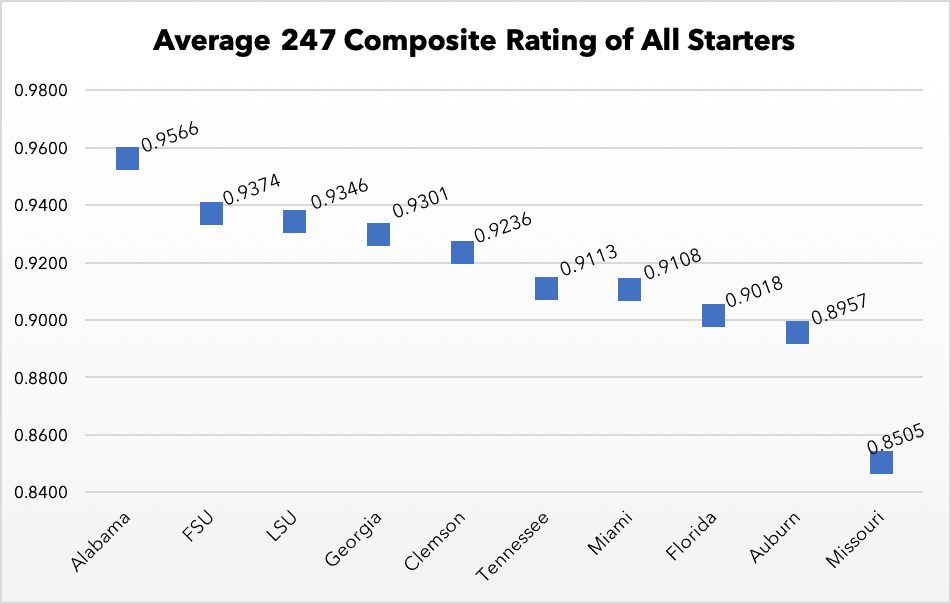 The Gators' average player rating among the starters is into the 4-star range if it was a single player's rating, but it still ends up eighth among these ten teams. They're a bit behind Tennessee and Miami, a little ahead of Auburn, and well above Mizzou. Missouri signs almost exclusively 3-star prospects with just a handful of blue chips to go with them, but as last year's UF-MU game showed, that talent gap can be overcome in a given single game.
Alabama is way out in front, of course, while LSU, Georgia, and Clemson make up a second tier. FSU is in that second tier by ratings, but a mess of leadership late in Jimbo Fisher's reign exacerbated by subpar staffing choices in Willie Taggart's first year means the Seminoles won't live up to those ratings.
Dan Mullen has worked to upgrade the talent on the roster, even if it's not where some rivals are yet. The Gators' starting lineup includes 4-star transfers that Mullen brought in (Van Jefferson, Jonathan Greenard), plus a 4-star signee in Amari Burney. If high 4-star transfer Trevon Grimes and 4-star signee Kyle Pitts beat out Josh Hammond and Kemore Gamble, that'll increase the average rating with more Mullen guys overtaking McElwain recruits.
Still, it's a bit jarring to see, say, Tennessee noticeably ahead. Some of that goes to a pair of 5-star 2019 signees being slotted into the Vols' starting offensive tackle spots. Some is a legacy of recruiting rankings that you'd change now if you could. At running back, Ty Chandler was a high 4-star recruit while Lamical Perine was a high 3-star. You certainly wouldn't put Chandler far above Perine now.
Further, Florida starts some former 3-star guys like Jabari Zuniga and David Reese along with Perine who play well above their high school ratings. Tennessee instead just has a lot of 4-star guys on the top line of the depth chart. Hence, there's a noticeable gap in average rating.
Backups
Here is the same table again, this time for the second string players.
| Team | Second Team Offense | Second Team Defense | All Backups |
| --- | --- | --- | --- |
| Alabama | 0.9308 | 0.9480 | 0.9394 |
| Georgia | 0.9366 | 0.9344 | 0.9355 |
| LSU | 0.9199 | 0.9365 | 0.9282 |
| Auburn | 0.9105 | 0.9155 | 0.9130 |
| Florida | 0.9198 | 0.9018 | 0.9108 |
| FSU | 0.8907 | 0.9181 | 0.9044 |
| Clemson | 0.9026 | 0.9048 | 0.9038 |
| Miami | 0.9058 | 0.8925 | 0.8992 |
| Tennessee | 0.8928 | 0.8898 | 0.8913 |
| Missouri | 0.8545 | 0.8540 | 0.8543 |
Bama wins again, and its backups' average would be second on the starters' table behind only the Tide's first string. All those blowout recruiting classes for Nick Saban really do stack up.
Florida does move up here, though, going from eighth in the previous section to fifth here. It's practically in a dead heat with Auburn for fourth, while its second string ratings are noticeably above those of FSU and Clemson.
This is a place where Mullen's work shines through. UF has eight listed 4-star backups — Grimes plus seven signees from either 2018 or 2019 — who came aboard under Mullen's watch. The only 3-star backups from his administration are two offensive linemen and borderline 3/4-star DB John Huggins.
The 11 second stringers who signed with McElwain consist of six 3-stars and five 4-stars, with only Kadarius Toney among the 3-stars as a guy who's shown an ability to play above that level so far. The 4-stars also include guys like Elijah Conliffe and T.J. Slaton who've not fulfilled their lofty ratings just yet, though this year is another opportunity.
As you can see, it's the strength of the backup offense that has Florida where it's at. Grimes and Richard Gouraige are the highest ranked guys in the unit.
I will mention that UF is among the teams in the best shape at backup quarterback with Emory Jones. Several schools have 3-star backups with limited upside like Bama's Mac Jones, Clemson's Chase Brice, FSU's grad transfer from Wisconsin Alex Hornibrook, Georgia's Stetson Bennett, and Tennessee's J.T. Shrout. A couple other teams have 4-star backups with questionable futures in LSU's Myles Brennan and Miami's N'Kosi Perry. Jones, even in his limited action, is a more appealing option if the starter goes down than what a lot of other teams have.
The Bottom Line
The point of looking at the top two lines of the depth chart is to see the talent levels among the players who are most likely to actually see the field. Full-roster comparisons have their place when looking at program building and maintenance, but players Nos. 70-85 probably aren't going to factor much this year.
Florida's average rating of starters lags some of its peers in part because of how McElwain's recruiting went. He signed more 3-stars than Gator fans wanted to see, but some of those guys like Perine, Reese, and Zuniga (and 2019 NFL picks Jachai Polite, Jawaan Taylor, and Vosean Joseph) played like blue chip players.
If given the chance to re-rank everyone, UF would benefit from Perine, Reese, and Zuniga getting bumps, plus other adjustments like moving CJ Henderson up to a 5-star rating. Then again, some players would get bumped down some. Tyrie Cleveland and Feleipe Franks have yet to live up to their borderline 4/5-star ratings, for instance.
Florida won't be at a real talent deficit against Auburn, Miami, or Tennessee and will (again) have a clear advantage over Missouri. UF doesn't compare favorably to LSU or Georgia, but the Gators beat LSU last year anyway and had UGA in a one-score game late in the third quarter before the talent gap won over in the fourth.
Of course, Missouri also smoked Florida last year too. Talent only gets you so far. Coaching, development, and execution all play important roles as well. It's why conference and national championships are handed out in December and January, not the first week of February.
Adjustments
Because Athlon goes to print so early, there have been developments since it published that I had to account for. The adjustments I made are as follows, as are a couple of clarifications.
Auburn: Athlon has last year's backup Malik Willis as starting quarterback, but Gus Malzahn has since announced that his QB race is between redshirt freshman Joey Gatewood and true freshman Bo Nix. I've put Gatewood in as the starter and Nix the backup.
Clemson: The magazine has Cade Stewart as backup for two different offensive line positions. His rating only counted once in the math above.
Florida: Chris Steele is listed as a backup at corner. I replaced him with Kaiir Elam. Last week's Miami piece also had CJ McWilliams in place of Brian Edwards, but the charges against Edwards have since been dropped. I have him and not McWilliams as a backup corner here.
FSU: Landon Dickerson is listed as the starting right tackle, but he became a graduate transfer to Alabama. I took a shot in the dark by moving listed backup left tackle Jauan Williams to starting RT and putting Jalen Goss in at backup LT. The offensive line there is still a mess and won't get sorted out for a while.
Georgia: The program dismissed Jeremiah Holloman. I moved backup WR Trey Blount into his spot and 2019 signee George Pickens into Blount's vacated backup spot. These slottings are also fluid and subject to change in the fall.
Miami: One of Miami's backups is former UCLA defensive lineman Chigozie Nnoruka. He never got a rank coming out of JUCO to UCLA or upon going from UCLA to Miami. He was a productive player for the Bruins in 2017 but not in 2018 in a different defensive scheme. In lieu of the Composite ranking him, I've assigned him a rating of 3 stars and .8435, the latter being the exact midpoint of 3-star ratings in 247's scale.