It's been Florida's calling card for the past four seasons. No matter what kind of struggles the offense was going through, Gator fans could count on a suffocating, dominating defense that regularly finished as not just one of the best in the conference but one of the best in the country year after year.
Gator fans weren't the only people taking notice; NFL teams were watching as well. The NFL Draft has hit the Gators hard, with players leaving school early to try their hand playing professionally. It leaves Florida in a new situation this season, having to rely heavily on younger players especially in the secondary.
Can Will Muschamp's defense reload rather than rebuild?
Let's take a look back at how the defense began that process of reloading this spring and grade how each position fared.
BUCK LB
Depth: Dante Fowler, Alex McCalister, Neiron Ball, Jordan Sherit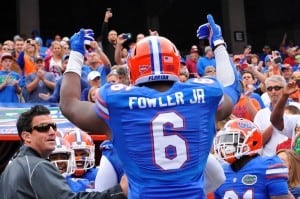 Fowler received the VIP treatment that was reserved for Dominique Easley last spring. Fowler was routinely given reps off in practice was given the entire day off for the Orange and Blue Debut. However, when he was on the field he was unblockable. Fowler looks to be taking his game to the next level and could be the pass rusher that Florida needs in 2014.
After Fowler the depth isn't great. McCalister took most of the second team reps with Neiron Ball suffering an injury early on in spring camp. Ball's injury wasn't too serious but he was held out as a precaution. Ball is versatile and will play Buck and Sam linebacker
Grade: A
Defensive End
Depth: Jonathan Bullard, Bryan Cox. Jr., Joey Ivie, Taven Bryan
Bullard played mainly inside this spring due to necessity and while he will continue to play inside, Bullard's true position is still end in Florida's base defense. He's gained a lot of size to play inside but he's still quick enough to play end.
The three players behind him on the depth chart benefitted this spring with more reps due to Bullard working inside. All three players surprised me, personally, this spring with Cox playing the best football of his career. Ivie and Bryan are very similar players. They're both strong and tenacious but I think Bryan is more athletic at this point. Ivie seems to get down when coaches get on him and he needs to work on focusing and moving on after a coach yells at him.
Based on what I saw this spring, Bryan will earn playing time in the fall, which may surprise some Gator fans considering where he comes from — Wyoming isn't exactly thought of as a football factory.
Grade: A
Defensive Tackle
Nose Tackle — Depth: Leon Orr, Jay-nard Bostwick
Defensive Tackle — Depth: Darious Cummings, Caleb Brantley
Offseason wrist surgery sidelined Orr this spring and there are still a lot of questions surrounding him. After losing Sharrif Floyd and Dominique Easley in back-to-back seasons, Florida really needs Orr to take his game to another level this fall.
Bostwick showed flashes of his potential this spring. He's a physically strong player with a lot of potential but he needs to play with more consistent pad-level and drive. Bostwick does do a good job of taking on double teams and when playing up to his potential he can occupy two linemen, opening things up for the rest of the defensive line and linebackers.
Darious Cummings spent a lot of the spring working at nose tackle and will play both tackle spots throughout the fall. He's a serviceable SEC player but can he have the same kind of impact as the players that preceded him at the position?
Caleb Brantley has a long way to go physically and mentally. He was constantly yelled at this spring for not giving full effort and maturity is still a huge question mark with him.
Grade: C+
Linebacker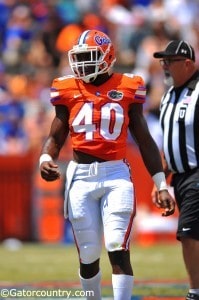 Will Depth: Jarrad Davis, Daniel McMillian
Mike Depth: Antonio Morrison, Mike Taylor
SAM Depth: Neiron Ball, Alex McCalister
The linebacker depth this spring was deplorable, however, that's not necessarily a bad thing considering it was only spring and it allowed the players who were healthy to earn a ton of reps. The return of Alex Anzalone and Matt Rolin will help the depth considerably.
Jarrad Davis had a breakout spring and appears to be developing into an All-SEC type of player. Antonio Morrison didn't appear hampered by the torn meniscus that he suffered in a loss to Vanderbilt this spring but looked more like he did as a sophomore than he did as a freshman.
The tackling at the position was much more inconsistent than the coaching staff would like.
Grade: C
Cornerback
CB: Vernon Hargreaves, Nick Washington (will play safety)
CB: Duke Dawson OR Jalen Tabor
Nickel: Brian Poole, Duke Dawson
Let's get the obvious out of the way; Vernon Hargreaves will be an All-SEC cornerback this year, possibly an All-American again. The kid is special.
With that out of the way, there were a few surprises at the position. To start the spring it was surprising to see Brian Poole starting at one of the outside cornerback spots. Poole has played almost exclusively inside at Florida and he's suited well for the position. As the two freshmen early enrollees progressed and grew more comfortable, Poole played less outside.
The biggest surprise was how the two freshmen competed. Many fans had forgotten about Duke Dawson, who was the second player to commit to the recruiting class and had already conceded the starting job to five-star Maryland product Jalen Tabor. Dawson and Tabor had one of the most competitive position battles of the spring and the battle is far from over.
Nick Washington will likely be moved to safety full time when the Gators get J.C. Jackson and Quincy Wilson on campus this summer.
Grade: A
Safety
Free Safety: Keanu Neal, Jabari Gorman, Nick Washington
Strong Safety: Marcus Maye, Marcell Harris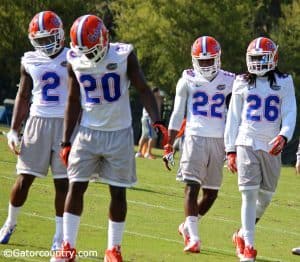 Jabari Gorman spent the majority of the spring as one of the starting safeties but Keanu Neal is clearly the future at that position. Neal missed a big chunk of the spring with a hamstring injury but he may be the most talented player that Florida has at the position.
Nick Washington surprised me this spring with his physicality. Washington was a cornerback by trade in high school and that is where he worked as a freshman before a shoulder injury ended his season. He's certainly made a case for playing time this spring.
Marcell Harris finally looks to be healthy after a couple of knee surgeries. Harris is a bigger version of former Gator Major Wright and he really came on the last week of spring camp, including a great performance in the Orange and Blue Debut.
This is a position that the coaching staff needs to see some advancement from a communication standpoint. It isn't something Florida had to worry about with Matt Elam patrolling the secondary two seasons ago but was an issue in 2013.
Grade: B