Compared to recent history and other transitional signing classes, I think Dan Mullen's first recruiting haul turned out well overall. However, recruiting classes don't exist in a vacuum within a single school or year.
That's why today I'm breaking down how UF's four most recent classes look compared to four annual rivals and a fifth in-state competitor: Florida State, Georgia, LSU, Miami, and Tennessee. These programs are ones that recruit against Florida often and are the measuring sticks that Gator fans care about the most.
First up, here is how many total recruits that each of the six programs have signed in the past four classes. This is just the complete total and doesn't include any affordances for attrition.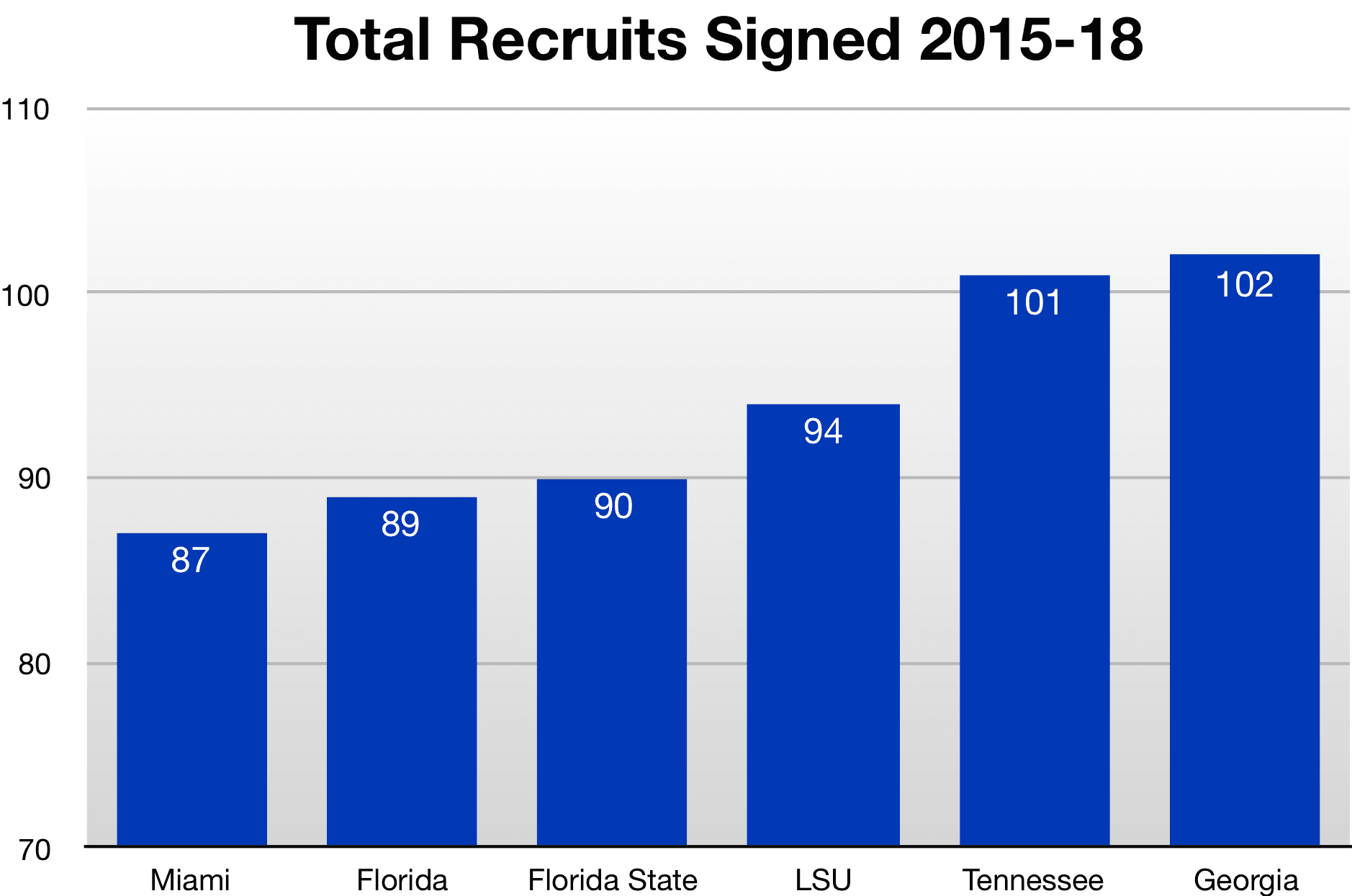 The first thing that I think of are the two limits: 25 recruits per year and 85 players on the team.
We should expect most programs to sign more than 85 players in a four-year period. There are factors like NFL early entrants, transfers, medical disqualifications, signing JUCOs with only a couple years of eligibility left, and so forth that lead a program to sign more than 85 every four years. Only a handful of programs will redshirt nearly everyone and not experience much attrition, leading them to sign fewer than 85 guys every four years. Stanford is an example, as it signed 76 total recruits over the last four classes.
UGA and UT actually managed to bring in more than 25 per year because they were able to count some of their 2015 signees backwards to 2014. Tennessee also used some interesting methods to sign 32 players in 2014, not all of which were ever explained, and one upshot is that the Vols were able to bring in 30 more in 2015. Georgia was also willing to oversign in at least 2018, a practice that UF's administration doesn't allow.
Where the rubber meets the road is in recruiting blue chip players, which is defined as prospects with either a 4-star or 5-star rating. I use the 247 Sports Composite for star ratings.
These top-rated prospects aren't guaranteed to be stars, and some positions like kicker almost never get top marks. Eddy Piñeiro was as close to a star as kickers get, and he was a low 3-star prospect. However, star ratings are accurate in the aggregate, and no team in the modern recruiting service era has ever won a national title without signing more blue chips than non-blue chips in the four years leading up to the season (though Oregon almost did twice).
Here are the total number of blue chip prospects that Florida and its rivals signed in the last four classes combined.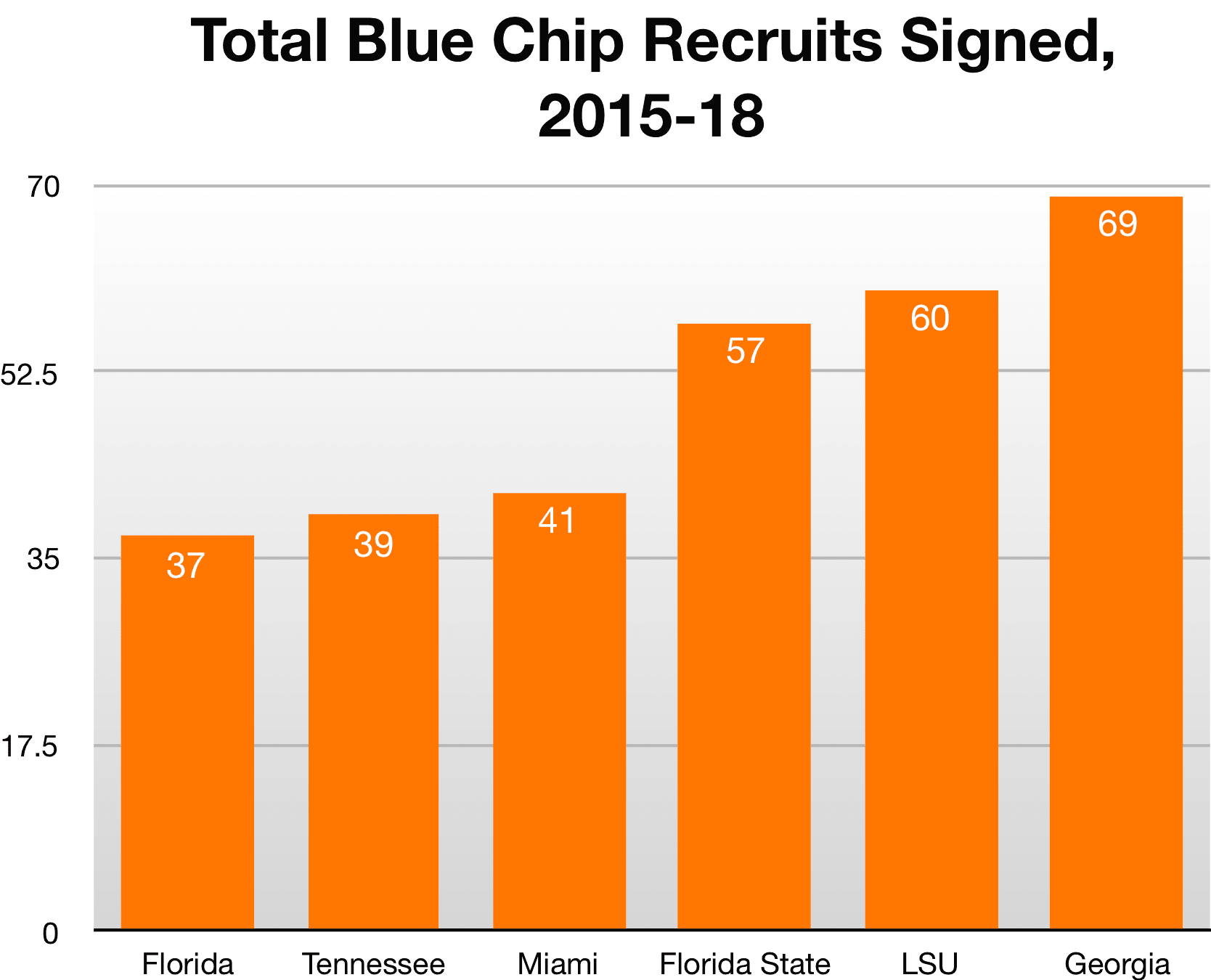 Recruiting at UF fell off a cliff from its normal standing in 2014 because of the 4-8 year in 2013 and the general skepticism that Will Muschamp was anything but a lame duck. Things hit rock bottom in Jim McElwain's transitional class, and it was slow to recover. Even in their highest-rated class in 2017, McElwain and his staff were taking a larger share of non-blue chip recruits than UF traditionally has.
Here is how this looks averaged out.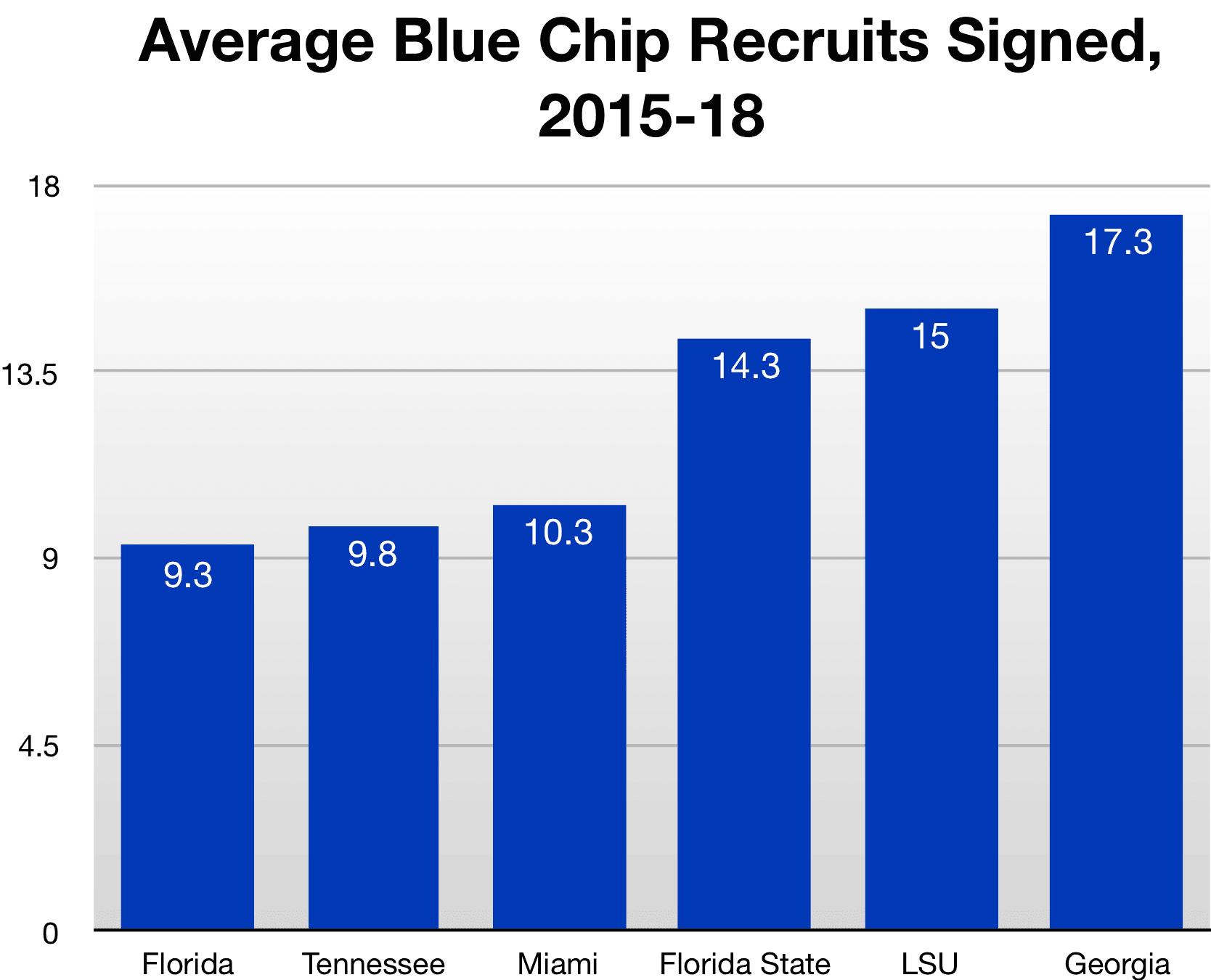 Only bringing in nine per year is not going to cut it generally speaking, especially considering that blue chip recruits are the most likely to go to the NFL early.
The Gators got a boost when former blue chips Martez Ivey, Cece Jefferson, and Jordan Scarlett decided to return to school for 2018, but the program is still down a number of 4-star recruits from the last four years. Antonio Callaway (2015) left for the NFL after his troubled run at UF, Mark Thompson (2016) was a JUCO transfer who exhausted his eligibility, James Robinson (2017) lost his career to a heart condition, and Jordan Smith (2016) and Kadeem Telfort (2017) transferred in the wake of their heavy participation in last year's credit card scandal.
Earlier I alluded to the importance of signing at least 50% blue chips. Here are the percentages of blue chip recruits these six programs signed in the last four seasons.
The Gators have some work to do to get on the right side of 50% in the blue chip ratio. Signing 12 4-stars to seven 3-stars (six, discounting Randy Russell) in 2018 was a start, but it was the first time the Gators had a class that was more than half blue chips since 2013. It may not take long to get there, though.
I estimated that UF might have a class with as many as 22 or 23 recruits next year. If it's 22, they'd need to sign 13 blue chips to get to exactly 50% blue chips signed over a four-year period. Given the composition of this year's class, that's doable. If they only sign 20 next year, they'd need to get 12 blue chips. Given that they got 12 blue chips this year with 19 signees, that's also doable. I suspect most Gator fans would see it as failing to meet expectations if they only sign 12 or 13 blue chips next year given that it won't be a transitional class anymore.
Merely getting to 50% would still put them a ways behind Georgia, LSU, and FSU, and the blue chips would be most heavily concentrated among first and second-year players. We're really more looking at 2020 for having a roster with the kind of talent Florida fans expect to see.
Even so, 2010 Auburn proved in an extreme example that just a couple of dominant players can elevate a good but not great roster. We'll see if UF can turn up any of those. Plus, Dan Mullen did amazing things like get Mississippi State ranked No. 1 in the country for several weeks in 2014 without having a blue chip ratio anywhere near 50%.
But what remains clear for now is that for at least the next two years, Florida will have to make up for a talent deficit when going up against FSU, Georgia, and LSU. That's why they're paying Mullen and his staff the big bucks.