It recently came to my attention that Florida had the fifth-most NFL Draft picks over the last ten years according to numbers compiled by ESPN. That's one behind fourth-place Ohio State, seven behind third-place USC, and ten — just one pick per year — behind co-leaders Alabama and LSU over this time period.
Unfortunately for the program, Florida has the fewest wins of these teams over that span at 73. The next-lowest is USC with 82, then LSU with 87. Ohio State has 103, while Alabama has 113.
Most of this should not be a surprise, except for maybe Florida having that many draft picks over the last decade. Despite the team falling down to just over seven wins a year, the talent as measured by the draft was there. On top of that, I counted at least eight players who went undrafted but had a multi-year NFL career, and five more who signed with the Gators but were drafted by other teams after transferring. Barring a catastrophic injury, Will Grier will make that latter number six.
I can shed some light on the issue with a breakdown of a few of the facts about this situation.
First, the ESPN numbers are off. Florida had 57 players taken in the last ten drafts, not 55. I assume this is because the worldwide leader was only counting offensive and defensive players. UF also had kicker Caleb Sturgis and punter Johnny Townsend selected as special teams players. Feel free to count up the true numbers for the other programs if you like.
Beyond that, the last decade of drafts goes back further than you might think. Thanks to a sixth-year injury waiver for Cornelius Ingram, a Ron Zook signee was taken in the last ten years. Here's how it all breaks down by recruiting class.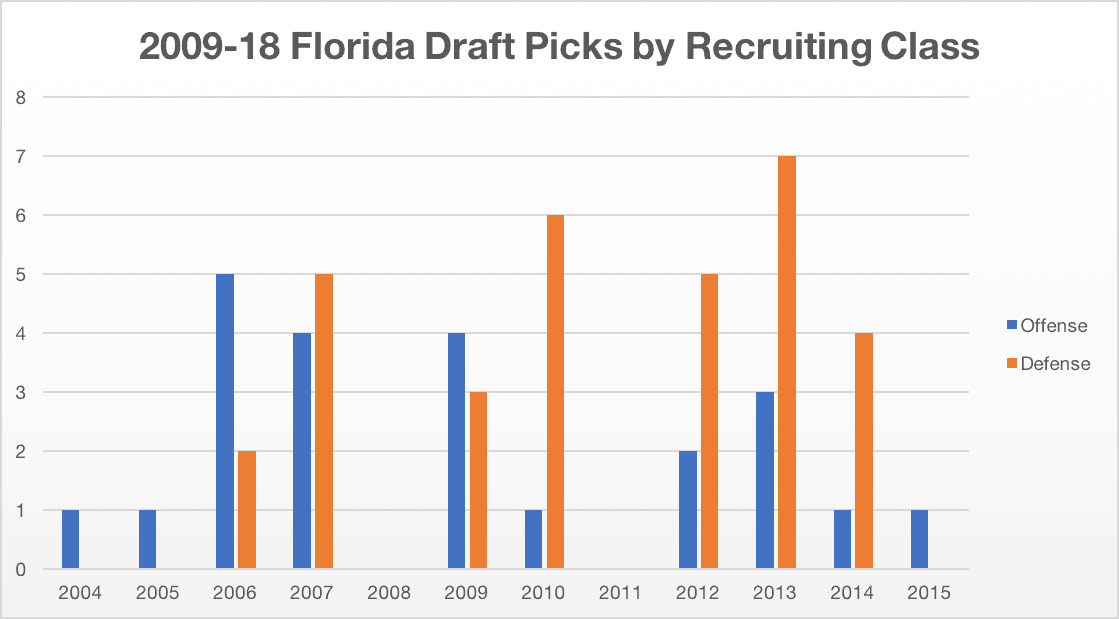 The transition classes really stand out. Urban Meyer's 2005 transitional class was small with 17 total players, and it produced only one draft pick in Louis Murphy. It also had undrafted David Nelson, who had a six-year NFL career.
Will Muschamp's 2011 transition class was also small at 19, and it lost several guys before the season even started to transfer. It produced no draft picks for UF's record. It did make two for other teams with Jeff Driskel and Jacoby Brissett, and Marcus Roberson had a three-year pro career after going undrafted.
Jim McElwain's 2015 class still has its story to be written, as the only early entrant was Antonio Callaway. I think it'll produce at least four more with Martez Ivey, Cece Jefferson, Jordan Scarlett, and Jabari Zuniga likely to be picked.
The 2008 class also stands out as a goose egg, particularly considering it was a Meyer class. That's only because the chart doesn't include special teamers, as Sturgis signed in 2008. It also produced Janoris Jenkins as a draft pick elsewhere, while it had Will Hill and Lerentee McCray with multi-year NFL careers after being undrafted and an Olympic athlete in Jeff Demps.
So that's by recruiting class, but here is how it breaks down by year of the draft.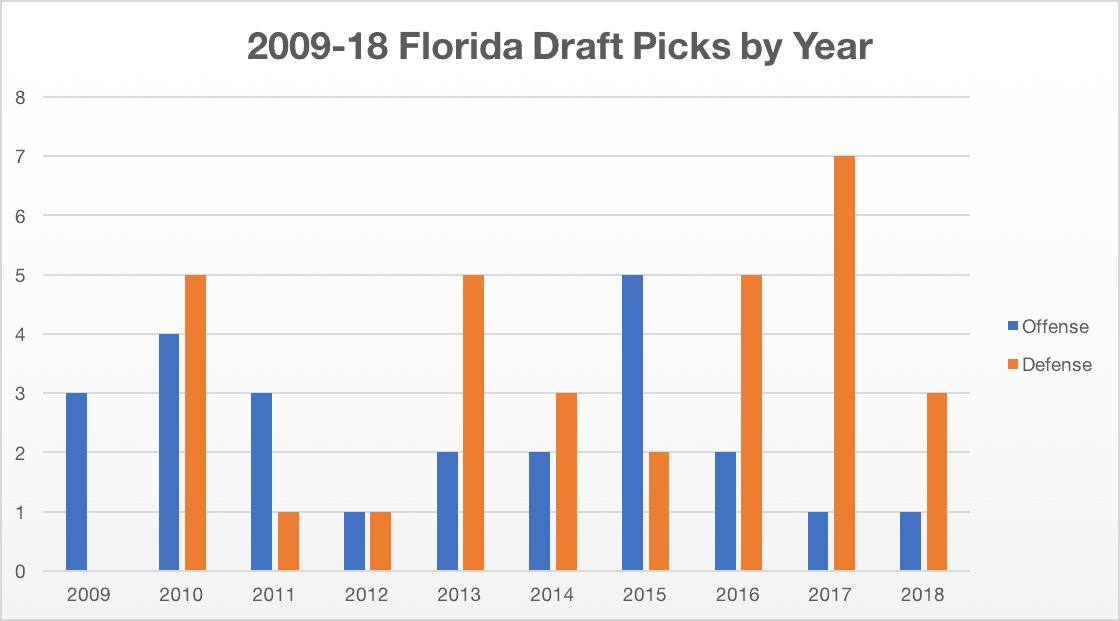 The overall split is 23 offensive players and 32 defensive players. With the Gator defense generally ahead of the offense in the last decade, that makes sense.
Only once, 2015, have more than two offensive players been taken in the same year since 2011. That year's offensive selections were something of a weird mix. Two of the five were Meyer recruits with Chaz Green going in a middle round and the Raiders taking a seventh round flyer on Andre Debose. The only guy to transfer into UF and be drafted in this time, Max Garcia, also went in the 2015 draft. That leaves only D.J. Humphries and Matt Jones as Muschamp recruits to be taken in that year.
Perhaps even more telling is the rolling three-year counts of draft picks for each side of the ball. These show the total number of players taken in the draft listed plus the two following drafts. This measure gives an idea of how many future pros the teams had.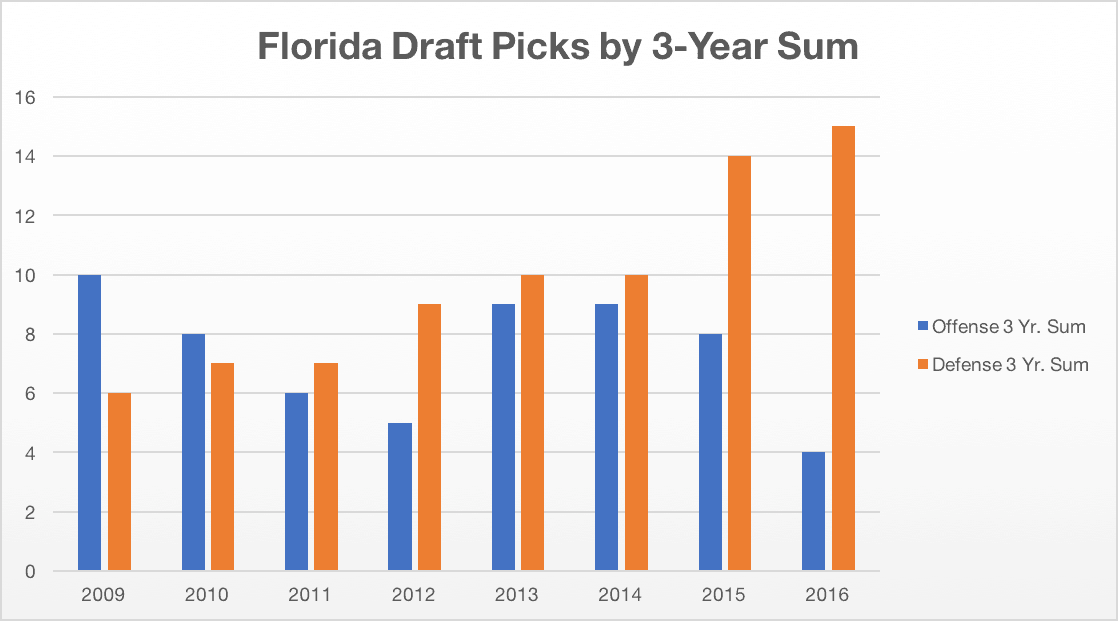 Remember these are draft years, so the corresponding teams are one year back. So, looking at the 2009 entry on the chart, the 2008 offense had ten players who would be selected in the following three drafts. The future pro talent on that side of the ball steadily declined over the following years thanks in large part to a lot of 2007 signees leaving early and the 2008 class being small and not very fruitful.
It picked back up with the 2009, 2012, and 2013 classes producing a fair amount of offensive talent. It largely manifested in the run game Muschamp's era was known for with seven of ten guys drafted from those years being offensive line or running backs. The remaining were Jordan Reed, Demarcus Robinson, and Debose (who shouldn't count for offense, really).
The success of Muschamp's defensive recruiting and development, the latter of which continued under Geoff Collins, is breathtaking. The last two entries represent the 2014 and 2015 teams, which were almost entirely composed of Muschamp signees. The 2015 defense had 50% more picks in the next three drafts than the 2008 team had on offense. If that team could've sustained any kind of offensive success, it'd have been special.
As you can see, though, the future NFL offensive talent plunged around that time because Muschamp's offensive recruits largely didn't go pro in sports. Only six of his signees across four classes — Jones, Humphries, Taylor, Robinson, David Sharpe, and Trenton Brown — ended up drafted from UF. Two more, Driskel and Brissett, were drafted from other teams without putting up obvious future pro numbers in Gainesville. This relative drought mirrors the late Meyer years when only five offensive players total came out of the 2008, 2009, and 2010 classes, one of those being the special teams specialist Debose.
McElwain's first class in 2015 alone should hit half of that count of six Muschamp recruits drafted from Florida between Callaway, Ivey, and Scarlett. As the latter two weren't drafted within three years of 2015 — and anyway, Scarlett was a bit player on that team with just 34 carries — they won't add to that year's offense column once they hear their names next April. Even if we bent the rules to add them, that would only match up with the 2010 offense and put it one ahead of the 2011 offense. Neither of those were exactly works of art.
This is Florida we're talking about, though, and the state produces so much talent that it's almost impossible for the Gators to stay low on it for long. I expect this year's team to have at least eight offensive players drafted within the next three years: Ivey, Scarlett, Malik Davis, Van Jefferson, Tyrie Cleveland, Kadarius Toney, Jawaan Taylor, and Brett Heggie. I could see some others as well if they come through on their as-yet unfulfilled promise, including but not limited to Adarius Lemons and Trevon Grimes. Two of those ten players I listed are transfers, yes, but that still leaves eight others who came to the program the old fashioned way.
The defense has at minimum seven more. I consider Cece Jefferson, Jabari Zuniga, Jachai Polite, Chauncey Gardner-Johnson, Marco Wilson, and CJ Henderson to be the most likely individuals, and at least one of last year's freshman defensive tackles should develop into a draft pick too. It's below Muschamp's amazing collection but right around where it was a decade ago.
Those old Meyer teams had more quality in their role players on both sides of the ball than this year's team does, but this year's Gators have more than a dozen future NFL Draft picks in the next three years among them. The offensive talent influx slipped late in both the Meyer and Muschamp eras as the last chart shows, but it has recovered.
The lack of quality depth could cost Florida some games this year, but when the team is full strength, it has enough future pro talent to be competitive with all but a handful of college football's teams this year. UF's run of producing a lot of NFL talent should continue in the foreseeable near term.