When reading over the descriptions of the Gators' first spring scrimmage, something caught my eye. It probably caught your eye as well. Here's one way Dan Mullen described the proceedings:
"Offense, there's a lot of mistakes and you're seeing three-and-out, three-and-out, three-and-out, 90-yard touchdown, three-and-out, three-and-out, 50-yard touchdown. That goes offensively and defensively, right there."
To be clear from the start, you should never take that much away from spring practices. It's doubly true when schemes are changing quite a bit as is the case this year.
That said, footage of that 90-yard touchdown — a long run by Adarius Lemons — that Mullen mentioned did manage to make it out into the public. It contains some pertinent information that I'll come back to in a moment.
The Florida defense a year ago struggled mightily, most especially in one phase: stopping explosive plays. The S&P+ analytics system has an opponent-adjusted measure of explosiveness called Isolated Points Per Play (IsoPPP), and Florida was 118th in the country last year in IsoPPP defense. Breaking it down further, the Gators were 121st in rushing and 114th in passing IsoPPP defense.
They were just bad in both respects. By contrast, they were a respectable 27th in defensive success rate, showing that they were pretty good on a down-to-down basis but they just had too many breakdowns.
This comes through in a more conventional kind of accounting. Florida allowed four more plays of 10+ yards than Georgia did last year despite playing four fewer games than the Bulldogs did. They allowed the same number of plays of 20+ yards as FAU did despite playing in three fewer games.
The new defensive regime of Todd Grantham is not necessarily the best remedy for allowing too many big plays. He prefers an all-out attacking style with lots of blitzing. His preference is to gamble that his guys will defeat the offense before the offense can defeat his guys.
That fact comes through when looking at the Mississippi State defense of a year ago. While it was better than Florida's was in most respects, it also had issues with preventing explosive plays.
The Bulldogs were 120th overall in IsoPPP defense in 2017. That breaks down to 120th in rushing and 128th — third from the bottom — in passing IsoPPP defense.
Looking at the ranks of Florida and Mississippi State in number of long plays allowed per game, we can see that they had breakdowns of different kinds.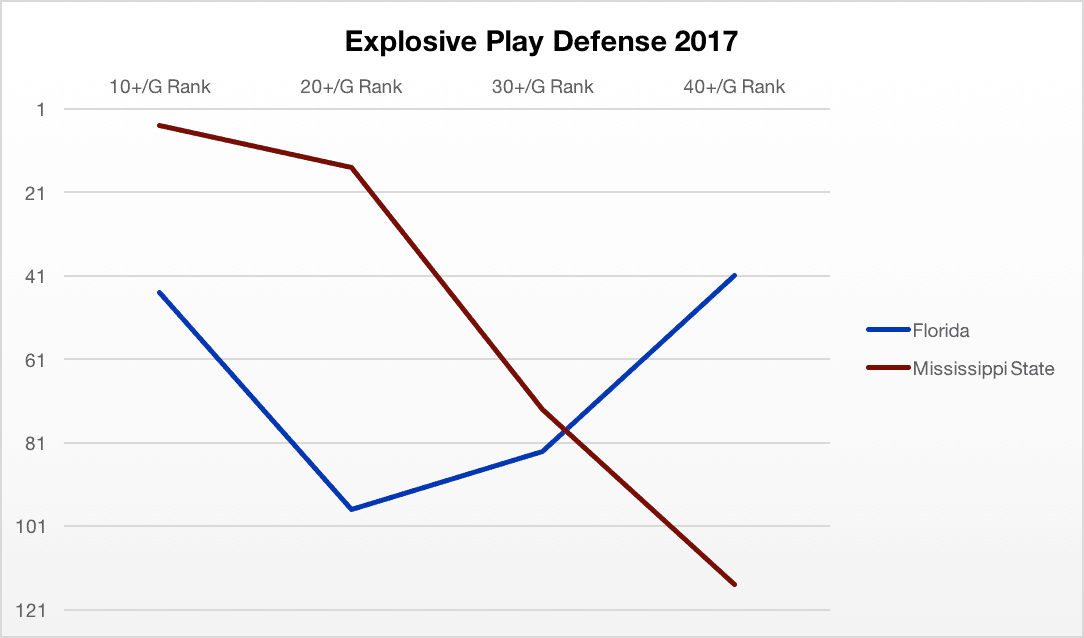 Mississippi State was actually elite in stopping plays of at least ten or 20 yards. They were fifth nationally with just 9.54 plays of 10+ yards allowed per game, right behind Alabama and Georgia and right there with Michigan and Clemson. They slipped only slightly to 15th in plays of 20+ yards allowed per game with 3.54, again almost identical to No. 16 Georgia and its 3.60.
By comparison, Florida clocked in 45th in the country with 13.00 plays of 10+ yards per game allowed. The Gators plummeted to 97th in plays of 20+ yards allowed per game at 5.18. Right about 40% of the UF defense's plays that went for at least ten yards also went for at least 20 yards. After that, about 44% of the plays that went for at least 20 yards also went for 30 yards. That's pretty bad. At least they allowed only 0.91 plays of at least 40 yards per game, a respectable 41st nationally.
The tier of plays of 30+ yards allowed per game was where things plummeted for Mississippi State. They were 73rd in that with 2.15 per game. That means 60% of plays that went for at least 20 yards also went for 30 yards.
The Bulldogs dive even further to 115th in the country in plays of 40+ yards allowed per game with 1.69. That means 79% of their plays of at least 30 yards allowed also went for 40 yards. That's just under four of five! It also means 49%, or basically half, of the plays they allowed of at least 20 yards also went for at least 40 yards. Breakdowns were rare, but when they happened, they were bad breakdowns.
Returning to that video of Lemons's long run, the offense did a couple of good things to enable the explosive play. The center and right guard, the latter of which appears to be Fred Johnson, do a great job of walling off the defensive tackle to give Lemons the edge. We also see something that was all-to-rare in recent seasons: a good block from a wide receiver.
However, the defense had its issues too. The edge rusher on the offense's right side (who I can't quite identify) runs himself completely out of the play. The inside linebacker, who appears to be Vosean Joseph, does a good job plugging the hole in the middle but perhaps overcommits to that, making him late chasing Lemons to the outside. The single-high safety Quincy Lenton takes too long to hit his top running speed and also takes a bad angle.
Again, mistakes are to be expected this early in spring practice, though they vary in their seriousness. An edge rusher going too hard up the field at least is a sign of great effort. A linebacker initially doing a good job on a play but being slow to get to the second half is understandable when learning a new system. A safety taking a bad angle is troubling, though, because there's nothing about the situation he was in that is unique to any given scheme. If you're the last line of defense as the single-high, you can't take a bad angle to get to someone streaking down the sideline.
Florida gave up too many explosive plays a year ago. The Gators' new defensive coordinator saw his unit give up a lot fewer of them, but when things did go badly, they went very badly. We'll see how the rest of the offseason goes, but it might be prudent to prepare yourself to see the Florida defense give up too many big plays again in 2018.