The Florida defense didn't cover itself in glory in the win over Ole Miss. It was adequate, but it's a stretch to assign it a stronger adjective than that one.
Dan Mullen said after the game and this week that he wasn't surprised. The team has practiced tackling twice since the Orange Bowl, and, well, it's a skill that requires practice. The coaching staff also had no idea what to expect from a team whose head coach and coordinators had never worked together before, and it showed. The defense seemed hesitant early on, and it sometimes had a hard time getting lined up before the snap due to the Rebels' tempo.
What happened was an extraordinary outcome. ESPN's David Hale noted that UF was the first team in the last decade to allow 70% completions, 400 passing yards, and more than 13 yards per pass attempt and win. The other teams to do that went 0-17.
I then noted that Joe Burrow got the Gators worse on a per-play basis last year in most respects, it's just that he had two fewer drives than the Rebels had to work with thanks to the Gator offense consuming more clock in that game.
And if you're curious, the Rebels racked up only the fourth-most yards per play that Florida has allowed since 2010. Not surprisingly, the seven other occasions in which UF allowed 7+ yards per play in that time were losses.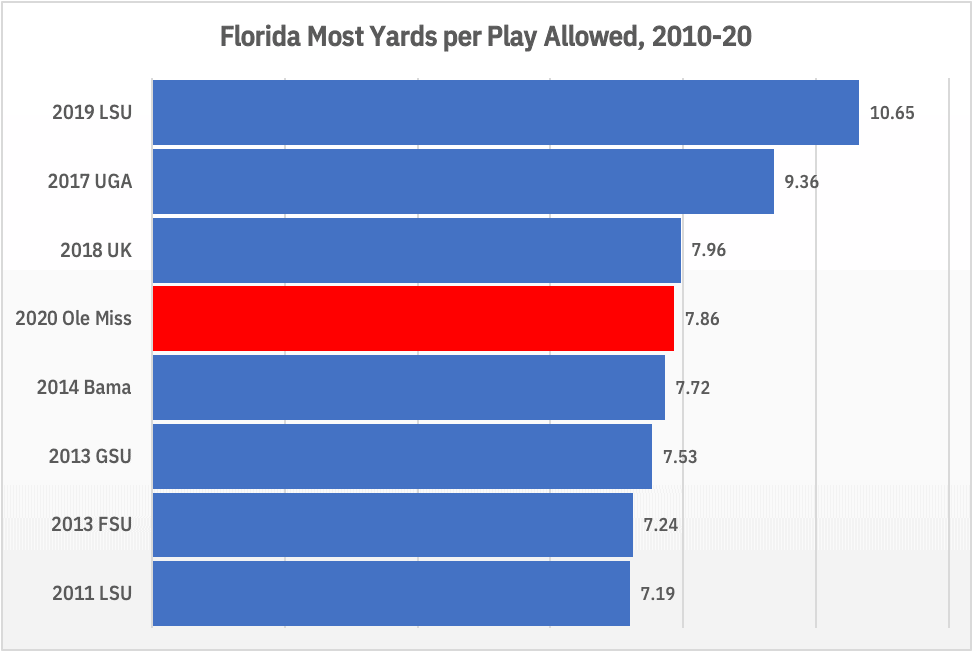 On top of all that, the game wasn't ever in doubt in the second half. Florida had a lead of at least 14 points the entire way after intermission. That's how well the Gator offense played against a struggling Rebel defense. The defense will need to pick it up, though, and Mullen seems fairly confident that it will.
Scrambles
One area in which Matt Corral beat Burrow's performance was on the ground. The '19 Heisman winner rushed six times for 43 yards (7.2 yards per carry). If you take sacks out of Corral's rushing totals, he had nine carries for 81 yards (9.0 YPC).
Corral did have 33 yards on three carries in his team's final two drives when Florida was in full-on prevent mode. Factoring those out still gives him 48 yards on six runs (8.0 YPC).
What happened? A big problem was that Florida's edge rushers too often went too far upfield. Here is an example of Andrew Chatfield and Mohamoud Diabate running themselves well past pocket depth and allowing Corral room to run.
Zach Carter kind of getting tackled after beating the RG doesn't help, but neither does Chatfield and Diabate getting 10 or more yards upfield and well past the QB's depth pic.twitter.com/72sp02YTRP

— David Wunderlich (@Year2) September 28, 2020
Ole Miss's offensive tackles did a good job of using momentum to push the defenders out of the play at times. It didn't happen every in every instance, though.
I don't know if it was first-game exuberance, a sign of a lack of practice time, or a combination of those and maybe something else. Regardless, the edge guys need to stay in better control. It works much better that way.
Tackling
There's not a lot to say here. Florida did a poor job with tackling at times. Like, really poor. It went for just about everyone, including no less than Kaiir Elam whiffing on Corral in the open field.
Mullen sounds confident that it'll be better this coming week. It had better be. South Carolina lacks the fleet of top skill position talent that Ole Miss has, but Shi Smith can still put a hurting on them if they don't wrap up.
Coverage
Again: having no film did the defense no favors, and the occasional fast pace caught the defense off guard at times.
But then, there were some flat-out coverage busts.
Either Wilson or Brunson is supposed to get 11, but both go for the H-back. Too easy. pic.twitter.com/tTaxLUvtdH

— David Wunderlich (@Year2) September 28, 2020
I would like to think these will not persist. Here I think it's a matter of Lacedrick Brunson losing track of the wide receiver that's behind him in his area. He did technically have safety help deep, but Donovan Stiner is helping Elam with Moore going to the back of the end zone. If Moore cuts out to the corner, as he did, and Elam has it; if he cuts in, Stiner's there.
If it was on Brunson and not Marco Wilson, who's playing star in that area, then it's not a big one to worry about. Even as Mullen disclaims any value in depth charts, Brunson doesn't appear on the linebacking two-deep. If Florida's linebacking corps is at full strength, he won't play too many snaps against the best teams on the schedule when the rotations get shorter. This is not meant to be a knock on the redshirt junior linebacker, who's never been a problem for the program that I'm aware of. It's just acknowledging what is most likely to happen in the future.
Besides, other players that do appear on the two-deep had some coverage issues too. The telecast diagrammed how Ole Miss's first touchdown came from Stiner staring too long at play action in the backfield and blowing his help to Elam on a deep double-move post. CJ McWilliams, the nominal starter at star in both 2020 depth charts so far, gave up a long completion to Moore on the first play of the Rebels' second drive after the half. Even Elam and Wilson didn't have completely clean games.
Getting Brad Stewart and Shawn Davis back will help, but they alone aren't enough. If Florida wants to fancy itself a College Football Playoff team, it needs playoff team-caliber coverage from everyone.
The freshmen
Gervon Dexter made his presence known early with a couple of big plays. He picked up a tackle for loss, and, congrats to the folks who had him getting the Gators' first interception of the year on their bingo cards.
However, Ole Miss just didn't block him on his TFL. His pick also came from him being in the right place at the right time after Brenton Cox made a terrific play to bat down a pass. Good on him for making the most of opportunities, but he didn't really do anything on his own that made me say "wow".
Dexter only started playing football in his final two years of high school. He visibly lacks polish, but the potential is there.
The other true freshman to get a lot of snaps was Rashad Torrence. Once Davis went out on the targeting flag, it cleared the way for Torrence to get some snaps.
Now, secondary is one of the toughest places for true freshmen to play. Doubly so without spring practice. He had some rough plays, but he also ended up in some bad positions that weren't entirely his fault.
Take this long completion to Moore. At first glance, it looks like a straight-up bust from Torrence.
Jet sweep play action keeps both Elam (outside) and Wilson (inside) short, forcing Torrence to have to cover two guys deep. Which no one can.

Torrence goes with the out. If he doesn't, throw goes there and it's 6. Moore is uncovered, but at least there's another safety that way. pic.twitter.com/6OE1xCV3M4

— David Wunderlich (@Year2) September 29, 2020
Take a closer look. Jet sweep play action keeps both Elam and Wilson up close to the line. That leaves Torrence to cover both Jonathan Mingo (jersey No. 1) and Moore by himself, which is impossible.
Mingo goes out while Moore goes in. With Elam too shallow to cover Mingo, a completion outside goes for six if the receiver can stay in bounds. It's Torrence or no one covering him, and the young safety goes that way.
Doing so leaves no one on Moore, but there are at least other Gators to the inside. Stiner is somewhere over that way as a second deep option, and Wilson could try to close from behind.
I don't know what the official "correct" move was, but I think Torrence made the best of a bad situation. And, he hustled afterwards and picked up the tackle.
It can be hard to watch guys experience growing pains, but you never know who's going to be out at any given time this year. Given how hopeless the Ole Miss defense was against the Florida offense, it made sense to let a couple young guys take some lumps in a game that wasn't ever in serious doubt.
The bottom line
The Rebels have a good offense. It has some obvious future NFL talent with guys like Corral and Moore. It has one of the better offensive schemers as head coach. It had the element of surprise since that head coach and his bright new offensive coordinator had never worked before.
Florida held the Rebels to 21 points through three quarters before allowing a pair of touchdowns after it built up a 23-point lead with under 13 minutes to go. John Rhys Plumlee was basically a non-factor.
It was not up to The Gator Standard, believe me. However we also saw a ton of guys hit the field, some of whom were far from the top line of the depth chart. If the UF offense hadn't been nigh unstoppable, I'm sure we would've seen fewer experiments and guys out there just to get experience.
It will get better from here, but there is work to be done to ensure that it does.