When a punter takes the field it normally means one thing. The offense hasn't gotten the job done and somebody needs to go in there and fix it. This Saturday Florida's punter will take the field one last time at Ben Hill Griffin Stadium and he has, arguably, been one of the more productive seniors in this class.
Like a lot of kickers and punters, Kyle Christy's football career really started on the soccer fields when he was just five years old. His parents rewarded him for goals, giving their son a quarter whenever he would score. They quickly changed that to giving him a quarter for assists when they saw how easy it was for their son to score.
Christy started playing football in the third grade in his hometown of Brownsburg, Indiana. His parents would take him from one practice to the next, juggling school and two sports all the while.
When high school came around, Christy had to wait his turn to get an opportunity on the varsity team. He was the team's place kicker as a sophomore, then took over the long punting role for his high school team during his junior season.
Heading into his senior season, the Christy's traveled around the country going to kicking camps. Kyle won both the kicking and the punting competition at LSU — the first camp he attended. The Christy's were the last family to meet with head coach Les Miles and a week after the camp LSU became the first offer he would receive. The offer was as a kicker because the Tigers had already extended a scholarship to Brad Wing as a punter in the 2010 recruiting class.
The camp tour continued until one day on the way home from kicking at Iowa, the soft spoken kid opened up to his father.
"Driving back from Iowa, Kyle said his leg was getting sore and wondered, since he already had the LSU offer, if we could just be done with camps," Ken Christy told Gator Country. "We already had paid for flights the following week to UF and Boston College, with further plans for some possible Ivy League schools. I told him, 'Lets do the 2 camps next week, then we can be done.'"
Christy went to the Florida camp and impressed then head coach Urban Meyer, receiving a scholarship offer on the spot.
"Urban said Kyle was a unique talent to be able to be great at both kicking and punting," Ken Christy said. "He said he had a great kicker [Caleb Sturgis] but his punter [Chas Henry] was graduating and he needed to replace him."
Kyle and his father made one more trip to Boston College to finish their camp tour but the son's mind was made. Christy committed to the University of Florida one week after getting his scholarship offer.
Ken Christy remembers the long drive down to Gainesville. Any father who has dropped their son off at college knows the feeling of sitting next to an 18-year old kid, wanting to implore some last minute knowledge upon him, tell him how proud you are and how much you're going to miss him.
"Trying to talk to an 18-year old kid about to go out on his own, there wasn't anything I was going to tell him that he was going to listen to," Ken Christy said. "It went in one ear and out the other. It's just typical of that age."
After a quick shopping trip to get the necessities of living on your own, Ken said his goodbyes and turned the car around for another 16-hour drive back home, this time alone. "It was definitely a long, hard drive by myself knowing that I was leaving my son so far away," he recalled.
It wasn't long before they would see their son again. Kyle got an opportunity as a freshman, playing in seven games for the Gators, his first kick coming against Auburn. "He kicked one like 67-yards, I think. That first kick has been his long through four years," his father remembered.
Christy followed up that freshman season with one of the best years a punter has ever had at the University of Florida. His 45.8 yard-per-punt average was fifth best in the country and his play was pivotal in games against Texas A&M, Tennessee, LSU, South Carolina, Georgia and Florida State.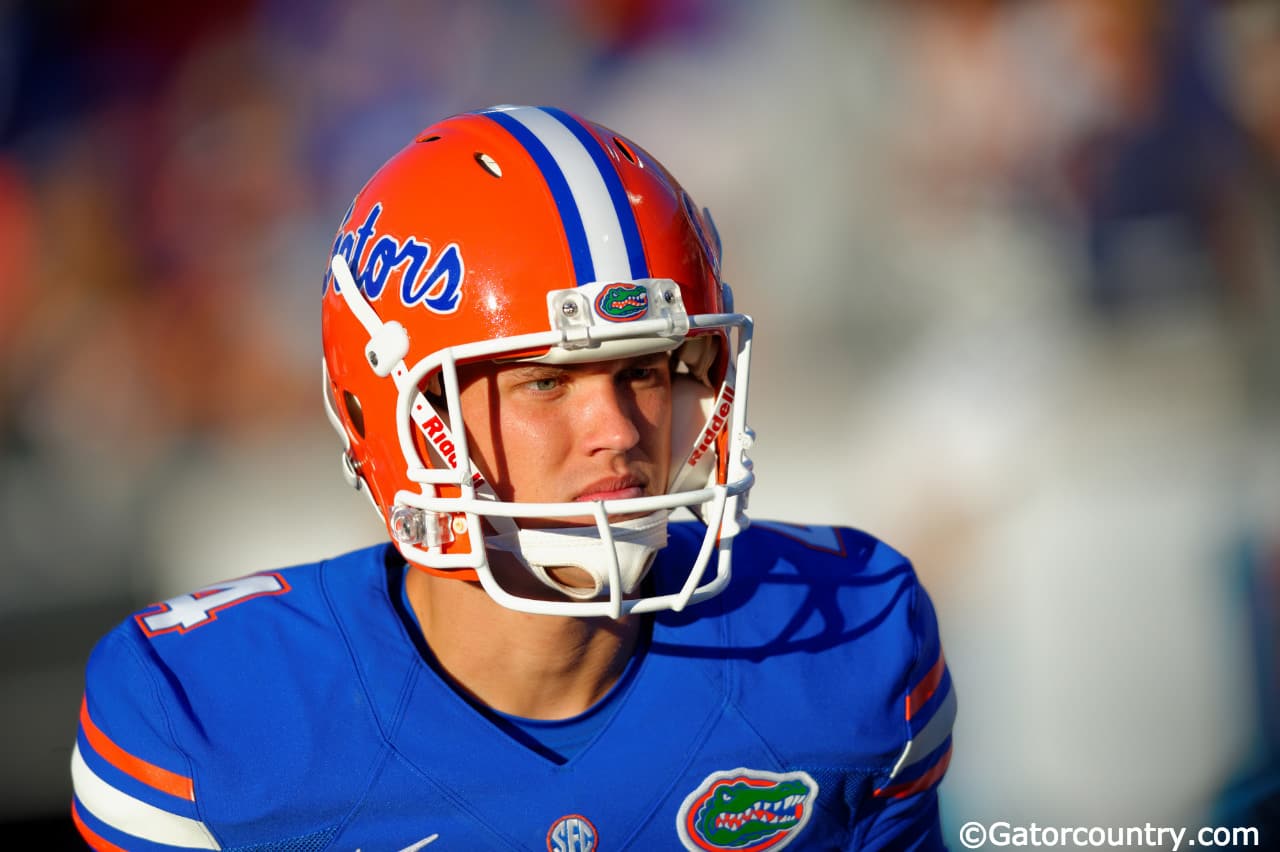 No coach wants their punter to be the best player on their team but Christy was as integral to that 11-2 record in 2013 as Mike Gillislee or the Gator defense. It took some time but this season, Muschamp admitted that without the play of Christy that year, the Gators wouldn't have won games against Tennessee or LSU.
Then his junior season rolled around. Kyle had spent the offseason being talked about by national media outlets. He had just missed out on winning the Ray Guy Award as a sophomore. The only Florida punter to have won the award was the guy that he followed, Chas Henry.
"In his room he has a picture of Chas Henry holding the Ray Guy trophy with 'my inspiration,'" Ken Christy said.
Kyle went into his junior season a favorite to win the award and was name a preseason All-American. After averaging 39.61 yards through his first 11 kicks — 6.19 yards less per kick than the year before — Christy was replaced and wouldn't play the next six games of the season.
"He wanted to get better and he tried and he tried," his father said. "It just messed it him up."
Christy worked tirelessly in the offseason. At the family's expense he worked with private kicking coaches, re-working and refining his technique but most importantly building back his confidence. When he was recruited, Urban Meyer told the Christy's that Kyle was a NFL punter — a sentiment that Will Muschamp has echoed though the years. Deep down Kyle knew that, he just lost it somewhere along the way in 2013.
He returned for his senior season and earned the starting job back. Christy has had a solid season — currently ranked No. 20 in the nation with a 43.96 punt average — and shown his true character.
Before games you'll catch Kyle walking the length of the field, meticulously working on his drop up one sideline and back down. A soft-spoken guy, Christy has shied away from praise when speaking with the media but this bounce back season has felt good for him and his family.
However, after four years of highlights on the football field and even after finishing up a civil engineering degree in just four and a half years — with cum laude distinction — the most proud his father has felt of his son didn't come until this year, after a game.
Following Florida's embarrassing homecoming loss, the Gators made quick work getting off of the field, except for two players.
Kyle Christy and Trip Thurman made the long walk from midfield to the northeast corner of the end zone to sing the alma mater.
They were the only two players to stick around for it.
As we were walking out of the stadium, I had my number 4 Christy tee shirt on and one of the ladies that works at the stadium stopped us and asked us 'is that your son?" Ken Christy recalled. "You should be very proud.' He didn't do that for him. He did it for the fans."
In Kyle's mind, it was just a small token of appreciation to the fans, his classmates and to the band. Sure, the game had been one of the toughest losses to stomach but no player; no game is bigger than the university.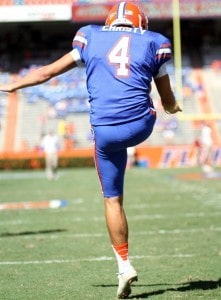 He has but one more opportunity to stand with the band and sing the alma mater but there are more pressing issues to take care of before that.
He'll walk out of the tunnel on Saturday afternoon and be recognized, something new for most punters, in front of every fan at Ben Hill Griffin Stadium. He'll make the long walk from the tunnel in the south end zone with his family waiting. Kyle's grandmother has been dealing with health issues this year but she will be in attendance to help celebrate the moment.
"I'm not sure who will be more emotional in that moment, my wife or myself," ken Christy said. "It's pretty easy to bet there will be some tissues."
Saturday is the culmination of a lifetime of hard work. Christy will graduate with honors with a degree in civil engineering. He'll go down as one of the best to play his position in school history and, most importantly, he'll get to cherish all of that work in an intimate moment with his family on the field that he's called home for the past four years.