The life of Daniel "Rudy" Ruettiger was immortalized forever in the 1993 when TriStar Pictures made the movie Rudy.
If you're reading this story, you're likely familiar with the underdog story of an undersized kid and his dream to play football. Ruttiger dreamed of playing for Notre Dame so much that he applied four times to get into the university, only receiving acceptance on that final attempt.
He then walked on to the football team only to find out that his name wouldn't go down in the official record books until he played a single down in an actual game. A walk-on, Ruettiger worked his way to the scout team — a thankless job where players simulate the opposing offense or defense and take a pounding from the first string each week. Ruettiger worked and worked and in his final game playing for the Irish played in three plays, recording a sack and became the first player ever carried off the field in Notre Dame history.
The Florida Gators have their own "Rudy" this season in former walk-on Michael McNeely.
McNeely was a standout receiver at Palm Harbor University in Clearwater, Florida, setting school records in yards and receptions in 2009. He placed second in the district as a high jumper and was also named the MVP of his basketball team in 2008-09 and 2009-10. A great student, McNeely considered both Dartmouth and Harvard before deciding to walk on at Florida and pursue his dream of playing football for the Gators.
He worked tirelessly and earned a role on special teams. McNeely's effort has made an impact on his teammates.
"You get the same McNeely every day. You're having a bad day and that's a guy that's going to come up and he'll talk to you," starting defensive lineman Jon Bullard said. "Just push you in practice if he's see's you're having a bad day. If you got yelled at and you're down on yourself or something, that's just the type of guy he is. He doesn't always play a big role, but when he do, he do it to the best of his ability as hard as he can and we appreciate it."
McNeely has worked part-time at Publix while maintaining grades good enough that he was accepted to Florida's medical school and participating on the football team. He bags groceries and tends to a cash register, calling himself a "bagsheir."
When fall camp was wrapping up, Will Muschamp gathered his football team. He awarded kicker Frankie Velez and McNeely scholarships. At the time, McNeely called it "the best day of my life."
Then, last week before the Georgia game he received notice that he was accepted into Florida's medical school. Not a bad way to kick of the week.
Finally, the game on Saturday arrived. All week Florida had worked on a fake field goal with McNeely as the holder. The team saw the play work over and over again in practice but it's a lot different running something successfully in practice versus running it in a game against rival Georgia.
From 31-yards out, the Gators dialed up the fake but Will Muschamp admitted that he was ready to call a timeout and nix the whole thing if the Gators didn't have the right look.
They did.
"It was a great call," McNeely said. "It was drawn up perfectly. The guys blocked. I know Tevin [Westbrook] had a great climb and Clay [Burton] kicked out. Frankie faking helped. All the linemen blocking, it was perfect. All I had to do was run. It worked just like it did in practice, so I knew where to hit it."
The play worked, springing the spright McNeely into the end zone to even the score with Georgia. The play was the catalyst in Florida's 38-20 win over Georgia and it couldn't have happened to a nicer guy.
"I was so happy to see McNeely score," senior center Max Garcia said. "I don't think there's anyone on this team more deserving to be the hero. He's just a great dude."
Garcia took a minute, apologizing for the emotion that had overcome him. His eyes welled up with tears and his voice cracked.
"I get emotional talking about him," he said fighting back tears. "He's a hard worker man. He's just motivation for the team and guys like him are why we are going to be able to be successful because he cares about this program. I love him."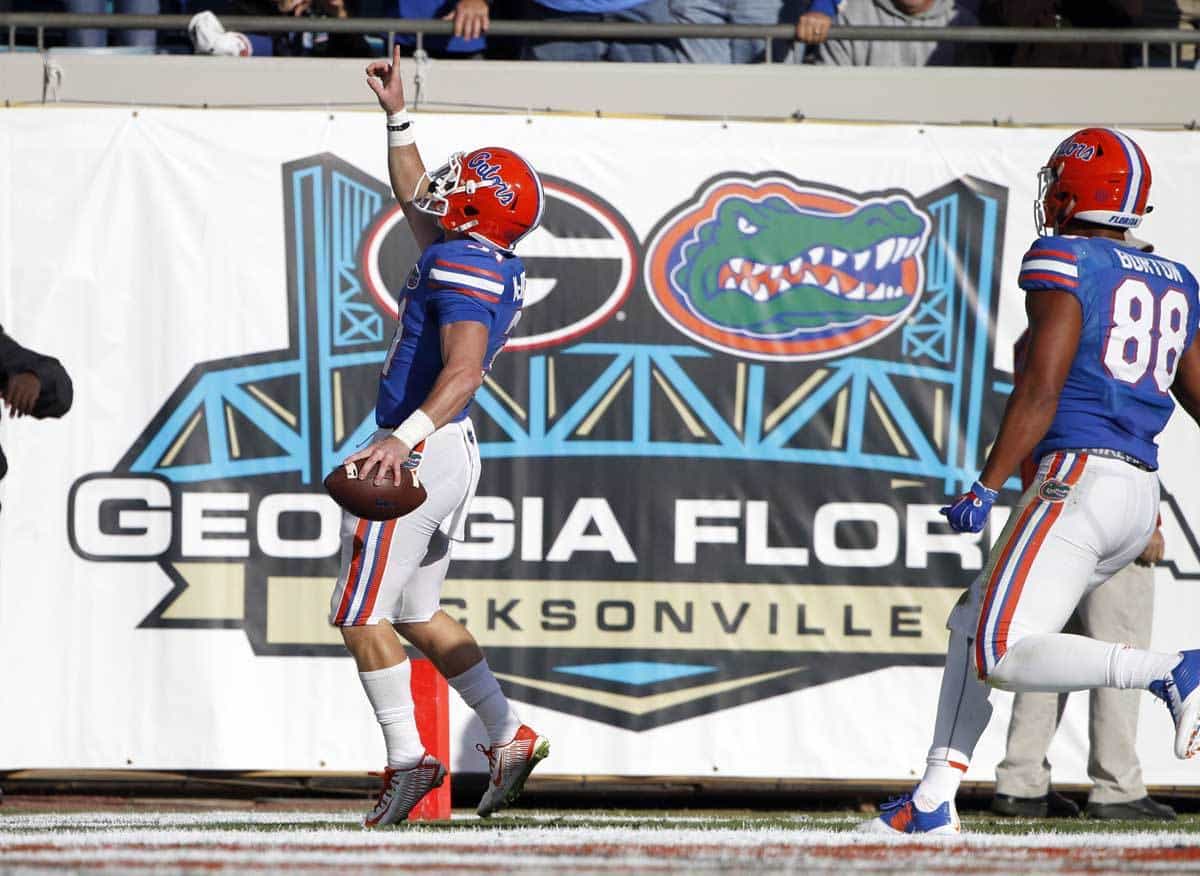 Following the best week of his life, McNeely returned Sunday afternoon to Publix, where's he's been apart of the company since 2008. This shift was a little different than normal. There were a lot of congratulations and pictures being taken.
He's earned it and not for his lone play on Saturday.
Michael McNeely is everything that's right about college sports. He's an excellent student, hard working on and off the field and he somehow finds time to build the kind of relationships that make a 6-4, 310-pound offensive linemen break down in a room filled with reporters.
"I think if we had a whole team full of McNealy's, we'd be a national championship team just because of the way we plays," Garcia continued. "Everything he does on and off the field is championship level."
He never dreamed that he would be able to earn a scholarship, get into medical school at Florida or score a touchdown against Georgia. He's done all of those things this season and the touchdown that became the catalyst against Georgia could very well propel his football team the rest of the way this season.