Tim Tebow, Percy Harvin and Brandon Spikes sat on the cover of Sports Illustrated with a look in their eye that made you believe the title that lay before them. "Florida Loading Up for Another Title Run."
The Florida Gators were one of five teams that were put on the cover of the 2008 Sports Illustrated College Football preview issue and the SI jinx couldn't stop this juggernaut.
A 56-10 win over Hawaii kicked things off before the Gators manhandled Miami 26-3 and trounced Tennessee 30-6. This would certainly be the year that the Florida Gators would run the table, win a National Championship and do so in undefeated fashion, something no Gators team had done before or since.
"I'm sorry. I'm extremely sorry," Tebow choked out a few words, fighting back tears. Tebow was the current holder of the Heisman trophy, a first class citizen on and off the field — he had yet to even commit a personal foul, something he would check off his list later in the season. The kind of person every guy wanted to be, every girl wanted to be with, even after Clay Travis told them they couldn't. What could he possible be sorry about?
Just hours earlier the Gators had welcomed the Ole Miss Rebels into Gainesville. A seldom played cross-divisional conference opponent, Florida was 3-0 at the time and a heavy favorite to make it four games in a row against the Rebels, who had lost to Vanderbilt just the week before.
A speed bump? This wasn't even a rouge pebble in the path of the Gators' quest for perfection.
Three lost fumbles — two from Tebow — set up a fourth down and one with quite possibly the only player in college football history you would want in that exact situation taking the snap.
Surely Tebow would bulldoze his way through the Ole Miss defensive line like he had done to so many lines before and finish off the comeback win to save Florida's season. This was Tim Tebow, we'd seen this show before.
"We missed our opportunities. We missed our opportunity on fourth and one and we missed the extra point," Tebow said when in town last week with SEC Nation. "Obviously, if you can't already tell I don't even remember it though. That game hurt."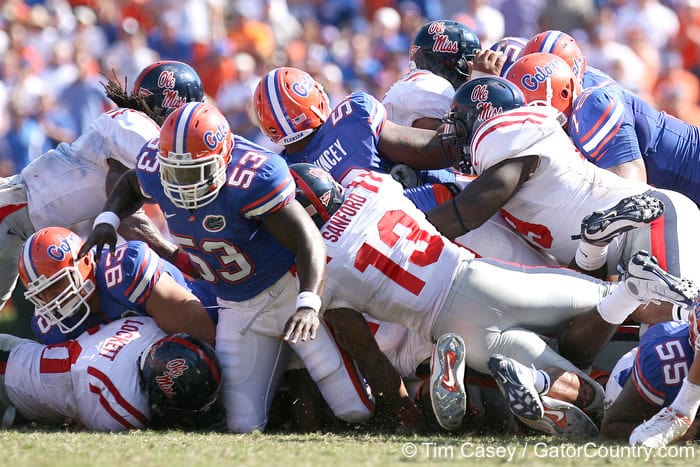 Tebow barely made it back to the line of scrimmage as the Rebels began to celebrate on Florida Field. Less than an hour after his dreams of an undefeated season were dashed the quarterback who couldn't push that one more yard promised to push the Gators to the Promised Land.
"I promise you one thing, a lot of good will come out of this," he said. "You will never see any player in the entire country play as hard as I will play the rest of the season. You will never see someone push the rest of the team as hard as I will push everybody the rest of the season. And you will never see a team play harder than we will the rest of the season. God Bless."
What all Gators fans now know as "The Promise" were just words at the time, they were not yet immortalized on a plaque outside of Ben Hill Griffin Stadium and if not for the way the Gators finished the season, they may have been forgotten by now.
"I know what I felt in my heart," Tebow said before admitting he probably couldn't recite it again. "I probably couldn't remember the whole thing. No."
It's not that Florida went on to win the BCS National Championship that season that makes the statement what it is; it's how Florida went about accomplishing the feat. A 51-21 domination of No. 4 LSU, a 49-10 pounding of the No. 6 Dawgs in Jacksonville, a 56-6 laugher over No. 25 South Carolina and a 45-15 win in the rain over No. 20 Florida State. The Gators took down Nick Saban and the Alabama Crimson Tide to become SEC Champions and held the most prolific offense college football had seen at the time in Oklahoma to 14 points in the title game.
"I don't know about that," Tebow said when told his speech rivals "Win one for the Gipper." "I just know that — not that it had anything to do with that speech — that we had a special group of guys that rallied together and I have a lot of great memories from that."
Now, in 2015, the Florida Gators will once again welcome the Ole Miss Rebels to Gainesville with an undefeated record. Florida is 4-0 and ranked inside the AP Top-25 for the first time since 2013 but they don't welcome a reeling Rebel squad this time around. Like in 2008, Ole Miss comes to Gainesville following a date with Vanderbilt, this time around the Rebels hung on to victory.
Ole Miss is also 4-0 with a win over Alabama in Tuscaloosa — the most impressive win any team in the nation can claim this season.
The Gators are a seven point home underdog and there aren't many people outside of the Florida locker room that will give them a snowball's chance in hell to come out of this weekend with an untarnished record.
"We've got to move forward [from the Tennessee win]. That's what this is all about," Jim McElwain said on Monday. "Learn from it and let's go to work today to get a little bit better and go play a team that I'm sure is going to come in here and figure that they should beat the heck out of us. Highly ranked opponent that has everything going for them."
Ole Miss has the SEC's top scoring offense (54.8 ppg), passing offense (344.5 ypg) and total offense (543.5 ypg) led by transfer quarterback Chad Kelly and a group of receivers that could be starting on many NFL rosters. The Rebels offensive line returned the third most starts in the nation across the line and Ole Miss is playing the part of the juggernaut that Florida was in 2008, eyes on a SEC and National Championship.
It's been seven years since the last time the two schools met on the football field and the script is flipped this week. Florida knows that they're an underdog. That's a role that these players grew accustomed to the past four years but one they're eagerly trying to change.
"It definitely gets us excited," redshirt senior Valdez Showers said of the Gators top-25 matchup. "You can feel it in the air. We've been sick of not being ranked and not playing top-25 opponents and stuff like that, so we're definitely not taking this lightly."
Showers was a freshman in high school the last time these two teams played. Every member of the Florida Gators football team walks by The Promise plaque on their way in to the stadium each day. To them, Tim Tebow is a larger than life character, someone they grew up watching play when they were in high school and in middle school. They weren't affected by Rebels fourth down stand; they can't recall it as vividly as older fans can.
They don't remember how big of an underdog Ole Miss was that week, that nobody was giving the Ole Miss a chance to take down the mighty Gators. They do hear the narrative this week, though. Whether they admit it or not, every player in the locker room knows that nobody expects them to win on Saturday. Ole Miss' offense is too good, the receivers are too big, and Robert Nkemdiche is going to eat Florida's offensive line for breakfast. They're the underdog, a big underdog at that and they want to shock the world.
Ole Miss is on top of the SEC right now — just like Florida was back in 2008 — they earned that by taking down the Crimson Tide on their home turf. In a funny way, watching that 2008 loss to Ole Miss should be comforting to the 2015 Florida Gators football team. It's proof that just because a team is supposed to win, just because a team is thought to be better or is better on paper doesn't mean they will.
Like the Florida Gators did in 2008, the Rebels graced the cover of Sports Illustrated following their win over Alabama under the title "Re-Embrace the Mayhem."
Nothing would cause more mayhem to the landscape of college football this weekend than the Florida Gators returning the favor and flipping the script from 2008.