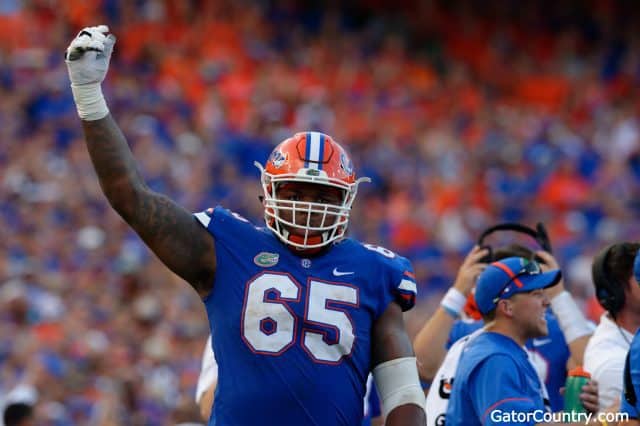 In beautiful downtown Nashville, with over 600,000 people in attendance, the 2019 NFL Draft came and went with five Florida Gators drafted, including the first time an NFL team (Carolina Panthers) drafted a Florida Gators player (Jordan Scarlett).
Despite, no first-round draft picks, the Florida Gators had their fifth straight year with at least five draft picks and got to their 67th year in a row with at least one draft pick (unlike, the Tennessee Volunteers, who this year had zero draft picks).
I sat down again with Trevor Sikkema of The Draft Network to look at the 2019 NFL Draft and then look forward to 2020.
---
DT: Jawaan Taylor fell a bit. Some speculated knee issues, the Jaguars and Taylor both said "no", so why do you think he fell?
TS: From what I heard it was the knee issues that teams found that scared them off, and both that and the Jaguars saying they weren't worried about it can be true. I was told the Jaguars liked Taylor enough to draft him in the first round. But when Josh Allen was there for them at No. 7 they couldn't pass him up. They got lucky and Taylor fell to them in the second round, but the knee was obviously somewhat of an issue for other teams, even if it wasn't for Jacksonville.
DT: Chauncey Gardner fell quite a bit, some speculated, including you, 1st round, what happened?
TS: From what I was told it was the team interviews that really hurt his stock. Now, I was not in those rooms, so I have no idea what that means. I also hate how this excuse comes up every year just as a cop out. But unfortunately, I do not have a definitive answer because I was not in the interview rooms. Perhaps he came off too arrogant or not willing to be a team player. Those are usually the biggest turn-offs.
DT: Jachai Polite seems like he landed in a great scheme?
TS: Scheme really won't matter for Jachai. Honestly, he is good enough to play in a 3-4 and 4-3 (Jets moving to more of a 4-3 base this season). It's all about him just handling himself and being responsible in terms of being at the right playing weight and training hard at his craft.
He does get to play next to Leonard Williams and Quinnen Williams, though, which will; be awesome.
DT: Jordan Scarlett re-unites with two former Gators in Cam Newton and Will Grier in Carolina – how do you think he will be utilized with the Panthers? How does he work in an offense with Christian McCaffrey?
TS: I don't think Scarlett will be used in the same role McCaffrey is, but rather as a compliment as more of a traditional running back role. He'll still fit well in Carolina with a team that is run first. I could very easily see Scarlett being the second running back behind McCaffrey in year one.
DT: Vosean Joseph to the Bills. Thoughts? Drafted where you thought he would be?
TS: I really didn't know where Joseph was going to get drafted because the opinions of the linebacker class were all over the place. I do like the fit with him in Buffalo, though. The Bills are trying to get more athletic at the linebacker position, led by Tremaine Edmunds, and Joseph fits that movement.
DT: Why wasn't Martez Ivey drafted?
TS: Ivey really never became the player his high school rating projected him to be. He's okay, but nothing really to get excited about. Teams see what they believe to be Ivey's ceiling and it's not very high. Anytime a team can't project you higher than your draft stock it really hurts the chance for you to get drafted. The draft is all about imagination and envisioning what a player can become. I think the NFL already knows what Ivey is and it's not a very high ceiling.
DT: Did you expect Cece Jefferson to get more than just a Camp invite?
TS: Depends what a team is looking for with him. I never saw Jefferson as a player who was a sure-fire draftable player, so in that sense I always saw him as a camp guy who would have to work his way onto a roster. Not sure he'll do that in his first year. There will be other chances and of course the rest of the season when players get hurt. He'll have his chances to stick.
DT: Who is going to have the biggest impact of the drafted Gators?
TS: I think Chauncey Gardner-Johnson will have the biggest impact. I can't believe he lasted until the fifth round. He is way too talented for that, and now that he is on a roster — an aggressive one at that — I think he is going to thrive.
DT: Alright, let's look forward: who are the top-3 Gators to get drafted next year?
TS: Cornerback C.J. Henderson seems to be getting the most hype. He's even been in some early first-round mock drafts for 2020. He's been good, but I do think he's been more of an opportunist than a straight playmaker over the last two years. He could take another step up this year, though. Jabari Zuniga has some untapped potential as a pass rusher. His high-end flashes are incredible for a man his size. I thought he plateaued last year, but if he breaks that plateaued as a pass rusher this season, he could be a Top 50 pick. Finally, running back Lamical Perine is a stud and he would have been a decently high pick if he declared for this past draft.
DT: And for fun: Feleipe Franks – thoughts?
TS: I have been one of Feleipe's biggest critics. I was never really a fan of him when he came into the class, and I was not of a fan of his during his first two seasons. But I will admit he was impressive at the end of last season, and then in the most recent spring game, he was on the money. I am excited to watch him this year, as it seems like he is really taking another step under Dan Mullen.