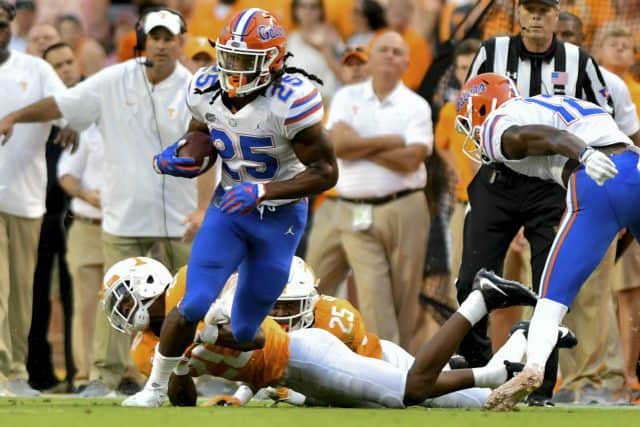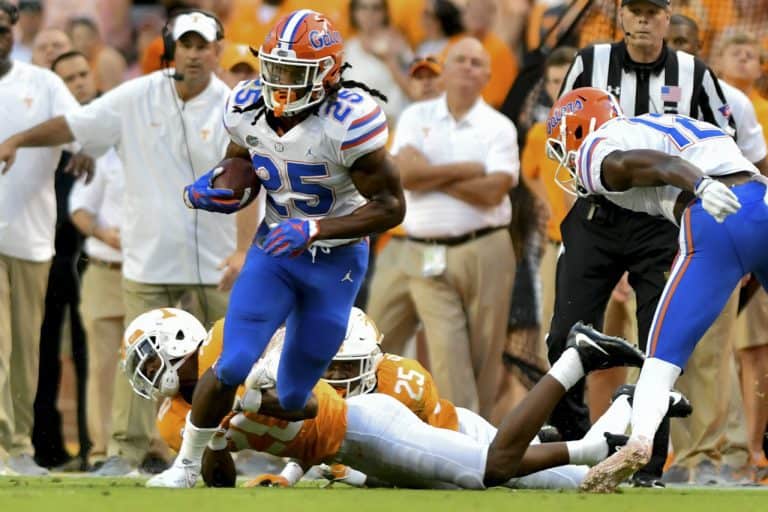 Eight Florida Gators made their presence known at the biggest job interview of their lives this past week.
All eight Gators (Chauncey Gardner-Johnson; Jawaan Taylor; Jordan Scarlett; Cece Jefferson; Jachai Polite; Martez Ivey; Fred Johnson; Vosean Joseph) made the trek to Indianapolis, Indiana with five (Scarlett; Jefferson; Gardner-Johnson; Taylor; and Polite) participating in at least one part of the workout.
As is the case with the combine, you can only glean so much from the on-field workout portion, as a majority of what scouts learn about prospects happens behind the room, so instead of trying to piece together numbers and trying to derive information from incomplete information, we sat down with Trevor Sikkema of The Draft Network who was in Indy for the combine to get his thoughts.
---
DT: Who stood the most to gain by a good combine?
TS: I felt like either Jachai Polite or Vosean Joseph had the most to gain. Had Polite shown up and impressed with his athletic testing, it likely would've vaulted him in the Top 15. And as for Joseph, this linebacker class is not very deep, so him standing out in any way would have helped him be a priority guy on Day 2 (rounds 2-3).
DT: OK, first question: who disappointed? I think I know the answer…
TS: Jachai Polite — big time. His interview at the media station was about as odd of an interview as I can remember. Then afterwards it came out that his interviews with teams didn't go much better. On top of all that, he showed up overweight at 258 pounds (which didn't look good on his frame) and his athletic testing was very bad. Disappointing weekend all around for Polite.
DT: So how bad did he hurt his stock?
TS: I think Polite hurt his stock big time. He was considered to be an easy first round prospect by most, but now doesn't seem to be a first-round pick at all. Some teams are going to have him completely off their boards, I bet. He needs a good system around him. Not just schematically, but coaches, players and mentors, too. If he can figure himself out, he can still be one heck of a football player at the next level.
DT: Who surprised you the most?
TS: I guess my answer here is Jordan Scarlett, although I shouldn't have been too surprised. We've watched Scarlett be a powerful yet athletic back for a few years in college football, but with him never having a permanent starting role, I just didn't know how he'd stack up against the rest of the guys in the class. He stacked up very well.
DT: OK. So where does he go during the draft in April?
TS: Running backs are always so tough to gauge on where they go because you never know where the league, as a whole, is going to start taking them. It's a decent running back class, but I'll still say Scarlett goes early Day 3 (rounds 4 or 5).
DT: Back to the first question. Vosean Joseph didn't participate due to a hamstring issue? How much does that matter?
TS: I think it mattered in the sense that if he would have participated and performed well, he would have solidified himself as a Top 100 pick. But now with just the potential Pro Day numbers, who knows. I don't think it hurt him by not participating, but it was a missed opportunity to help his stock down the stretch.
DT: Who should we not be surprised to see drafted earlier than most think?
TS: Chauncey Gardner-Johnson. He's going to go in the first round, and he should, but it has taken people a long time to realize that. CGJ's 2017 tape was bad, but his 2018 was much improved. He has size, speed and swagger, which is the Holy Trinity, if you will, for a first-round defensive back.
DT: Where does Chauncey Gardner-Johnson play at the next level?
TS: He's going to play in that "big nickel" role that is taking NFL defenses by storm. It's a role that is a combination of strong safety and nickel cornerback. In coverage, he'll be used in man to neutralize tight ends in the slot as well as running backs as receivers out of the backfield. And he'll also be used near the box in run support.
DT: Jawaan Taylor has catapulted up the draft boards – you a believer or no?
TS: Absolutely. It's funny because people at The Draft Network consider me to be the resident Florida guy since I watch every game, and yet Taylor was a stud all year long right under my nose and it never stuck out like it should have. After I went back and re-watched the tape focusing on just him, he's the best pass protector in the draft, and he deserves to be the first offensive tackle off the board.
DT: In Indianapolis, what is the talk around the Gators program?
TS: All of the talk around the Gators program seemed to be positive in Indianapolis, and that can be attributed to Dan Mullen. Almost everyone I spoke to about the Florida program brought his name up and talked about how impressed they were with the turnaround and where he has the program going.
DT: Other Dan Mullen guys (Sweat and other MSU players) had seemingly great combines – what does the NFL think of Dan Mullen the coach and player developer?
TS: Mullen is clearly on the NFL's radar as one of the best in the country when it comes to developing future talent. He has an eye for recruiting and then has a staff and a philosophy to develop these players beyond how good or how athletic they were in high school.