Diet pills, six-pack shortcuts, weight watchers, juice cleanses and Paleo diets. Americans have become obsessed with losing weight and they're turning to all kinds of yo-yo diets to accomplish that.
America — once the fattest country in the world — has gone health conscious.
There is, however, one Florida Gators football player who doesn't have to worry about all of that. In fact, instead of counting calories and staying away from evil carbohydrates, redshirt sophomore Alex McCalister has been piling food high up on his plate and going back for seconds.
The 6-6 defensive lineman — who has an impressive 7-2 wingspan that he showed off to reporters on Thursday — came to Florida a long, lanky 206 pounds and, by his own admission, wasn't ready to play in the SEC. "When I first came in at like 206, I really couldn't push anything," he said.
McCalister was a project. His combination of size and speed earned him scholarship offers from some of the bigger names in the ACC and SEC but he chose Florida. He took a redshirt his first season on campus and saw limited action in seven games last season, recording three tackles.
McCalister kept working on his game despite not getting on the field that much and he kept adding weight, slowly but surely. He had to make sure he gained weight the right way, speed is his biggest asset and he didn't want to add weight and lose that speed that can make him a good pass rusher off the edge.
Since arriving at Florida, McCalister has added a solid 40 pounds to his frame. He still is lanky, but those long arms are something he's used to his advantage.
"I'll stick out my long arm my long arm pass rush is my golden ticket, there's not a lot of people that can stop that," he said. "The long arm my pass rush move. It's because I have a long wingspan, so using that to my advantage, bigger people can do speed and power, quicker people can do footwork, mine is my left I use my left."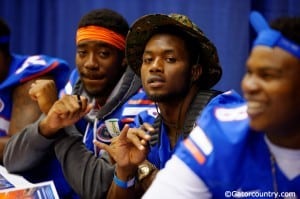 It's something his roommate — and the most feared pass rusher on Florida's defense, Dante Fowler — hasn't been able to replicate himself. The two roommates spend a lot of time together off the field. Fowler even had McCalister tie his bowtie for him before he went to SEC Media Days in Birmingham. The two frequently watch film together and bounce ideas off of one another.
"Yeah, I mean Dante showed me a lot of stuff. I've showed Dante some stuff. That's my roommate. So that's like my boy. Just being with Dante and like being able to watch film with him, he sees more stuff then I see because he's been out there longer than me," McCalister said. "He'll shoot something down to me so it's like learning experience from Old 6."
McCalister has also benefitted from new defensive line coach Brad Lawing's more than 30 years of experience. Despite the massive age gap between the two, McCalister has developed an interesting relationship with Lawing.
"Coach Lawing's my dog, big Law-dog," he said with a chuckle. "Coach Lawing has showed me a lot, he'll show you everything really. He's been coaching for 92,000 years so you can learn a lot from coach Lawing."
McCalister's size makes him stick out. Those long arms and huge frame had Gator fans wondering why he wasn't on the field more the past two seasons. Now, with 40 pounds of good weight added to his frame, McCalister is ready to reintroduce himself to Gator Nation and make offensive coordinators think twice about double-teaming his roommate.
"Most teams are going to set to Dante as a big threat, so that just allows others to come aboard, come along and show what they can do to get to the quarterback as well."
For more University of Florida Gators football news join Gator Country.