The Florida defensive line started the year strong, but it has fallen off some in recent games. The line's job is to both make plays but also eat blocks for the guys behind them to make plays, but those plays have started to dry up.
Nowhere is it more evident than in the team's tackles for loss ledger. The Gators logged eight stops in the backfield in five of their first six games, but they've had no more than five in a game since.
The good news is that they'll be facing the Florida State offensive line this weekend. It's hard to put into words how bad that unit has been.
For one thing, it's somewhat misleading to call it a single unit. They've had players coming and going from every spot except center all year, and the direness of the situation has been evident since early September. Here is a graphic that NBC made up for the Seminoles' game against Notre Dame two weeks ago: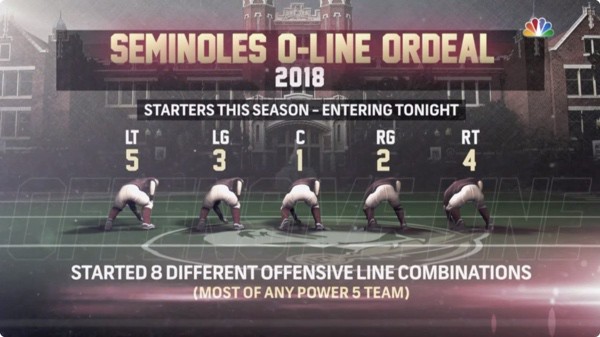 NBC's play-by-play man Mike Tirico, always one of the nicer and more affable commentators in sports media, said "It has been a disaster up front" when doing the starting lineup introductions early on. It's been bad.
To give you an idea of what kind of trial they've been going through in Tallahassee, I went through the UF roster to try to come up with a rough analogy. It's not perfect, but here's what I got.
Imagine the Gators still have Nick Buchanan starting at center all year long. However, the tackle rotation has been staffed by some combination of backup guards Brett Heggie and Chris Bleich and little-used Kavaris Harkless. The guard rotation has included Tyler Jordan and Fred Johnson at times, but they've never been 100%. It also has at times featured Griffin McDowell and Nick Villano, but also Marlon Dunlap switched over to offensive line and somehow won a starting role.
That's a bit jumbled, but you get the idea. Perhaps the better analogy would be to think of the 2015 line, only without FCS All-American grad transfer Mason Halter or freshman Martez Ivey to bolster things.
I scouted the FSU line in their last three games, and it's been difficult to narrow down its failures for easy illustration. That's not some kind of sarcastic slam on them. It actually is hard to crystallize the problems.
Every third or fourth play has at least one major breakdown, if not more. If there is a problem an offensive line can have, they've shown it at least once. Worse, I'm not sure the FSU coaches are putting them in the best situation to succeed.
Here are a couple of plays from the NC State's 47-28 win. The first is a run play with FSU backed up to its own goal line. For some reason they decide to pull both the right guard and tackle instead of just surge forward to get some space. Them vacating their spots along with the left tackle not blocking the edge rusher on that side allows two defenders to hit Cam Akers at once. Akers gets a few yards because those guys both blow the tackle, but in the area of the field where blocking is most critical, FSU couldn't do it.
The second play is a standard twist move. The defensive tackle on the offense's right will go forward and then loop around the guy to his right. The line has no answer for this rather basic defensive line move, and the tackle gets a free shot on the quarterback.
Keeping with the theme of the two pulling linemen leading to disaster, the line isn't very good on stretch runs when they need to get on the move. Here is an example of the running back getting swallowed up in the backfield by four defenders at once on an attempted outside run.
When you're essentially playing four guards and a center, you have to expect reduced mobility from your line.
Finally, one of Deondre Francois's interceptions against Boston College came when a blitzing linebacker ran right past the right guard to pressure him. Francois, who must've lost faith in his line long ago, tries to get rid of it to his first read but has an errant throw. With more time he might've noticed the running back being wide open on the other side, but alas.
The biggest adjustment I saw was that FSU will take a quick throw to the outside against soft coverage nearly every time, at least while the score is close. If the Gators give a five-to-seven yard cushion on an outside receiver, there's an excellent chance the ball will be going to that guy right away. The Seminoles do try to move the pocket or do rollouts sometimes, but given what I showed above about the line's mobility, those plays are a mixed bag.
This is what Florida is going up against this weekend. Even excluding garbage time, FSU is 127th in opportunity rate (percentage of runs that go at least five yards) and 126th in stuff rate (percentage of plays stopped for no gain or a loss). They're dead last in adjusted line yards on rushing plays on standard downs.
If the UF defensive line comes out hungry, it should feast on Saturday. Jachai Polite should be able to retire every mom in the stadium.
Now's the time for the guys in the trenches to look about as good as they can. Todd Grantham doesn't even have to go deep in his bag of tricks for this one. All the linemen have to do is put in the effort, and the shortcomings of the Seminole line will allow for the rest.