Florida currently sits on a knife's edge quality-wise. From here, they could easily tip in the direction of getting markedly better or markedly worse.
How They Get Better
Sometimes recruits don't qualify for school after signing, or they leave the program they sign with before even making it to their first preseason practice. I used the 247 Sports class calculator to remove such players for the last three UF transitional classes plus 2019. They look like this:
2011: 16 players, ranked 17th
2015: 19 players, ranked 24th
2018: 18 players, ranked 17th
2019: 19 players, ranked 16th
I didn't adjust the other teams nationally in each year's rankings, but the above ranks probably aren't too far off.
In essence, Dan Mullen began his recruiting career at Florida with two transitional classes. It's bad enough for his first group to be inevitably small and not that highly ranked, but there's not much any coach can do about that. For his second to be in the same range, it's a major setback to building for the future.
Using the same adjustments, the 2020 class had 22 players and was ranked tenth. The 2021 class also had 22 and was ranked 12th. Those are still not national championship-level classes, but they are better. It's a demerit to Mullen that both of his first two classes were that bad compared to UF's potential, but the program still should improve as the players from those later classes start populating the upperclassman ranks.
More immediately, the Gators are at -7 in turnover margin right now, or -0.88 per game. That's easily their worst performance since going -12 (-0.92 per game) in 2011.
If you've ever flipped through a Phil Steele magazine, you know that TURNOVERS = TURNAROUND. Teams with an unusually good or bad turnover margin tend to revert to the mean the following year.
The mean reversion doesn't have to come next season; it could start this week. Regardless, the randomness that goes into turnovers ensures Florida will not continue to turn the ball over at the rate they have so far. That's especially important because of how catastrophic the turnovers have been.
I broke down all of UF's points allowed into four buckets: non-offensive scores, short fields off turnovers, garbage time, and, to capture everything else, standard points. Here's that breakdown: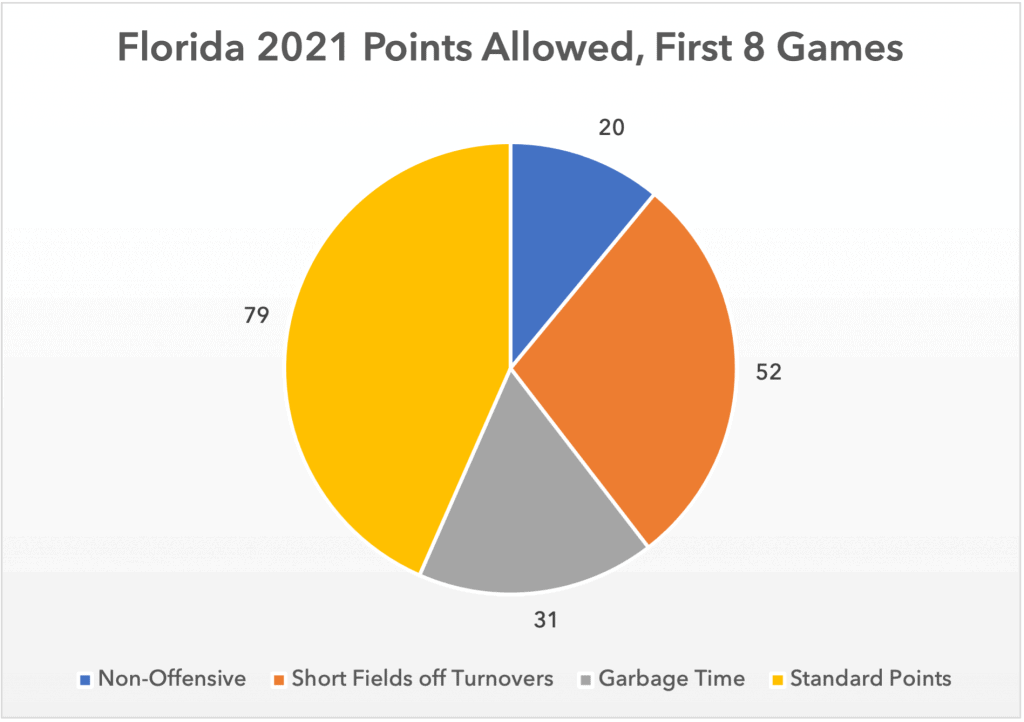 The Gators have allowed almost as many points off of non-offensive scores and short fields after turnovers (72) as they have from longer drives in pre-garbage time scenarios (79). Ten of the 72 came against USF — they were in garbage time too, but I'm not double-counting points here — and the rest came in the four losses. Three of the four losses could've conceivably turned into wins if not for those non-standard points allowed. The fourth, the loss to Georgia, at least would've been closer for longer.
This isn't totally a situation where you throw your hands up and curse Fortuna for her spite. Of the short field scores, seven-of-eight were touchdowns. The defense could've put more of those fires out, but most defenses won't face that many tough spots. Like, for instance, next year's Gator defense.
Finally, you probably saw at least something about Bruce Feldman's article from Monday where SEC coaches dished on why they think Florida is underachieving. It was hard to stomach, but there were seeds of hope nonetheless.
Most of the complaints boiled down to two things: motivation, and Todd Grantham is bad at his job.
Mullen has the opportunity to work on rebuilding his program's culture and discipline over the offseason. It's not an easy fix, but it can be done. And at this point, I don't know of anyone who thinks Grantham will be back. A good defensive coordinator hire could solve a lot of problems on defense. I don't have a list of candidates for you, but the Florida DC job is one that can be used to get a head coaching gig. Good defensive minds will be interested.
How They Get Worse
One big reason UF isn't already markedly worse is the COVID-19 eligibility mulligan. The Gators wouldn't have functional lines without it, as Stewart Reese, Jean Delance, Daquan Newkirk, Antonio Valentino, and Tyrone Truesdell all would be out of eligibility without it. The Gators have maybe five offensive linemen ready to play at an SEC level without Reese and Delance. Absent the three transfers, defensive tackle amounts to Gervon Dexter, an out-of-position Zach Carter, eight-to-ten plays a game of Desmond Watson, and prayer.
I expect all five key offensive linemen to return next year. Watson should be in much better shape, though Carter will be playing on Sundays. I don't know how many current reserves on either line will be ready to contribute next year — this is an expression of ignorance, not doubt — which means they'll probably have to go to the portal again for defensive tackles at a minimum. If the portal search comes up empty, UF is in a world of hurt in its line-of-scrimmage league.
Outside of intermittent line problems, the offense lacks for skill position players that keep opposing defensive coordinators up at night. Mullen even told the broadcast team before the LSU game that he lacks speed outside at receiver.
Unless Mullen is willing to play guys younger and greener than normal, that's not going to be fixed next year. The 2020 and '21 wideout signees who've yet to play much are taller and more physical guys and not real burners. Current '22 commits Isaiah Bond and Chandler Smith have legit speed, but Mullen doesn't play true freshman receivers often.
Speaking of the '22 class, right now it's small and on the whole lightly regarded with 13 commits and a No. 22 national rank. Bond is the only top 100 prospect. Unless there's a remarkable turnaround, the class won't produce many, if any, immediate contributors. Mullen needs a strong finish, or else it'll end up being Mullen's third transitional class.
Beyond that, there are your standard risks. The defensive coordinator hire could go poorly and accelerate some bad trends. If Emory Jones leaves and Anthony Richardson remains susceptible to injury, there could be more iffy quarterback play if the 2021 signees take a normal amount of time to develop. Key injuries or attrition could put any of several positions in dire straights because there's not a ton of margin for error in the program.
Which way will it go?
I really don't know. That's why Mullen is not definitely fired or definitely around for the long haul. It's easy to write a narrative that goes either way.
Ultimately the core of either story is how much Mullen is willing to change. He's been pretty consistent in his program management for four years, and it's gotten him to this unhappy place: 4-4 on the season, 2-7 in his last nine against P5 opponents, 4-7 in his last 11 games, and a 22nd ranked recruiting class with a month and a half to go before the first signing day.
Since the beginning of his tenure, Mullen has been doing things differently than the national hegemons like Alabama, Clemson, Georgia, and Ohio State. He hasn't prioritized recruiting like they do, and he hasn't been proactive about making sure his staff is the best it could be. But, there always could've been a chance that his way would work out. That results on the field would become title-worthy anyway. That improved play would naturally attract top talent.
More than three-and-a-half seasons in, none of that has happened. He's yet to field a championship-caliber offense and defense at the same time. The recruiting results are not getting better.
The power to tip things in a better or worse direction is in Mullen's hands, and the stakes are high. Whatever changes he makes have to all or mostly work right immediately because he's dug himself such a hole, so luck will have to be on his side too.
The last three weeks are either going to end up a turning point in Mullen's Florida tenure or the beginning of the end. It's up to him to determine which way it goes.