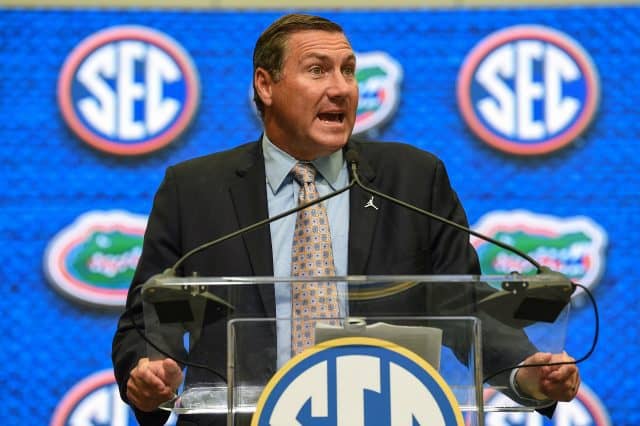 Coming off of two four-win seasons in four years, with two SEC East Championships in between, the 2018 Florida Gators are an enigma.
They have the same talent Alabama, Ohio State, Clemson, and others have recruited.
They have a head coach that made a bottom-dwelling program relevant, to a point that people forget that prior to his arrival they were bottom-dwellers.
They have amongst the most stacked skill positions depth charts in the country.
But, still very few folks know what this team will look like.
Maybe it is a question of depth outside of skill positions. Maybe it is a question of instituting new systems and philosophies. And maybe, it is just a confidence issue.
Right now, we don't really know how the team is going to look or play in four weeks.
But we do know, that instead of focusing on "X's and O's" or "Jimmy's and Joe's" right now, there are a few areas that have connected improvement or sustained success statistically and the Gators will need to improve in at least these five areas.
Third Down Conversions
Last season, the Gators ranked 117th in the country in third down conversions going 51-of-157. Of the top-50 teams in third down conversion percentage, the averaged more than nine wins a season and of the bottom-29 teams averaged 4.55 wins per season. The numbers going back the previous five seasons, produce nearly identical numbers
Last season, Dan Mullen's Mississippi State team ranked eighth in the country and ranked in the top-50 in their three most winning seasons over the last five years (with their 7-6 season in 2013 ranking 76th in the country).
Offensive Red Zone Attempts
This is a multi-faceted statistic, because the Gators had a high success ratio in the red zone last season (third in the country at 96.8%), but they ranked 120th in the country in red zone attempts (only one team ranked 115-129th in the country in red zone attempts had a non-losing record last season – Akron at 7-7). But when you look at red zone attempts, only two teams in the top-50 (Texas Tech and UCLA) had a losing record (6-7) despite whatever their success rate. The goal would obviously be high attempts and high success rate, but attempts seem to outweigh success considering 13 teams in the top-50 success rates had losing records.
Turnover Margin
The Gators ranked 89th last season in turnover margin with 17 turnovers gained and 20 turnovers lost. In the top-20 in turnover margin, only one had a losing record (Texas Tech) and in the top-50 only six teams had a losing record. One of the clearest signs of sustained success, with statistics back to 2008, says winning the turnover battle has one of the highest corollaries to winning.
Sacks Allowed
Ranking 123rd last season, the Gators allowed 37 sacks in 11 games for 242 lost yards. Mississippi State ranked 5th last season, joining 14 other winning record teams in the top-15 in the country in fewest sacks allowed – their average record was 9-4.
Scoring Offense
Florida hasn't averaged more than 30 points a game since current freshmen were in fourth grade. There is a nearly two wins per season difference between teams that average more than 30 points per game than those who don't hit the magic number. Over the past four seasons, Mullen's teams have averaged more than 30 points per game (33.45) compared to the Gators that have averaged just 24.875.