Florida's first half against Tennessee was a virtuoso performance from a ballhawking, aggressive defense that forced four turnovers and allowed only 31 yards. Here is a drive-by-drive breakdown of Florida's defense in the second half after the Vols had switched quarterbacks to Justin Worley, who started the Vols' first three games.
Series No. 8: seven plays, 48 yards, 2:43 time elapsed, TN field goal.
The Vols actually resembled a functional offense on the opening drive of the second half, moving the ball 48 yards before their drive stalled just outside the red zone. The main chunk of yards came from a 27-yard Worley to Pig Howard completion on a wheel route that beat cornerback Loucheiz Purifoy. Florida's best defensive play of the drive came from Dominique Easley, who showed what a menacing first step can do to a play.
The ball is just barely snapped and Easley is already off the ball and about to engage his blocker.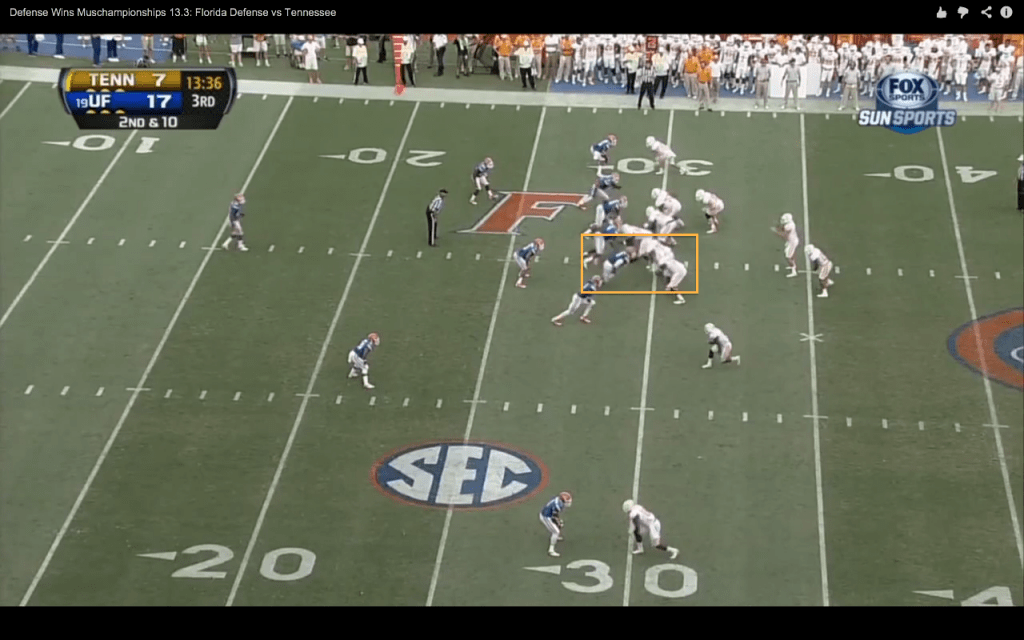 Easley's get-off is so quick that he clogs up the backfield, stopping the pulling Tennessee guard from getting beyond ahead of tailback Rajion Neal.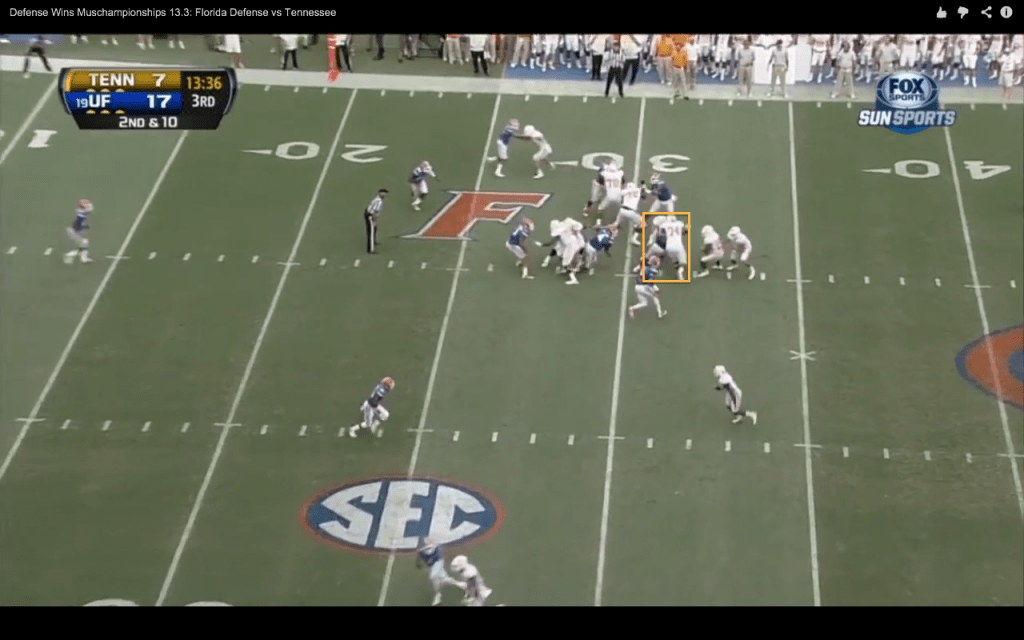 Neal is forced to cut back into the open arms of Brian Poole, who moved up quickly in run support. It's the first of two great tackles from a Florida defensive back. On the next play, Tennessee wide receiver Pig Howard is stopped in his tracks by safety Cody Riggs, whose open field hit stopped any chance for yards after the catch, preventing the Vols from getting a first down.
Series grade (B): The Volunteers moved the ball because of a lapse in coverage by Purifoy, but the Florida defense clamped down and held the Vols to three points.
Series No. 9: six plays, 17 yards, 2:50 time elapsed. 
The Vols squeezed off six plays, in terms of plays their third longest offensive drive of the game, bit it netted only 17 yards. The longest play went six yards and was almost an interception when Jabari Gorman jumped the route underneath only to have the ball squirt through his hands.
Series grade (A): Another impressive stand, only 2.83 yards per play to the Volunteers.
Series No. 10: seven plays 79 yards, 3:32 time elapsed.
Brian Poole became the first Gator flagged for targeting on this drive. He got hit with a personal foul and an ejection that will cost him playing in the first half against Kentucky.
Poole launches head first into Tennessee tight end Brendan Downs' neck.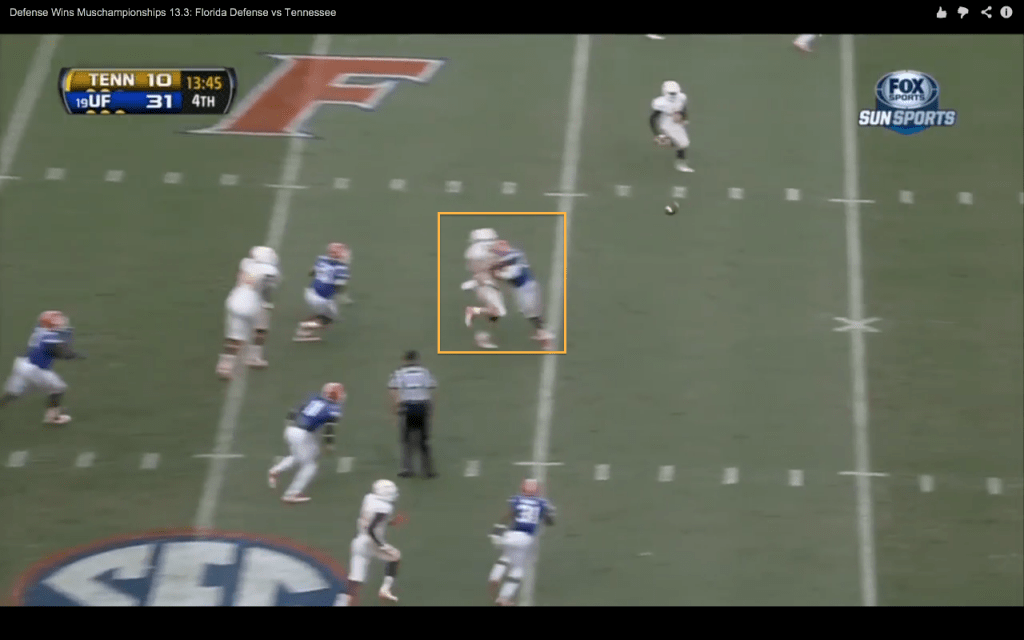 Poole didn't attempt to lead with his shoulders. The hit was with the crown of his helmet and it was confirmed on review in the booth.
Tennessee gained 32 yards on a connection between Worley and Marquez North, one of the worst blown coverages by the UF secondary this season.
Jaylen Watkins shuffles even with North here, and then inexplicably stops.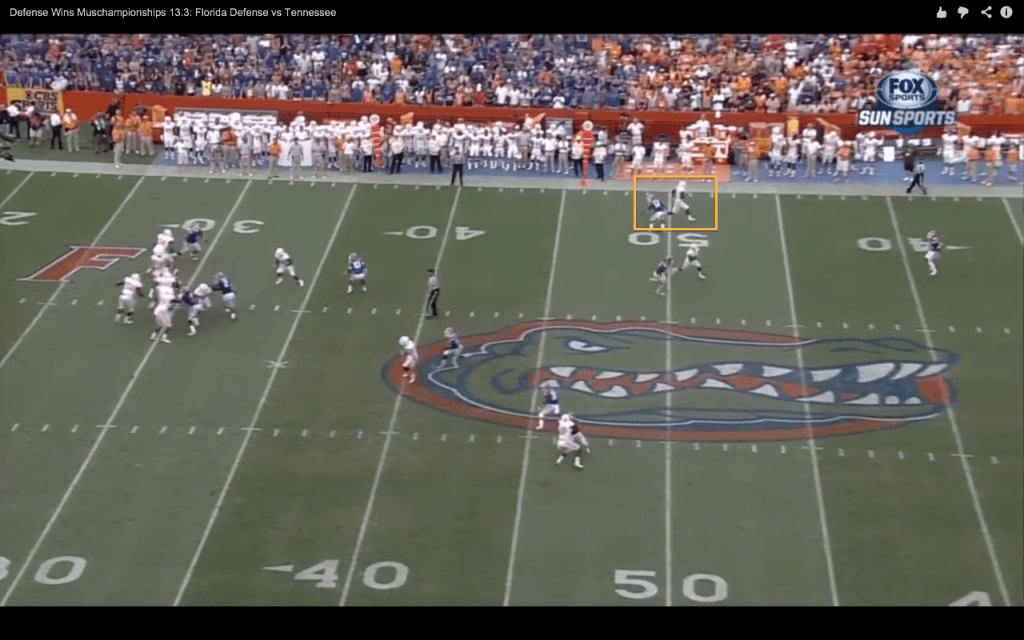 Watkins probably thought he had over the top and turned North over to safety Jabari Gorman. Gorman, who was covering the deep half of the field did react and was able to minimize the damage to a 32-yard gain, Tennesee's longest play of the day.
Four plays later, Pig Howard scored UT's lone offensive touchdown on a wheel route in another busted coverage, this time by safety Cody Riggs.
Series grade (D): Bad coverages that allowed a touchdown made this Florida's worst series of the day.
Series No. 11: two plays, seven yards, :31 time elapsed.
Justin Worley threw a bad ball and Florida got its fifth turnover. The Gators line up in a cover-2 shell. This means that each safety is responsible for one of the deep halves of the field.
In this alignment,  cornerback Vernon Hargreaves could play very aggressive press coverage if he wanted to because he has Gorman coming over the top to help him.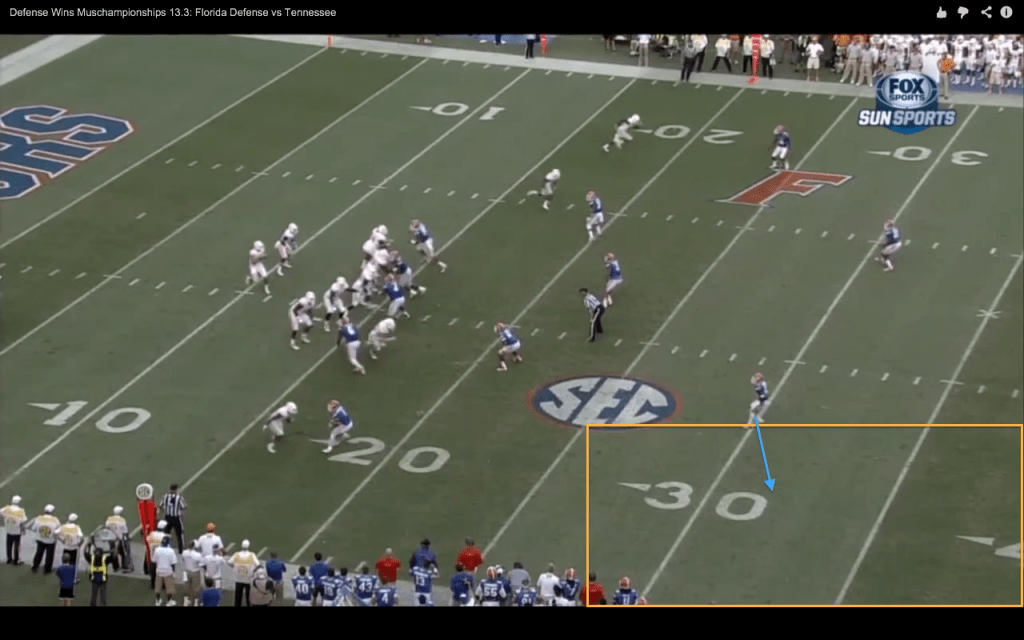 Even if Worley put the throw on target, it would be a poor choice because it is into double coverage. He had a check down running back open near the 20 yard line open who would have been able to get the first down on this play.
You'll notice Hargreaves plays a bit tentatively here to intercept a ball if underthrown, presumably because he knows he has Gorman behind him.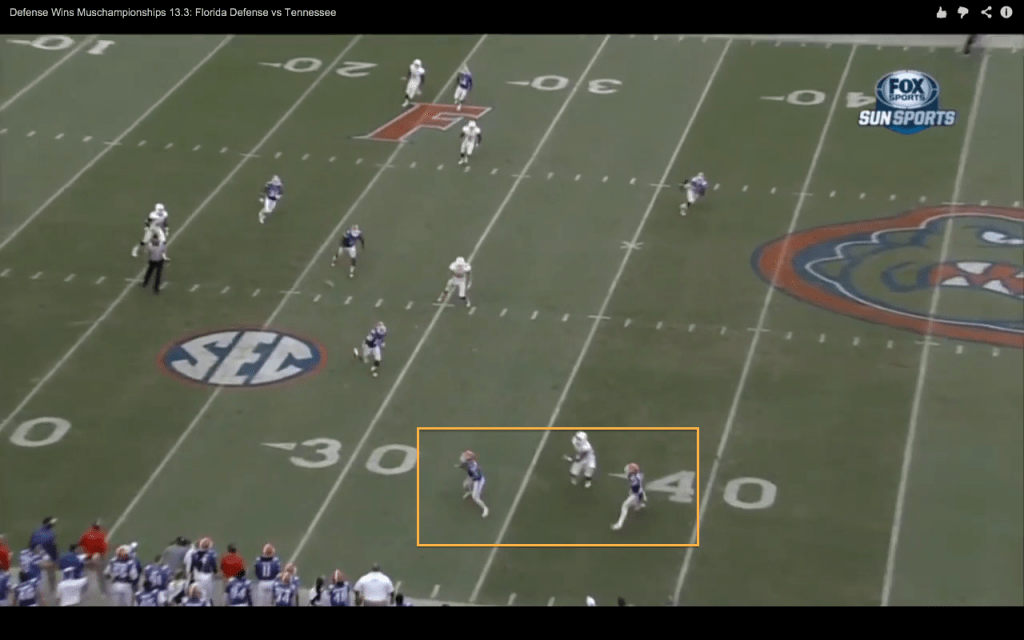 It's overthrown, too far towards the sideline and Gorman is able to make a great grab to haul in the interception.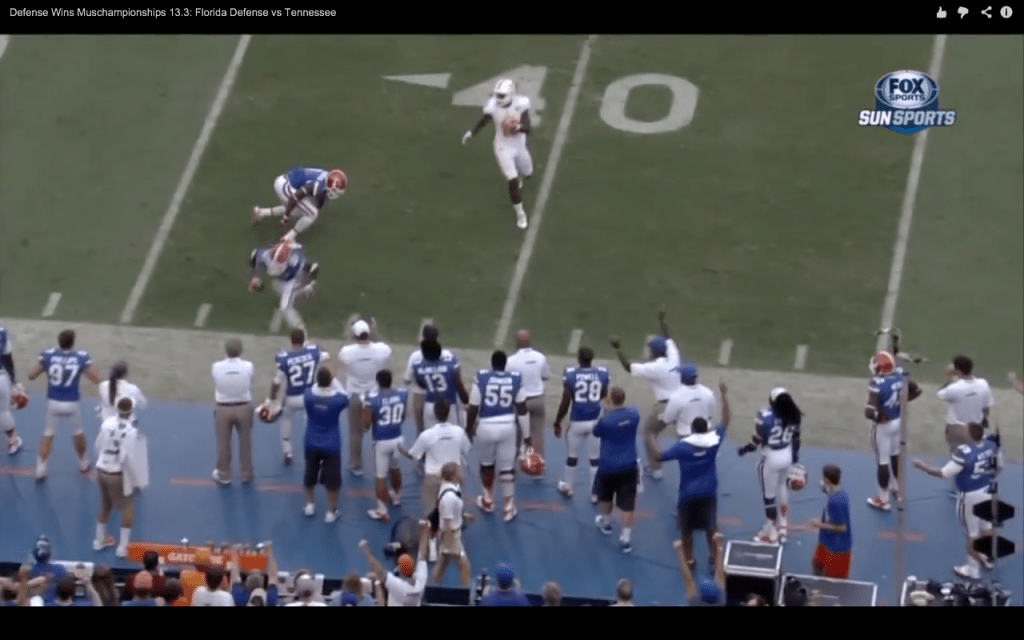 Series grade (A): Two plays, one turnover. That's a solid bounce back after giving up the touchdown on the series before.
Series No. 12: eight plays 53 yards, 1:10 time elapsed.
The most important thing to remember about this series was that this game almost got really interesting. Tennessee went right after Florida's secondary throwing the ball on all eight plays, completing only two passes. The completions  were back-to-back throws that netted 29 and 24 yards to take the Volunteers to Florida's 23. Tennessee was on the doorstep of the red zone with 2:54 left in a 14-point game. From there, Florida's secondary clamped down — one batted pass, coverage breakups by Gorman and Hargreaves, and a fourth down overthrow by Worley.
Series grade (B): Florida bended but didn't break on a series that could have really been a turning point in this game.
Series No. 13: two plays, zero yards, :16 time elapsed.
On the final drive of the game Worley got sacked on first down then threw an interception. ,
Series grade (A): The interception at the end of the game was a nice way to put a stamp on an impressive day.
Second half grade (B): The Gators weren't as dominant as they were in the first half, but they held the Vols to 10 points. The second half lapses in coverage nearly let the Vols back in the game but the Gators compensated with two interceptions after UT made it close.
Overall game grade (A): Six turnovers will always earn you an A when judging a game in its totality. Tennessee was better in the second half with Worley than it was in the first with Peterman, but even if Worley had played the entire game it wouldn't have mattered against this defense.