Florida turned in an impressive defensive performance in winning its SEC home opener, 31-17, over Tennessee. Here is a drive-by-drive look at Florida's first half defensive performance.
Series No. 1: two plays, -6 yards, 0:45 time elapsed.
This drive started at Florida's 15 yard line. When Florida punter Kyle Christy mishandled the snap, the Vols recovered and were in perfect position to steal seven early points. Dante Fowler made his presence known on the first two plays, getting into the backfield on first down and forcing a fumble on the second.
Fowler was in perfect position to blow this play up.
On second down, Fowler did it again
In the post game interview, Tennessee running back Rajion Neal explained what happened from his perspective.
"It was just a miscommunication, I was running one play and the O-line was running another," Neal said.
Here's Florida's initial alignment.
Here's what they shift into right before the ball is snapped –notice Fowler, who is in the orange box.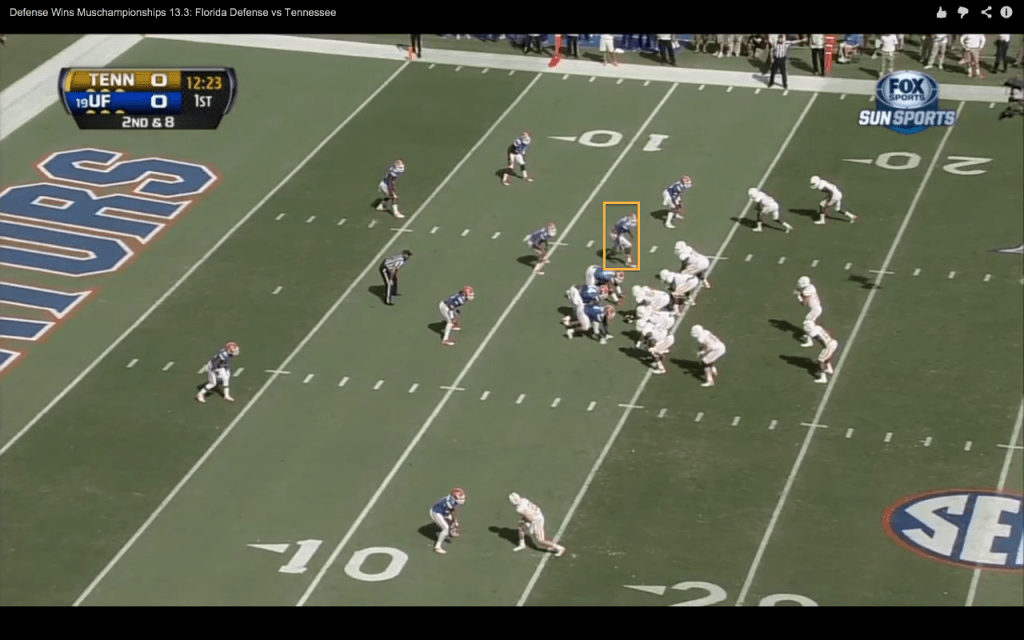 It looks like Neal had it right about the backfield and O-line. Notice right guard #72 Zach Fulton pull down the line of scrimmage.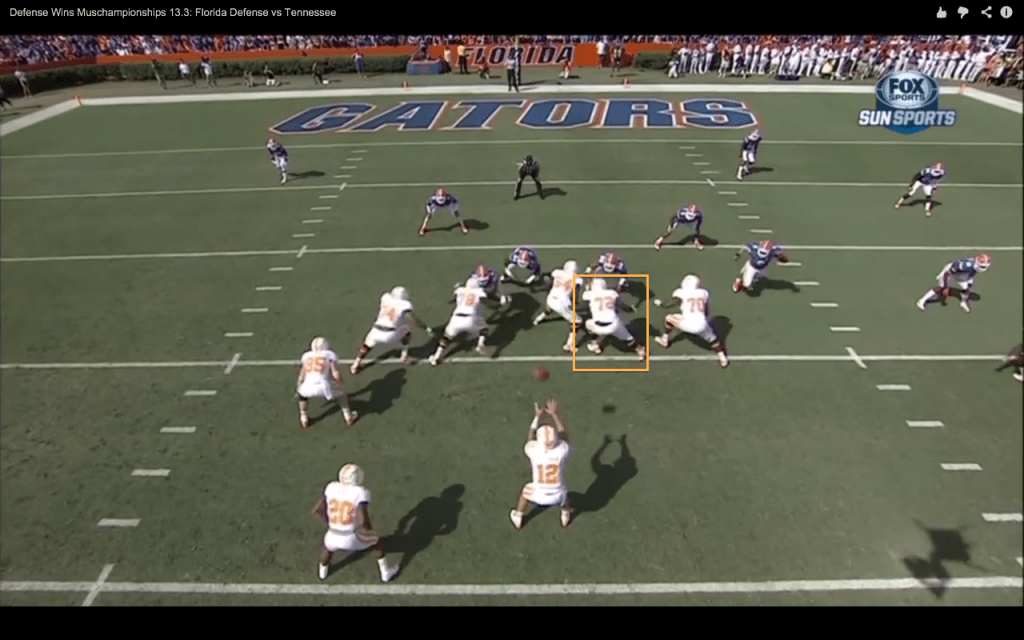 This means the right tackle (No. 70) Ja'Wuan James must take a "fill step" to shut down the natural gap created by Fulton pulling.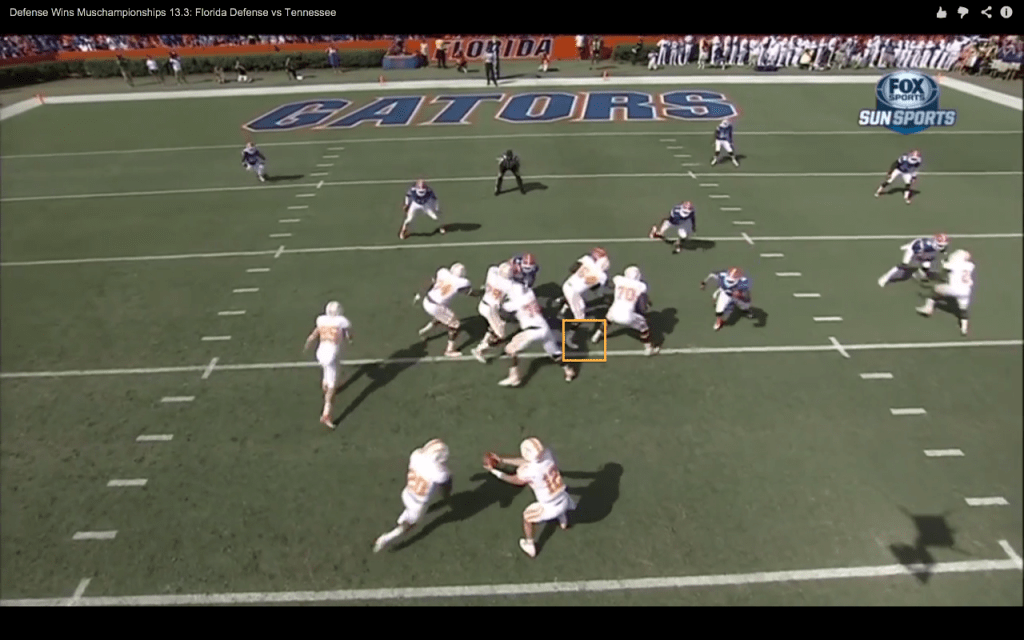 James steps down, leaving Fowler unblocked again. Even when this play is blocked correctly as it was later this half,  the entire offensive line is supposed to block down in order to bait the unblocked edge rusher into crashing flat down the line and chasing a play he thinks is going one way. It's actually a reverse pitch. Tennessee doesn't need to block the edge rusher in theory because he takes himself out of the play, realizing what's going on too late to recover and make a play. That doesn't fully explain what happened here though. Although we weren't in the Vols' huddle, something happened to make Tennessee's offensive line block power and the backs run a reverse. Also, Florida's presnap shift came so late that Tennessee might not have been able to adjust. Whatever the case, Fowler would not be duped.
Then Neal ends up making things worse when he attempts to pitch the ball to the receiver scraping behind him (in blue).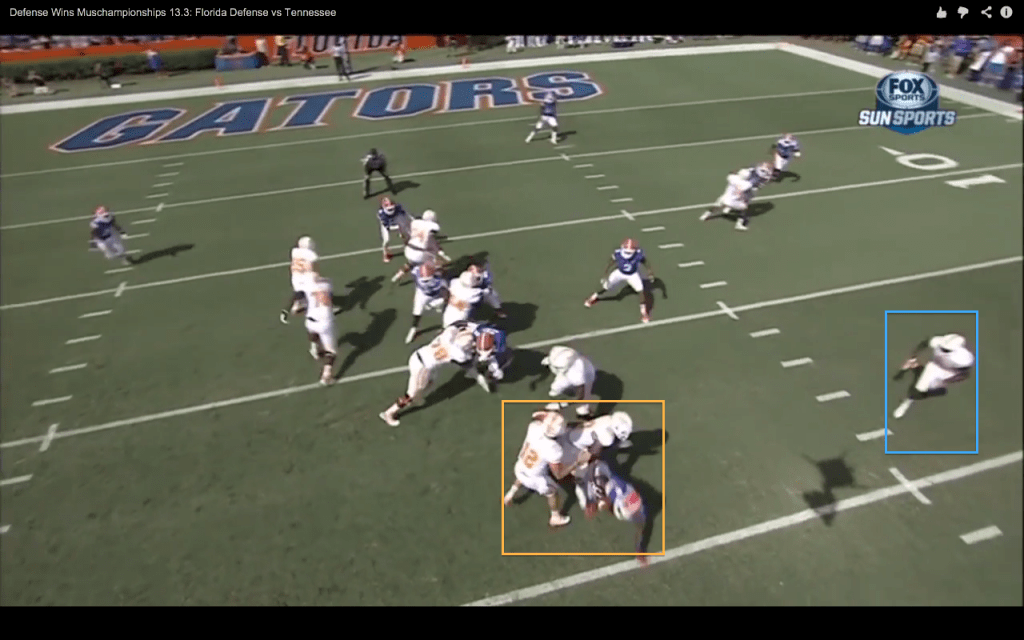 Neal is trying to pitch while Fowler is all over him him, which is what caused the fumble.  It was a botched play from the beginning that turned out to be a disaster.
Series grade (A): Dante Fowler shows up in a big way to simply wreak havoc on Tennessee.
Series No. 2: three plays, -5, 0:39 time elapsed.
This was the Dante Fowler show again. On first down Tennessee did what many offenses do to neutralize a talented edge rusher, getting the equivalent of a block by running the zone read. If Fowler stays at home in his position in an attempt to set the edge Tennessee quarterback Nate Peterman will hand the ball off to Rajion Neal. If Fowler crashes down to tackle the running back, Peterman will keep it and have open space in front of him to gain yards because Fowler isn't there.
Peterman keeps because Fowler crashes down.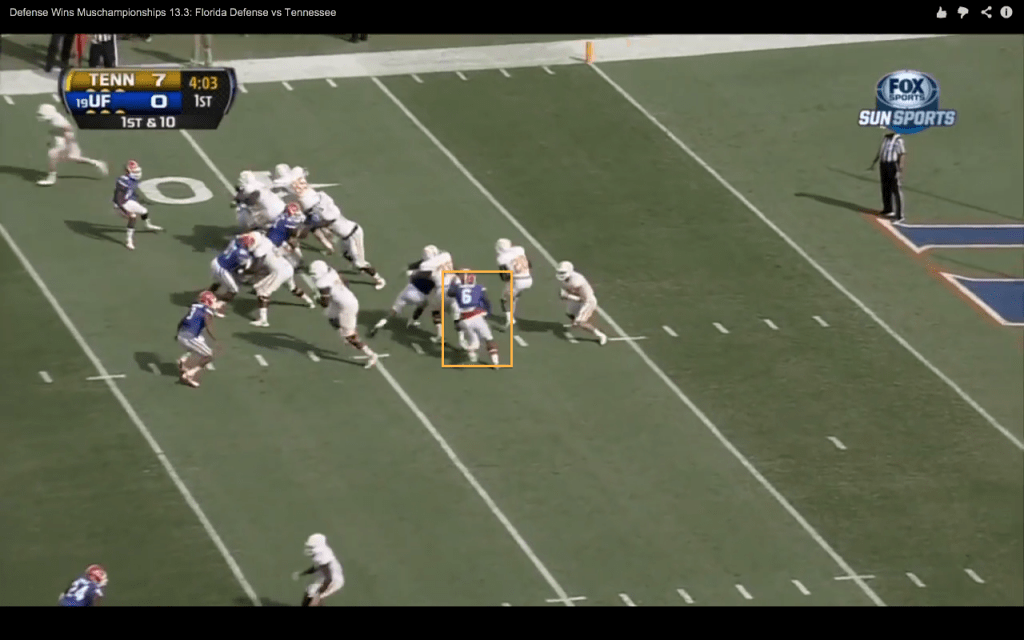 Florida linebacker Antonio Morrison scrapes over for run support.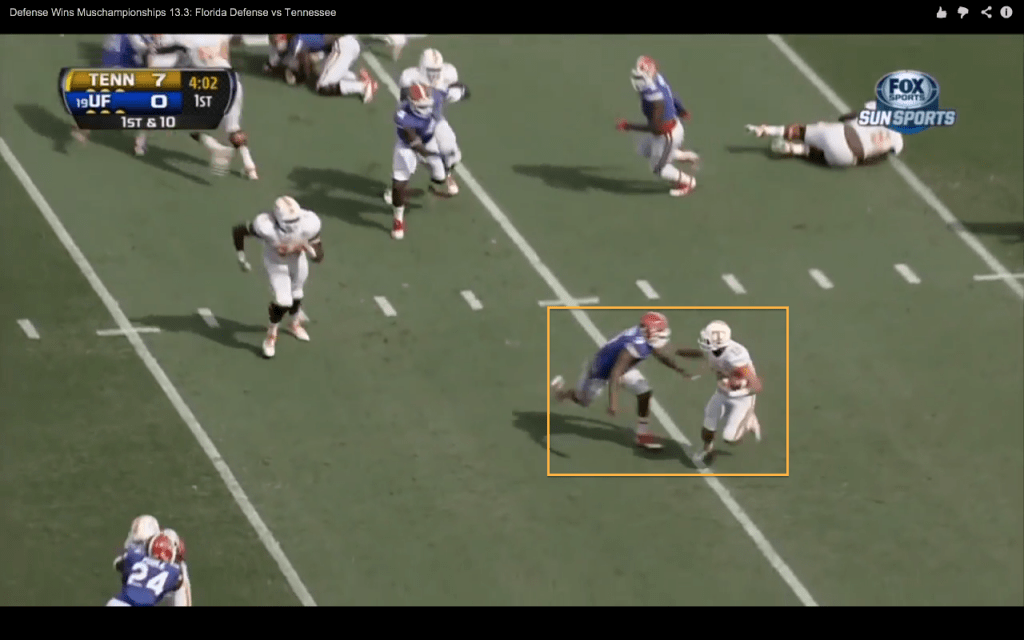 On third down, Fowler bullies No. 74 Antonio "Tiny" Richardson, a tackle who will play on Sundays in the future and a first team preseason All-SEC pick by the coaches.
Fowler gets Richardson on skates with a speed rush.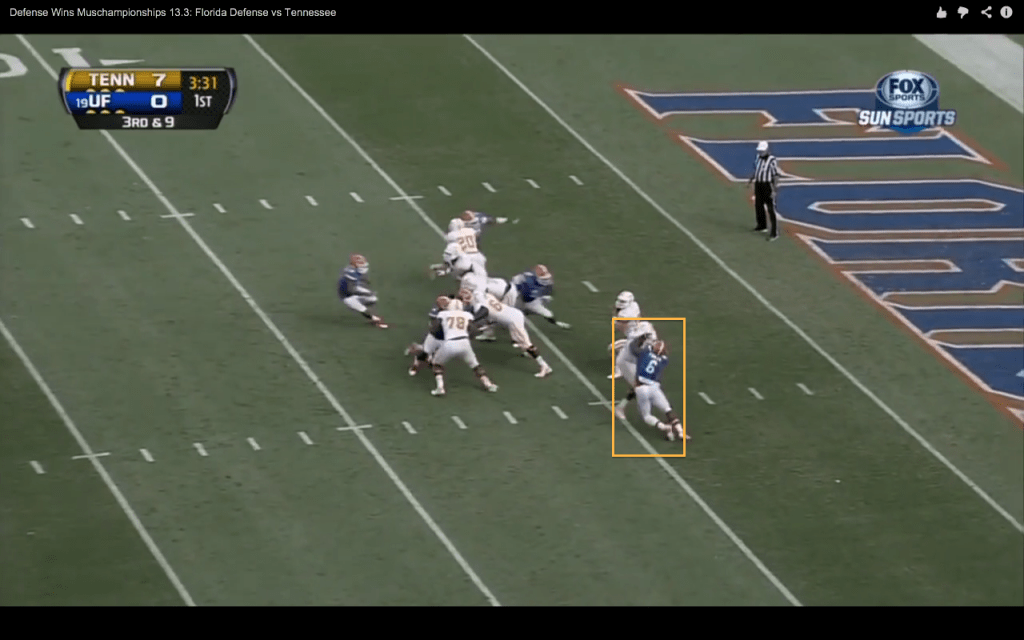 Fowler uses Richardson's own momentum against him and has leverage because he's lower which negates Richardson's 50-pound advantage. Fowler gets under him, sacks, strips and recovers the Peterman fumble he causes.
Series grade (A):  Great pressure up front forced a turnover to give the Gators the ball on the UT six.
Series No. 3: eight plays, 26 yards, 2:28 time elapsed.
Tennessee finally got some offensive momentum and moved the ball a bit. On the third play they ran the same reverse pitch play that Fowler forced a fumble on earlier. This time Tennessee's offensive line carries out its assignments.
The UT line blocks down instead of running a power blocking scheme.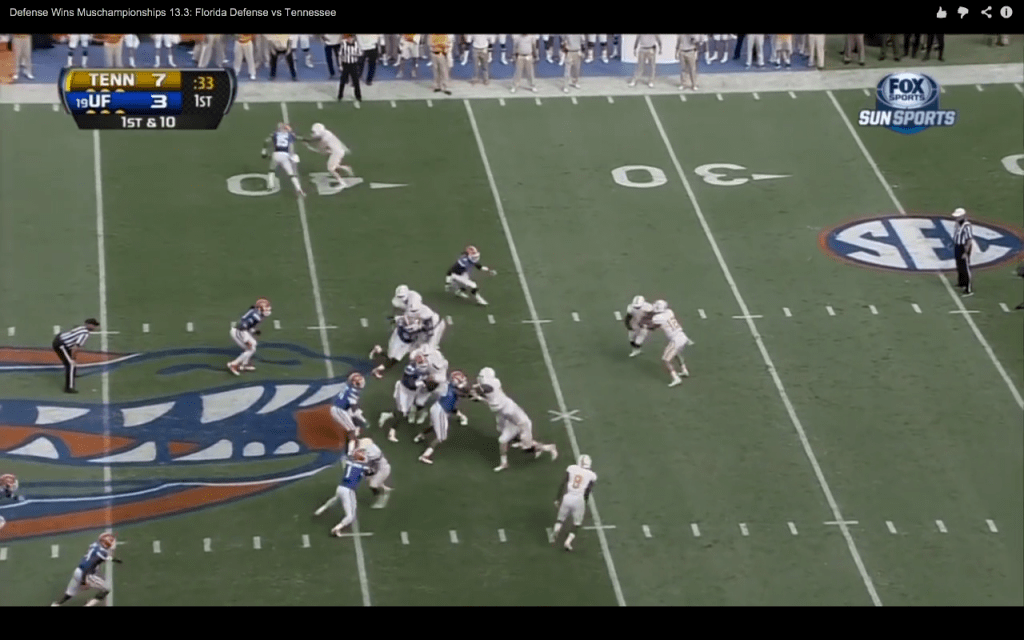 This validates the point Neal made that he ran one play and his offensive line ran another on the fumble play.
This time, UT leaves the edge rusher  –Ronald Powell– unblocked, but Powell stays home instead of being baited into crashing down the line to chase Neal.
Powell recognizes the reverse and bails out to cut wide receiver Marquez North off at an angle nine yards later.
To end the drive, Nate Peterman throws a bad pass that ends up being a Florida interception.
It was a strange throw ahead of a receiver who looked like he was just sitting down in the hole in Florida's zone. Peterman threw it directly at Florida linebacker Micheal Taylor, only it hit him in the face, bounced into the air and landed in the outstretched hands of safety Brian Poole.
Series grade (A):  A turnover was forced and the Gators allowed a series that gained 3.25 yards per play to be considered a "sustained" drive. That's success.
Series No. 4: three plays, -6 yards, 1:12 time elapsed.
Tennessee started out this series with a false start. The next play was supposed to go off tackle. Antonio Richardson takes an outside step to bait Fowler into taking the inside route. He did that to wall Fowler down and erase him from the play with a down block.
That didn't work because Fowler was too quick. On the other side of the line Tennessee's tight end No. 85 Brendan Downs was beaten by Jon Bullard.
Fowler and Bullard met at the running back, and the play went nowhere. Two plays later, Tennessee was off the field.
Series grade (A): It's the garden variety three and out.
Series No. 5: five plays negative-nine yards, 2:27 time elapsed. 
Tennessee ran the reverse again with the linemen blocking down, but Fowler, who was not the edge rusher on the play beat the block.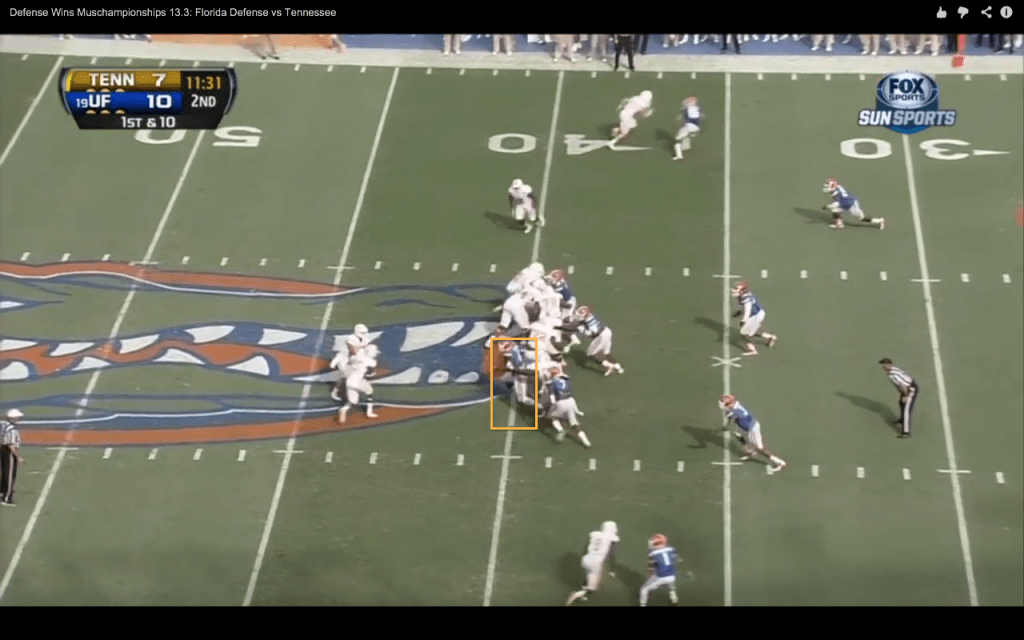 Fowler shoots underneath his blocker and mauls quarterback Nate Peterman who has already handed off the ball to running back Marlin Lane who is getting set to pitch to receiver Pig Howard on the reverse.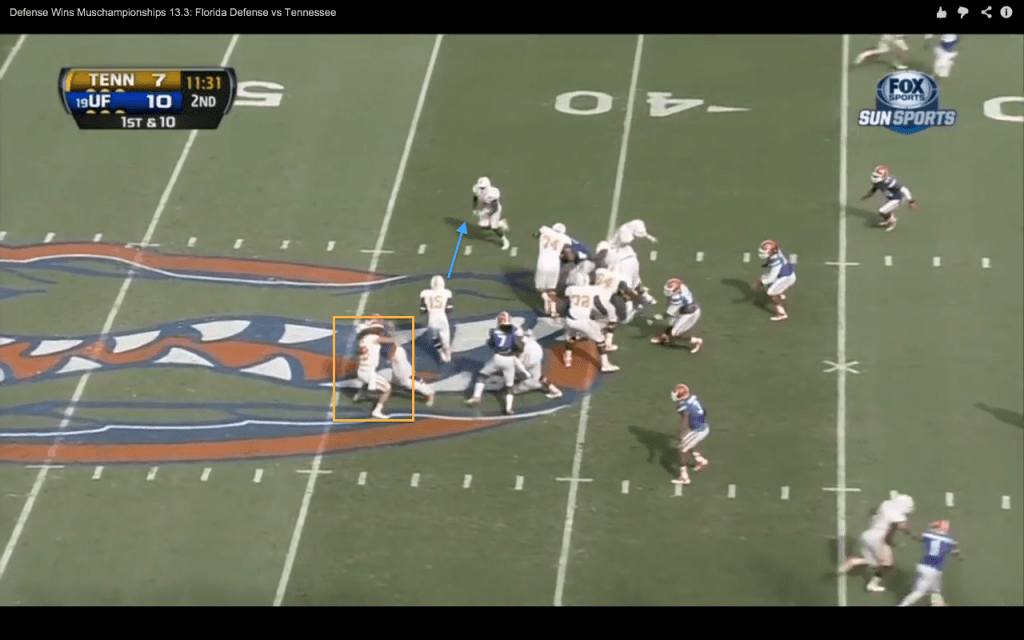 Lane pitches to Howard who is able to apply the brakes and cut back and upfield for seven yards.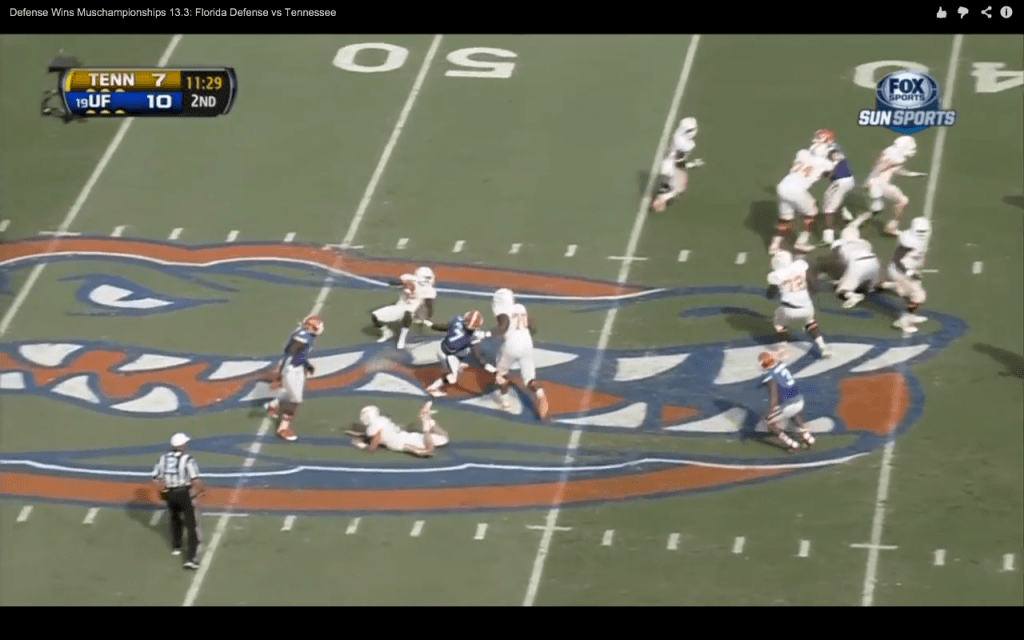 After Tennessee moved the chains a negative rushing play was followed by an offensive pass interference. The interference call came down the field but the real action happened back at the line of scrimmage.
Tennessee's offensive line expected a penalty to be called on Dominique Easley.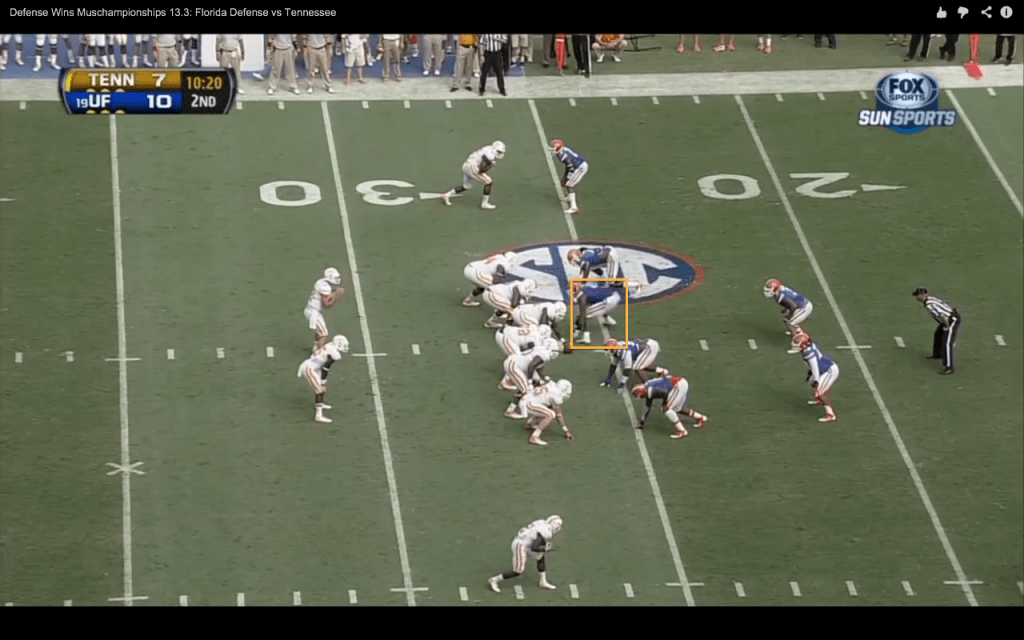 The referees didn't think Easley was far enough in the neutral zone and didn't call it, but the Tennessee offensive line still stayed put. The tactic is taught by some offensive line coaches to instill discipline when a defender jumps offsides.
It does give us this image of Nate Peterman under duress.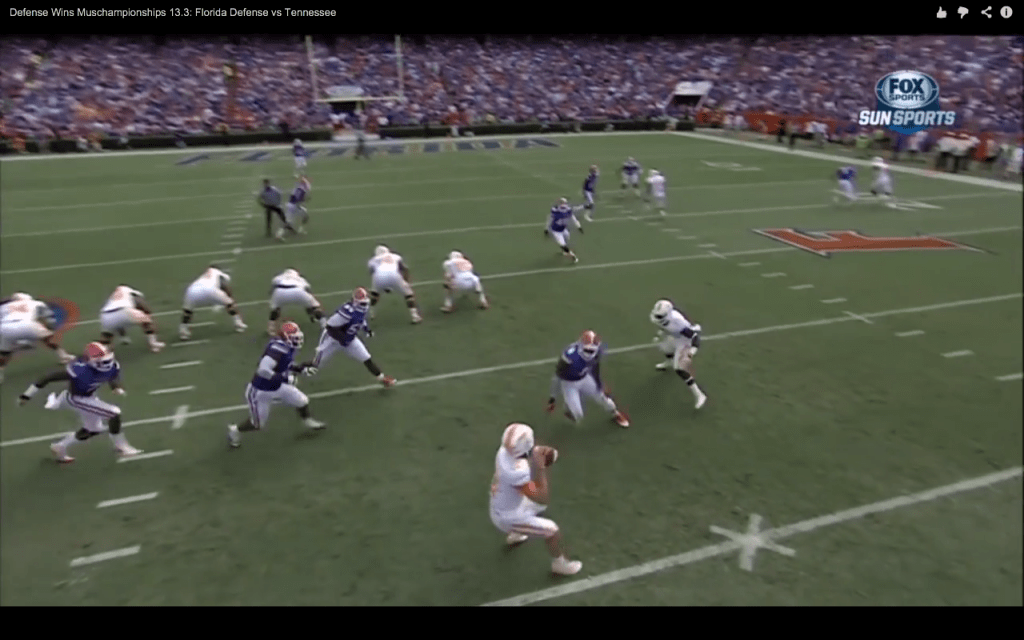 A passing play that lost six yards followed, leaving the Vols with a third and 33.
Series grade (A):  Tennessee didn't convert. It was a long day at the office for the big orange offense.
Series No. 6: three plays, one yard, 1:23 time elapsed.
The Gators forced another turnover, this one an interception by the most unlikely of Gators, tackle Darious Cummings, who seemed touchdown bound. Unfortunately, even though he had a caravan of players around him that would have almost assured a fat guy touchdown, Cummings was tripped up by Dominique Easley. Fat guy on fat guy crime.
Series grade (A): Three plays, one turnover.
Series No. 7: one play, two yards, :37 time elapsed.
While this "series" was simply the Volunteers running out the clock it did have some importance because it featured a new quarterback, junior Justin Worley. Monday, Tennessee head coach Butch Jones gave us a hint as to what was the real reason he took Peterman out of the game:
JONES: Nate Peterman underwent surgery on his hand. No timetable has been set for his return

— Tennessee Football (@Vol_Football) September 23, 2013
First half grade (A+):  The Gators allowed only 31 offensive yards in 25 plays and forced four turnovers. The Vols got only five passing yards on four completions. It was a dominant first half performance, particularly by the UF defensive line.
Screenshots taken from Libgator video