The alarm on Jeawon Taylor's phone goes off in the morning to wake him up for meetings, class or practice and he's served a reminder. Any text message or phone call will light up his phone and there it is again, the worst moment of his freshman season.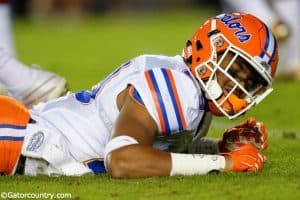 The picture is one of him laying on the turf of Doak Campbell Stadium, moments after he dislocated his shoulder and tore his labrum. There's a grimace on his face. It would be the last play of his freshman season. (pictured to the right)
The 2016 season was challenging for Taylor. The safety from Montgomery, Alabama came in as most freshmen do, with big expectations for himself.
"Coming from high school you think you're the man from high school, you think you're going to be the man in college," Taylor said. "Playing that special teams role, just figuring out what role you have to play for the team is kind of tough doing."
The moment his season came to an end is on his phone. It serves as motivation to come back stronger and better, as well as a reminder that it can all come to an end in the blink of an eye.
He had to watch from the sideline as Florida lost to Alabama in the SEC Championship game. A native of Alabama, Taylor chose Florida over the instance Crimson Tide and Auburn because he wanted to get away from home, do something different than most of the star recruits from his home state. Having to watch from the sideline as a team he turned down, filled with friends and old teammates celebrated under confetti hurt.
Then the rehab process began. That hurt too.
"I went January, February, March, April and then I was kind of like 80% in May," Taylor said. Despite feeling ready to play football in the spring the coaching staff asked him to sit out and continue rehabbing his shoulder. "You just can't get down. Gotta keep your head up."
Just as his season was ended by a freak injury in 2016, Marcell Harris' 2017 season was ended with a freak injury this offseason. Taylor learned a lot from Harris as a freshman and was at the senior's house after the injury. He and redshirt freshman Quincy Lenton spent an hour or so with Harris after the injury. When Taylor left that night Harris delivered a message that the sophomore already knew. It's his time to step up.
"Sad for Marcell to go down, but when one man goes down another man has to get up," Taylor said. "So I feel like it's a big opportunity for me to show what I (bring) to the table."
The Gators need Taylor this season. Duke Dawson has moved from nickel to outside cornerback. Chauncey Gardner spent much of his freshman season playing nickel and safety but, he too, is moving outside to make up for the loss of Quincy Wilson and Jalen Tabor. Florida's best secondary involves those two and Nick Washington. If Taylor steps up and earns a starting safety spot it will allow Florida to ease in a crop of five freshmen defensive backs and give Florida more leeway in how much and early those young freshmen will be relied upon.
It's a lot to take in but Taylor is ready for the challenge.
"Great effort, great ball skills, winning spirit, leadership," Taylor responded when asked what areas he's grown the most. "Play hard, play the system. What Coach Mac says. Little me, big team.'"
The opportunity he has this fall comes from an injury, similar to the picture he looks at every time he opens his phone. It's a constant reminder that this game is violent, it's not fair and it can all be over in an instant. That makes Taylor appreciate everything  just a little bit more and is pushing him closer to his goals.