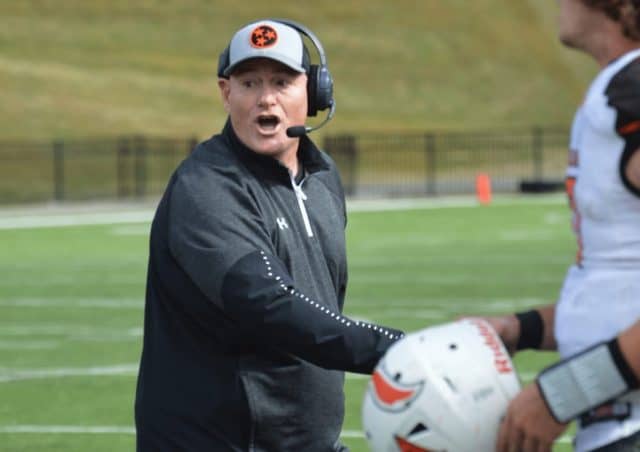 Throughout my life in football, I have been blessed to be around great coaches.  As a high school player, I had three Florida legends on my coaching staff. I played at Ocala Trinity Catholic and our offensive staff included wide receivers coach Ricky Nattiel, offensive line coach David Williams, and head coach/offensive coordinator/quarterbacks coach Kerwin Bell.  You couldn't ask for a better education in the game.
Once I began coaching, that education continued.  I got my start under Dave Marino at Palmetto High. Coach Marino played offensive line at Rutgers. He was on the Scarlet Knights team that came down to Florida in 1985 and tied the Gators. He was then an assistant at Bradenton Southeast where he won state titles and had nationally ranked teams.  He is now the most successful head coach in Palmetto High School history, having just led the Tigers to back-to-back regional championships for the first time ever.  
I then worked under my brother, Nathan Varnadore, when he got his first head coaching job. I refuse to give him any compliments in print. I can't have him knowing that I learned some things from him.
The last head coach I worked under will be a familiar name to longtime Florida fans. When I took the TE/H-Backs job at Tusculum University, I began working under Jerry Odom. Coach Odom played at Florida from 1987-1990. He coached at UF as graduate assistant in 1991 and came back as special teams coordinator/linebackers coach from 2000-2002.  
I learned so much in my time with Coach Odom, especially about the defensive side of the ball. He was one of the first coaches I heard anywhere who started changing his defense to react to tempo and RPOs. He saw what was coming and began making these adjustments over five seasons ago.
It seemed like most fans did not want to revisit the LSU game, so I turned my focus to Alabama. When I began to think about the SEC championship game, I immediately thought, "How do you stop Alabama's offense?" Luckily for us, Tusculum University had their season moved to the spring.  I knew that Coach Odom had been able to watch most of the Florida games for the first time in many years. I though he'd be just the guy to talk to about stopping the Crimson Tide. 
I reached out Coach Odom and he agreed to come on and give his thoughts on a variety of topics. We discussed:
The difficulties of modern defense

 

How you can try (big emphasis on try) to stop Alabama
What Florida can do offensively to a Nick Saban defense

 

His program at Tusculum University
Our conversation is below. Follow Coach Odom on Twitter @TUCoachO. You can get more information on his program and watch some live games this spring at TusculumPioneers.com. The Pioneers should be every Gator fan's second favorite team. A big thank you to Coach Odom for taking the time to speak with me.