It's no secret that Florida Gator football fans are hungry for more points. As a group, they're the sort of people who'd rather see their team on average win 38-28 rather than 24-14.
The promise in Dan Mullen's hire is that we will see more points on the board, and soon. The good news on that front is that there's reason to think we will see just that.
The offenses that Mullen ran for Urban Meyer that were headlined by Tim Tebow and Percy Harvin are some of the best in recent memory. As far as the SEC goes, the 2008 UF team scored 43.3 points per game in conference play. Since then, only 2010 Auburn has scored over 40 points per game in SEC competition, clocking in at 40.2. This year's Auburn team is sitting on 40.9 per game and will hit an average of 40 as long as it scores at least 33 points against Georgia in Atlanta.
It's not realistic to think of those offenses as a reasonable baseline, but they do show approximately where the ceiling is at. Tebow rushed and passed for a combined 55 touchdowns in his Heisman year; the Gators as an entire team haven't scored that many in a season since Tebow left.
Of course, Meyer isn't around anymore, so we need to focus on Mullen as a standalone guy. He called plays for his offense at Mississippi State, and there's no reason to think he won't in Gainesville. There's no coordinator to share credit or blame: it's his offense.
Mullen took over a dreadfully bad Mississippi State offense when he arrived. Running back Anthony Dixon was about the only offensive player who played at a true SEC level on the roster. Dixon jumped from 869 yards (4.41 yards per carry) as a junior in 2008 to 1,391 yards (5.41) in only 11 games as a senior in 2009. This despite the primary quarterback being Tyson Lee, who threw for just 6.5 yards per pass with a dreadful 4-14 touchdown-to-interception ratio.
Mullen raised the team's scoring average by ten points per game from 15.3 per contest in Sylvester Croom's last year to 25.6 per contest in his first. In recent UF team terms, that's going from a field goal per game worse than the 2013 team to the level of the 2011 team that still had some Meyer recruits on offense. And again: Mullen's first team really, really did not have offensive talent to speak of. That team's points per game rate really should have been lower, but it managed to generate seven non-offensive touchdowns to offset the skill deficit.
It took until 2012 for Mullen to assemble enough talent for his Bulldogs to score more points per game than the Gators did in a given season. Once he got there, though, he never gave back the head-to-head scoring lead.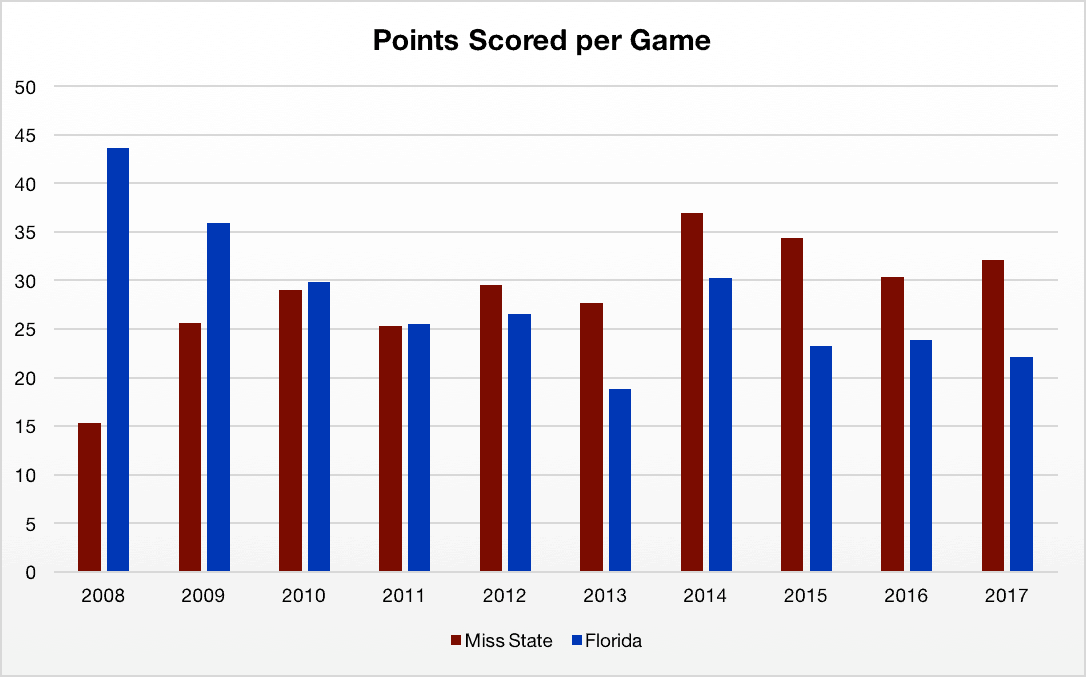 Mullen's highest scoring team came in Dak Prescott's junior year when he and Josh Robinson tore up defenses together. That MSU outfit scored 36.9 points per game, more than the 35.9 the Gators scored in Tebow's senior season.
Things came down a little once Prescott left because, as good a runner as he his, Nick Fitzgerald is not the passer Prescott was. Mullen still kept it above 30 per game, though. Florida's only time scoring above 30 per game since Tebow left came in 2014, after which the school fired the staff and brought in Jim McElwain to fix the offense.
As I alluded to above when talking about Mullen's first team, non-offensive scores can make an offense seem better than it was when looking at points per game. So, I went ahead and made another chart just of offensive touchdowns per game. As much as we all love Eddy Piñeiro, I think we prefer to see him do most of his work on PATs than field goals.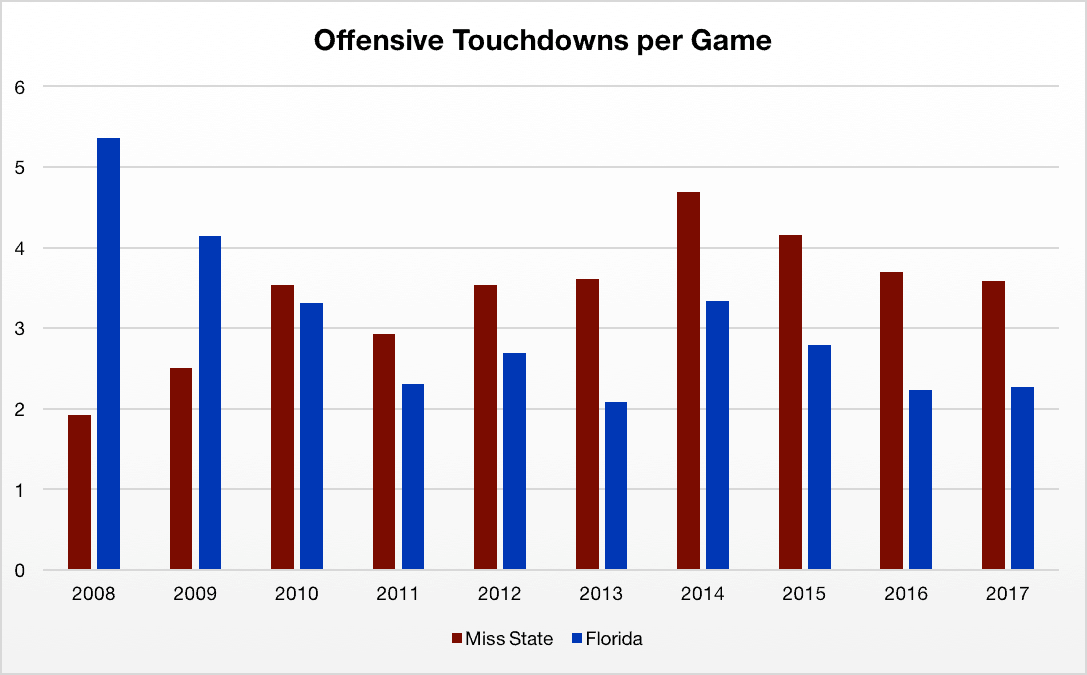 Mullen actually overtook Florida in offensive touchdowns per game two seasons earlier than he did in points per game. By only his second season in Starkville, he'd already overtaken his old boss and program in that respect.
Again, the two years of Prescott being an upperclassman really stick out for Mullen's time at Mississippi State. They both scored slightly more offensive touchdowns per game than did the 2009 Florida offense that featured Tebow, Riley Cooper, Aaron Hernandez, Chris Rainey, and Jeff Demps. Of the six players on that Bulldog offense who scored at least three touchdowns, only receiver Fred Ross rated a 4-star player by the 247 Sports Composite. Prescott, Robinson, WR De'Runnya Wilson, and TE Malcolm Johnson were all Composite 3-star prospects.
The 2014 Florida offense was the only one since Meyer left to score three offensive touchdowns per game. The last two offenses barely scored above two per game at 2.2 and 2.3, respectively. As Mullen was able to score 2.5 offensive touchdowns per game in 2009 with one good player and a box of spare parts — and that was a year after the Bulldogs only managed 1.9 per contest the prior year — it's reasonable to think that Florida will see an immediate uptick in offensive scoring next year.
I'm not yet prepared to offer a concrete prediction of what to expect, but I will say this much: it will be a big surprise if Florida isn't noticeably better at scoring next year.