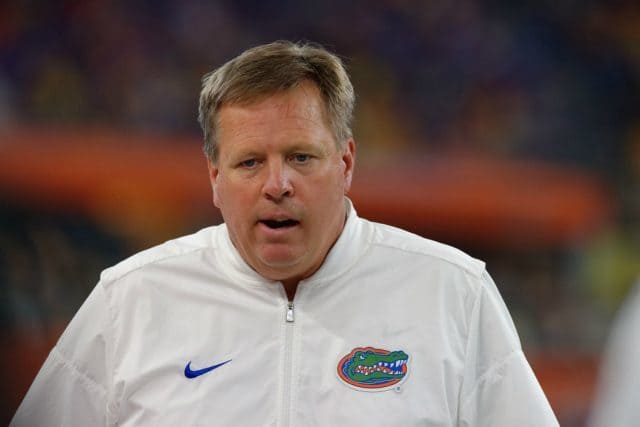 The first article of the season is always tough to right when you have an article series predicated on stats. There is not much you can glean, and there is only one game, so you just aren't quite sure if that is an anomaly or how the season will actually play out.
Let's hope for the Florida Gators it is the latter, because this was a frustrating one to watch – especially one where I trekked over 1,150 miles to go see in person.
We all watched the game. We all saw the same things.
We were all frustrated with the lack of production from the offensive line that then forced the passing game and run game to falter.
We were all frustrated that Feleipe Franks seemingly got pulled and was never given a shot to help the offense regain momentum.
We were all frustrated in the play calling in the second half (maybe you were in the "entire game" camp, but the point remains the same).
We were all frustrated that the Gators, their cockiest ever under Jim McElwain, barely looked like they belonged on the same field for much of Saturday's game.
I am not going to re-hash those thoughts, because they won't serve any good right now to the betterment of Gator Nation.
A Quick Thought, Though

I do, however, have one thought from Jim McElwain's Monday press conference and it involves a comment that I've heard far too often the last six years. When asked about Doug Nussmeier and his play calling from the game on Saturday his comments were, "(I'll) get it fixed."
At what point can we trust that it will be fixed?
Florida has been hearing about their offense and how it will be "fixed" for the past six seasons, and now it looks to be on track for season seven. It is no longer just the players. It is no longer a lack of scholarship players. It is no longer a lack of depth. Now it is two things and only two things: play calling and development.
We know that he is not happy with play calling because he said, "we need to make sure that the guys that need to touch it, touch it. Those things need getting called."
Moreover, what we saw on Saturday was a team that was outmatched physically and mentally, which has me wondering more about development, rather than simply just play calling.
How long do we wait to see if does get fixed? How long can we mutter the phrase, "we got whooped"? How long can we wait for at least two offensive coaches that have not seen their players progress, quarterback and tight end (coaches that have been long friends of Jim McElwain), continue to lack development and hold the team back?
"We will get this fixed" is no longer an acceptable comment, in my opinion.
Florida had nine months to prepare for this Michigan game and scored three points on offense – an offense, we were told, could be led by a dog.
Making changes means you have accepted that there is something worth fixing – not making those changes means you accept your place – and right now that place is a 100+ ranked offense.
On his Twitter bio, Jim McElwain says, "each day you either get better or you get worse. There is no staying the same. What will it be today?" Well coach, now is your chance to get better.
Offense
Florida had its lowest opening game passing yard (181) total since 2013 against Toledo.
This is the third time in seven games the Gators have rushed for 12 yards or less (11).
The Gators have not scored a rushing touchdown in eight games.
Florida failed to enter the redzone for the first time in a game since the 2015 SEC Championship game against Alabama.
Saturday was only the second time under Jim McElwain that the Gators have not mustered 200 offensive yards (2015 – Alabama).
Florida only had 53 plays, their lowest since LSU last season (52). They have had 15 games with less than 65 plays under Jim McElwain.
This is the third time in four games that the Gators averaged less than four yards per play.
The Gators have not logged a passing touchdown in a game for the second time in four games.
The Gators have lost the turnover battle for the sixth time in nine games.
The nine first downs the Gators had were the lowest since the 2015 SEC Championship game.
The Gators have had less than 20 first downs in seven straight games.
The Gators had a 3rd down conversion percentage of 15.38% (2-for-13), which is the third time in seven games the Gators have had two or less 3rd down conversions.
The Gators are one of only seven teams in the FBS (129 teams) to not make it to the red zone.
Defense
I will start by saying that I was very impressed with the way that Jordan Sherit played on the defense line, as well as David Reese – both were the stars of the defense, whether the numbers truly show it. Marco Wilson and CJ Henderson both played very well and will be staples of a great defensive backfield over the next three-plus seasons.
This was the first time since last season against Tennessee, that the Gators lost a game with multiple interceptions.
The five sacks the Gators had were the most they have had in an opening game in more than 10 years.
The Gators failed to have a pass break up for the first time since the Kentucky game last season.
Special Teams
As always, Johnny Townsend played incredibly. Townsend had six punts for 328 yards – a 54.67-yard average that currently has him ranked as the number one punter in the country.
Four kicks and four touchbacks for Eddy Pineiro. His average kickoff distance is 64.80 yards per kickoff – not bad, considering the highest you can have would be 65 yards. There should be no reason a team ever has a kick return against Florida.
The Gators have blocked a kick or punt in three of the last four games.