Creative destruction is an economic concept that refers to how capitalism destroys the value of previous economic orders to clear the path for the creation of new wealth.
Though the sloughing off of the old and growing pains of the new is often painful, financial mutation provides for emergence of a presumably better wealth paradigm – provided you can survive the collapse.
In a scenario such as this, some see only shattered ruins while others observe open opportunities.
So how does creative destruction relate to the Florida Gators?
I'm going to just say it:
The mental, emotional and economic destruction brought on by a 4-8 season might have been just the thing our football program needed to build long-term success.
Adapt or die
At the beginning of our 2013 campaign, I admit, I had donned my orange and blue glasses. I thought my beloved Gators might challenge Bama for the SEC title and, by default, a national championship.
However, I missed the many warning signs that rode in on pale horses crying, "Mediocrity is coming! Mediocrity is coming!"
The defense lost an obscene amount of starters from the 2012 unit. While our defense still ranked in the Top 15 nationally for scoring, at the end of 2013 we struggled because our hot mess of an offense could not get a lead, let alone protect a lead. A defense cannot play the entire game without any help. Still, they kept a lot of games close and winnable despite not having any help at all from the offense or special teams.
Something that was not so special – losing Caleb Sturgis. Great kickers and finalists for the Groza Award just don't magically appear because we will them into existence with our sunshine pumping ability. In 2012 our kickers went 24 for 29 on attempts. Last season they went 12 for 22. Those points could have made the difference in a few games. Those few points could have made the difference between having a bad season and a mediocre season.
Additionally, in 2012 our punting averaged 45.34 yards per punt on 67 punts versus 40.88 yards per punt on 51 punts last year. Five yards may not seem like much, but over the course of the season that number adds up. It's a 227.46 yard difference over 51 punts which could have been the difference in at least one or two close games. It's not like anyone could anticipate our punting struggles either because Kyle Christy had been lights out in 2012.
Still, the signs were all there. We knew that 2013 could be a rough year on offense. The Gators needed to rely on an influx of freshman offense to produce.
As a perennial sunshine pumper, I chose to ignore the fallacy of relying on inexperienced players because our freshman wide receiver class clearly upgraded our talent at the position. However, having a talent for counting cards and having actual cash to bring to the poker table are entirely different things.
Yes, Kelvin Taylor did produce after Matt Jones went down with a knee injury, but the bulk of his contributions came late in the year.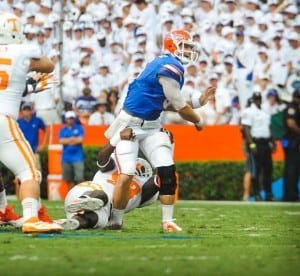 Moreover, a rash of injuries hit us in training camp by losing Andre DeBose and Matt Rolin to ACL tears, Jeff Driskel to an appendectomy for part of training camp, and Matt Jones to a viral infection. However, the omens in training camp were merely a prelude to the injury bug that swept through our ranks once the season actually started.
By the time FSU left town, 17 Gators would experience season ending injuries at some point during the season. Based on 85 scholarships a full 20 percent of the team went down at some point and could not play for the rest of year. Fully, 28 Gators missed games or parts of games because of a variety of injuries, that is roughly 33 percent of the team. That's two complete starting units and 6 second stringers.
To say that injuries affected this team would be an understatement. It wasn't just the volume of injuries, it was who got injured. Losing Driskel against Tennessee hurt the team; but not as much as the injuries to Dominique Easley's knee and Tyler Murphy's shoulder.
Despite what conspiracy theorists spout, depth charts exist for a reason because most third-string quarterbacks don't bring home championships. Just because we're the Florida Gators doesn't mean you have two high school All-Americans sitting behind your starter. Without a schematic advantage, the offense disintegrated and dragged the rest of the team down with it.
Even Stevie Wonder could have seen the signs.
That was the die part. What about adapting?
Before Muschamp took over in Gainesville, the problem was offense. In 2010, the offense under Coach Meyer drifted to the bottom of the SEC. During Muschamp's reign the offense has sunk lower still.
Even during the relatively successful 2012 season the games were too close for comfort.
In all fairness, we are an elite defensive unit under Muschamp. 2011, 2012 and 2013 found us in the Top 20 in the country in scoring defense. There is only one better defensive mind in college football and he's at Alabama.
Even though I couldn't see it at the time, Muschamp's desperately clinging to the old ways and old belief systems left us without a prosperous and productive offense. While much of the college game moved towards spread offenses and hurry up offenses, we moved backwards towards ball control and a slower pace of offense.
The model of defense and conservative offense Muschamp learned under Nick Saban's tutelage was doled out for 3 straight years with little success. The success of the 2012 season incorrectly led many fans, including myself, to believe that the problems on offense were simply incremental and close to being solved with the recruiting of more talent.
Muschamp made a misstep with the hiring of Brent Pease who had the luxury of choosing between Florida or Bama. Bless his heart, he chose lil ol' us.
At the time many thought his hire was a coup.
And it was.
For Bama.
Are you actually getting to the adapt part or what?
The parade had gone on a good long time before anybody outed the Emperor for trying to fool himself and the good citizens of his pigskindom into thinking he was wearing a shiny new offensive suit.
Without the complete collapse of our offense and the exposure of the flaws of the Saban coaching model we may never have known the truth. I know I would have continued to believe that maybe that better offense was just one more recruit away.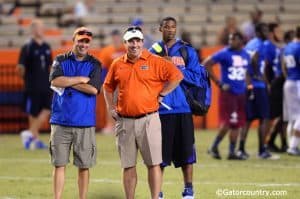 With stadium lights now pointed toward and glaring on all his weak spots (whether or not influenced by Jeremy Foley) Muschamp went after Kurt Roper and Mike Summers.
By hiring and embracing Roper and Summers, Muschamp has acknowledged his limitations as a head coach and showed his commitment to adapt (ah, there it is) into a better head coach.
This isn't the offense that Muschamp wants to run in his perfect world; but he now understands that the only constant is change.
This adapted (there it is again) mindset may pay huge dividends for our program if the Emperor is really wearing clothes come parade time – this time.
The destruction of the Saban model was necessary for Florida to move forward and it had to implode in the fashion it did for Muschamp to embrace change.
I'm ready to invest. Are you?
The best part of creative destruction is that at some point the worst will have already happened and be over with and a gleaming future lies ahead. Warren Buffet has said that one simple rule has guided his investing, "Be greedy when others are fearful and fearful when others are greedy."
You just have to see through the fear. Many of our fans are fearful of another poor season, but the worst is behind us.
That gleaming future may be a little tough to see through the blood, sweat and tears dripping down your face but it's out there.
Also, as a fan, I just have to acknowledge that we have had years of good luck. The national title wins in 1996 and 2006 were lotto-like with the things that had to fall into place. Sometimes maybe you have to just pay back the probabilities you borrowed against in the past.
I like to think that 2013 was the year we paid back those debts and I'm ready to invest in our Florida Gators with the best currency I have available to give – my faith.
Who's with me?