When Florida hired Dan Mullen, there was some level of skepticism regarding his record at Mississippi State. He was 69-46 overall with a 33-39 mark in SEC play. For some folks, that wasn't good enough to merit him returning to Gainesville.
I have already run through how that record makes him one of the best coaches Starkville has ever seen, but it occurred to me that there was another way I could break things down. So, I'm going to perhaps do something dangerous and compare Mullen to the godfather of Florida football: Steve Spurrier.
Not Spurrier's awakening of the sleeping giant of Florida, mind you, but his college coaching second act at South Carolina. Both Mullen at Mississippi State and Spurrier up in Columbia were attempting to take their reputations for offensive excellence and bring one of the SEC's underclass up to new heights.
Wins and Losses
There is a football cliche that downtrodden programs have to have their culture changed and learn how to win before they can become consistent contenders. These transformations can require years before they take root.
On this front, Mullen and Spurrier had remarkably similar timetables. Both struggled to rise beyond "marginal bowl team" status in their first five seasons on the job.
Year
Mullen Record
Spurrier Record
1
5-7 (3-5)
7-5 (5-3)
2
9-4 (4-4)
8-5 (3-5)
3
7-6 (2-6)
6-6 (3-5)
4
8-5 (4-4)
7-6 (4-4)
5
7-6 (3-5)
7-6 (3-5)

Total
36-28 (16-24)
35-28 (18-22)
Win Pct.
.563 (.400)
.556 (.450)


The teams' overall records are nearly identical, only off by one because the old 11-game schedule was still in effect during Spurrier's first year in Columbia. Spurrier did a little better in conference play, something largely explained by Mullen's arrival coinciding with the SEC West becoming brutally tough to compete in.
Each of them had a breakthrough year in their sixth. For Spurrier, that was 2010 when he won the Gamecocks' only SEC East crown to date. For Mullen it was the 2014 campaign in which his team spent five weeks at No. 1 in the polls, MSU's only time ever topping the rankings.
| Year | Mullen Record | Spurrier Record |
| --- | --- | --- |
| 6 | 10-3 (6-2) | 9-5 (5-3) |
| 7 | 9-4 (4-4) | 11-2 (6-2) |
| 8 | 6-7 (3-5) | 11-2 (6-2) |
| 9 | 8-4 (4-4) | 11-2 (6-2) |
| Total | 33-18 (17-15) | 42-11 (23-9) |
| Win Pct. | .647 (.531) | .792 (.719) |
Spurrier obviously kept things up after his breakthrough in a way Mullen did not, something I'll be going over for the rest of this piece. I will note right now that the biggest reason for Mullen's down year in his eighth was a bad defensive coordinator hire in Peter Sirmon.
Mullen had to make a lot of DC hires in Starkville because bigger programs kept hiring them away. UF stole Geoff Collins, for instance, while Manny Diaz did two one-year stints there before Texas first and then Miami (FL) lured him elsewhere. That speaks to Mullen's good eye for defensive coordinators as well as the difficulty to keep top personnel at Mississippi State. As was the case for Mullen himself and AD Scott Stricklin before him, when a bigger program comes calling for MSU's talent, they leave.
Sirmon was Mullen's one bad hire, and the defense cratered that year. He fixed it by essentially swapping Sirmon with Louisville for Todd Grantham, at which point the Bulldogs' defense got much better while the Cardinals' defense fell apart.
Advanced Stats
Coaching records alone don't tell the whole story because of schedule strength differences, so I'll let the opponent-adjusted S&P+ system shed some more light.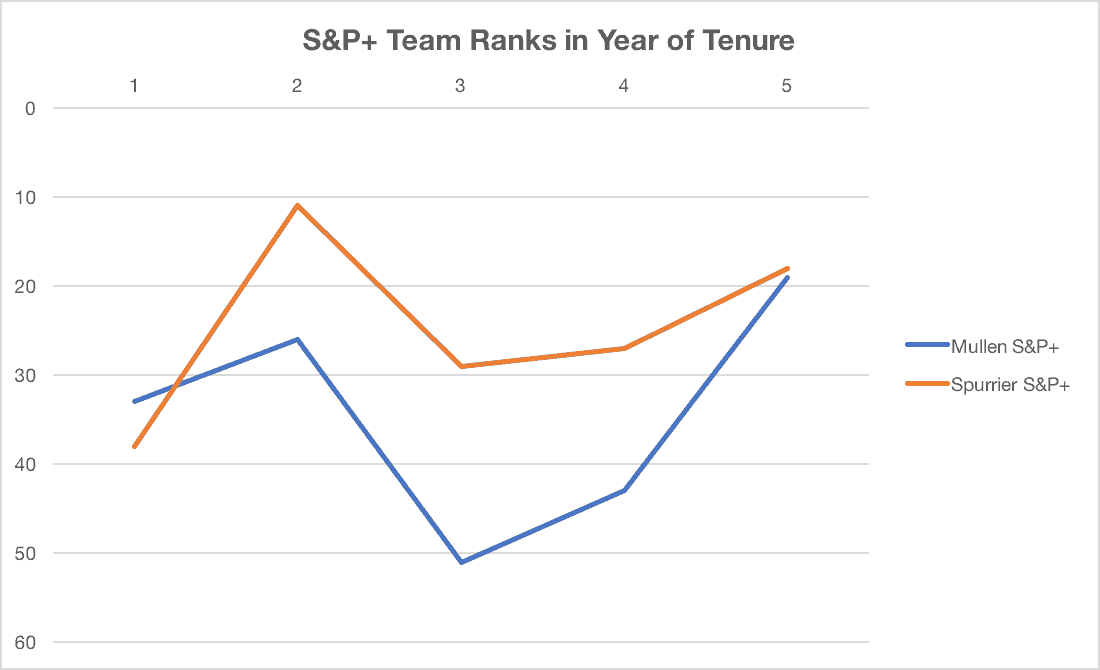 Mullen's first team was slightly better than Spurrier's by S&P+ despite the disparity in records, but afterwards the Head Ball Coach stayed ahead for quite a while. Given that Mullen was on his first head coaching job ever and Spurrier had tons of experience — not to mention South Carolina has talent acquisition advantages that I'll get into later — we should expect to see that.
By the fifth year, the teams were in the same place: the advanced stats said they were top 20 outfits but the records weren't there. It then makes sense that the two of them finally broke through in Year 6.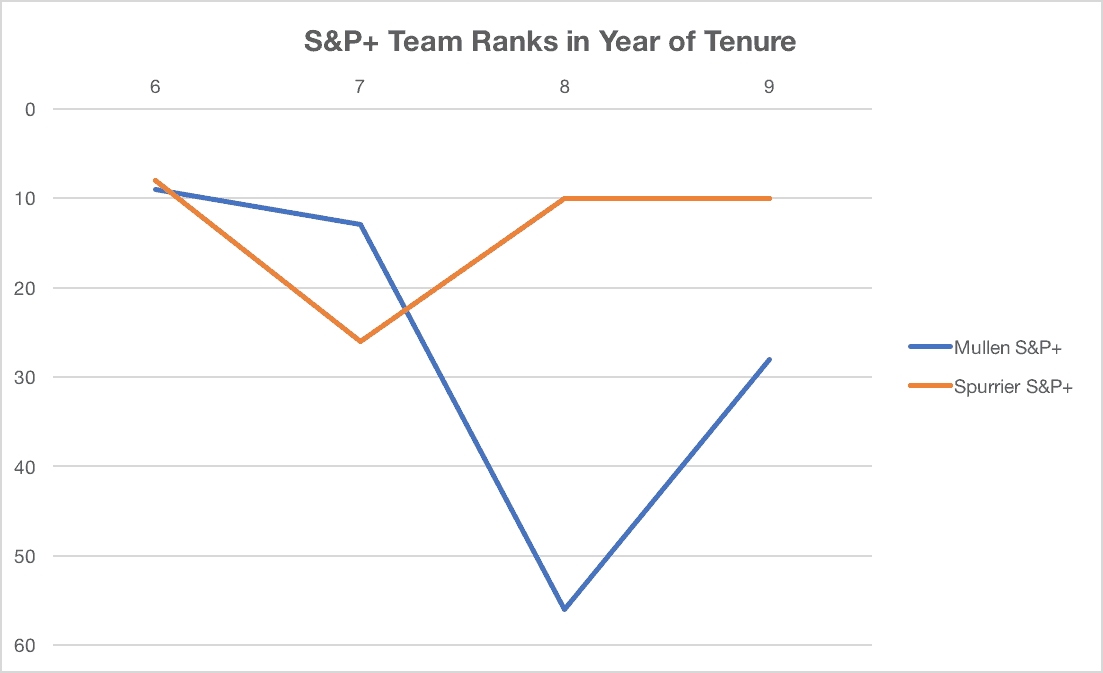 Despite what your eyes are telling you right now, three of the four years were pretty similar in S&P+ rank. Mullen had two finishes in or near the top ten (No. 9 in 2014, No. 13 in 2015) and one in the late 20s (No. 28 in 2017). Spurrier had three top ten finishes (No. 8 in 2010, No. 10 in 2012, No. 10 in 2013) with one in the late 20s (No. 26 in 2011). Mullen's bad DC pick in 2016 is the outlier here.
I feel I must note that MSU didn't fare better in 2017 not because of the defense, which ranked 19th in S&P+, but because of the offense, which ranked 63rd. The reason why it was so low in that system was because it just didn't generate very many explosive plays.
A lot of that was due to a combination of Nick Fitzgerald being a far better runner than passer and the receiving corps suffering from Fred Ross's graduation and Donald Gray not staying healthy. The first point derives from the fact that MSU happens to be a program where it can make sense to snipe a quarterback away from UT-Chattanooga. Speaking of…
Recruiting
South Carolina is a program in its state capital, a city with around 130,000 residents. It's in a state that doesn't produce a ton of talent, but it's near a pair of states in Georgia and Florida that produce more talent than any in-state program could control. It also borders North Carolina, an underrated talent-producing state with no established football power inside its borders.
Mississippi State is a program in the middle of nowhere in a city with fewer than 30,000 residents. Its home state produces some talent, but not enough to sustain high levels of success at its two SEC programs. It borders Alabama, the best players in which will go to Bama and Auburn, and Louisiana, which sees its best players go to LSU and Bama. It also has Memphis nearby, but MSU's in-state rival is closer to that city.
You should expect to see South Carolina have more talent than Mississippi State at all times, basically, and that's what happened with Mullen and Spurrier before and during their tenures. Here are the Rivals.com class ranks for the three years preceding their tenures going up through their ninth years.
| Year | Mississippi State Recruiting Rank | South Carolina Recruiting Rank |
| --- | --- | --- |
| -3 | 46 | 11 |
| -2 | 39 | 8 |
| -1 | 44 | 35 |
| 1 | 25 | 23 |
| 2 | 38 | 24 |
| 3 | 44 | 6 |
| 4 | 30 | 22 |
| 5 | 26 | 12 |
| 6 | 37 | 24 |
| 7 | 16 | 18 |
| 8 | 34 | 19 |
| 9 | 27 | 16 |
Two things helped Spurrier out in this regard too. One is that early on in his time there, in-state rival Clemson was an underachiever late in Tommy Bowden's tenure and early in Dabo Swinney's. The Tigers weren't then what they are today.
The other is that the state of South Carolina randomly began producing some elite players in the mid-2000s. At first, they didn't become Gamecocks. Carlos Dunlap went to Florida in 2007; Da'Quan Bowers went to Clemson and A.J. Green went to Georgia in 2008.
Beginning the next year, Spurrier got those top prospects to come to Columbia. Stephon Gilmore and Alshon Jeffery signed in 2009, Marcus Lattimore arrived in 2010, and the headliner Jadeveon Clowney came in 2011. Plucking Connor Shaw out of Georgia completed the core of those highly successful teams, but the in-state guys provided much of the star power in those years. The state has only had one year with that kind of talent since: 2013, when Ben Boulware, Shaq Lawson, and Mike Williams all came up and all went to Clemson. Spurrier no longer getting those kinds of guys helped lead to the messy end he had there.
Wrapping Up
The similarities between Spurrier's time at South Carolina and Mullen's time at Mississippi State are striking. It took the same number of years to perform their rebuilds and get their respective programs up to a high level. Spurrier did ultimately have a better run than Mullen did, but he should have given the greater ability of any given coach to get talent to Columbia than to Starkville.
I'm not going to suggest that this means Mullen is going to have a run at Florida on the caliber that Spurrier did. What the Head Ball Coach did in Gainesville is one of the greatest coaching tenures of all time, and expecting anyone to match up to it is simply not fair.
What I will say is that the biggest difference between Mullen at Mississippi State and Spurrier at South Carolina was talent acquisition, and that doesn't appear like it will be a problem for Mullen at Florida. His best class at MSU was ranked 16th in Rivals, and his transitional class at UF was ranked 18th.
It would've been higher if not for the unfortunate health problems of Randy Russell, who Rivals took out of the class and doesn't count towards the total. It also is smaller than any of the classes he signed in Starkville. As transitional classes tend to be the worst of a coach's tenure, Mullen will almost certainly sign better-ranked classes than he did at any point at MSU from here on out.
Winning consistently at a program that historically hasn't is a tough job. It took someone as good as Spurrier half a decade to whip South Carolina into shape. That it took Mullen the same amount of time to do that at a harder job without any prior head coaching experience shouldn't be a knock against him.