Jim McElwain didn't waste any time.
While the opportunity to take over what he called one of the greatest brands in college sports was an honor that humbled the Florida Gators new head coach, he knew the tremendous undertaking that lay before him.
So he went to work with the first order of business to recruit like he'd never recruited before. Time was his enemy, the dead period standing in his way and — after some attrition — just seven prospects with a pledged commitment to him and his university.
The dead period has come and gone. McElwain's Gators have just eight commitments in the class and the possibility of pulling in a highly ranked recruiting class is slim. That's not McElwain's fault, nor should it even be his biggest concern. He was playing behind the eight ball in terms of recruiting high school talent this recruiting cycle but his biggest recruiting job isn't a blue-chip defensive end from the Tampa area, or finding a quarterback from this class.
McElwain's biggest recruiting test will be keeping secondary coach Travaris Robinson in the right shade of orange and blue.
A Miami native, Robinson was a four-year letterwinner at Auburn (1999-2002). Playing for Tommy Tuberville, Robinson appeared in 48 games and helped the Tigers to three SEC West championships. Robinson was names All-SEC by the AP following his senior year and played three seasons in the NFL before returning to the plains to finish a degree in telecommunications and begin coaching.
It's where he met Will Muschamp — who was the defensive coordinator at the time.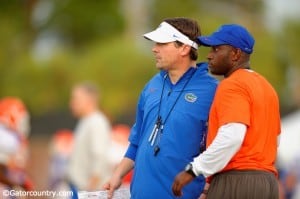 Muschamp gave Robinson his first coaching opportunity as a graduate assistant for two seasons before accepting a full-time job at Western Kentucky. Robinson would spend just one year at Western Kentucky then one at Southern Mississippi and one more at Texas Tech before he would get the biggest break of his coaching career.
Robinson's phone rang. The guy on the other end of the phone was a familiar voice, one with a little southern twang to it.
Muschamp had just been named the head coach at the University of Florida and he wanted Robinson to join him in Gainesville. Robinson didn't have to think twice, jumping from Lubbock, Texas and moving to Gainesville without a second thought.
Robinson and Muschamp coached the secondary together — Muschamp taking the safeties, Robinson taking the cornerbacks. Together, they coached some of the best secondaries the Florida Gators have ever had. Matt Elam, Josh Evans, Marcus Roberson and Loucheiz Purifoy are all enjoying life playing football professionally on Sunday's after being coached by Robinson.
Robinson is also a tremendous recruiter. He's young — 33 years old — but he relates to the high school athlete more than any other coach in Gainesville. Many recruits say that Robinson grew up just like they did. He knows the struggles of a young kid growing up in a rough neighborhood. He's been there, he had the desire to get out — the same desire that many recruits growing up in rough neighborhoods have — and he did. Robinson has played in college, played in the league. He's lived what the kids he recruits want to achieve. He gets it and kids gravitate towards that.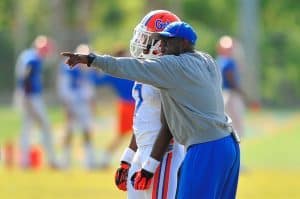 Robinson is credited with being the main recruiter for current Gators Vernon Hargreaves III, Caleb Brantley, Duke Dawson, J.C. Jackson, Marcell Harris, Keanu Neal, Jalen Tabor, Treon Harris, Quincy Wilson, Brandon Powell, C.J. Worton and, well, yeah, you get the picture.
Travaris Robinson is Florida's biggest weapon as a recruiter and he's the biggest recruit that Florida needs to land this offseason.
The moment Will Muschamp accepted the defensive coordinator position at Auburn Robinson's phone began ringing — just as it had four years ago. The message was the same, "come join me and help me build something special."
Robinson likes Florida. Gainesville isn't quite Miami — where Robinson was born and raised — but Auburn, Alabama is the antithesis of Miami.
He lived in Muschamp's shadow the past four years as well. Everyone who watches college football knows Muschamp's acumen for defense. D.J. Durkin's promotion to defensive coordinator was brushed off; this was Muschamp's defense, that was just a title for for Durkin. Robinson also bore the brunt of Muschamp's brilliance. Muschamp — a former safety like Robinson — coached the safeties even though Robinson was the secondary coach he would only coach the cornerbacks.
However, Muschamp is offering Robinson a chance to return to his alma mater and to something familiar. Returning to Auburn would be comfortable. Robinson has only been a coach for eight years and six of those have been spent side by side with Muschamp.
McElwain, Jeremy Foley and the Florida Gators have made their stance clear; they want the coach that the players affectionately refer to as T-Rob back. They're ready to do whatever they need to do in order to retain him.
Muschamp and Auburn have also made their intentions clear. They want T-Rob and they're prepared to do whatever they need to do to make that a reality.
The ball is in Robinson's court.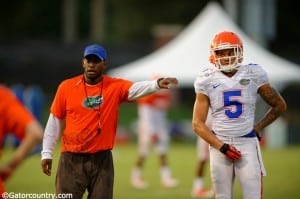 On one hand there is an opportunity to go back to your alma mater, continue learning from one of the best defensive minds in the game and at the same time continue working with a close friend.
On the other hand, the opportunity to stay in Gainesville, prove your coaching chops without the shadow of Will Muschamp looming over you and help rebuild a brand that has been tarnished is appealing.
There is another thing that plays in Florida's favor. Robinson's biggest asset to the University of Florida has been his recruiting ability. Robinson's recruits are some of the best players on the roster and the reason he is so successful recruiting player is the bond that he is able to build with the recruits during the two or three years he spends recruiting them in high school.
The players, including five cornerbacks from the last recruiting cycle alone, have a bond with Robinson like they share with no other coach on staff. Robinson is like a surrogate father to the kids he recruits and coaches and the man that mothers entrust their sons to. Privately, he's told those players and their families that he won't leave the boys. But, of course he would say that to them at this point in time.
College football is a business. Coaches know this and sign up for it willingly; players and their families learn the hard way.
There are countless reasons for Robinson to leave and follow Muschamp to Auburn. There are countless reasons for Robinson to stay in Gainesville and stick it out with those same young men that he recruited and preached loyalty to throughout the recruiting process.
McElwain's first recruiting class will likely be his worst. He got a late start and Muschamp's recruiting efforts had largely fallen on deaf ears as he coached on a hot seat and then as a lame duck.
The recruiting class can be a success. The dead period won't affect the most important recruit that the Gators can land this season, in fact, they can even take him out to dinner — McElwain and Robinson were seen together in downtown Gainesville last week — no impermissible benefits when you're recruiting a coach.
McElwain is working against a stacked deck but securing a commitment from Travaris Robinson would be the biggest success he could ask for during the first few months of his tenure at Florida.
In his opening press conference, McElwain said you need to "recruit daily or die." The first signs of life would be keeping Robinson on staff.