In the second of a two-part series Gator Country's Dan Thompson analyzes the changing nature of the Southeastern Conference.
It has been said that "defense wins championships" and during a stretch of seven national championships in eight years, the Southeastern Conference has proven to be the nation's best defensive conference.
The hard-nosed defenses of the SEC have consistently been ranked higher than every conference for longer than the past decade in nearly every statistical category.
However, the SEC seems to be changing. In part one (https://www.gatorcountry.com/florida-gators-football/changing-nature-sec-offense/), we saw the drastic improvement in the offenses of the SEC over the past six seasons and that trend does not seem like it will bucked.
With that in mind, perhaps the SEC is about to prove Sir Isaac Newton's theory — "For every action, there is an equal and opposite reaction" – applies also to the football field. With the rise of high-powered, up-tempo offenses there has been a drastic change in the rankings of the SEC defenses, which warrants the question, "are SEC defenses still leaps and bounds better than their counterparts?"
Average National Defensive Ranking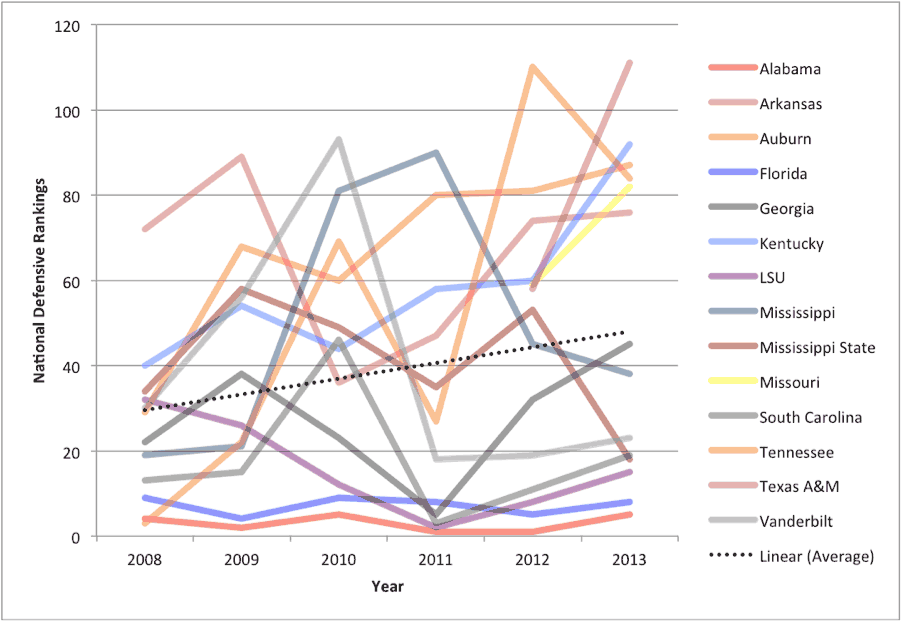 In 2008, the year the Florida Gators held the explosive Oklahoma offense to 14 points in the National Championship, the SEC was collectively ranked 26th in the country on average. That year, five teams were ranked in the top 20 and eleven teams ranked in the top-40 overall. Fast forward six seasons, the average ranking of an SEC defense is now 50th overall. Still five teams were in the top 5, but now only seven teams are in the top 40 overall and six teams were ranked worse than 70th, something that had never happened before.
Scoring Defense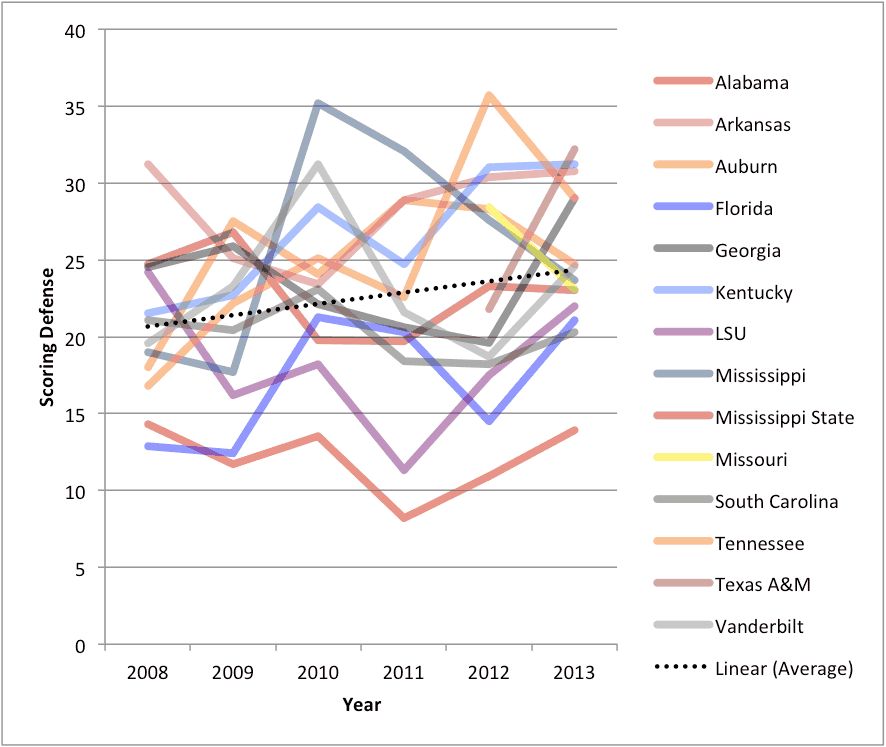 In conjunction with decreased defensive rankings, SEC teams on average gave up 24.9 points per game in 2013, compared to 20.65 in 2008. In 2008, only four teams gave up more than 24 points per game, in 2013, seven teams gave up more than 24 points per game. Continuing, in 2008, six teams averaged giving up less than 20 points per game, in 2013, that number fell to just one.
Rushing Defense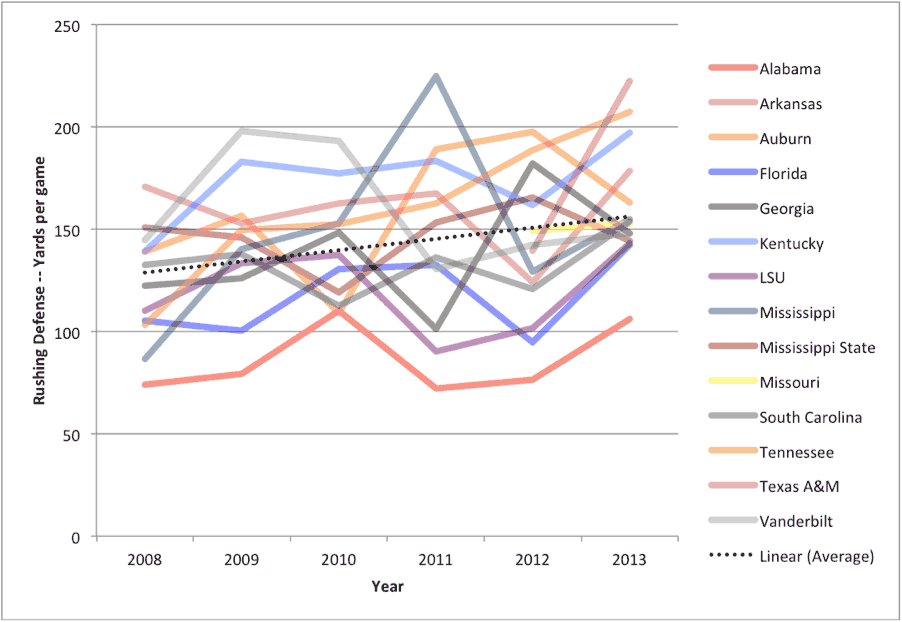 The numbers continue, with average rushing defense (yards per game) increasing drastically from 123.24 yards per game in 2008 to 161.58 in 2013. In 2008, 10 SEC teams gave up less than 150 yards per game on the ground, in 2013, that number dropped to six. But perhaps the best representation is in 2008 the worst rushing defense (Arkansas – 170.75) would still better than four teams in the 2013 SEC, and the best ranked rushing defense in 2013, would have ranked 5th in the SEC in 2008.
Passing Defense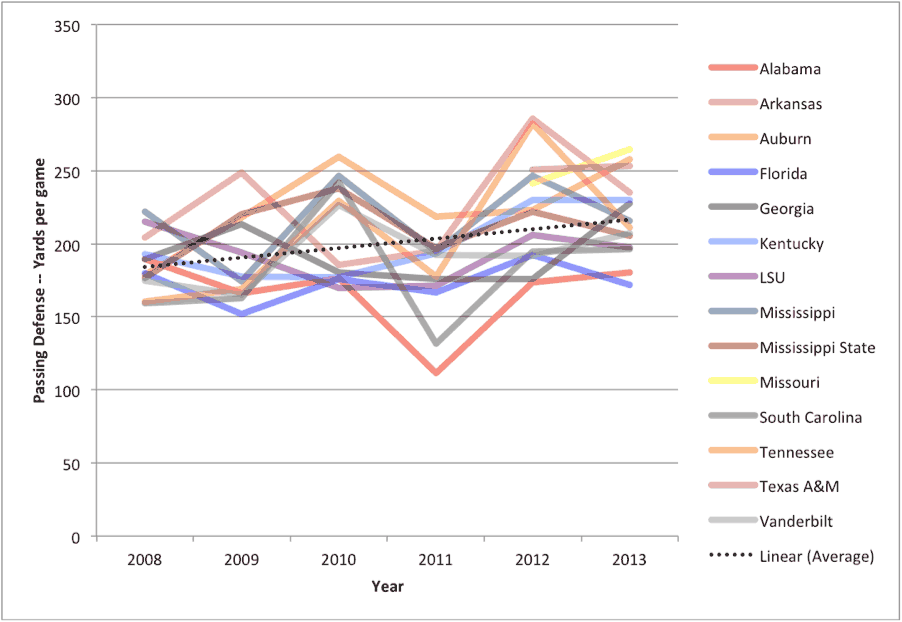 Again, we see an increased in offensive output against defenses, with SEC defenses giving up 218 yards in the air per game compared to 186.96 in 2008. In 2008, the worst pass defense team (Mississippi) would have ranked 7th in the SEC in 2013, with the worst team (Texas A&M) in 2013 averaging more than 40 yards more in yards per game.
Final Review
With the growth in the SEC offensive numbers it is easy to attribute that in some ways to the decrease in defensive numbers, but what else contributed to it? On offense, Missouri and Texas A&M helped increase overall SEC numbers, but on defense, they were both well below the average in nearly every category – especially in national defensive rankings.
This will be an interesting case study, a case study that I will likely revisit in a few years.
The one thing that we can learn from these statistics – SEC defenses should not be feared as much as they were before.