The fourth and final quarter of Florida's 36-17 loss against the Missouri Tigers was that of a thin and beaten defensive unit that could no longer stand up to an impressive Missouri offensive attack, letting in the last two scores that would make the lead insurmountable.
Series No. 12: 11 plays, 54 yards, 4:17 time elapsed, Missouri field goal.
This series, like most for the Tigers in this game was aided by a big play. This time, a 27-yard pass from quarterback Maty Mauk to receiver Dorial Green-Beckham.
The drive starts as Green-Beckham gets a step on Florida cornerback Marcus Roberson and makes the catch.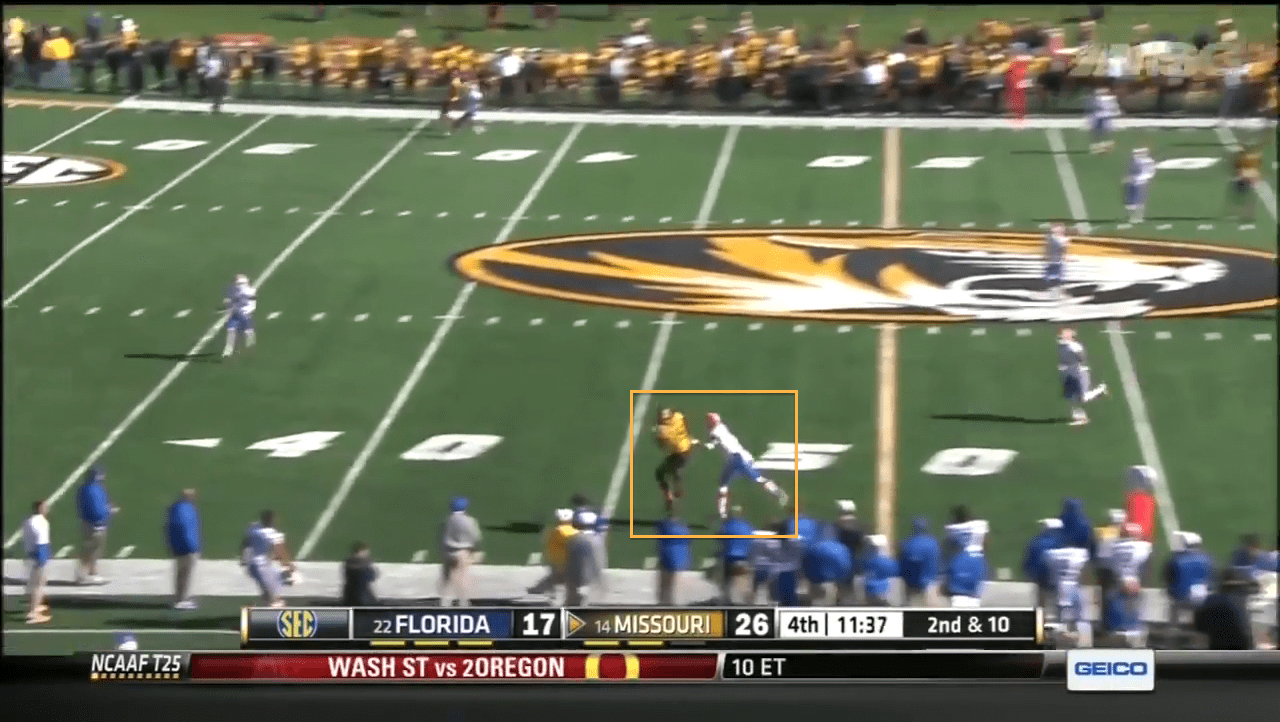 Five plays later, Missouri is inside the red zone and threatening.
Running back Henry Josey rips off a 10-yard gain helped by a block downfield on linebacker Antonio Morrison.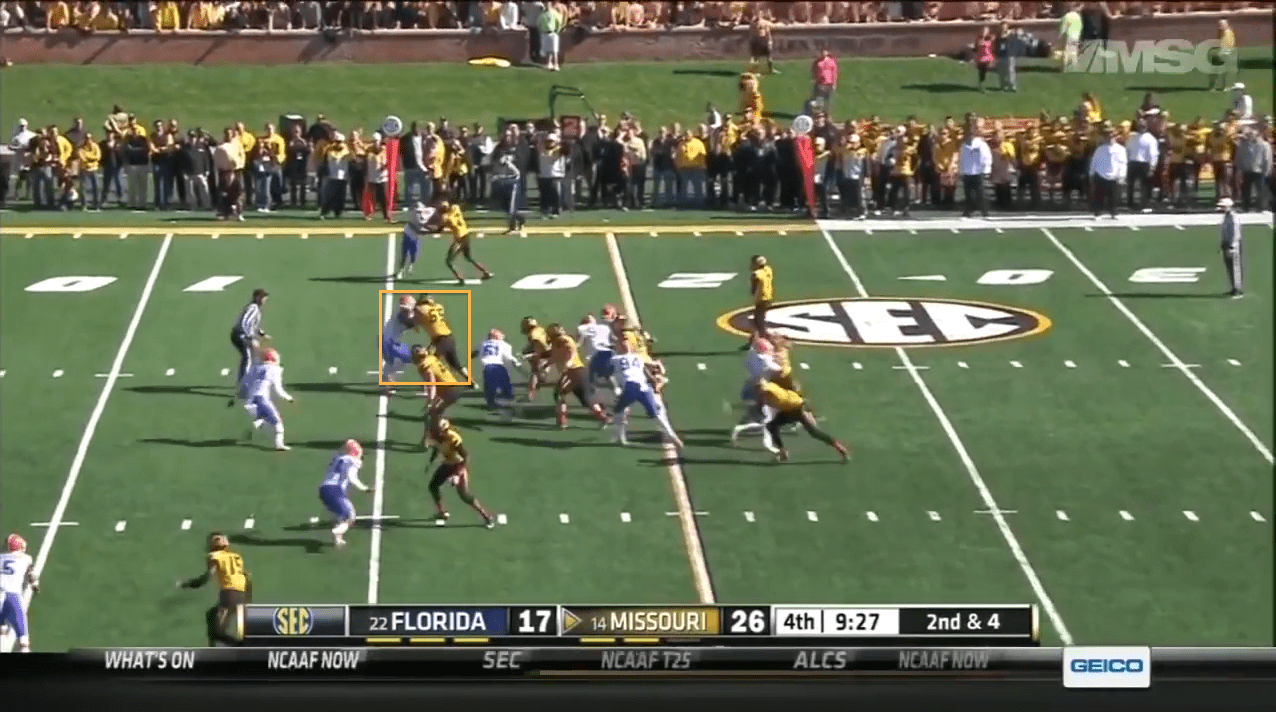 That run gets the Tigers within 10 yards of the end zone, but after a one-yard loss on a first and goal run,  Missouri elects to throw the next two downs.
On third down, Mauk attempts a screen pass to receiver L'Damian Washington.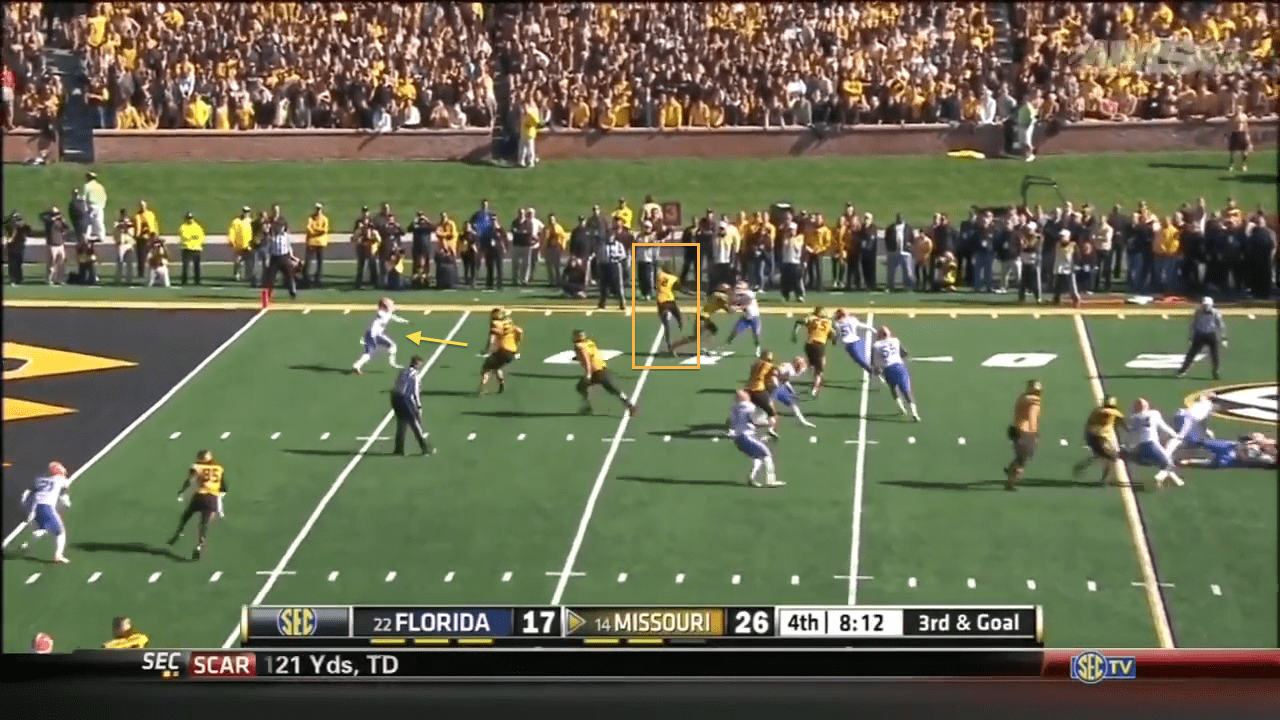 The ball is overthrown, but if it was on target, Washington had a clear path to the end zone to put Florida even further out of reach. Instead, The Tigers instead kick a field goal and Austin Baggett's 28-yard boot extends Missouri's lead to 29-17.
Drive grade (C): Giving up another big play, and only allowing three points because the offense made a mistake isn't good.
Series No. 13: One play, seven yards, 0:39 time elapsed, Missouri TD.
The final nail in Florida's coffin came by way of a Maty Mauk scramble. After Florida' quarterback Tyler Murphy fumbled and handed the Tigers field positioning inside the red zone, Missouri gets pushed ten yards back on a holding penalty.
On the next play we see Florida BUCK Dante Fowler loses contain when he rushes Mauk.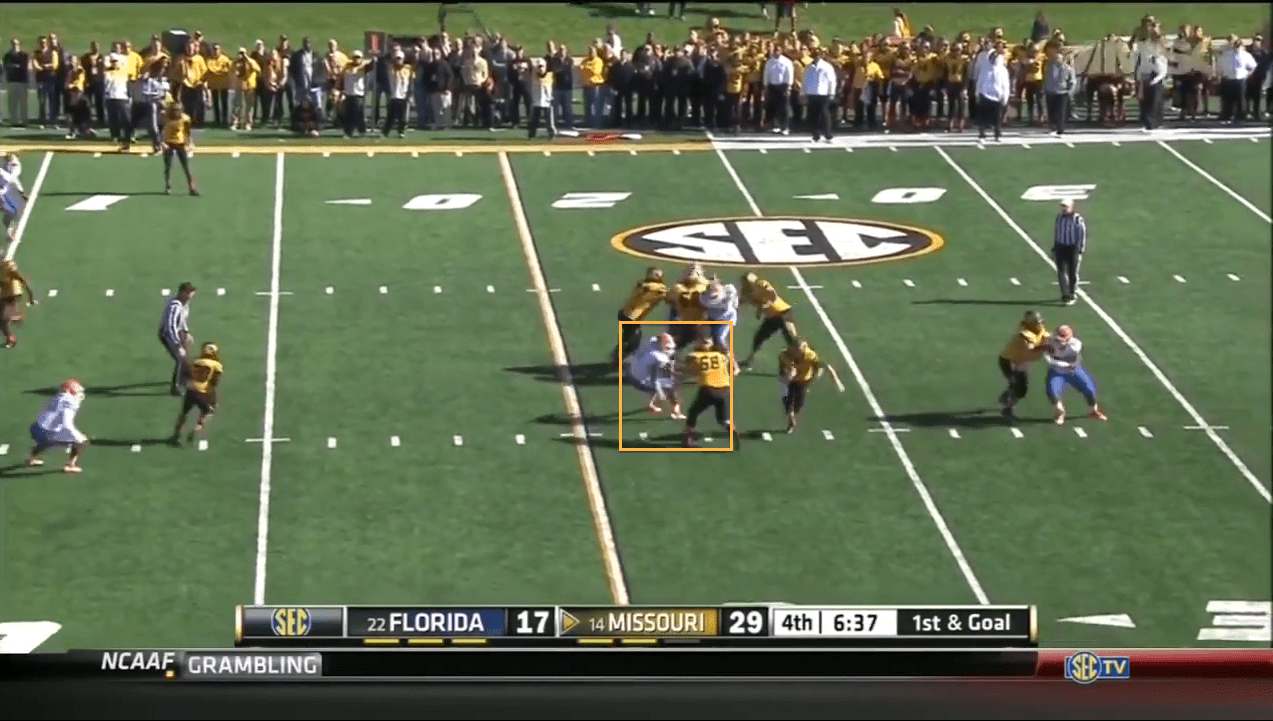 17 yards later, Mauk is in the end zone to push Missouri's lead to 36-17.
Series grade (F): A win on this drive would have been to hold the Tigers to three points, and Florida's defense didn't do that.
Series No. 13: Four plays, 12 yards, 2:58 time elapsed.
On a series that was nothing more than a formality, Missouri wasn't done pushing Florida around on the second level.
Here, linebacker Jarrad Davis gets shoved out of the way, and Henry Josey gains 12 yards.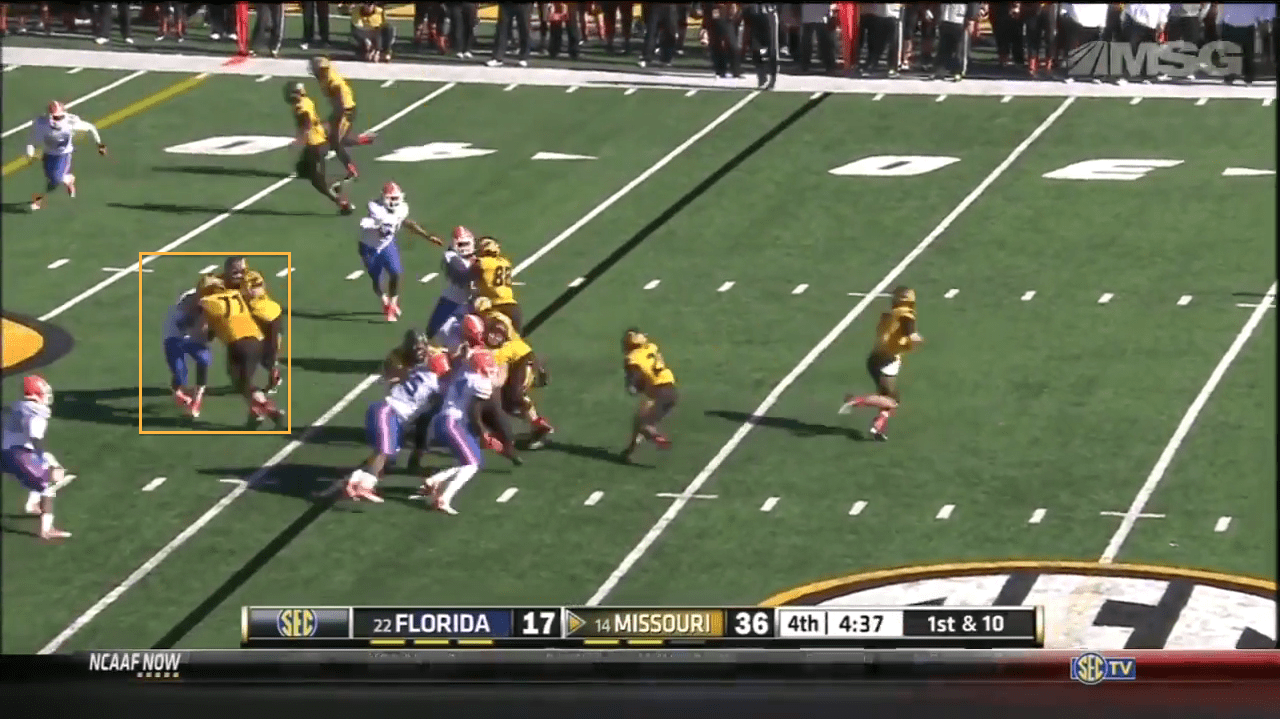 Davis redeems himself two plays later when he shoots into the hole here, not giving the Missouri lineman a chance to block him.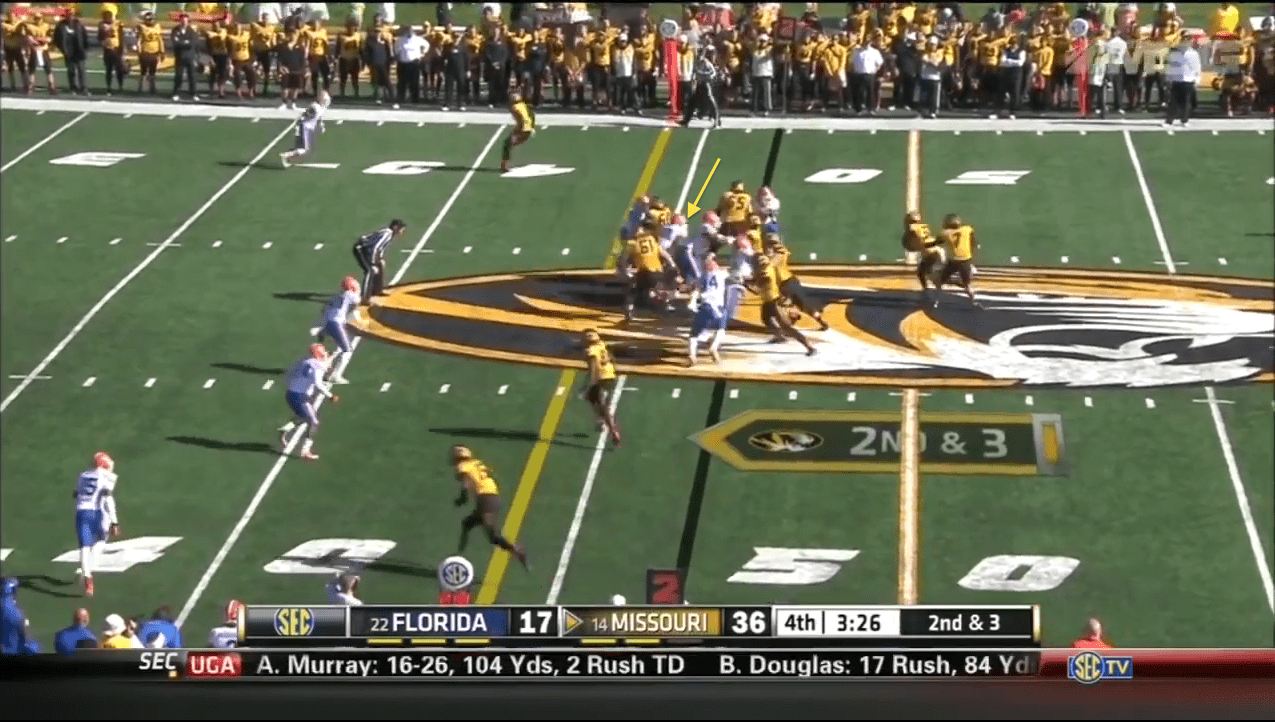 He then makes a solid tackle in the backfield on running back Russell Hansbrough.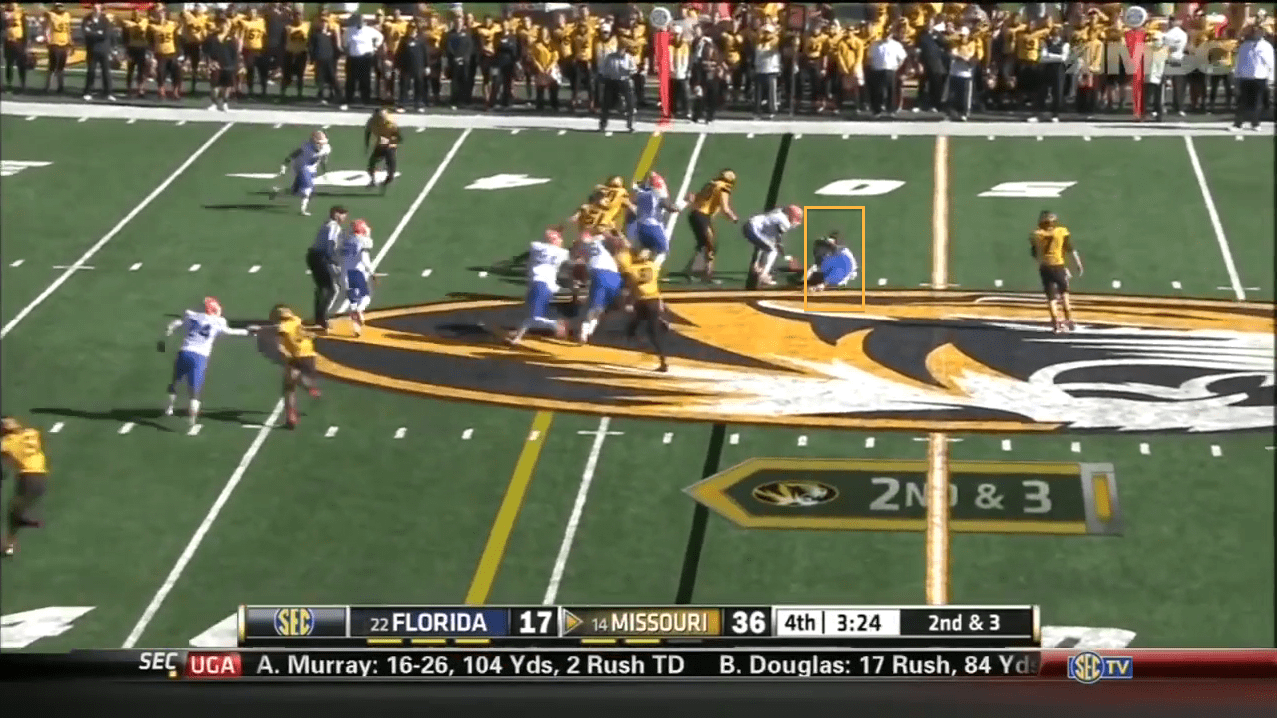 The Tigers would be forced to punt two plays later.
Series grade (A): Florida finished strong in the final series of the game.
Quarter grade (C): Allowed 10 points in the final quarter and the game got truly out of hand.
Final game grade (D): Florida's defense is in the position of keeping this team afloat with an offense that's anemic on its good days. The last two weeks the Gators have been dominated up front, a byproduct of multiple injuries taking their toll. They've also been beaten deep in the secondary, a position group that was supposed to be the strong suit of this team. For a team that leans so heavily on its defense giving up 36 points makes things impossible for Florida's offense. It's an unenviable position, but it's the hand the Gators have been dealt, and in this game, they didn't play it well.