Two weeks ago I wrote that the matchup between Florida and LSU was going to truly be a throwback SEC-style showdown, a heavyweight-boxing match where two sluggers stood their ground launching haymakers. While the Gators looked the part of a worthy adversary against LSU, they looked more like a washed-up, punch drunk fighter whose career was a few fights past its prime in Missouri.
The 151-yards of total offense that Florida gained against Missouri were the fewest of any Gator team since Jesse Palmer was tossing around the pigskin in 1999.
Speaking to the media following the loss, head coach Will Muschamp used the words "regressed" and "inept" to describe how disappointed he was with his football team — namely the offense.
Today we delve into our bye week breakdown to figure out just what went wrong against the Tigers and break down Florida's first quarter of offense.
1st Drive: 7 plays – 26 yards – 3:29 – Field Goal
With all the bad luck that has plagued the Gators this season, they got a spot of good luck on their first drive.
After three consecutive running plays netted eight yards, Johnny Townsend was sent out on to the field with the punt team to attempt the first kick of his career. Townsend sent his punt high into the sun down the field to Marcus Murphy. Murphy couldn't handle the punt and special teams superstar Loucheiz Purifoy was there to jump on the free ball. The Gators advanced the ball 50-yards on a punt.
Why not, right?
Kelvin Taylor got his first carry of the day and gashed Missouri for 17-yards behind great blocking from Trey Burton, Hunter Joyer and Max Garcia. The trio gave Taylor a massive hole on the left side of the field and Taylor made the most of it with a quick, decisive cut and a good burst through the hole.
The next play, Brent Pease outthinks things and tries to catch the Missouri defense napping. Florida lines up in an odd formation with Tyler Murphy in a box between Trey Burton, Gideon Ajagbe, Hunter Joyer and Kelvin Taylor.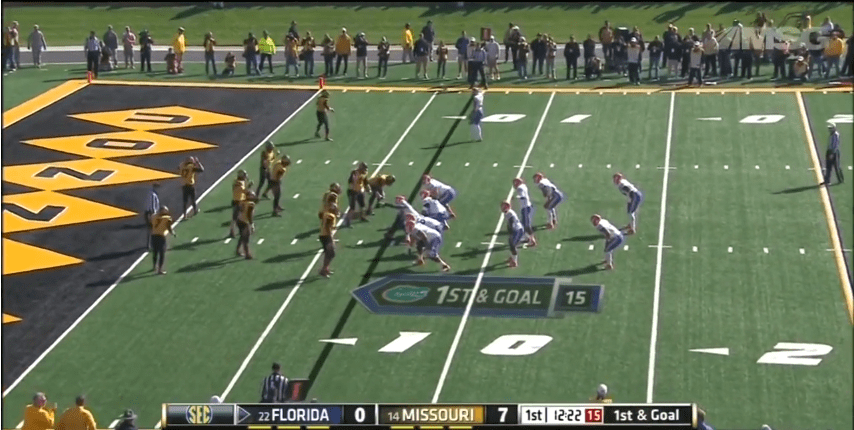 Murphy motions out wide, leaving Ajagbe, Taylor, Joyer in the backfield with Burton lined up in the fan-favorite wildcat package.
I know everyone wants to blame the play-calling and say that Pease's play calls stall the offense but this play — if blocked correctly — should have popped.
Quinton Dunbar (blue) doesn't take care of his responsibility and Kyle Koehne (yellow) gets beat by a swim move and the play is blown up.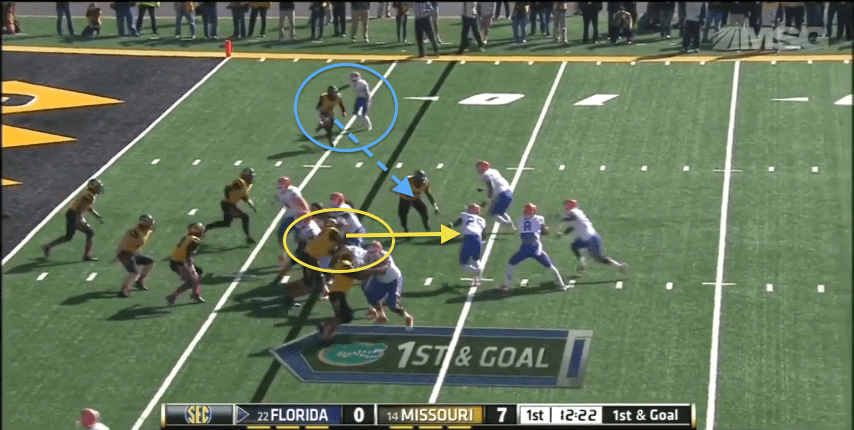 Burton probably should have kept the ball here, as he would have had a crease to the outside.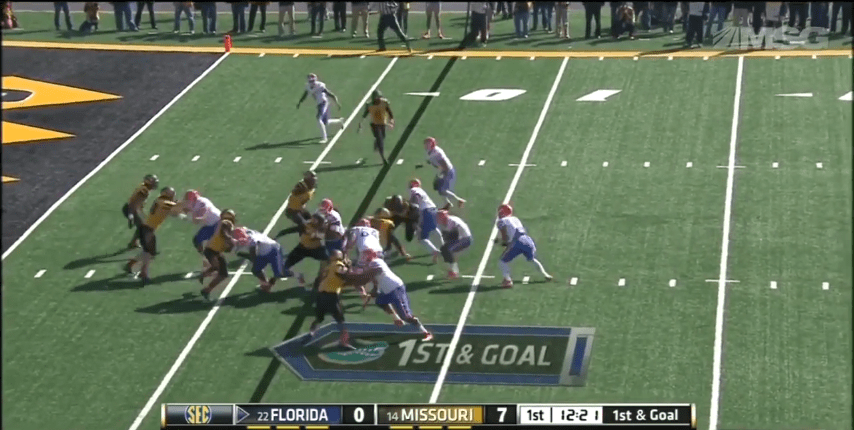 Instead of the play popping, the Gators lose two yards and momentum. I would fault the execution of the play more-so than the play calling here.
A shovel pass went for three yards following this play, which brought the Gators into a third-and-goal-scenario.
Pease dialed up a roll out to the left and Murphy had a wide-open Trey Burton for a touchdown. Rolling to the left is a tough throw for a quarterback to make, but with the ball on the opposite hash, it gave the Gators more field to work with. Murphy rushed the pass rather than setting his feet and his throw sailed high and long.
Drive Grade: C
The drive ends in a kick, which is good, but the a mix of poor execution and too fancy play-calling killed this drive. After you run a power play for 17-yards with Kelvin Taylor you need to look at your offensive line in the eyes and challenge them to be more physical than the men across from them. Run it down Missouris' throat after first big gain.
2nd Drive: 3 plays – 6 yards – 1:37 – Punt
Florida's next drive begins in very good field position. The Gators are at their own 40 and Pease dials up a quick pass to Valdez Showers out into the flat. Florida was in their "10" or "Jets" personnel (1TB, 0TE, 4WR) with three receiver split out wide to the play-side.
Murphy's pass is a good five yards behind the line of scrimmage and the 8-yard pickup is all because of Showers' speed and acceleration.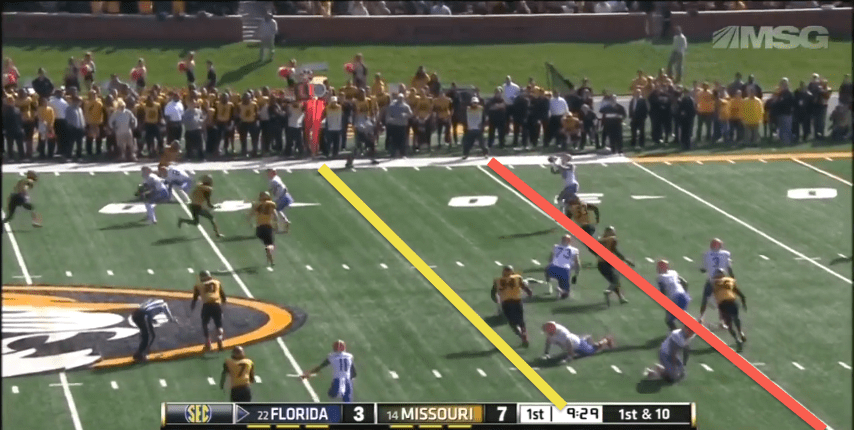 An eight-yard gain on first down is beautiful. It sets Florida up with a second and short scenario and they literally have their entire playbook at their disposal.
Murphy and the offense line up but quickly look to the sideline to get either an audible or to change the protection scheme. Whatever audible was called never got a chance because Koehne and Moore get beat like they stole something and Mack Brown gets hit and dropped two yards behind the line of scrimmage.
Murphy recognizes the corner blitz coming and knew that he would have a receiver (Trey Burton) in single coverage. Ahmad Fulwood actually ran a beautiful hitch on the other side of the field and was open for what would have been a first down but Murphy knew where he was going with the ball before the snap. He tried to throw a back shoulder pass to Burton but it sailed wide and out of bounds.
Bring on the punt team.
Drive Grade: D
This grade would be lower but there are so many drives throughout the game that are much worse than this that I wouldn't feel right giving this the same grade.
3rd Drive: 5 plays – 12 yards – 2:49 – punt
The drive gets off to a bad start with a sack. Let's break down why.
Kelvin Taylor is the back here and his responsibility is to cut the defensive end. He will get help — in the form of a chip block from Tevin Westbrook (blue) — but Taylor (red) absolutely has to pick up this block.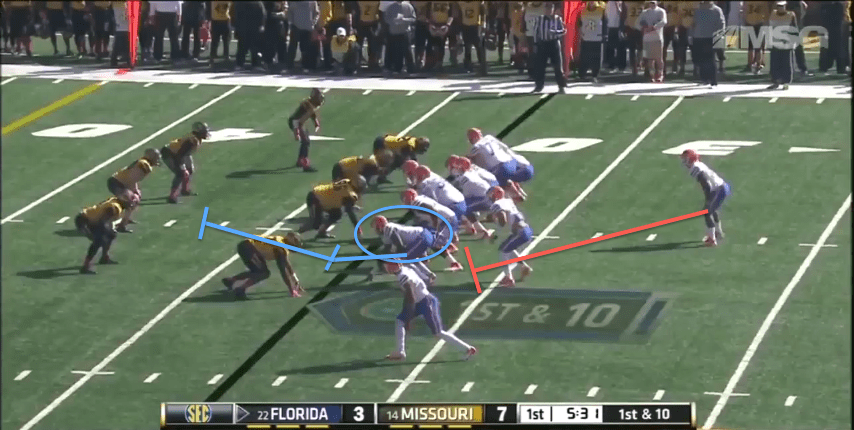 When a player is taught to cut block, they're told to go fast, go low and make sure you get your guy to the ground. Taylor does the first two things but fails to get his man on the ground.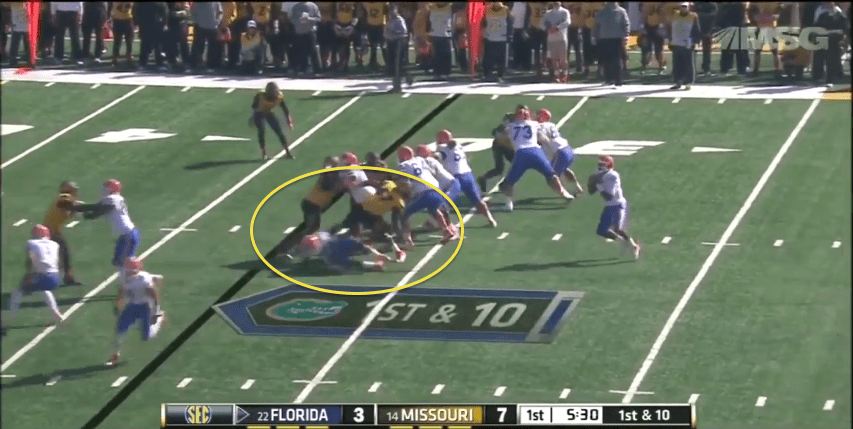 The sack only nets a one-yard loss but it's a step in the wrong direction for a struggling offense.
Florida ran Taylor up the middle on second-and long for a one-yard gain. Tyler Moore got beat inside and the Missouri defense collapsed the interior of the line leaving a mass of humanity in front of Taylor.
Moore's first step is to the outside, it shouldn't be.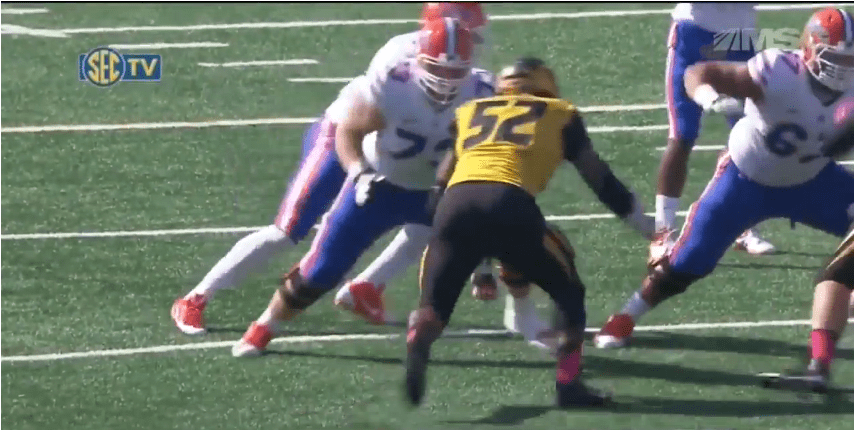 An athletic defensive end, Michael Sam, is able to take advantage of this misstep by crashing inside and Moore is never able to recover.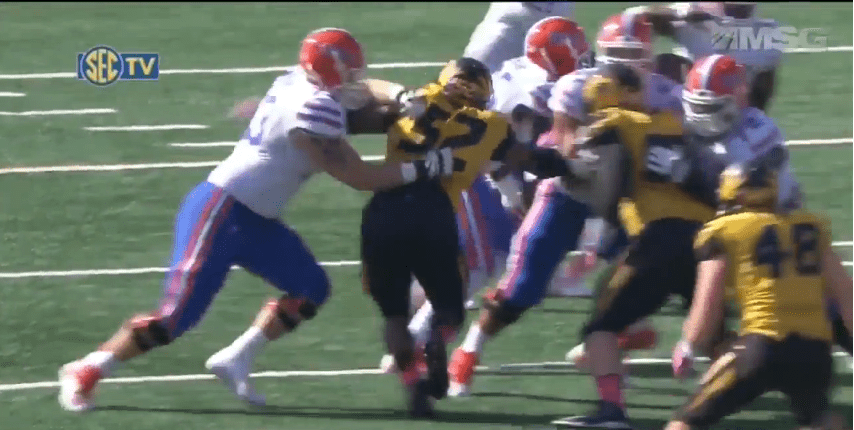 Moore was beat off of his first step and he never had a chance to recover.
The next play gives you a clue as to why Moore was taking that step outside. It's because he didn't have the feet or speed to get outside and contain Missouri's athletic defensive front. Here on the very next play, both Max Garcia (blue) and Moore (yellow) get beat to the outside and send Murphy running for his life (this quickly becomes the theme of the day.)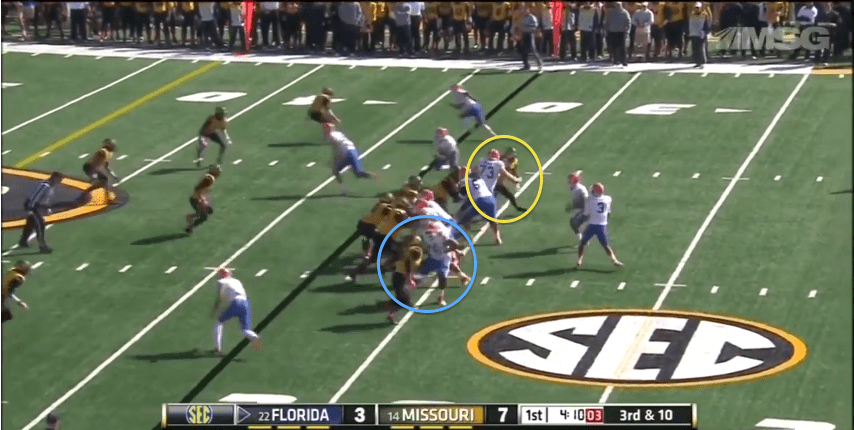 Murphy scrambled to his right and delivered a dart to Solomon Patton four yards short of the first down marker. Patton drives through his defender and — with the help of a fortuitous spot — picks up the first down.
Florida dialed up a pass play on first down. Murphy stepped too far up into the pocket, allowing the defensive linemen to disengage and bring Murphy down for a short gain.
Murphy looked for Demarcus Robinson on a quick hitch on second-and-long but the pass — slightly high yet very catchable — went right through Robinson's hands into the waiting arms of a Tiger defender.
Drive Grade: D
This isn't good, but it gets much worse.