Today we finish our review and quarter-by-quarter breakdown of the Florida offense against Miami last week. After going through the first three quarters, we'll tackle the fourth quarter today and wrap up Miami before turning our attention towards Tennessee and the SEC schedule.
1st Drive: 5 plays – 18 yards – 2:28 – Punt
Florida's drive was kicked off with a Tyler Moore holding penalty on first down. Moore really struggled against Miami and this wouldn't be his last penalty of the quarter.
Driskel was able to pick up the first down on 2nd and 20 when he hit Quinton Dunbar for a 20-yard pickup. Driskel felt pressure in the pocket and rolled to his right side on the play, stopped and threw off of his back foot across the field to hit his receiver. Driskel did just about everything you could possibly do wrong on the play but still completed the pass for 20-yards. That's all arm strength.
After the big gain through the air the first drive really stalled. Florida picked up just two rushing yards on first down and five more through the air on second down.
This brings us to a 3rd and 2 on their own 38-yard line. We're going to Tarantino-it today and show you the result of the play before we break it down. Here's what happened at the end of the play.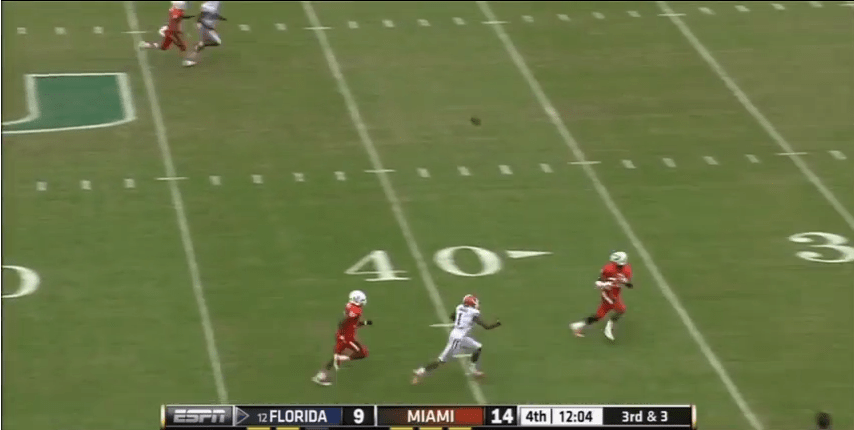 Jeff Driskel overthrows Quinton Dunbar by a good 7-to-8 yards and the pass is almost intercepted around Miami's 35.
But this is what people wanted to see. The fans want Florida to take shots down field and Driskel did just that here. It didn't work out and Miami started with pretty good field position after a 15-yard punt return. Let's jump back to how the play started.
Florida lines up with four wide receivers and Clay Burton all spread out with Driskel alone in the backfield in shotgun. Clay Burton, Robinson and Dunbar all run fly routes, Patton curls at the first down as Driskel's check down and Trey Burton fakes a dig before running an out-route at the first down marker.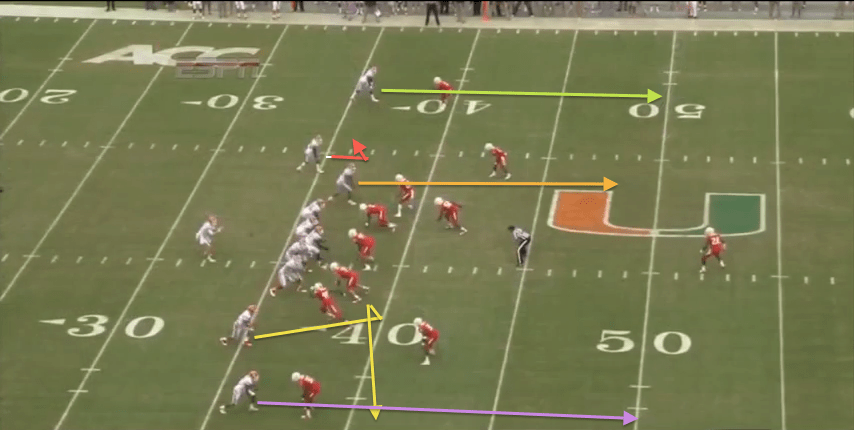 Driskel has Patton, Trey Burton and Dunbar all open but chooses to go deep for Dunbar. When Driskel releases the ball, Dunbar is shoulder to shoulder with the cornerback and will pull ahead of him with his next two steps. This is what Driskel saw as he got ready to throw the football.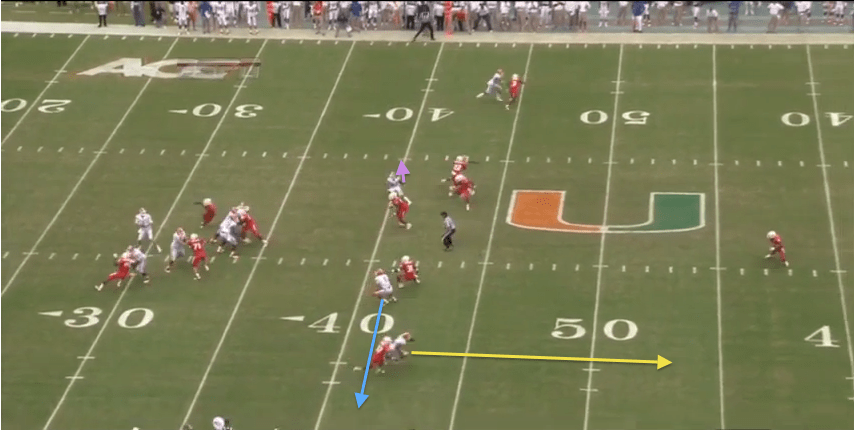 Driskel's pass sails when he is rushed to throw after Max Garcia gets beat playing left tackle.
Driskel had options here and a good pass with less hang time to Dunbar likely would have gone for a huge reception. He had safer choices (mainly Trey Burton) but this isn't a bad read at all.
Drive Grade: C-
Florida overcame Moore's holding penalty and a 1st and 20 but the drive quickly stalls. Miami's defense is not good and Florida should be able to move the ball more than 18 yards on offense against them.
2nd Drive: 5 plays – 30 yards – 2:49 – Interception
Florida started this drive following Vernon Hargreaves III's second interception of the season. Hargreaves almost ran the INT back to the house but just stepped out of bounds at the Miami 47.
For the second straight drive the Gators opened up passing on first down. This time they picked up 11-yards and a first down. Driskel kept a read-option on the next play and picked up another first down. (I must sound like a broken record but Florida really should consider adding more read-option into the offense.)
After gaining 23-yards on the first two plays of the drive, the Hurricane defense clamped down. Florida ran for two yards on second down and Patton took an end-around for five yards. Both plays were blocked well by Florida; Miami just made plays.
On third down and three Florida dialed up a passing play. Trey Burton admittedly ran the wrong route on the play but that doesn't change the fact that Driskel stared down his receiver and had his eyes read by Tracy Howard for an interception.
Drive Grade: F
The drive ends with an interception in the red zone. Just. Can't. Happen.
3rd Drive: 3 plays – (-10) yards – :56 seconds – Fumble
I really want to just have animated arrows pointing to the above line and drop an "F" grade here but let's get into what happened.
Florida starts the drive with a read-option that would have gone for a first down if Hunter Joyer picked up the correct block. Instead of immediately getting around the end, which Driskel was reading on the play, Joyer clipped him, which gets him in bad position to be the lead blocker on the play. Joyer can't get in front of Driskel and ends up getting in the way more than he was able to help.
The next play, Driskel is late to read Demarcus Robinson running wide open on a crossing route (like he was on the play we diagrammed in the 2nd quarter) and then when he does find Robinson, promptly throws the ball behind him.
On the third and final play of the drive, Driskel gets sacked by Tyriq McCord. McCord got right around Max Garcia on the left side and hit Driskel right before his arm started moving forward to throw the ball. It popped out, Miami recovered, scored three plays later and essentially iced the game with that score.
Drive Grade: Is there something worse than "F"?
4th drive: 4 plays – 60 yards – 1:21 – Touchdown
Will Muschamp was asked why Florida's offense didn't throw the ball the entire game like they did on this drive. Muschamp dismissed the question pointing out that Miami was in off-coverage the whole drive and only blitzing three people. This gave Driskel all the time in the world to pass and Florida was able to take advantage of the lax defense.
Here's a picture of the kind of defense Miami played up to this drive. (The coverage depth is outlined in yellow and the rushers on the play are numbered in white.)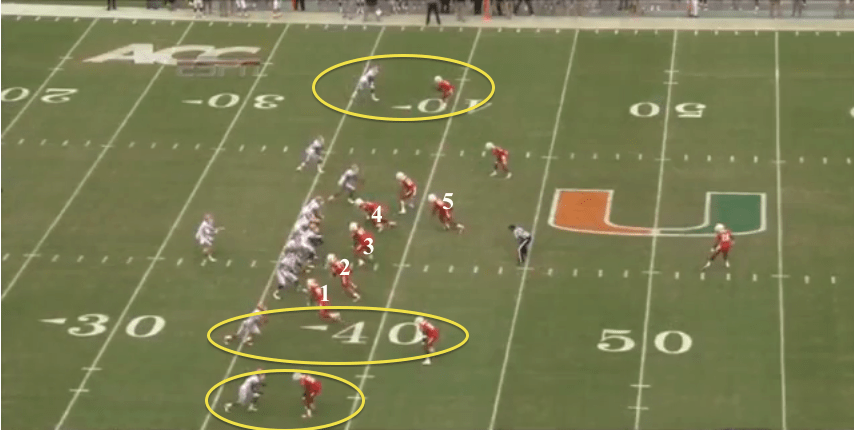 Here's what Miami's defense looked like on this scoring drive. (The coverage depth is outlined in yellow and the rushers on the play are numbered in white.)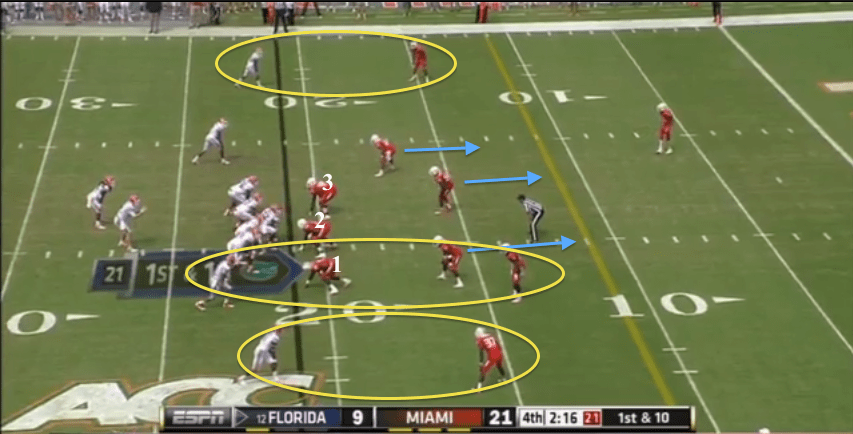 Still, Driskel had three very nice passes on the drive on first down, third down and again on first down for a touchdown.
Drive Grade: B
I would have given this an "A" grade but Miami really didn't challenge the Gators defensively.