MOBILE, Ala. — Antonio Morrison's mind was made up before the Gators traveled to Birmingham for the Bowl game. The junior linebacker had recorded 98 tackles, 17 for a loss and had five sacks. To him and to the people he trusted, that was good enough.
"I had a plan I was going to leave after that year," Morrison told Gator Country. "I talked to Muschamp after my junior year before the bowl game and I had a great year, Muschamp knows a lot of guys in the NFL and Dan Quinn as well and in talking to them they told me I should come out and go into the draft. That's what I had planned because I trust those guys, I love those guys."
Morrison is from Bolingbrook, Illinois. He was originally committed to Oregon and had planned on being a Duck before the Gators' recruiting pitch was able to sway him. So much of recruiting is trust. College coaches sell recruits on playing time, facilities and a program but like any relationship, it all boils down to trust.
"Bryant Young was on the staff when I came to Florida. He played a long time in the league and he was from Chicago Heights, which is near me," Morrison said. "Just the relationship he built with my parents and myself."
The trio of Young, D.J. Durkin and Will Muschamp were able to build an unbreakable bond with Morrison and his family. Dan Quinn was also an influential person in Morrison's recruitment and during his time in Gainesville. Ultimately these men were able to convince a 17-year old Morrison to leave home and head south to Gainesville. They stood by him when Morrison found himself in trouble off the field, something NFL scouts and teams have questions about this week at the Senior Bowl.
"I had off the field issues and that really helped me mature fast. When I went through those things I was only 18 years old," he said. "It really taught me that I have to hold myself to a higher standard. I gotta know who I'm hanging with, what I'm doing, I'm always being watched playing for Florida. I just had to mature faster than most. I'm happy those things happened because it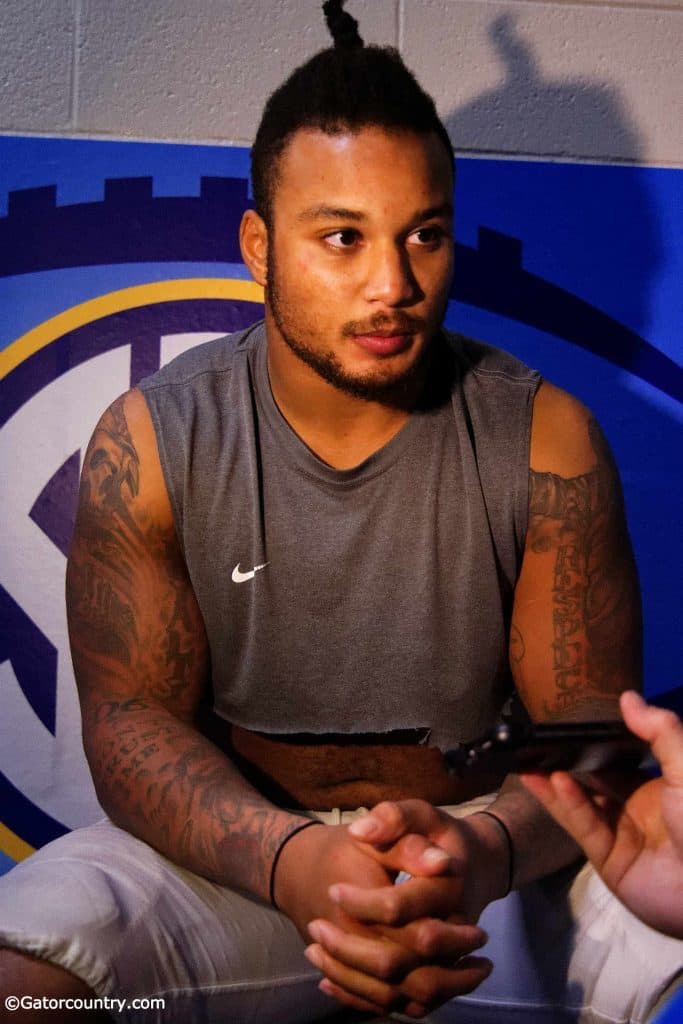 made me a better person."
The coaching staff stood by Morrison throughout it all and the bond he had with them strengthened because of it. That made it all the more difficult when the axe finally came down in Gainesville and Muschamp and the rest of his staff were fired.
That brings us back to January of 2015. Morrison's mind was made up that he would declare for the NFL Draft after the Birmingham Bowl, but unlike his teammates Matt Jones, Darious Cummings and Andre Debose, Morrison wanted to play. Jones, who had dealt with several knee injuries, made the trip but stood on the sidelines, while Cummings and Debose left the team before they traveled to Birmingham.
Antonio Morrison is a football player, it's what he does and he never thought twice about skipping out on the bowl game. When he tore his ACL and MCL he knew that his plans had changed, but deep down he knew that it was part of the game. The fact that he was able to come back just eight months after a devastating knee injury is remarkable. It's something that shocked his coaches and fans. Morrison sees it differently.
"It ain't no badge of honor. I don't make me feel good," he said. "I don't know if it makes you feel good but it happened, it's over with. I moved on."
He won't readily admit it, but if you poke and prod him enough he'll finally subcombe and delve into just how much he was facing.
"People compare my injury with Adrian Peterson's but mine was more severe than his," he says. "I tore two things, he just tore his ACL."
Coming back for his senior season wasn't the plan, but it was the hand that he was dealt. The coaching change was hard but when Jim McElwain hired Randy Shannon, Morrison was excited. Every linebacker in the country knows Randy Shannon's track record. The opportunity to be coached by the guy who coached Ray Lewis and Jonathan Vilma is exciting and something Morrison took advantage of.
"Being able to be coached by Randy Shannon and Durkin really helped my game," he said. "Applying one of the best linebacker coaches, both of them actually, some of the best linebacker coaches in the country and I was privileged to be coached by them."
Morrison will graduate from Florida with a degree in criminal justice. He's set his full attention on getting himself prepared for the NFL now. He's training in St. Petersburg with Jake McGee and Jonathan Bullard. An even keeled guy, Morrison is approaching getting ready for the NFL Draft the same way he approached his knee rehab.
"I just live life day by day. I was grateful for another year at Florida but it's just a part of life, another day," he said. "That's how I look at it, it's just another day."