Alex McCalister has heard it his whole life. At 6-7 and just 210 pounds as a high school senior, everyone told him he was to lean to play in the SEC. That he wouldn't be able to hold up through the rough grind of a season playing against the monsters that the SEC offers up parading around as offensive linemen.
McCalister needed to redshirt his freshman season and, really, needed another "redshirt" type of year to continue to grow and acclimate to this level of competition.
McCalister only played in six games as a redshirt freshman but he kept growing, figuratively but more importantly, literally.
"I just had to get to the point where you got this where you have to eat," he said. "I have to eat, I have to. Right now playing during the spring, with all the sweating and stuff, I'm still like 241."
As a young, tall, active athlete, McCalister has a diet that is the envy of every person out there counting calories as bikini season draws near. The nutrition staff has given McCalister a strict order to get four or five solid meals in every day.
"Probably like two million, I don't even know," McCalister said when asked how many calories he's supposed to eat a day. "They just want me to eat until I can't eat no more. I know for a fact that I have to eat no less than four, five meals a day. No less. I just have to."
McCalister says he'll eat one or two large Little Caesar's pizzas a night when he can, must be nice. All of that eating serves a purpose though. That long, wiry frame is starting to fill out. Teammates joked around, called him Gumby or a stick figure.
It's taken McCalister a couple of years but that frame is starting to fill out and he's seeing the benefit of the added size and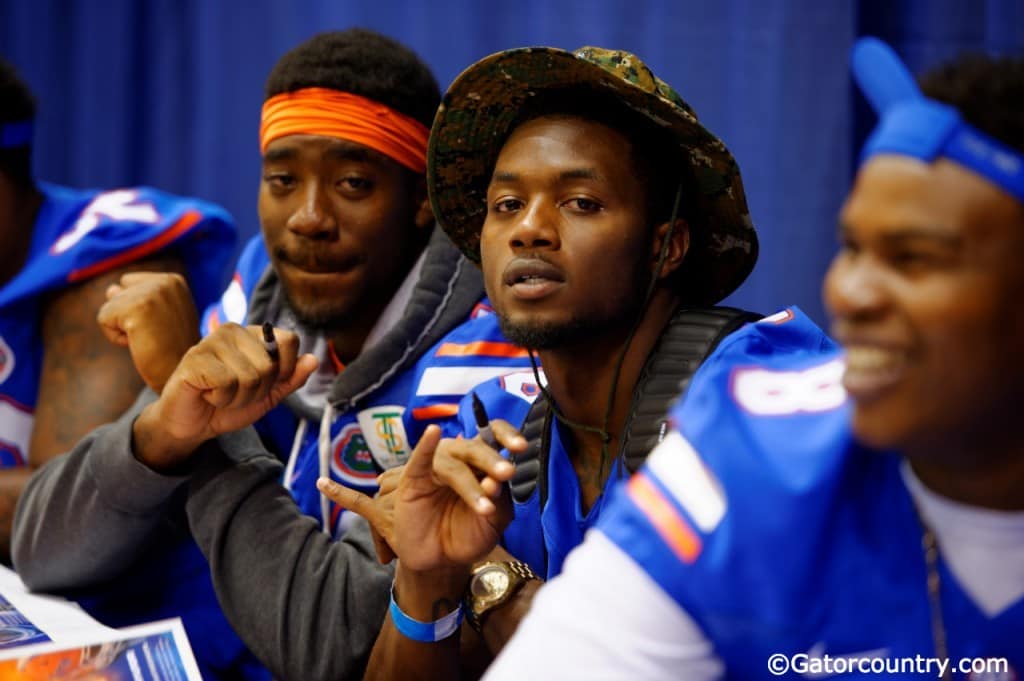 muscle.
Last season he led the team for most of the season with six sacks — a fact he didn't let Dante Fowler Jr. go a day without knowing.
"He did take off on me on the Birmingham Bowl, I think he had two (he had three) that last game," McCalister said. "But the whole season I was giving him so much crap, like I've got seven, you've only got four."
McCalister and Fowler were roommates and McCalister says that relationship they have has helped him on the field. The two would watch film together, bounce ideas and work on techniques with each other but the biggest thing that Fowler did was set an example.
"Just having that motor. I give Dante that, he always had that motor. He's always going. No matter what. When it's football time, it's time to go, it's time to click," said McCalister. "That's what I finally realized that I had to do; when it's time for ball, it's time to go play, have fun."
McCalister is taking the void that Fowler left on the defensive line onto his shoulders. The redshirt junior knows that the young defensive linemen look to him as an example, as a veteran voice for them to follow. McCalister senses the added pressure from teammates, coaches and even fans but those expectations come second to the standard he is holding himself to this season.
"I'm going double-digit [sacks]," he proclaimed. "I'm going double-digits. I'll say that."
Double-digit sacks would be 1.5 more than Fowler was able to get last season and you can be sure that McCalister will let him know about that if it happens.