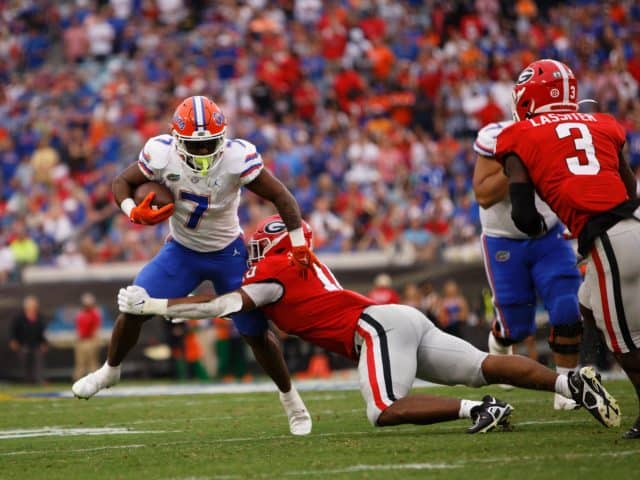 GatorCountry brings you a new podcast as we start to preview the Florida Gators road game against Texas A&M on Saturday afternoon.
Andrew Spivey and Nick Marcinko are joined by Ryan Brauninger of TexasAgs to break down the keys for this game for both teams.
Andrew and Nick also talk with Ryan about how these two teams are similar as they're both struggling this season and looking to get bowl eligible.
Transcript
Andrew: Back with Nick. Nick, it was about what we expected in Jacksonville. Florida falls 42-20 in a game that Florida made close. At one point in the third quarter, cut it to 28-20. A lot of miscues in this game. A lot of film that I think guys will look back and say, if I'd have just made this play or just did this, this would be a different game. Obviously, Georgia was the better football team, but Florida made some mistakes that proved to be costly.
Nick: Yeah. I think, ultimately, when you go back and look at this game, it's the slow start that killed the Gators, killed Billy Napier and the Gators. It's hard to win when you start off with four straight drives and four straight punts. 3 and outs actually. All of them were 3 and outs. 12 plays, four punts, that's not a recipe to win a football game.
With that being said, the Gators came out of the gate strong in the second half. Obviously, went on a 17-0 run there in the third quarter. Like we said, they cut it to an eight-point game against the #1 team in the country. No moral victories around here, but the Gators, like they have all season, they showed fight. I think ultimately, when you look at this game, and you look at the season as a whole, the one thing that's standing out to me is that this team is not giving up. They're playing for each other. I think last year's team down 28-3 against Georgia would have just rolled over, showed no fight.
Andrew: Yeah. They'd quit.
Nick: Yeah. They would've quit. That's the positive I think to take away from this. Obviously, a long way to go, like I said. Long way to go. Ultimately, Georgia was just the better team. Gators won the turnover battle 3-0. They made more stops. They forced Georgia to punt more than they have on average all season. That's another good takeaway. Ultimately, like I said, Georgia was just the better football team on Saturday.
Andrew: They held Georgia to 50% on third downs, 6-12 overall. It was a game that Florida defensively I don't think played as bad as the stats may show. The 78-yard touchdown to Brock Bowers, Amari Burney's in position. He bats the ball, and it just takes the right hop to Bowers, and he takes it for a score in the game. Like you said, Florida only had 16 total yards in the first quarter. Didn't have a 1st down. You can't get behind a Georgia team like that and expect to win a game.
Again, did the defense play great? No, they didn't play great at all. They gave up over 500 yards, but they played better than they have. I thought they played a solid second half. Only one catch to Brock Bowers, and that's when Brenton Cox jumped offsides, and they just threw it up for grabs, and Bowers big-boyed Jason Marshall, because Bowers is bigger, physical, and better.
That brings me to my next point. Brenton Cox. No longer a Gator.
Nick: Yeah. We saw him dismissed from the team on Monday, as we reported and other sites reported. They asked Billy Napier about it. He basically said it's time to move on from him. This is in the best interests of the team. I think definitely an interesting move. There's only four games left in the season, and Brenton Cox ended up declaring for the NFL Draft. I don't think he was going to ever come back for his final year of eligibility. I think he was going to go to the NFL no matter what. I thought he was going to go last year. I was kind of surprised to see him back.
Ultimately, Napier said, this was in the best interests of the team. They've moved on. They've moved on from Brenton Cox.
Andrew: The thing is Billy made it very clear that this wasn't just an isolated incident. This was something that had been brewing. We talked about this a little bit on Gator Country, but we know for the majority of the season Brenton hasn't bought in. He's been combative with the coaching staff, as far as what he's supposed to do. As everyone can kind of see with his social media, he does kind of have that me first attitude. That's something Billy Napier is not going to handle.
Then there was a couple incidents on Saturday that ultimately decided that it was best for everybody to move on. Again, I never want to see a guy kicked off a football team. I don't want people to take that that way. I do like to see a football coach, especially a new football coach, stand by himself. If you have team rules, and they're breaking team rules, even if it's a good football player, move on from him. You have to.
In this NIL world we live in, where a lot of guys are making a lot of money, and the egos are even higher than before, you've got to set the tone. Dan Mullen's locker room was atrocious. His discipline in the locker room was atrocious. Guys did what they wanted to do, and it's just a situation that I think will ultimately be for the better of the program in the future. Brenton Cox is just the beneficiary of the punishment.
Nick: I like to see the coach put his foot down and make a decision. Obviously, Brenton Cox is a talented edge rusher. He hasn't filled the stat sheet maybe quite like we've wanted him to this year, but it's a piece that's going to be missed on the Gators defense, but there's only four games left.
Andrew: You get what you want now.
Nick: Right.
Andrew: Everybody, including myself, we wanted to see the young guys.
Nick: Yeah. We're going to see them. We're going to see Lloyd Summerall. We're going to see Justus Boone. We're going to see Antwaun Powell-Ryland.
Andrew: Pyburn.
Nick: We might see some Pyburn in there as well. We're probably going to see a combination of guys. I don't think it's going to be one guy that just kind of sits in there and plays. Like all season, we've seen the rotations in and out on the edge. I think that's going to continue. I think especially now there's an open competition for a spot there on the starting edge, and I think you'll see Antwaun Powell get it. That's my prediction. I think he's probably the one to start. I do think you'll see, Andrew, some packages, and I know Justus Boone is considered a defensive end and not an outside linebacker, but I think you'll see situations where Boone and Princely are on the field at the same time.
Andrew: I could see that. I don't think that's just out of the question, by any means. There's a lot that has to be done. We're going to bring on my good friend from TexAgs, Ryan Brauninger, here in just a second, to talk about this A&M game. A&M is kind of dealing with the same problems Florida is. Obviously, they're not in their first year of the Jimbo Fisher era, so things are a little worse for them, because at least Florida has this is the first year for Billy Napier, and he's cleaning up things excuse. It's not an excuse. I shouldn't say it that way. It's not an excuse. It's the truth. He has a lot to clean up and a lot of problems to address, especially with the talent of the team, but off the field as well.
I wanted to hit that real quick before we go to Ryan though. We always are looking for positive takeaways from things. Again, I think the biggest positive takeaway is this is a team that's fighting. This is a team that is battling until the end. This is a team that hasn't given up. Obviously, they were down 28-3 against Georgia. They were a 23-point underdog in the game. It was very easy to give up. Very easy to give up in this football game. They did last year.
So, I think that that shows kind of what Billy and his staff have done with the culture overall. It's a process. It really is. I've said this multiple times. Nick, you've said this multiple times. I don't think the average fan understood how bad this program really was under Dan Mullen, and I don't think people really understood how big of a rebuild that was needed.
Nick: I agree. This program was not in the best shape. That's putting it out there very nicely. Lot of holes on the roster. Obviously, there was a coaching issue last year, and this and that. I think ultimately, when you look at the Georgia game that we just watched, what you see, let's just look at the defense for a second. They forced three turnovers, and Florida did not turn the ball over. They won the turnover battle, 3-0.
Then on top of that, they got three or four punts they forced. It wasn't a large number, but they forced more punts against a better offense then they have been forcing all season. Florida was averaging a little over two forced punts a game. It was a very small number. They forced more punts in this game then they have, and this is a better offense than most of the offenses we've faced, outside of Tennessee.
They forced more punts. They won the turnover battle. If you're the defense, they did, honestly, I know they gave up 42 points, and we talked about the fluke touchdown and all that, but I guarantee you the defense is like, that's a step in the right direction.
I don't think the team imagined being down 28-3 at halftime. That was not part of the plan. Florida outscored Georgia. They outscored and outgained Georgia in the second half. 17-14 in the second half. I would have to go back and look at the official stat sheet, but I know they had more yards. I think that ultimately shows this team didn't lay down. If Florida did not have the painfully slow start at the beginning of the game, this game is probably a little bit different.
Andrew: Florida outgained Georgia, 283-209 in the second half.
Nick: Okay.
Andrew: Georgia only had 54 yards passing in the second half.
Nick: But you have to credit Georgia as well, because that's what they do. They play well with the lead. It's incredibly hard to come from behind against Georgia. You have to get out to a fast start against Georgia, because Georgia doesn't play well from behind. They play well with the lead. That's ultimately where I point this game to is just the painfully slow start. It does mean something to come back, outscore and outgain Georgia in the second half.
Andrew: Exactly. Nick, let's go to my man, Ryan. Let's talk Aggies-Gators, as we turn the page to November, as the Gators look to get bowl eligible. Let's talk to Ryan. You and I will come back, and we'll dig a little deeper and recap a little bit of what Ryan has to say. Let's go to Brauninger real quick.
Guys, we're back with my good friend, Mr. Ryan Brauninger of TexAgs. Ryan, appreciate you coming on. I like this A&M-Florida matchup. I always do. Too bad it can't be a yearly thing.
o Gainesville. I think it was:
Then over here in College Station, just a giant youth movement. A&M, much was made about their #1 class last fall, or signing class last winter, in December and February. A&M has played, there's 18 of them that they're relying on pretty heavily, and I think close to 24 of them total have played. Kind of incredible, when you consider that in Year 5 of Jimbo that they've played 24 true freshmen. Kind of where things are. We'll see what happens on Saturday.
Andrew: I was going to say. If you took away each team's uniforms, and you took away the names of the players, this is a pretty identical teams. Both teams are struggling with some identity offensively and defensively. Both teams are playing a lot of youth. Both teams are playing with some depth issues at a lot of areas, and both teams are playing without some guys.
Talk a little bit about Weigman. You and I talked a lot about him during the recruiting class and everything. Both you and I are very high on him. I know he set a few records in the game last week. I guess, is it his season the rest of the year? What's different with A&M's offense with Conner behind the center?
Ryan: Full disclosure, I've known Conner Weigman since he was about 12 years old. He was playing for our baseball academy out of the Greater Houston area here in Texas. Saw him on the baseball field. I think he hadn't turned 13 just yet. He was 12 years old. It's just kind of funny, going back and looking at that game whenever I first saw him and met him. On that field ended up being about 10 Division 1 baseball players, and he immediately jumped out. I was asking their coach, who's that guy at shortstop?
Conner's always had that presence, that air about him. What makes him elite, and I do think it's his showing going forward. Jimbo even said that in the press conference. I think you have to do that, Andrew, for a lot of things. Obviously, your offense showed more life on Saturday night against Ole Miss then they had all season long, and it wasn't even close. The production, the points, the tempo, the excitement with which they played, the rhythm, all of it, it was just so much better with Conner back there pulling the trigger.
What makes him special is for a young kid, and even as a high school recruit, you were always amazed with his feel of the game and his ability to get the ball out on time and accurate to his playmakers. He's just got a great sense of spacing and when the ball should come out with what kind of trajectory, who it should go to. He's going to have some mistakes, as most freshman do, stepping into this kind of position and really starting in the SEC at quarterback as a true freshman. There hasn't been many guys that do it at an extremely high level.
I'm not saying that Conner is going to go out here and be Pat Mahomes or Bryce Young, or even Johnny Manziel, but he's certainly got the skillset to be one of the better quarterbacks in this league as he gets older. Right now, he's injected a shot of life into this team, into this offense. By playing him, you're going to get some life to the recruiting aspect of it too, because you can certainly sell an offense where he's the leader going forward to a lot of high school recruits. You know how prevalent the transfer portal is, if you get a high profile transfer that's looking at A&M, with Conner pulling the strings at quarterback, it gives more hope and more vision to the offense.
Andrew: First of all, can you give us another Johnny Manziel from down there? Just the life of the party. It was something fun to talk about that.
Ryan: I'm not saying that Conner is Johnny, but on the field, especially once Conner gets more comfortable. We didn't see him use his legs at all, or very little, against Ole Miss, and I think he probably had some chances to run. Now, he may have been told not to run, because he's the third quarterback that A&M has played this year, and they've got no backup. They've got a kid that hasn't played one down since he's been here, and then they've got a walk-on in the backup role. They can't really be getting him hurt, and as bad as the offensive line has played this year, I'm sure Jimbo told him not to take any chances with his feet.
He is a super athlete. It's kind of like Johnny in the way that he runs, in that he's real decisive, and he's quick and sudden. Maybe not the long speed of some of these elite quarterback runners. You saw Cam Newton style of running. Even in the NFL now with Lamar Jackson. He's not a take the top off, run past everybody, but he's a decisive runner with some really good quicks and suddenness. We haven't seen him do that yet. Perhaps, as he gets more comfortable on the offense, Conner will start doing that.
He's got a lot of the same traits as Johnny. I've just watched this kid so many times in high school where the pocket breaks down, and he's running around holding the ball out like crazy, running in a circle, and then throws a dime down the field and makes a big play. He's got that in his locker. I think we'll see more of it as he gets more comfortable.
Andrew: You should go ahead and just become an international Draft scout over here for baseball. He was 13. They're eligible to sign in Cuba.
Ryan: I don't know if I want to go live in Latin America right now. I'm pretty comfortable where I'm at here in College Station. Who knows what the future holds, right? Billy Liucci may get tired of me at TexAgs and run me out of there, and so I'll have to be looking for work.
Andrew: There you go. Nick, I know you had to ask him about Evan Stewart. Before you do, I have to say this. First of all, any man that can come to a high school football camp, like Evan Stewart did last year, in a trucker's Bass Pro hat, and just dominate, is a baller, in my opinion. Nick, you can ask him the question now. I had to throw the Bass Pro Shop in there.
Nick: I agree, Andrew. I was going to mention that as well. Iconic look. I think that played a part in his performance at Friday Night Lights, to be honest with you. I just wanted to ask about Evan Stewart. I know me and Andrew both think very highly of the true freshman receiver, who is leading the Aggies in yards this season. Just what has he done this season that stood out to you? It's very difficult as a true freshman in the SEC, especially as a wide receiver, to step in and produce the way he's done, especially with the quarterback struggles that Texas A&M is going through right now. What's Evan done to stand out to you, and what does he bring to the table this weekend?
Ryan: He's a supremely gifted athlete in a smaller body. He kind of reminds you, I'm trying to think of a guy you guys are more familiar with on the national scale. Maybe a Garrett Wilson type that came out of Lake Travis here in Texas. Then Ohio State. Now with the New York Jets. Just an insanely athletic kid. Plays the game in fast forward, kind of like a Jaylen Waddle type in space. He hasn't gotten the ball a ton in space with room to run, but he's just contested catches, jumping over guys that are way bigger than him, body control off the charts.
What you've seen from him this year is the maturity. Obviously, the team has struggled, and you've seen Evan kind of mature as a leader in the locker room, how he interacts with his teammates. I think he and Conner Weigman are giving the A&M fanbase a lot to be excited about for the future. You saw those two connect multiple times on Saturday night against Ole Miss, including for a touchdown catch where Conner makes just an incredible throw to the back corner of the endzone, and Evan goes up and plucks it out of the air one handed.
Conner hasn't played much, but you can tell that there's a level of connection, certainly a high level of trust, between he and Evan, because he looks for Evan in a lot of 50/50 ball scenarios. Evan's just such a gifted athlete and such a gifted receiver with the ball in the air that it's really not even a 50/50 ball. It's more like a 70/30.
If you're a Gator fan, and you're getting ready to watch the game, I'd bet on 15 taking some shots down the field to #1 against whoever. I don't know how Florida is doing their defensive back rotations, but it really didn't matter who Ole Miss had on Evan. If they got into a one-on-one spot, Conner was going to take it.
Andrew: Don't worry, Ryan. There's not a cornerback at Florida that can cover him. Has it been confirmed he's not wearing the Bass Pro Shop hat under the helmet?
Ryan: You know what's funny is you guys thought that was weird, but in Texas last cycle, and even now, when you go to these seven on seven events, these camps, there's a lot of kids in Texas wearing Bass Pro hats, trucker Bass Pro hats.
Andrew: That was a first for me. I've seen Stefon Diggs come out in shoes that lit up when he ran. I've seen some things, Ryan. As you always tell me, things are different in Texas. I have to ask this question. You guys are going through a little bit of a struggle, like everybody, of trying to get a whole recruiting class full of egos and NIL. I don't want to get into the NIL and all the Jimbo/Nick Saban stuff, but everybody knows NIL.
Florida's going to go through that this year, where they're going to have a massive recruiting class as well. You guys suspended four guys. What have you seen, Ryan, is the biggest difference of trying to get a recruiting class that's so big with this NIL thing? Is it just a bunch of egos you got to try to get? Give me some thoughts on what you've seen from y'all's recruiting class.
Ryan: I think the #1 thing that you have to do, if you're a coaching staff in that perspective, and just a football staff in general, administrative staff, the whole thing, is you got to be able to manage all of it. You have to be able to have open dialogue with players that are happy, that are unhappy. If you're unhappy, what are you unhappy about? Most of this stuff I don't think comes down to NIL. I think it's just managing personalities and managing 18, 19-year-old kids that have never been in the spotlight of an SEC program.
Then when you struggle the way you have, and you guys know how brutal social media can be after losses and how ridiculous. The troll accounts, and even the real fans, and people get behind a keyboard and are anonymous, and it gives them like they're Superman. They can say whatever to whoever, when in real life they would never think about saying some of this stuff to the faces of these kids or coaches.
I think, if you're winning, everything's sunshine and rainbows. But when you're 3-5, and you've had some gut-wrenching losses. A&M, they've lost five games. Four of them have been by six points or less. You're really one play away in a lot of these games from having a really solid record and feeling really good about what you're doing, but you are what your record says you are. I think these kids coming into this kind of spotlight, they've never dealt with failure before. Just having the staff and having the wherewithal and the capabilities to make sure everybody's on the same page and everybody's kind of pulling the rope in the same direction.
really the leadership in that:
If you want to be negative, you're going, why is this happening in Year 5 of a coaching regime? You got to grab on. It's really easy to be negative when you're 3-5. You can poke and prod at a million different things. A lot of them are justified, but it makes life no fun going through it that way and covering a team that way. You try to grab onto the positive.
What we saw on Saturday night offensively certainly was a positive, and then kind of the response and reaction that we got from not only the recruits that were on campus but also the current vibe in the locker room kind of with Weigman reigniting the offense and giving a little life to the program, it's been kind of surprisingly a really positive vibe and upbeat mood.
Andrew: That's kind of where we were just talking before you came on with Brenton Cox being suspended, or let go of the team. It's a situation now where this team can kind of really build. Ryan, before I get you out of here, obviously quarterback player, Conner, Anthony, is going to be the key for both teams offensively. What are your keys overall for this game? Give me a key. If Florida wins this game, it'll be because, and if A&M wins this game, it'll be because.
Ryan: If Florida wins, it'll be because they were able to get pressure on the quarterback. A&M's offensive line, they played their best game of the year last week, I thought, but it was still, they gave up a lot of free runners. It seems like there's still confusion on who to block when. Sliding protections. You'll have half the line slide one way, and the other half slide the other, and you get a free runner on the quarterback. That's happening too often for A&M.
Their struggles offensively, the quarterback play has been really up and down, heading into last week, but the offensive struggles kind of fall on the shoulders of an offensive line that just seems that they've never quite gelled. They've never quite gotten where they're really comfortable in their assignments.
Florida being able to dominate the line of scrimmage on defense, and then if Florida is able to run the ball. What killed A&M against Ole Miss, obviously, Ole Miss ran for 390 yards, but Ole Miss is one of the best rushing attacks in the country. That's kind of what they do to people. What killed A&M was the 3rd down stuff. Jaxson Dart, with his legs, A&M had plenty of opportunities to get off the field, and he'll escape the pocket. A&M, they're super talented on the defensive line. A lot of those freshmen are playing and playing big roles. The raw ability is there, but they get a little undisciplined in the pass rush lanes. Jaxson Dart was able to exploit that on some key 3rd downs and keep Ole Miss rolling on offense.
I think Anthony Richardson's legs are going to be really big. This is an A&M defense that is banged up. The injury bug, not just for the defense, but for the whole team, it's been crazy the amount of injuries that A&M has dealt with this year. They're really thing at linebacker. They're playing a ton of different defensive linemen. They're playing a ton of freshmen on the backend. You've had some really wow plays in terms of raw athleticism, but then you have some stuff like, what happened there? There was a guy running wide open, or there's a huge running lane for a quarterback, because a guy doesn't fit probably.
I think for A&M to have success, they got to protect Conner, and they got to stop the run. For Florida to have success, I think they've got to get pressure on the quarterback, because if you let Weigman sit back there, I don't care that he's a freshman. He will pick you apart. Then Florida has got to run the football effectively, because if they can't against this A&M defense, then it's going to allow A&M to kind of feed on- I think Anthony Richardson is a really talented kid. I think he's incredibly inconsistent in the pass game, both in terms of accuracy and decision making. So, in order for Florida to get him in good spots, they got to stay ahead of the change and use his legs effectively as well.
Andrew: What you just said has been Florida's problem, but injuries haven't been the reason. Florida's depth at linebacker is really bad, and their secondary is really bad. Instead of injuries being to blame, it's Dan Mullen being to blame.
Ryan: I guess with A&M, obviously, Year 5 of Jimbo, it's a little bit different. I'm telling you, if you get some of those commercial breaks, go and look at how many freshmen A&M is going to be putting on the field on offense and on defense. It's crazy. I've never seen an A&M team be this young. They legitimately might be the youngest team in college football. On offense, they're only two guys that start that are third-year players. Everybody else is a true freshman or a redshirt freshman.
Andrew: Don't mention the word commercials. We had a seven-and-a-half-hour game, it felt like, in Jacksonville, because of CBS. We'll take a quick commercial game this weekend. Ryan, I appreciate it, buddy. Tell everybody where they can follow you and your work over at TexAgs.
Ryan: You can get me on Twitter @R_Brauninger or follow us @TexAgs. Spivey, I appreciate you having me on, brother. Always look forward to us catching up, chopping it up, and sharing information.
Andrew: Absolutely, my friend. Always appreciate it as well. Good luck to your Astros. Can they please take down the Philadelphia Phillies?
Ryan: You know what, you got your World Series off of us last year, very deserving, with the Braves. I didn't think you'd want another NL East team winning. It's the third time the Astros have gotten the NL East in a World Series. They lost to the Nats. They lost to the Braves. Hopefully, third time's the charm here against the Phillies.
Andrew: I'm sending good juju. Cannot have the Phillies win. They don't even deserve to be in the playoffs. That's neither here nor there. Ryan, we will talk to you. Good luck on Saturday. Look forward to catching up with you soon.
Ryan: Thanks for having me.
Nick: Appreciate it.
Andrew: We're back. Nick, good stuff with Brauninger. I felt like he was talking about the Gators, even though I knew he was talking about the Aggies. Like he said, a lot of similarities.
Nick: Yeah. Lot of similarities. Also, a few key differences as well. He talked a lot about the youth movement going on in Texas. He said they're playing 18 true freshman in pretty significant roles. That's a large number. Florida has some youth playing as well. It's not quite to that extent. I think the difference is they're in Year 5 of their program. The Gators are in Year 1.
He talked a lot about the team chemistry as well, which I think was fairly similar to what we kind of got going on at Florida. Obviously, Brenton Cox was dismissed from the team. The Aggies have four players suspended. I'm not saying that our programs are in the same place there, by any means, but just some similarities going on.
He just talked about inconsistency. Inconsistency at the defensive line position. Lot of young players there. Florida's having to rely on Desmond Watson, who just is not that experienced of a football player. His kind of weight and health have held him back. In the first year of him being on campus, he's finally logging 40 taps a game. He's starting to get where he needs to be. Jaylen Lee is kind of in the same boat. Hasn't had a lot of playing time. These guys aren't young age wise, but they're young game experience wise.
Andrew: Right.
Nick: I think that's kind of the similarity that I drew from what Ryan had to say.
Andrew: Yeah. Again, you look at a team, like you said, a team that's young, so they're making silly mistakes, just kind of like Florida is. I think the biggest thing that I take away from that, and I watched very little of the Texas A&M-Ole Miss game, as we were getting back from Jacksonville. I caught a little bit of a replay. Jaxson Dart did have some success on 3rd down running, but it seems for whatever reason Anthony hasn't been a willing runner that I can really go into this game and say, that's going to be a difference, because he hasn't shown that he's willing to do that. I think that if he can and will, then it may be a huge game for him.
You look at this offensive line for A&M that's not been very good. This is a time for Gervon Dexter, a time for Chris McClellan, those guys to really step up in this game and go get a quarterback who's a young guy and not allow him to get comfortable back there. I think that is going to be the biggest key of this game is don't allow him to get comfortable. You allow a young quarterback to sit back there, get comfortable, really kind of get his Ps and Qs in order, then it allows the confidence, and he slowly but surely will start to think, I can do this. I can do this. That's a problem.
The best thing for a weak secondary is getting pressure. Florida hasn't shown lately that they've been able to get pressure with just their defensive line. They've been having to bring extra guys, but bring extra guys.
The one thing that does scare me, and I'll say it all week, is Evan Stewart. I don't who covers Evan Stewart this week.
Nick: We could talk about Evan Stewart for hours. He's just a phenomenal football player. Andrew, I know it's super early in his young career, but he's got first-round talent written all over him.
Andrew: Oh yeah.
Nick: I honestly would put a bet down right now that he goes in the first round. He is that good. He said, someone's got to be able to guard him. Somebody has to be able to stay in front of him and keep him in front of the defense, not let him slip behind. He said that Weigman's going to take shots to Evan Stewart. Evan Stewart is going to be a player to watch this Saturday.
Andrew: Why wouldn't you? You've seen Florida give up the big plays. Kind of like he said with A&M's defense, Florida's liable to not cover Evan Stewart on a play and let him run wide open. That's been a problem. You hope that it is getting fixed. Didn't really have that issue on Saturday against Georgia, but you still worry about that. Trey Dean, I thought, had a good game in Jacksonville. He needs to continue that. You need Jaydon Hill to have a big game. I don't have much confidence in Jason Marshall covering Evan Stewart. I have lost a lot of confidence in him.
You're going to have to double team him. That's just what you're going to have to do. You're going to have to have safety help over the top and not allow him to go, because if you allow him to have a big day, it'll be a long afternoon in College Station.
Nick: Yeah. Ryan gave us the key to success for the defense, right? It was keep Evan Stewart in front of you, and get pressure on the quarterback. He noted Texas A&M's offensive line has been inconsistent this year. Florida has actually done a decent job of exposing bad offensive lines. We saw it against Kentucky. Kentucky's offensive line is putrid. It's terrible. It's one of the worst in the country, and Florida did a really good job of getting pressure. Kind of the same story with Missouri as well. Missouri's offensive line isn't great. Their offense is pretty bad, and Florida did a good job of getting pressure.
I think that's where this defense has to take the next step is just expose who you're supposed to expose. Expose the bad offenses. I know the Gators are out Brenton Cox, and so someone is going to have to step up. Justus Boone is going to have to step up. Princely, step up. Lloyd Summerall was injured last week, but Napier had good things to say about him. He's going to have to step up and play a significant role in a tough atmosphere, in a tough road game. Against a team that, like we said, has a ton of talent, is just super young, and they make mistakes.
I think this Texas A&M team is going to get better over the course of the last four games, simply because they're a young team that's continuing to play football. For me, it's you got to get pressure on the quarterback and make the young quarterback make a mistake.
Andrew: Yeah. That's exactly what it is. You got to make him make a mistake. Nick, we'll be back on Friday. We'll get in deeper into the stats of this game and some of our keys to the game going forward. Talk a little bit more about what Florida can do offensively against this team and then defensively what they got to do. We'll be back on Friday. Again, thanks to Ryan for coming on and chatting with us about A&M. Good to hear from him, as always. Basketball gets underway in the Orange and Blue game on Tuesday night. Get a little basketball action going your way.
Nick: Should be exciting.
Andrew: We'll be back on Friday, and we will talk Florida-A&M and give you some scores, recaps, and all the good stuff that comes along with it. Pick some players and all that good stuff. Make sure to check us out on Friday. As always, check us out on GatorCountry.com on the web and on Twitter. Thanks, guys.