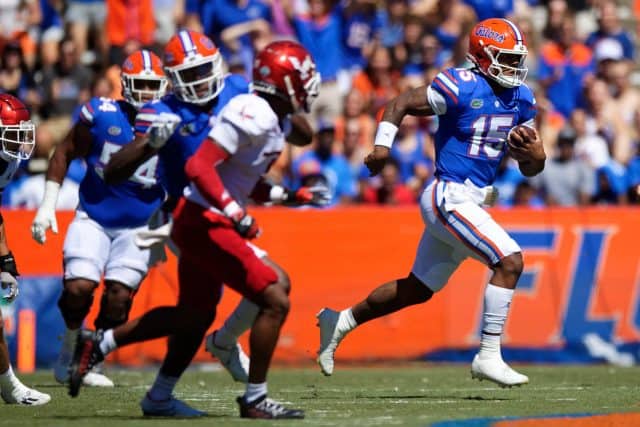 GatorCountry brings you a new podcast as we recap the Florida Gators' 52-17 win over Eastern Washington on Sunday in the Swamp.
Andrew Spivey and Nick Marcinko break down how the Gators' offense looked on Sunday and how the quarterback position played.
Andrew and Nick also break down how the young guys looked as the Gators were able to play several young players who haven't played much this year.
Transcript
Andrew: What's up, Gator Country? Your man, Andrew Spivey, back with Nick. Nick, Gators pull out 52-17 and pulled out very early in the game. The first play on offense for the Gators was a 75-yard strike to Justin Shorter for six. Gators offense just continued to score and score a lot in the game.
Nick: Andrew, we mentioned a few weeks ago we love these types of games. We love when the Gators can pull out to an early lead, because it allows the opportunity for a lot of these younger players that we just might not be able to see in another game this season. I think we saw 71 different Gators play in the game. That's a really high number. I don't think the Gators will quite see that many again this year. We saw a lot of players, lot of young guys, contribute. 17 different players offensively touched the football.
Andrew, I think we saw a lot of good things from some younger guys that, again, are not going to be able to really show what they're capable of in another game this season. We can hope the Gators can blow out another team here and there, but it was a game with a lot of reps for these younger guys. That, in itself, is a step forward, in my opinion, for this football program.
Andrew: Absolutely. You look at the numbers. Richardson was 8 of 10, 240, two touchdowns. He looked really good. We expected that to look really good. Jalen Kitna came in 8 of 12, 152 yards with a bb of a strike to Caleb Douglas, where I don't know that if you could have set it in the route any better, on the board or whatever, it could have been thrown any better. Perfect throw and catch there. Kitna looked good. I thought Kitna was kind of what I had been told he was. That's a guy who understands the offense, who understands where to go with the ball. Maybe isn't the most athletic, maybe isn't the guy who has the biggest arm strength or whatever, but is a guy that knows where to go with the ball and when to throw the ball.
I think that that's exactly what we seen from him, and I liked it. I think that has to give the coaching staff a lot of confidence going forward that if Anthony's helmet comes off or if his shoes come untied or whatever that you feel like you can go in with Kitna and run pretty much the whole playbook. Obviously, we'll see when Jack Miller comes back, probably this week, how that shakes out. I think that's a lot of positives from the quarterback standpoint in general that Kitna was able to come in and do what he was doing.
Obviously, it's Eastern Washington, but, like I told you yesterday, that's what you're supposed to do. You can only do what you're supposed to do against teams like this.
Nick: I agree. You look at Anthony Richardson. Like you said, he did everything that we expected him to do and probably a little bit more, but he did everything we expected him to do. Then Jalen Kitna got his first opportunity to take a few snaps under center. I don't care what level of competition you're playing, if you can go out and perform like Kitna did in your first snaps in a college uniform, that's impressive, regardless of the competition. Emory Jones, his first snap under center he muffed it. He fumbled. I think it says a lot about Kitna and the command and control he had of the offense. I know it was against Eastern Washington, but I just think if you're able to go into a game like that.
Don't forget, guys, he was somewhat thrown into the fire. I know that he in the back of his mind expected to play in the second half, to play after halftime, third, fourth quarter, kind of when the game's out of hand, but he had to in there when the game was 14-3, I believe, after Richardson tweaked his leg. He had to go in there, and he completed two passes for, I believe, 31 yards. He was even put into the game when he was not expecting it, and he performed at a high level.
Like I said, regardless of the competition, I think Kitna played great. I thought he commanded the offense well. You talk about that throw to Caleb Douglas. I don't think you could even put it in a better spot. The throw had to be perfect. Caleb Douglas did have him beat, but the throw had to be perfect, and it was.
Andrew: The other incompletion to Caleb Douglas, where the defender knocked it down, it was a pretty good pass. Obviously, you would have liked it to be a little bit further downfield, but the defender had pretty good coverage there and made a good play. It wasn't a bad throw, or that bad of a throw. It wasn't intercepted or anything like that.
Again, I think when you look at this overall there's a lot of positives. I'm going to say this. The biggest positive for me was seeing 13 offensive linemen play and 13 offensive linemen get nasty. You saw an offensive line for the first time in a long time that has guys from 1-13 that can get out there and play nasty physical football. Austin Barber, by the way, that poor guy on Eastern Washington was driven 10 yards, and the whole time Barber is just putting him on skates. Austin's really taken off in my eyes.
You were able to see Kam Waites. You were able to see Jake Slaughter, Richie Leonard. Braun played a lot in the game. You were able to see a lot of guys play. It's big for depth. Maybe not even this year. Maybe we don't see Richie Leonard again this year. Maybe we don't see Kam Waites again this year, but next year you're going to see them. The year after that you're going to see them. This is big, because it's tape. It's stuff on film that they can work on there. It's the experience of being out there. It's everything that you need.
Again, you can only go through this against scout teams or against your own defense so much, until you get out there in Swamp on Saturday, or in this case Sunday, under the lights and with the crowd screaming and everything else and have it. For the first time in a long time, an offensive line that just did not have a drastic drop off from 1-13, and I was incredibly impressed by them.
Nick: Right. To make another point there. It was late in the fourth quarter, when Florida was throwing out two to three walk-on running backs in the game, and they were clipping 15 yards a pop. That wasn't because they're superstar athletes or superstar players. That was because the offensive line was getting mean, getting nasty. Credit to them. Credit to the entire team really. The offense, I thought the first and second team offense they pretty much played pretty efficiently all game long.
Like you said, these type of games, they're not necessarily creating depth for this season. In my opinion, it's more so creating depth for next year and the year after that. You look at the wide receivers that played. Those guys haven't made a serious impact this year, and they probably won't, but next year you're going to see Reynolds. You're going to see Fraziars. You're going to see these guys. Caleb Douglas. You're going to see Ja'Markis Weston. You're going to see these guys have a serious impact on this team, and they're only going to get better via repetition, and so that's exactly what Sunday was about.
Andrew: Yeah. It's an opportunity too to say maybe in practice we give Caleb Douglas a look, or whatever it may be. Maybe you give him another look, and maybe you have a play for him later in the season or whatever it is. It's just big. It's so big to have games like this. Again, I know that a lot of people don't like the cupcake games and everything else. I get it. I do. I get it. I'm one of those who I love seeing the Utah game. The Utah game's fun.
I love those, but I think from a program in general you need at least one of these games that you can relax a little bit, get a lot of guys in there to play. If you dominate. You've got to be able to dominate these games. You can't have a situation where you're like Texas A&M, and you lose to App State or whatever, or a situation like last year with Florida where they had Samford, and they almost lose. They have to battle. You can't have that happen.
It's big. For me, the biggest thing was just seeing the level, that it was not a huge drop off. That's a credit to this coaching staff, and that's a credit to what the future is going to be for this program going forward. It's a lot of positives. Obviously, you can't read too much into it, but for me the positives definitely outweigh the negatives in this game.
You look at the defense. Again, I know the defense had some struggles early on. They buckled down later in the game. I think we were able to see some guys like Diwun Black play, like Corey Collier play. We were able to see several guys get some playing time that maybe haven't. Who knows, maybe we can see more of that later in the season, if guys continue to struggle. If Ventrell Miller has to come out again in a game, maybe Diwun Black is now ready to go in the game and can give you that flexibility or whatever. I'm just saying games like this matter in a lot of different ways. While we never expect it to pay off, injuries happen. They just do.
Nick: Right. You mentioned the defense. This was a defense last year that gave up 52 points to Samford, like you mentioned. At times on Sunday this Gator defense did get pushed around. They gave up over 400 yards, but I think the most important thing is that they got stops ultimately when they needed to. This is a defense that did not lay down yesterday. The first team only gave up three points.
Although they got beat around and pushed around a little bit at times, they made stops when they needed to. I think that's the difference when you're looking at this defense from last year to this season is that they didn't lay down. They didn't just give up and just give up chunk plays after chunk plays after chunk plays. They gave up first downs. They gave up some yards, but they got stops ultimately when they needed to.
Andrew: Even from the get-go, they were still rotating a lot of guys. For instance, Jaydon Hill got his first start in well over a year in the game. He had some good plays, and he had some plays that showed that he had been out for a while. That was good to see him get out there as well. I thought Shemar played really well. I thought Scooby had some good plays in the game. I thought Chris McClellan continues to take those steps of becoming a real dominant defensive lineman we all kind of think he can be. He was pushing guys around for the majority of the game there.
Then we were able to see Derek Wingo get in the game. We were able to see Diwun Black get in the game there. Kimber had some plays in the game. Devin Moore got a lot of playing time in the game. Avery Helm still got to play a lot. Then at the safety spot, with Trey Dean out, Kamari got to start in the game. You saw a lot of Donovan McMillon and several other guys in the game.
Sometimes the best thing to help you get better as a team is to have guys that are ready to take your spot. If you're scared that you're going to lose your spot, that helps you step up a lot more sometimes than just bad playing. It shouldn't, but it's human nature. It just is. Maybe Kamari and Donovan McMillon and those guys can put some pressure on Trey Dean and help him get better.
Nick: You were naming a bunch of players. One player that I wanted to bring up was Miguel Mitchell. How about his performance?
Andrew: He had a good day.
Nick: You talk about a guy that's coming for a starting spot. Him. He was all over the place. Again, I know it was Eastern Washington, but let me tell you something about Eastern Washington. They have been in the past five years a top five offense in the FCS. This is an offense that's going to be better than some of the other lower tier Power Five offenses that we see. I think you saw that. Their quarterback was a good player. Miguel Mitchell was all over the place. Great performance by him.
Another player that had by far, in my opinion, his best performance of the year was Rashad Torrence. He led the team with 10 tackles. I thought he was outstanding all game long. He made open field tackles. Definitely a step up for him there. Overall, again, rotating a lot of players in on defense, and it was early in the game too. I don't know if you guys noticed, but Patrick Toney wasn't just rotating these players in third, fourth quarter when the game was 40 points out of hand. Miguel Mitchell and Lloyd Summerall were in the game on the second defensive series of the game. They were rotating players that have not played a ton this year in early and often in this game.
Andrew: Right. I think the biggest thing with Miguel Mitchell is this. He's still a guy that's learning the position. He's not played safety his entire football career. He's a guy that everyone has a lot of praise for in Bama, and a lot of people were shocked he wasn't highly recruited more than he was. A guy that he's just a football player. That's the best compliment you can give somebody. He's just a football player. That's just what he is. He's a really good hardworking football player who makes the plays and understands the position that the safety spot is.
I think when you look at the game, when you go back and look at the game a little bit more, you see the fumble. He was right there to make the play there. When you see a couple pass deflections, he was right there in the play. Again, maybe he doesn't start. Maybe he doesn't play very much the rest of the year, but guess what? You've got two seniors on this football team at safety that are gone after this year. You're going to need somebody to step up next year, and hopefully that's a guy like Miguel Mitchell, who had a good day.
Nick: I think when you look at the safety group as a whole, there's three to four to five players there that could seriously make a big impact down the road for the Gators. Like you said, two veteran players in the group right now, likely going to move on from the program here soon. Safety has been an issue. Let's not fake it. The safety group has been an issue for the Gators over the last I don't know how many years. To me, it's been the #1 issue, and it's something that I'm looking forward to seeing improvement and growth on, and I think we're going to see it.
Andrew: I think you can make the argument that Mitchell and Kamari Wilson played two of the best safety balls that we've seen in a long time.
Nick: Right. I agree.
Andrew: Those are good players. I really was impressed by that. Again, I thought Miguel just was around the football a lot. You were able to see Jamari Lyons play a little bit. Thought he looked good at times. Then let's see. I'm trying to go through here and think of all the guys that played that I thought looked good. Again, I thought Scooby. I really did, I thought Scooby had a really good game overall.
I'm going to be honest with you though. The guy I'm most excited about is Chris McClellan. That guy is just a good football player. He is a really good football player, a strong football player. He's a force. He's pushing people around. He might not make the play every time, but he's disrupting plays.
Nick: Andrew, I texted you in the game, and I said, I know Chris missed the tackle, but he's a damn good player.
Andrew: Yeah. What did you make of Jaydon Hill's play?
game in like two years, since:guy. He hasn't played since:
Andrew: I agree. I thought he showed some flashes. He's shaking that rust off.
Nick: Right.
Andrew: Florida needs another corner to step up, and that just is what it is. They need another corner to step up. A guy that had the facemask penalty, Jack Pyburn. Listen, I know the facemask penalty was bad, but he's a hardnosed football player too. He's a guy that'll knock your head off and has no problem being physical and being nasty. Again, I like it. I like that play from him. I don't know if he's going to be a great player or just a contributor or what.
I thought he was up and down, but I just love the physicality from him. Loved how he was getting his nose in there and isn't afraid to smack you a couple times. Obviously, that's been lacking a little bit on special teams, especially on the return game and really on kickoff. I liked it. That's a guy that I think you could see get some more PT on special teams, because when you see a guy like that playing physical and hardnose, coaches notice that. They're going to find a spot for you.
Nick: I agree. You mentioned we need a little bit more of that play on special teams, and I couldn't agree more. I've been getting asked a lot of questions about special teams, and I'm sure you have as well, Andrew. Andrew, do you think during the offseason, obviously, that Napier and this staff need to address the special teams issues that have gone on this season, but do you think there's a chance that they hire a special teams coordinator?
Andrew: I don't know. They have the guy who's director of that and everything else. It's a tough spot. Obviously, now with the 10 coaches you have that, but the focus that Billy Napier has on the offensive line and wanting the two offensive line coaches there, that takes away from having it. I say this. Obviously, special teams is big. It's special for a reason. I think that you've got to put the time into it. Having a special teams coach isn't a bad thing, but I also think that having that person isn't necessarily a must.
I always say this. I think a lot of coaches will agree with me when I say this. Special teams is all about wanting it. Wanting to show how good you can be, wanting to show that you can be on the field, and I think that's a buy in factor that this staff is still looking for with this team in some places and having those guys do that. I'm not one of those that say absolutely he needs to. I'm not saying he doesn't need to either. I'm just saying that I don't think it's a must or a priority.
Nick: It's an extremely difficult situation to kind of break down. When you look at it like this, it's kind of a fine line between is it enough, are the Gators receiving enough coaching in that aspect? Because there is not a special teams coordinator. A lot of teams in college football do have one, but the Gators do not. Then you look at it. Do the Gators not have enough talent back there? Which I think is a possibility as well. Do they not practice it enough in practice? I think it could be a combination of all three of those things. Not enough coaching, maybe not running it enough in practice, and just not having the talent back there to really make things happen.
You mentioned special teams being important, and I could not agree more. When you look at teams across the country, Kentucky, for example. Their offense has been subpar this year, at best. They've been in games because of their special teams. I think when you look at it like that, I want to see more explosive plays. I've kind of thrown in the towel for this year, I think. This is something that's going to be addressed in the offseason, and we'll see where they go from there.
Andrew: I don't know that they have a particular player on the roster yet that's an elite returner. I don't think that Xzavier Henderson is that guy.
Nick: Right.
Andrew: I said that last year. I don't think so. That's just my opinion. If you think so, good. Congratulations. Maybe I'm wrong. I just haven't seen enough from Xzavier Henderson in his career to say he's good enough to be a punt returner. Just haven't.
Nick: I just—
Andrew: Go ahead.
Nick: The only thing that I can think of is that this staff just doesn't trust another player to not turn the ball over. Which, if that's the case, if that's the reasoning for throwing Henderson out there, then that's completely fine with me, because the last thing you want is fumbles on kickoff returns.
Andrew: Right.
Nick: You cannot give the opposing team a starting drive at the 20, 25-yard line. That just cannot happen. If that's the case, if you're worried about muffing punts and fumbling on kickoffs, then that's perfectly fine by me. If you don't trust another player to do it, then throw Henderson out there. I know he muffed a punt last week, but he's been good as far as not turning the ball over, for the most part.
Andrew: Yeah.
Nick: If that's the staff reason, which I do believe that is the reason, then that's perfectly fine with me. As bad as special teams has been this year, we haven't turned the ball over yet, so that's a plus. Take that with a grain of salt, but that's a plus.
Andrew: I think too, and this is just in general, and that is with the new rules it's harder to be a great special teams, simply because you can't have the wedge blocks. The blindside blocks are now illegal. Some of the things that you were able to get away with in the past are gone.
I think the biggest thing for me, Nick, is the penalties. I don't know that having a special teams coach dedicated to that would really fix the penalties. I think that that's a discipline issue of wanting to and understanding. For me, that's the concern more so than anything. I think overall punt's been pretty good. I think overall kickoff has been pretty good.
Again, kickoff nowadays isn't as big, because 90% of kickoffs are touchbacks. You look at Eastern Washington yesterday. They caught the ball on the three-yard line. They fair caught it, so they get the ball on the 25. That used to not happen, but because of the safety of the players and not wanting guys to get injured, they do that now. I think in a way that kind of is why you don't see it, just simply because some of the aspects of special teams has been taken away because of the safety.
I'm not saying it's good or bad. I personally like it. I mean, personally love the special teams play, but I get it. Special teams is a dangerous, dangerous thing, and a situation where a lot of players do get hurt.
Nick: I wonder if you agree with me here, Andrew. I think special teams, at least this year for the Gators, is an indicator of a lack of depth and just overall talent.
Andrew: In a lot of ways, yes.
Nick: You have a bunch of players that just haven't played a lot of football on that kickoff return team, and I think it's showing. I hope the Gators take a step forward in this direction this season. I just think ultimately this is something that Napier is going to have to address after the season.
Andrew: I think the biggest thing is this. From knowing Billy and following him throughout his career, but also knowing several people who know him really well, he is a guy who is always looking to fix his program and is a guy who's always kind of checking and making sure that things are going right. The moment he thinks that something's not right, he's going to address it. If he feels it's something that he can address and get better at, 100% I expect it to be addressed.
Nick: Right.
Andrew: Again, you're in a tough spot in a program, because you're trying now to get in as quick as you can. You got to get a staff together from the portal, that kind of stuff, and you're still also trying to figure out what you have talent wise and everything else. It's always different. You have to improve every year, and there's always going to be something from Year 1 that you want to fix and change. It may even be a coach or two that maybe you thought was going to be really good that's not. Not that I think so. I think he has a really good coaching staff, but there's always things that you look back and say, I could have done that differently. From knowing Billy, he's a guy who will. He'll fix it.
Again, I don't know that I say that he absolutely needs a special teams coordinator. Maybe just more of a focus on special teams.
Nick: You mentioned kind of making some changes. I think we saw a subtle change even on Sunday. We all saw Trey Smack do the kickoffs, who had yet to play this year. This is something that I thought was going to be the case at the beginning of the season. Napier mentioned multiple times that there's a possibility they both play. We hadn't seen it up until last week, but we saw Smack kick off, and he did well. He did what he was supposed to do.
There was some talk on Mihalek and his kickoffs this season. He was kind of scaring me a little bit, Andrew, putting it way off to the left corner of the endzone, and it ended up biting him. He ended up kicking it out of bounds one time. I don't know if that by design, or if that's just his tendency for kicking. I don't know the answer to that, but I know that Smack came in and kicked the ball well. It's a very small change, and one that maybe isn't as impactful as some other ones might be, but I think it shows that Napier is at least looking into the situation.
Andrew: I think the biggest thing for Mihalek was he didn't have the leg to necessarily always kick it 10 yards deep into the endzone, so he would try to angle it there to kick it to where it was going out of bounds as soon as it got into the endzone. It's an inch game there where if you mishit it a little bit there, then it's going out of the bounds, and the opposing team is getting the ball on the 40-yard line. If you kick it perfect, then they're getting it on the 25-yard line.
Obviously, perfect world, Trey Smack's your guy. He's a guy that was recruited and given a scholarship for that reason, so you hope that he can get back. He was battling a little bit of an injury.
Again, it's things that can be improved on. I think the biggest thing for me, Nick, is it's things that are big but small. We're not talking about a team who's as undisciplined as they have been in the past. We're not talking about a team that's not playing hard. We're talking about some little things that are more so technical that can be fixed there. For me, that's a lot more important than talking about a team that isn't physical or a team that's giving up and not playing hard.
Again, all things are positive. I've said it before, and I'll say it again. The future is bright for the Florida Gators under Billy Napier. Billy Napier is a heck of a football coach and a guy who's going to win a lot of football games at the University of Florida and, in my opinion, some championships.
Nick: I couldn't agree more. Very pleased with what Napier and this staff has done, just as far as shaping the culture of this program to this point in the season. Lot of football left this season, guys. Lot of football. I know there's a lot of predictions flying around left and right, but ton of football left to play. Lot more SEC games to play. Some good teams the Gators still have to face. Let's just see how it plays out.
Andrew: Yeah. I said this, and I think this is the case. The rest of October will kind of decide the season for Florida. You look at Missouri coming up this week for Homecoming. It's going to be a good crowd. Then you have LSU coming in at 7:00 for a night game the following week. LSU is always a good game. Then you have Georgia and the Cocktail Party. Back to back to back SEC games. I think that's going to decide whether the Gators are a 9-3 football team or 8-4 football team or worse.
Obviously, November is not easy. You got to go to A&M, even though I think A&M is not very good. You got Carolina, and you got Florida State. Those are three games that are tough games that are going to be games you have to play well and have the right mindset with, but I think these next three games are the most pivotal games for this team going forward and will kind of define how we look back at this season and say was this season a very successful one or did it have some disappointments.
Again, Anthony Richardson playing good ball. You got these games at home. You need to take care of business.
Nick: I think you could argue the next two games are extremely important for the Gator's season. You got a game against Missouri. Homecoming game, like you said, it's going to be a good environment. Gators have to find a way to win that game. Right now they're 10.5 point favorites, but Mizzou, it's not a team that you can sleep on.
Andrew: Should have beat Georgia.
Nick: We all saw what happened with the Georgia-Missouri game. Let me tell you this, a good coaching staff for Missouri wins that football game, and it's not debatable.
Andrew: Here's the thing. Florida has historically not played well against Missouri.
Nick: Right.
Andrew: I think Florida will come into this game understanding that they cannot take this game lightly. We'll see how Missouri responds from that game. That was an emotional game for them as well. They got to make that long trip back. We always talk about it for Florida. They have to make that long trip to Missouri. Now Missouri has to make that long trip over to Gainesville, and Florida is on a short week.
Obviously, Billy Napier and the staff started working a little bit on Missouri on Thursday of last week, when they were off for the hurricane, but you're on a shorter week. The team gets off on Monday, and instead of starting Day 2 of preparations on Tuesday, it'll be their first practice of preparation for Missouri. Little bit shorter of a week. As Napier said, they're accustomed to it as a staff, because they did it a lot at Lafayette. Got to adjust and get ready for a good SEC team who has a tough loss.
Again, your goals of what you want to accomplish are still there. You just have to go take care of business and win football games and play hard. I think that's the biggest thing, Anthony Richardson and those guys playing hard and having fun.
Nick: Right. We'll get into the Missouri breakdown on our next podcast, entering the game, but the key to that game is going to be at the line of scrimmage. You watched Missouri, let's be honest, hang with Georgia on both sides of the football.
Andrew: They do not like to throw the ball.
Nick: Yeah. This is a team that the Gators are going to have to win the game at the line of scrimmage on both sides. It's as simple as that.
Andrew: For the first time in a long time, I think Florida can do that. I think Florida physically on the offensive line with Stapleton and Sale, I think that they have these guys going in the right direction there, and they can. I think they can win a line of scrimmage football game, and that's a big thing. In the past, Florida has not been able to win line of scrimmage football games. They were very soft up front. They were very slow up front. This is a team now that's pretty physical up front and a team that's willing to get after it up front. Overall, looking forward to it.
We'll be back on Friday, Nick, and we'll get into it. Talk a little Missouri-Florida and preview that game, make some predictions and some predictions around the country. If you don't have anything, we'll get out of here.
Nick: I'm good. Appreciate it always, coming on this podcast. Lot of fun.
Andrew: Absolutely. Make sure to check us out on GatorCountry.com on the web and on Twitter, as we'll be having lots of coverage. Should be a good recruiting weekend as well. We'll be back on Friday to preview Gators and Tigers in the Swamp for Homecoming.