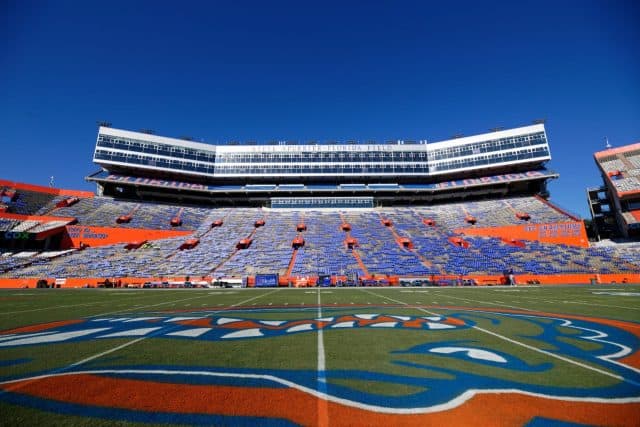 GatorCountry brings you a new podcast as we recap the Florida Gators' 24-17 win over Missouri on Saturday in the Swamp for homecoming.
Andrew Spivey and Nick Marcinko break down how the Gators' defense responded on Saturday and who stood out on the defensive side of the ball.
Andrew and Nick also break down how the offense played and what needs to improve going forward for the Gators.
Transcript
Andrew: What's up, Gator Country? Your man, Andrew Spivey, back with Nick. Nick, it wasn't as big of a game blowout as we thought, or big of a win as we thought. Florida had to hold onto a 24-17 win, but Ws are Ws. Georgia had the same outcome. They only won by four points. Gators won by seven. Not a pretty game offensively for Florida, but I would say they were pretty solid for the most part on defense.
Nick: I agree. When you look at the game just as an entire perspective, the Gators had nothing really going offensively in the first half. They mustered just 66 yards of offense. When you look at the game as a whole, Gators were able to go 245 yards in the second half. The halftime adjustment made by Billy Napier and this staff was definitely something to note.
Like you said with the defense, they seriously stuck to the game plan. At times, I thought they had some inconsistencies. I know they gave up some 3rd and longs, which didn't make Gator Nation too happy. We can dive into that in a second. I think overall, when you look at the defense, they played pretty consistently most of the game. They did a decent job of keying in on the run. I know there was a few times Nathaniel Peat slipped through, had some big gains, but I think for the most part they kind of limited Missouri's offense, and they weren't able to do a whole lot.
Andrew: Missouri only had 174 total yards in the second half. I thought Florida for the most part played a pretty good half defensively. I don't think they played bad defensively in the first half. Like you said, there were some breaks there. I think the thing for this is you have to judge this defense on a sliding scale a little bit. When I say that, you have to judge them based off of what they are, not what they should be. You look at the year to date stats, and this was a really good game for Florida. Ventrell Miller, probably his best game of his career. The man was a freaking magnet to the football. He was knocking shit out of people. Sorry. That's just what he was doing.
Again, there were some busted plays and some big runs and things like that, but for the most part, this defense played really well, and this defense set this team up offensively several times. At the end of the game, they held tough to allow Florida to come out with 24-17 win. We can break it down and say what we want to say, or you can say what you want to say, but defense won the game on Saturday.
Nick: Absolutely. Andrew, I think there's no question. When you look at this game, there is no question that the Gators defense took a step forward today. I think what you said is extremely accurate. We can't evaluate this Gators defense based on what we want it to be. We have to evaluate it for what it is and has been this season.
he most in a Gator game since:
This was a great performance by the defense. The defense won the game today. Not only was the pick six and Jaydon Hill's performance huge, but Ventrell Miller was everywhere. You name it, he was doing it. Andrew, there were plays in that game where it didn't even appear that he was a part of the play, and he would end up making the saving 1st down tackle across the middle of the field.
Andrew: There were several plays where it's like, is that the same Ventrell Miller? He looked fast. I'm not picking on Ventrell for being slow or saying that. I'm just saying at times it was one of those where it was like, wow. It looked like he was shot out of a cannon. He was hitting hard. He was playing incredibly good football. 11 total tackles in the game, two tackles for loss, and a quarterback hurry.
Like you said, Florida got a lot of pressure in the game and had four sacks and the three hurries. They were getting a lot of pressure. That is what we talk about all the time. The best recipe for helping your secondary is getting pressure, and they were able to. It wasn't just one guy. It was Princely. It was Ventrell. It was Brenton. It was Gervon. It was Tyreak Sapp on a couple plays. Chris McClellan had some hurries in the game. Amari Burney had a couple blitzes where he was getting close.
're not watching defense in:
Nick: I agree. One quick thing to note on defense as well. Andrew, I have not seen the official snap count. I'm going to pull it up right now, but I think we saw more Kamari Wilson than we've seen this season, outside of maybe last week against Eastern Washington.
Andrew: Say that one more time.
Nick: I think we saw Kamari Wilson more often in this game than we have in another other game, outside of maybe Eastern Washington.
Andrew: Yes. Agreed. I thought he played well. Him and Dean at times both played well. You and I talked about this a little bit. That was a good game for Trey Dean, but that was the type of game that Trey Dean succeeds in, games where he's asked to go in the box and knock the crap out of the running back.
Nick: Yeah. Again, there isn't really any complaints about what this defense did on Saturday. The only kind of glaring issue that I saw, Andrew, was the 3rd and longs. You can't give up a 3rd and 23 and a 3rd and 14 on back-to-back plays, essentially. That's something that can't happen. Napier said it's extremely correctible. Hopefully, we'll see. I don't think that's been a major issue this season, the 3rd and longs. Again, the Gators forced 17 3rd downs. That's an extremely high number. When you're forcing that many 3rd downs, you're going to win the football game.
Andrew: Percentage is a little high.
Nick: But it wasn't horrible.
Andrew: No. You'd like it to be around 30%-40%. Here's the thing too. Florida was up 14 in the fourth quarter. Obviously, I wasn't comfortable by any means whatsoever, but they were playing a little softer.
Nick: Yeah. For sure. Andrew, what did you see from Anthony Richardson on Saturday?
Andrew: A guy that looked banged up.
Nick: Right.
Andrew: That for me is the only thing. Five carries, 45 yards. All happened in the second half. 8 of 14 throwing, for just 66 yards, which is absolute yuck. I look at a guy who did not look comfortable. Obviously, he went out with the ankle. I don't know. I just don't think he was healthy in the game overall. I know people were bashing the play calling. There were some good play calls. They just weren't executed. Again, you can only do so much. You can only call the play. The play has to be executed, and a lot of them weren't executed on Saturday.
Nick: We can stop with the whole play calling talk. I know it'll never stop, Andrew, but the people need to realize that the offense's wrongs have not been Napier's fault, and the defense's issues have not been Patrick Toney's fault. I think, Andrew, we probably both agree there.
When you look at Anthony Richardson's performance, he threw an interception, but was it the wrong play call? Absolutely not. Rickey Pearsall was open in the middle of the field. Richardson threw the ball a little bit high, got banged around. Plays like that happen.
The one thing that I want to note about Richardson's performance in this game was not only did I think he looked a little bit more comfortable in the second half than he did in the first half, which I think is a step forward from what we saw earlier in the season against Kentucky and against USF. So, really when I evaluate Richardson's performance in this game, I'm looking at two plays. I'm looking at the 4th down, the 4th and 2, where he took off for 32 yards and got down to the goal line. I look at that play, and then I look at the 3rd down in the redzone, where Richardson got out of the pocket and found Ricky Pearsall in the back of the endzone for six points.
Andrew: Yeah.
Nick: I'm looking at those two plays. Andrew, we did not see those two plays earlier in the season against Kentucky. Those Richardson plays did not come out of the bag. Even though Richardson did not light up the stat sheet, obviously. 66 passing yards is yuck, like you said. But when you look at his performance, I thought he made plays when it mattered and when the Gators needed him most, and I don't think we saw that against Kentucky and against USF. We didn't see it.
Andrew: I think the biggest difference there, and this is not me picking on Anthony, but he's a guy who definitely wears his emotions on his sleeves. In those two games in particular, when he got down, he got real down. He wasn't able to get out of that. Now you see that he was able to get out of that and respond in the second half is showing that growth and maturity that it might not be my best day, but I can still do enough to win the football game. That's what he did.
Nick: Right.
Andrew: Again, I say this. This team is going to go and come as Anthony Richardson does. In the first half, it wasn't good Anthony Richardson. Guess what? They didn't play well. They scored 10 points, and they were set up great on both of those. In the second half, they scored 14 points and had over 230 yards of total offense. They looked better, because Anthony Richardson looked better. This team has got to go.
I will say this though. In the second half, when the game got on the line, and the players got tired, you saw a Florida offensive line that was not out of shape, that was not tired. You saw an offensive line that started to lean on these guys and push these guys around and drive these guys around. That's why you look at it, and you go back, and you say, how did Florida win this game? That's exactly it. Let's see here. In the second half, Florida had 212 yards rushing. That was in the second half. 77 of those came in the fourth quarter.
Nick: I can't even begin to describe how well this Florida Gators offensive is playing this season, Andrew. I'm sure you can talk on it some more. The Gators offensive line has given up four sacks this season, which is tied for 12th fewest in FBS. The Gators have over 200 rushing yards in four of the six games this season.
Andrew, I think you made a great point mentioning that they did not look tired in a game where it was kind of ground and pound all game long. They wore out that Missouri front seven, and, boy, did it show in the third and fourth quarter. Gators had four rushing attempts of over 30 yards in the second half. They were just gashing them.
It was largely due to the holes that the offensive line was creating, but also shout out to the running backs. I thought we saw major adjustment from Trevor Etienne and Montrell Johnson, who really in the first half they just weren't getting to the second level much, Andrew. They weren't necessarily playing bad. I think they were getting four or five yards a clip, but they weren't really breaking the tackles and getting into the second level like we've seen so frequently this season. In the second half, they did that. Shout out to the offensive line and the running backs this game. That was an extremely impressive performance and a great adjustment at halftime.
Andrew, how much longer do we have to watch this offensive line to start talking about them as one of the better offensive lines in the country?
Andrew: Yeah. Again, I said this, and I kind of started to believe it myself a little bit. I think that that right side of Austin Barber and O'Cyrus Torrence might be two of the nastier dudes in the country. Those dudes are nasty. When I say nasty, I mean they will knock the crap out of you and have no problem with you. They will push you. They'll drive you. They're doing really well.
Again, I'm starting to see consistency from that unit. That was a big thing for me was seeing consistency out of that unit this year and not seeing the ups and the downs like we've seen in past years. Again, for everyone who was harping on Rob Sale and Darnell Stapleton, you're starting to see a group that's pretty good. You're starting to see a group that's gelling. Florida didn't have a sack, didn't allow a sack, in the game, did they?
Nick: I think they allowed one on the Richardson fumble.
Andrew: That's true. That'll go down as a sack.
Nick: Four sacks on the season. Less than a sack a game this offensive line.
Andrew: He should have thrown the ball there. That's tough, but it affects the sacks. Outside of that, they didn't allow a sack in the game, and I thought they did well. Obviously, in the first half, the running holes weren't there as much as you would like. The gaps weren't as big as you would like. But in the second half, that was fixed. Remember, this was a defensive line for Missouri that's pretty good. That's a defensive line for Missouri that held their own against a Georgia line that's really good.
Nick: Four seniors that start along that Missouri defensive line. We saw Isaiah McGuire make a couple of nice plays for Missouri. Obviously, their linebacker unit is good too. We all know who's in that linebacker unit. Ty'Ron Hopper is an excellent player, a guy that can affect a game in multiple different ways.
Andrew: Don't tell Dan Mullen that.
Nick: No, don't. Absolutely not. When you look at the way this offensive line just adjusted at halftime, and the running backs as well, that was something to watch. Like I said, I don't think they necessarily played poorly in the first half. It just wasn't where the Gators would have liked it to be, and I think you saw an incredible improvement at halftime. Shout out to Rob Sale. He's got a unit that's playing extremely good football right now, and I think, Andrew, me and you can both agree that the offensive line is, right now at least, the strength of this football team.
Andrew: Yeah. Going into the year I said on multiple radio spots that I did, this team will be as good as the offensive line will allow it to be. I'll say it again. When you look at this team with Anthony Richardson, it is never going to be an 80% pass heavy offense. It just isn't. That's not what Anthony Richardson is. If you're asking Anthony to go out there and throw the ball 50 times a game out of 70 plays, you're asking the wrong thing out of a quarterback. That's not his game. You're starting to see that this offense is able to go because of that.
I saw the comments where people were mad. I even seen someone tweet at me saying, can we have Dan Mullen back, his offense is good. What? What are you talking about? No. This is a team that's continuing to improve. This is an Anthony who's continuing to get better. They won the football game. Obviously, they have a ways to go to be where they want to be as a football program, but it's Year 1. It's Game 6. Come on.
Nick: Also, what I look at when I evaluate this offensive line, and last year's offense line and previous years, how many holdings and false starts did we see, Andrew?
Andrew: Yeah. Florida had one penalty in the fourth quarter?
Nick: One penalty for five yards. The Gators first penalty in this football game came with four minutes to go. That's an impressive performance right there by the offensive line and by the team as a whole.
Andrew, I know two weeks ago I ran the numbers, and Florida had one holding on offensive line this season. I don't know if we've had a holding call in the last two games.
Andrew: I'm trying to think if they did in the Eastern Washington game. I don't think they did.
Nick: Exactly. One holding in six games by this offensive line, that is unheard of. That is extremely impressive. You're seeing an offensive line that's playing disciplined football. Andrew, just a handful of false starts this season. It hasn't been a major concern. This is a veteran group. This is what they're supposed to do. They're supposed to be the most disciplined players in the team. We got fifth-year guy at left tackle, a fourth-year at guard, another fourth-year at center. These are guys that the Gators are leaning on to play good football, and they're doing that.
Andrew: For the first time, they're doing their job. They're setting the tone. Listen, SEC football is different because of line of scrimmage play. That's what it is. You're seeing a team that is finally doing that and imposing their will up front for the most part. That's what's going to keep them in games and allow them to compete. If this defense can continue to improve, then this team's going to continue to improve this year overall.
A lot of good. A lot of bad that came out of it, obviously. The turnover for Richardson was not good. You can't have that happen there. You either got to either or sling that thing as far as you can out there. The interception, you can't have that, and then the fumble, for sure. You can't have those. Can't have those turnovers in the game.
Special teams did improve a little bit. Xzavier Henderson got a big return in the game, and that was big. Mihalek missing kicks. Is it time for Trey Smack?
Nick: I know I texted you during the game that I think I'd like to see Trey Smack, but I've kind of sat on it and thought about it. It's extremely tough. It's a tough situation to evaluate, just because we haven't seen Trey Smack. We haven't seen him kick the football, at least not on field goals or extra points. Trey Smack has a leg. He may be the guy next year. He may even be the guy at the end of this season.
I'm leaning right now towards just let Adam Mihalek play out the rest of the season, simply because we can redshirt Trey Smack. If you play him in four more games this season, the Gators burn his redshirt, and I think at this point, Gators are 4-2, 1-2 in SEC play. I'm saying let's just let Adam Mihalek kick the rest of the season and kind of see how the battle works going into next season. That's where my head is at right now. Adam Mihalek hasn't been bad this season. I think he has three missed field goals now, but most of them were from a really far distance.
Obviously, having a kicker that can make 50+ yarders is a huge benefit, especially in really close football games. I don't know, Andrew.
Andrew: Look at the Alabama game. It almost cost them. Couldn't make two.
Nick: Honestly, if Missouri had went down and scored a touchdown on that last drive, it would have cost the Gators, because I think that Missouri was going to go for two, Andrew, if they had scored on that last drive.
Andrew: I agree. Again, I don't blame them. I would've too.
Nick: I don't either.
Andrew: In the Swamp, where it was hostile, and you were playing your best football of the day. 100%, I would have went for it. It's a tough question for it. Obviously, you brought Smack in to be your guy, and he's a scholarship guy and everything else. We'll see. Obviously, we don't see him practice to see how consistent he is. Heard good things about him and know he has a big leg and can hit the distance of 50+ but need to see it in a game before you can really judge that.
Defensively, let's go back to the defense for a second here. Brenton Cox played really well in the game, I thought. I thought Princely played probably his best game of the season so far, had six tackles and three for a loss and a couple quarterback hurries in the game as well. Thought those two played really well, and I thought Gervon maybe had his best day of the season.
Nick: I think you could sit in the room and point at a Gator defensive lineman and say, he played pretty well. Princely, he was just shooting off the edge. He has some serious speed. I think if he can get a little bit stronger, he's going to be a really good player for the Gators. The defensive line was just getting pressure all day long. Brady Cook was never comfortable back there.
I said that before the game started. Gators need to make him uncomfortable. I think they did it in a little bit of a different way than I would have liked, simply because I was saying stop the run, and that's going to make Brady Cook uncomfortable, but the Gators made him uncomfortable by getting to him, knocking him down. Ventrell Miller cracked Brady Cook on one of the throws he had back there.
Andrew, do you think Ventrell Miller is in the best shape of his life? He looks to me like he is way faster. I know we talked about this a little bit earlier on the pod, but he looks to me like he is a little bit slimmer, and he looks to be way faster and way quicker.
Andrew: He does. I definitely noticed the little bit of drop in weight, for sure, there. When you see that, you can see just how he has kind of transformed his body. You look at him. Even though he has the foot injury, which is still not 100% by any means, you look at him and he looks like he is playing more comfortable too. Yes, I think he's faster, but I also think he's not reacting as much, and he's just allowing the play to happen. He's not thinking so much. He's just going out there and playing. I think a lot of that is because Patrick Toney's defense is a lot more simple for guys and a little bit better for linebackers.
Nick: Right. We're seeing Ventrell Miller this year, and I think this is the first time we've ever seen this, but we're seeing Ventrell Miller effect the game in more than just the run defense. We have to give credit to Patrick Toney here as well. On both of Jaydon Hill's interceptions, Ventrell Miller was lined up off the edge, and he dropped back in coverage on both of those and made two really bumps. He bumped the wide receiver off the route, one of them directly affecting the wide receiver that got picked off.
I think that's a great little wrinkle. I threw that wrinkle on the boards there for you guys to see. That's a great wrinkle by Patrick Toney and this defense. When Ventrell Miller lines up on the edge, I don't think a single person on Missouri's offense was expecting him to drop back into coverage. I know I wasn't. Right?
Andrew: Yeah.
Nick: When you see Ventrell Miller line up off the edge, you're saying he's going to come knock me down. You're not thinking, as a wide receiver who's lined up next to him- I don't even think the thought ever crossed the receiver's mind of Ventrell Miller dropping back into coverage, because we've seen in years past Ventrell struggle in the pass game. You saw him make two very effective plays. I think you're seeing an improvement from Ventrell Miller there. Having the ability to have him be effective on 3rd downs is crucial for this Gators defense.
Andrew: Yeah. I think Burney played well in the game. I thought Shemar made a couple plays in the game as well. I think Toney's doing a good job of mixing up the looks, mixing up the way he gets pressure, mixing up the way he's allowing Ventrell to affect the game. Listen, you need Ventrell affecting the game. You need Ventrell being that leader on this team. That's when this team is the best is when Ventrell is your leader, and Ventrell's out there making all these plays. He's the vet. I like it.
There's nothing that I saw in that defensive scheme that I was like, I don't know about. I thought the scheme overall was really good. Like we said a minute ago, there's going to be some plays that break. It just is what it is with this defense. They are who they are. You just have to have a sliding scale with them.
Nick: We mentioned it earlier. The Gators are going to have inconsistencies this season, but we saw the Gators get after an offensive line that's pretty good for Missouri. This offensive line handled Georgia a week ago. When you look at it like that, this Gators defense was aggressive, and they were honestly just mauling that Missouri offensive line. Nobody on that offensive line, and Brady Cook, they just weren't comfortable all game long. That was the key to the victory there for the Gators.
Andrew: Agreed. When you look at a quarterback like Cook, that's a guy that you want to get pressure on. That's a guy that you want to make him feel uncomfortable. He's a guy who has had an up and down season and up and down career. He's a guy that you want to. You do not want him to be comfortable, because guys like that that have that ability come in and kind of manage the game, but if you allow them just to come in and really settle in and not have pressure and sit back there three, four, five, six seconds, that's where they pick you apart. They didn't allow that in this game. Big overall. Again, 24-17, and you get your first SEC win.
Nick: Right. Just back to Patrick Toney. I was a big fan of what he did in this week. Andrew, I think he's realizing that Ventrell Miller is the Gators best defensive player, and he's finding creative ways to use Ventrell Miller, outside of just the run game. We all know how good Ventrell Miller is at stopping the run. We're seeing creative ways. We're seeing Toney put together different packages for Ventrell Miller on defense, so he can affect the game in more ways than one.
We saw him blitz the quarterback and Saturday, Andrew, more than I think we've probably ever seen him do that. They had him in on 3rd downs, and he was just getting after Brady Cook. I think he was credited with just one quarterback hurry, but there were multiple times where he had Cook moving around. I just think you're seeing Toney recognize Miller is the best player, and he's trying to get creative with him.
Andrew: And the defensive line for the most part hasn't gotten a ton of pressure.
Nick: Right.
Andrew: You've got to figure out a way to get pressure. The problem with that is this. You don't have a secondary right now that is great in one on one coverage, so how do you get creative with the pass rush without really hurting the backend of the secondary?
Nick: Exactly.
Andrew: That is dropping a Brenton Cox into coverage and bringing Ventrell and confusing the defensive line. You're still bringing four, but you're just confusing it. That is what I think separates really good coordinators from just average coordinators. I've said this before, and I'll say it again. I don't care if people get mad or whatever. Patrick Toney is one of the brightest defensive coordinators in America. You don't even have to listen to me and take my word for it. There's great football coaches around the country who say that, football coaches who are coaching in the SEC, won't name their names, that are coaching in the NFL, that say that. The defense is going to get right. You just have to be a little patient with it.
Nick: Right. That's going to come with good recruiting on the defensive line. Can't forget that Corey Raymond is back there too.
Andrew: Depth. I don't think that people understand. Having depth will help this defensive line a ton. Having guys that line up and do what they're supposed to do is huge. Depth is a major concern. It's not just a talking point. It's a major concern for this team.
Nick: Andrew, going into the season on the defensive line, Jalen Lee was the starter. Honestly, Andrew, we haven't seen great play from him.
Andrew: He's your fourth best defensive tackle.
Nick: Right. So, that's my point. Going into the season, the guy that the Gators thought was their best player, turns out he's not even close. When you look at the young players contributing on the defensive line, that's what gets me excited about the future. The depth just isn't there right now. That just is what it is.
Andrew: Yeah. Agreed. The Gators get the win. Now they have to get ready for an LSU team that was absolutely smoked up in Knoxville by Tennessee. It was not pretty. It was not pretty for the start, where Tennessee kicked a kickoff, and LSU muffed it. Tennessee got the ball. 40-13, Tennessee went to Baton Rouge and won. That's amazing as it is. You go into Baton Rouge and win by that much.
Let's see here. Total yards. LSU was held to 355. Tennessee had 502. This is not a good LSU football team. Florida needs to get ready for LSU. Obviously, LSU is going to come to Gainesville motivated. They're going to come, and they're going to play their best game. They always do against Florida. Again, as we said on Friday, you're in the second leg of the back to back to back really tough physical football games. It's time to impose your will.
Nick: Right. Andrew, I guess you could say this is an every year thing, but it seems like this year especially, every game is getting more important for the Gators. The Gators had to get a win against Missouri. Now, LSU comes to town. Two 4-2 teams facing off against each other. Billy Napier versus Brian Kelly, two first-year head coaches in the SEC.
Andrew: The grind man versus the cool man.
Nick: There's a lot riding on this game for the Gators. If they can pull out a victory and improve to 5-2, they're in great shape for eight wins, and that would be a huge success for Billy Napier and this staff. Like I said, it just seems like every game, Andrew, is getting more and more important.
Andrew: Can you promise me that Brian Kelly is not going to be grinding on anybody?
Nick: I don't know if I can.
Andrew: You can't tell me those recruiting videos were not disturbing.
Nick: Yeah. I don't know. I am not a big fan of Brian Kelly.
Andrew: Who was that? Was that Harold Perkins?
Nick: I don't know.
Andrew: I can't remember now.
Nick: I just think it's a weird culture fit there with Brian Kelly and LSU.
Andrew: Oh, 100%.
Nick: The hiring didn't make sense. It did not make sense to me.
Andrew: No. He does not. Listen, Orgeron could get away with it, that quirkiness, because he's from there. He's Cajun. Brian Kelly is a Northerner who sticks out like a sore thumb. That's not good.
Some good games around the SEC though. I thought my man Nick Saban was going to throw a life jacket to Jimbo in that game. He allowed him to stay close in the game and won 24-20, as they got a late stop in the game. What a bozo play by Jimbo. Throwing a back shoulder fade as your last play of the game? Come on, man. Whatever.
Nick: How much longer do they stick with Jimbo? I know that sounds crazy to say, but hear me out. If when you hired Jimbo Fisher, he's in his sixth year or whatever? Let's just say he's in his sixth year. You're playing Alabama. Alabama's on their backup quarterback, and you lose. I think that Texas A&M fans are very unhappy with that outcome. I know Alabama's still a good team with the backup quarterback. I get that, but how much longer are they going to let this slide?
Andrew: With a quarterback who wasn't very good and with a payroll that's through the roof.
Nick: Right.
Andrew: They're like the Yankees and the Mets.
Nick: And it's not for lack of talent.
Andrew: They have a massive payroll.
Nick: It's not for lack of talent at Texas A&M.
Andrew: It's a lack of quarterback play. He's supposedly the quarterback guru.
Nick: Yeah. Who's to blame for that?
Andrew: Him.
Nick: Is it Jimbo?
Andrew: First of all, they were relying on Max Johnson, who has a noodle of an arm, transfer from LSU, who goes down. Then you're over here, and you're relying on Haynes King, who's not very good. Haynes King got very lucky in the game that Evan Stewart has a vert that's through the roof and is a receiver. That was crazy.
Bryan Harsin, buddy, your job is not getting any more secure. Georgia beat you 42-10, and you had opportunities throughout that game that you could have scored, and you didn't. Mississippi State crushes Arkansas, and South Carolina beats Kentucky. Man, that Kentucky loss is a killer for Florida.
Nick: Right. That's true. Andrew, I know these teams aren't in the SEC, but we saw losses from FSU and Miami in a week where the Gators won.
Andrew: Cristobal just keeps showing us all what he really is, and that's a fraud on Saturdays.
Nick: I know there were some people in the Gator Country message boards talking about it, but that questionable play call, Andrew, by Mike Norvell at the end of the game.
Andrew: What was it? I didn't see it?
Nick: There was 38 seconds left. FSU was down just two points, and they were at about the 25-yard line. They had all three timeouts. They were clipping NC State on the ground. They threw basically a Hail Mary to the endzone that was picked off with 38 seconds left, down two, on the 25-yard line. It was picked off. It was just a vertical throw. It was a go route, and it was easily picked off. It was a terrible throw. I know FSU has a bad kicker. I know their kicker has been awful this year. I know they have zero faith in the kicker, but you have 38 seconds and three timeouts. You can get down to the goal line before attempting a pass, right? Why did they run a go route with 38 seconds left?
Andrew: Poor coaching.
Nick: You can literally get to the goal line to where it's an extra point for the win. Right?
Andrew: Right.
Nick: I don't understand it. I do understand being aggressive and really trying to score, but that's not the way to do it. You run that football until you get to the goal line, and then if you want to make a throw before kicking the extra point, go for it.
Andrew: Right.
Nick: It's harder to pick a ball off in the goal line, because the defense is likely playing man, so they're not going to be really looking for the ball. To me, that's a highly questionable play call, and one that I honestly don't understand.
Andrew: Yeah. That sounds insane. Not good for them, for sure. You look at it, they dropped to 3-2, 4-2 now.
Nick: 4-2.
Andrew: Miami, I don't know what to say about them.
Nick: Three straight losses. Three straight losses for Miami.
Andrew: Yeah. The thing for Miami is they're not playing well at all. They're just not playing well. They're 2-3 on the season. We'll see. Cristobal is not a good Saturday football coach. I've said that forever, and I'll continue to say it. We shall see. Who's Miami have next week? Miami, they got to go to Virginia Tech. Should be an interesting game. Both teams are not very good.
Nick: Yup. That's true.
Andrew: Nick, we will get out of here, and we will see everyone on Friday, as we preview Florida and LSU in the Swamp on Saturday night in what is promised to be a massive recruiting weekend for the Gators. A lot of top prospects will be on campus. We'll have that previewed, and we'll be previewing it all throughout the week. I know you and Gentry will be previewing that, and we'll have some basketball coverage as well.
Nick: Absolutely. We are excited. LSU brings in the fourth ranked defense in the SEC, so the Gators got to be prepared.
Andrew: They bring in the #1 grinding dancer, Brian Kelly.
Nick: That's true.
Andrew: Remember this. This is what I want you to remember. Brian Kelly, Notre Dame, they always find a way to piss away a game.
Nick: There you go. I like that.
Andrew: There you go. Guys, make sure to check us out on Gator Country on the web and on social media. We'll be back on Friday to preview the Gators and the Tigers.
Nick: Yes, sir.