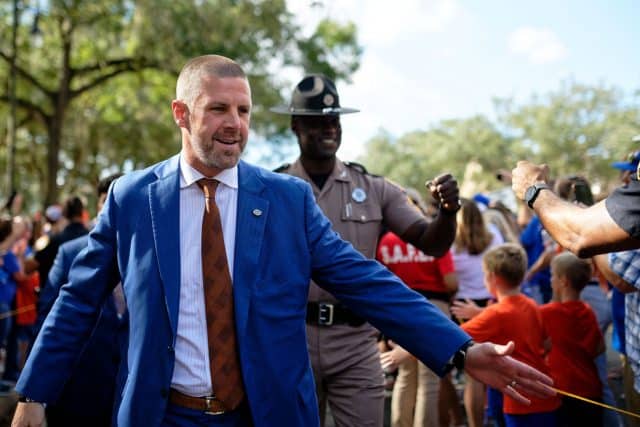 GatorCountry brings you a new podcast as we recap the Florida Gators 38-6 win over South Carolina on Saturday afternoon in the Swamp.
Andrew Spivey and Nick Marcinko breakdown how the Gators look on both sides of the ball as they dominated South Carolina from start to finish.
Andrew and Nick also breakdown the latest in recruiting with the big news that quarterback Jaden Rashada has flipped his commitment from Miami to Florida.
Transcript
Recapping South Carolina
Andrew: What's up, Gator Country? Your man, Andrew Spivey, back with Nick. Nick, it was a great Senior Day for the Gators. I put in our roundtable on Friday that I wanted to see this team get out to a good start and put South Carolina away early, and that's exactly what they did. It was 21-0 before some people got their fannies in the seats.
It was a game that Florida dominated for the entire game. It was 38-6. South Carolina scored six points on a fake punt that was kind of odd, because Billy Napier called a timeout to tell his guys that a fake punt was coming and somehow, some way, they still didn't cover the fake punt. South Carolina only had 112 yards in the first half, 37 in the first quarter. The Gators dominated. That was the best performance of the year.
o a complete football game in:
Obviously, Florida's best defensive performance of the year. Held South Carolina to just 237 yards, and about 50 of those yards were on the final possession of the game, with just a couple minutes left. Really strong performance from Patrick Toney's defense in this one. Players executed well all game long. We saw Trey Dean make plays. We saw Ventrell Miller, of course, make plays. Princely, I thought Princely played another really good game. I think he's coming off a really strong two game performance. I can't wait to see on how he graded out on PFF. I'm pretty sure it's going to be pretty high.
Montrell Johnson and Trevor Etienne continue to do their thing. Just the ground and pound approach, Andrew. We've seen it all year long with the Florida Gators, and it's kind of become the identity of this football team. Just run the ball. The offensive line has done a fantastic job. I have not gone back and looked, but I'm almost positive there was not a holding call on Florida yesterday, which means this would be the seventh game of the season without Florida being called for a holding call, which is just impressive.
Andrew: I think in the second half the staff just went very vanilla. It was just, we're going to run the ball. We're going to run the ball some more, and we're going to run the ball even more. That's what it is. I just think it was an overall performance that Florida should be proud of. When you look at the game in general, they controlled it, like you said.
Dean played really well. Three straight possessions in the second half they get a turnover. Big Des, he looked like the Fridge. Going to take it down there. Spencer Rattler, I don't that Spencer Rattler would get in the way of Big Des ever again. He had it. Torrence had the forced fumble and recovery. I thought Miguel Mitchell played really well in the game. I thought Antwaun Powell-Ryland played really well. Like you said, Princely played really well. Amari Burney, him and Trey Dean have played a really good last half of the season.
Nick: Yeah. You say what you want about Trey Dean, and me and Andrew have been very critical of him and the entire defense's performance this season, but his last three games have been his best three game stretch since his freshman year. He's been playing really well. Even in coverage he's been well. He's been doing his thing in the run game.
I just want to give a quick shout out to Caleb Douglas. I was high on him going into fall camp. I watched a couple of the Florida Gators practices in fall camp, and he was the one that stood out to me, mainly because he wasn't really talked about much in the Gators recruiting class. He was kind of just under the rug, flew under the radar, but Napier took him.
Let me tell you guys, he is the complete package at wide receiver. He can block. He had a key block on Etienne's 85-yard touchdown run. He's a very good and very crisp route runner. He can catch the football. I think he had 50 yards exactly, 53 yards in the game. That was with just 141 passing yards, and 40 of those came in the first quarter of the game. The guy made plays yesterday. I know he didn't technically light up the stat sheet, but nobody in the receiving corps did.
Andrew: I think the biggest thing for me, not to cut you off.
Nick: Go for it.
Andrew: How crisp of a route runner he is. He is very crisp in his route running. He finds ways to get open. For a freshman to be as good of a route runner as he is, I think shows the potential that he has. If you remember, there were some teams that were making late runs at him late in the cycle last year, and Billy Napier and his staff focused in on him. I believe he was the first offer given out by this new staff too. Overall, I think Caleb Douglas is quickly emerging as a guy who can be a focal point of this offense moving forward next year, with Ja'Quavion Fraziars. I think the two of those guys do really well. Again, he knows how to get open, and I don't think that people understand how hard but critical that is.
shman since Kadarius Toney in:
Andrew: Not bad company.
Nick: Definitely not bad company to be in at all. I just think it's incredibly hard to start in college football, especially in the SEC, much less do it and perform very well. He led the team in catches with three. Led the team in yards. Had a 27-yard reception in the game, which was awesome. Had a very critical 3rd and 10 on the first possession of the game. If he doesn't get open on that crisp out route, Florida doesn't move the chains, and they have to punt. Who knows, that could have killed all the momentum.
I just think incredible performance by Caleb Douglas. I really like what the Gators have with Caleb Douglas. I know Billy Napier is a big fan of him. [INDISTINCT] He's only been playing wide receiver for, what, two years now?
Andrew: Yeah. He is a guy who played everywhere in high school. I think you hit on a point though a minute ago about the holding calls too. Florida had seven penalties for 50 yards. Couple of those came on that last drive when the backups were in. I think it was a face mask, I believe, and maybe a false start. Overall, a pretty clean game.
When you look at the two teams, and obviously there was a lot that separates those two teams on Saturday, but one of the biggest glaring things that separate those two teams on Saturday was 11 penalties for 82 yards for South Carolina to just seven for 50 for Florida. The last time I looked, before the backups came in, it was five for 35. That tells you about what they kind of were. Obviously, you got to count the backups, but still.
Again, I just think when you're looking at this team, and everybody wants to judge if they're getting better or not, and I think the results say they're getting better. Special teams touchdown is a special teams touchdown, in my opinion. It doesn't go on the defense. If you count that, six quarters that they haven't allowed a touchdown. You're starting to see Patrick Toney bringing guys, bringing blitzes. Those blitzes are getting home, and those blitzes are forcing the opposing team not to have time to throw the ball, and that's really helping these defenders.
You're also seeing a team, and we've talked about this all year, but this is a team that just goes for the ball. They look for turnovers. I know everybody's going to say every team does. Yes, they do, but this team has a knack for creating those turnovers, and they've done a very good job of it. Outside of the turnover by Florida late in this game, overall Florida hasn't turned the ball over. When you win the turnover margin, you like your chances in most ballgames.
Nick: Right. Florida was working on it. They were so close to four straight games without a turnover. Was it Nay'Quan Wright at the end of the game?
Andrew: Yes.
Nick: Nay'Quan Wright fumble.
Andrew: In the redzone.
Nick: Right. He fumbled in the redzone and kind of squashed that. Everything you said still stands. Florida's not turning the ball over. They've improved dramatically since the start of the season. Not just the offense as a whole, but Anthony Richardson as an individual has improved so much, in my opinion, from Game 1 to now. Simply in his decision making. He obviously still has inaccuracy issue, only 52% completion against the Gamecocks, and that's something that he's going to have to work on moving forward.
I just think he's taking less risks passing the ball, and that's why we're not seeing the interceptions. I think earlier in the season we were seeing him kind of panic in the pocket and just lobbing up random throws. I think there was one bad decision against South Carolina, where he threw a deep ball into triple coverage, which probably should have been picked off, but I think for the most part he's improving as a decision maker.
Obviously, we would all love him to be a little bit more accurate with the football. I thought he had Ricky Pearsall for several 1st downs yesterday, and he just couldn't get it done. He missed him. That's going to happen. He's still a young quarterback. This is still his first year starting. He does have to improve in the accuracy department, especially if the Gators are going to try to win out here and go and beat FSU in Tallahassee.
Andrew: I think that's the biggest gripe I would have is those crossing routes he still has major problems leading the receiver and allowing those receivers to make plays. He had Ricky three or four times in the second half wide open. You have to put it on him. He had Bowman late in the game wide open, and he misses. I will say that that's kind of what we expect a little bit. I'm not saying that to be ugly to Anthony or anything else, but that's kind of what we know and expect a little bit from Anthony is for him to not be the most accurate guy as far as passing goes, but to create things in the running game.
You and I talked about this, I think until we were blown in the face, earlier in the year. We just wanted to see Anthony run the ball more. We just wanted to see him be a threat in the running game, and that's exactly what he was in this game. Over 100 yards rushing. When you take the sack yards, he was less than 100. That would have been the first time since '84 that the Gators had three guys over 100 yards rushing.
Still, the South Carolina defense had to respect Richardson to run the ball. Go back to the Etienne 85-yard run. It allowed that linebacker, the middle linebacker for South Carolina, one false step to make sure Anthony didn't keep that ball, and that one false step was the difference of that linebacker being in the hole and making the tackle against Etienne or Etienne taking it for 85-yards like he did for a touchdown. It's those little things that maybe don't show up on the stat sheet that when you look at it you're like, that really was a big play in the game. That was a huge play, and it was all set up because Anthony was running the football early on.
Nick: Right. You have to credit Anthony Richardson's decision making on that 85-yard run too, because he could have kept it. He didn't, which was a great call. Napier said that after the game. He said, Richardson made a great call not to keep that.
Andrew: Right.
Nick: He saw the linebacker take a step, handed off to Etienne. Etienne's gone. 85 yards to the crib. When you look at Richardson, 15 rush attempts for 96 yards. He was effective in the run game. What did the other two running backs do? They both put up over 100 yards. Montrell Johnson had 161 rushing yards, leading to one of the best rushing performances in the last 20 years. 374 rushing yards and three touchdowns on the ground. Average of 6.9 yards per carry. They just dominated on the ground. A large part of that was due to Anthony Richardson's willingness to run the football and keep the South Carolina edge honest.
Andrew: If you look at Billy Napier's past, that's what he wants to do. He wants to beat you up front, dominate you on the line of scrimmage, and he wants to allow his defense time to go to work. That's exactly what he's doing. You and I talked about this before the season started, and I talked about it a bunch the last few years. I always said, and I say this all the time, you're only as good as your offensive line is. I think people don't understand how critical it really is.
I go back to Bama, for instance. Is Bama any different as far as their playmakers go? No. They still have tremendous playmakers on the field. The difference for them is their offensive line is terrible. When your offensive line is terrible, your quarterback's not as good. Your receivers aren't as good, because they're not getting the ball, and the running backs aren't as good, because they don't have the holes to run through. It's a trickledown effect. Again, for all the problems Dan Mullen had, and there was a bunch of them, the biggest thing was his offensive line was terrible. That's what it is.
Nick: We talked about this a minute ago, but Dan Mullen's offensive line was undisciplined. I think they almost led the country in penalties, if I'm not mistaken. We've talked about it all year long how well this Florida Gator offensive line is doing not holding people and killing drives.
You can say what you want about the false starts, because Florida's had quite a few this year. I don't think they would rank near the top of the country in false starts, by any means, but they've had quite a few. The main thing for me is that Florida's been able to work around the false starts. They have not allowed the five yard penalty to kill their drives, for the most part. For the most part, it has not factored. They have done a very good job of picking up 1st downs. Florida had 26 1st downs against South Carolina to South Carolina's 11. Florida was 9 of 15 on 3rd downs and forced South Carolina just 3 of 11 on 3rd downs.
Andrew: Florida didn't punt until mid-fourth quarter, right? Was it third quarter?
Nick: What was that?
Andrew: Florida didn't punt until mid-third quarter or mid-fourth quarter?
Nick: I think it was late third quarter. I would have to go back and look. I can give it to you here in a second.
Andrew: I know it was late that they actually had to punt for the first time. Again, that just shows you how efficient. Listen, the special teams for Florida has got to get better. I will say this. I truly believe Billy Napier will have the special teams better. Florida's special teams has probably been the worst unit for this team, and it was the worst unit on Saturday for this team. You can't have a blocked field goal. You can't have a fake punt after that. You can't have that stuff. Florida's been really bad in the kickoff returns. If there's one thing that I need to see addressed this off season, it's special teams. I don't know if it's a coaching change, a philosophy change, or what it is, but that's the major thing for me that needs to be changed.
Nick: Right. Florida punted for the first time with 3:55 left in the third quarter. There's that. Andrew, I'm glad you brought that up, because there's a point that I wanted to ask you about. Earlier in the season, I think it was like Week 3, I asked you if you thought the Gators needed a special teams coach. At the time, you weren't sure. You didn't think that they necessarily needed one.
I want to ask you that question now, because I think the Gators hit, in my opinion, rock bottom special teams wise. The field goal unit has been pretty on and off this season, and it was terrible this Saturday. The low kick got blocked. I saw that coming. I saw the blocked field goal coming, because the kick before that barely got over the defender's hands. I had a feeling that one was going to get blocked, and it did. Then a bad snap, which we haven't seen much this year, but a bad snap. Obviously, we've talked about the punt defense and this and just penalties. Everything has kind of just not been good for special teams.
So, do you think that Florida should hire just a special teams coordinator? That position might come from the two offensive lines. We have two offensive line coaches, which no other team in the country has. Do you take away something that's really working to try to improve something else, or do you try to find it in another way?
Andrew: It's tough. I say this, because I'm kind of talking out of both ends of my butt here when I say this, so it's a little difficult maybe for some people to understand when I say this. I don't necessarily think they need a special teams coach on the field, per se, because a lot of your coaches work with special teams. When I say that, they work with the up backs. They work with the wedge setters or the return setters in the kickoff return. They work with the gunners on punt and on kickoff.
I don't want to take away my second offensive line coach, because to me what we just said, you're dominating up front. You're dominating. You're beating the crap out of people up front. That's largely due to having two offensive line coaches, and two offensive line coaches that are nasty, but two offensive line coaches that are teaching the same thing but different ways. Rob Sale's more of a technical guy. Stapleton's more of a hands-on kind of show you kind of person, because he played the game. I like that.
You need a special teams coach, and I know they have one or whatever. They need someone behind the scenes that's getting this going. Obviously, if the new rule comes in where they can have analysts coach on the field, then that changes everything. You've got to make a change, but I think the biggest thing is it has to become a focus. I'm not saying it's not a focus, because Billy Napier calls it the gamechangers and everything else to put a focus on it, but it's now got to become even more of a focus.
For instance, with South Carolina, they could be great at special teams all they want, but they suck in the other two, on offense and defense. Special teams is not going to win you ballgames when your offense and defense suck. It's just not.
Nick: Right. It didn't end up costing Florida, because they dominated in the other two phases of the game.
Andrew: But you look at that Kentucky game, and some of those penalties in that Kentucky game cost them. Now, was that the main reason they lost? No, not at all, but it cost them several plays in that. The Tennessee game, you had two penalties that made Florida have to go 80 yards in that game. Those cost you. Not necessarily cost you the game, but definitely hurt you in the game.
Nick: Right. I didn't want to freak anybody out by saying that Florida would get rid of one of their offensive line coaches, because that's not going to happen.
Andrew: No, but something would have to happen. You would have to have somebody go.
Nick: That's true.
Andrew: Really and truly, it would have to be an offensive line coach, because I don't know where else you would go. You've got to have a running back coach. You've got to have two DB coaches, because one of your DB coaches is your defensive coordinator, and the other is Corey Raymond, and you're definitely not letting Corey Raymond go, so it'd have to be offensive line. I just don't think that that's what Billy does. I think Billy tries to address it with an analyst position and more focused on it.
I'll say this too. I'm not saying this to be critical of any players, but it's also a want to by the players. There's some veterans on this team that maybe don't have that want to about them, that want to be great in special teams. When you have that problem, you're not going to be very good. You look at it. One of the biggest things that came out of this game was Xzavier Henderson made a key mistake on punt return. He was gone. Ricky came in and was returning punts the rest of the game. He was gone. He was held accountable.
Nick: Yeah. That was another point I wanted to bring up was Xzavier Henderson. I'm going to take a look, after we stop recording here, and I'm going to put up my snap count article. I want to see how many snaps Henderson ran at wide receiver. I still think he was among the top there, but there were drives. Even on that first drive, the opening drive, when Florida was in the redzone, he was not in the game. He was on the sideline with his helmet off.
Andrew: Marcus Burke played.
Nick: Yeah. I can't wait to see how the wide receiver room shook out with two injuries there. Hopefully, the Gators get Justin Shorter back soon. Andrew, I like what I see from Ricky Pearsall and Caleb Douglas. If the Gators could get those two back next year, that's something to work with right there.
Andrew: Did Shorter walk yesterday?
Nick: He did, right?
Andrew: I can't remember.
Nick: I'm pretty sure he did.
Andrew: I was pretty sure he did as well. I know he has that sixth year if he was to choose that. Burke has started to take more of the wide receiver screens. He's started to do a lot more of that. He's a little bit bigger and a little bit more physical. I like that from him. Again, I like the overall room that's starting to develop. I have been a Ja'Quavion Fraziars fan since he signed with Florida. I thought he was a really good player. I still think so. Caleb Douglas is another guy that I think is a really good player that has a ton of potential.
I'll say this too. It's not receiver, but it's at tight end. I thought Jonathan Odom was running some good routes. I think a lot of us, including myself, had kind of given up on him, because he hasn't played a ton. Jonathan Odom showed me a little bit in this game. Maybe he has it in him, and the future could be good for him at that tight end spot, where Florida's looking and begging for a contributor at that spot.
Nick: Right. It must have felt good for Jonathan Odom. He's put his time and work into this program. This is his third year here, and he catches his first touchdown pass.
Andrew: That was his first catch too, right?
Nick: No. He had a catch earlier in the game for like two yards.
Andrew: Okay.
Nick: I'm pretty sure.
Andrew: You're probably right.
Nick: It was very early in the game. He had two catches for six yards. I think it was either the first or second play of the game. It went for one or two yards.
Andrew: Okay.
Nick: Just a little throw in the flat there. His first career touchdown pass, or touchdown catch. He was targeted three times. I thought he did some good things in the blocking game as well. That's kind of Jonathan Odom is going to be known for is his blocking ability. Napier is a big fan of his blocking ability. If you guys remember Ricky Pearsall's 76-yard kind of reverse run earlier in the season, Jonathan Odom played a big part in that one laying down a crucial block up field.
Andrew: Etienne had a good block on, was it Richardson's touchdown run?
Nick: Could be.
Andrew: Yes. Trevor Etienne had a great block to seal the edge for Richardson to get there. I think you're starting to see this. To me, again, we could just be firing it off, and we could be the most homerest people out there. Call me whatever. I don't care. You're starting to see a team that's starting to do the little things right and do the little things that need to be there that don't go up in the stat sheet. Trevor Etienne's block will never be in the stat sheet. Ricky's block will never be in the stat sheet. Those are plays that are not in the stat sheet that just go back to show you just how good, like Anthony Richardson holding that linebacker on Etienne's run.
The little things are what make you go from a good football team to a great football team. This isn't a great football team yet, but they're starting to do those little things that you're asking of this team. You're not seeing the dumb personal foul penalties. I think the only 15-yard penalty, Nick, was the block in the back on Trey Dean's return on Jordan Young, right?
Nick: Are you talking about this game?
Andrew: Yes, this game.
Nick: We had a face mask too.
Andrew: Okay. Was it a face mask that he got called for, or did he get called for blocking the back?
Nick: I would have to go back and look.
Andrew: It was of two.
Nick: Seven penalties for 50 yards. I'm pretty sure there was a face mask involved.
Andrew: Right. Overall, it was just a complete performance. I want to talk a little bit about defense. People have been critical of Patrick Toney. You and I have been those that said I need to see what he does when it's his guys. I'm being very careful when I say this, because I don't want to hurt nobody's feelings. That defensive line room seems to have some energy the last two weeks.
Nick: Yup.
Andrew: I'm not saying why. You can read between the lines.
Nick: I agree. There was a bunch of people, I saw a bunch of comments yesterday saying, everyone was saying this was a talent issue, what is it now? You kind of half to flip the switch and flip the cards as well. You guys were all saying it was a coaching issue, so what is it now?
Andrew: Right.
Nick: It's kind of one of those deals where this team is just playing better football.
Andrew: Right. They're not great.
Nick: They're not great. You guys are probably right. The team probably is receiving better coaching, but they're playing better.
Andrew: Here's the counter to that, Nick. Are they receiving better coaching, or are they taking better coaching? Are they buying in? It's a two-part thing. Maybe Patrick Toney and the defensive coaches are breaking it down a little easier for these guys. Maybe. Or are these guys starting to buy in and say, if I just listen to what Chaos says, or if I just listen to what Bateman says or Raymond says, or Mike Pete says, I'll be okay. You can bounce it back and forth.
Again, they beat an Texas A&M team that sucks, and they beat a South Carolina team that's not very good. Okay. That's fine. You're seeing finally a team that's taking care of their business. Again, a talented Florida team that is up to SEC Championship standards beat Tennessee 50-0, and South Carolina sucks. They're not there yet.
Nick: I guess what I kind of want to ask you, Andrew. Florida has obviously played six straight great quarters defensively. Are you seeing any major changes schematically? To me, it just seems like the team is playing better football.
Andrew: The biggest thing for me, Nick, is I'm seeing Patrick turn guys loose a little more, and he's getting creative with his blitzes. I'm also seeing some of the defensive line finally win some one-on-one matchups. Princely winning one-on-one matchups. Powell-Ryland winning one-on-one matchups. That kind of stuff.
Also, making plays in open field. The first play of the game, Jaydon Hill rocked the South Carolina receiver when he caught it in the open field for a one-yard gain. Ventrell Miller flew out there to make a play on Jaheim Bell in the open field. You're seeing guys just make plays.
Nick: Right.
Andrew: Is that Patrick Toney putting them in better position? I think for most of the year they've been in position. They just haven't made the plays.
Nick: Right. Andrew, I think the right answer is it's a combination of a lot of things, why this defense is playing better.
Andrew: Agreed.
Nick: I don't know if you can sit there and pinpoint here's the reason why Florida's defense is playing better, because I think that wouldn't be true. I think there's a combination. That's what we've kind of been saying all year. It's a combination of a bunch of different things, a bunch of different factors, that we could get into.
I think, for me, Andrew, the pressure is finally coming home. They are finally getting to the quarterback. That could be due to Patrick Toney. That could be due to just player execution, just playing better football, team morale. It could be a number of different things. The pressure is finally getting to the quarterback. They sacked Spencer Rattler three times, but he was affected a lot more than that. They got to him and made him get the ball out early, and that helped Florida's defense.
The one 3rd down that they gave up that is at the top of my head right now was that early 3rd down conversion. I think it was a 3rd and 14 or 3rd and 17, whatever it was.
Andrew: When they hit the crossing route for 18.
Nick: Yeah. They hit the crossing route. Everyone freaked out about that play. I really didn't have any problem with that play. The only issue was the pressure just didn't get home. It was the right play call. It was the right scheme. The players were in position to make a play, but they didn't get to Rattler in time, so he had just enough time to sit back there. He made a really good pitch and catch. That was a really good play on one-on-one coverage that they just beat Florida in. They beat us because Florida did not get to Rattler in time. I have no problem with that, because that's not going to hold up. The pressure is eventually going to get there.
Andrew: Yeah. And it did. It caused chaos for a lot of the game. Again, it's a lot of different guys. It's Shemar coming pressure. Derek Wingo had pressure late in the game when he was in the game. Trey Dean had pressure. Rashad Torrence had pressure. Des Watson had pressure. It's a multitude of guys that are doing this. Again, is it coaching, or is it scheme, or is it just execution? I think it's a little bit of all of it.
I think the biggest thing Billy Napier's talked about, and the kind of thing I like, dominate your opponent. Just dominate who's in front of you. Florida could play nobody yesterday but South Carolina. That was the only team they could play yesterday. That's the only team they could beat, the only team they could lose to. It did not matter who was on that team for South Carolina. That was it. They dominated that opponent. I think that, for me, is the biggest thing. They're dominating the opponent up front. They're winning those matchups up front, and it's a huge key. That atmosphere too, man. Special for Senior Day.
Nick: I was a little bit worried that the students wouldn't show up. They filled in particularly late, but they got there. The Swamp was rocking. Definitely a sold-out crowd. There wasn't many empty seats there. The students left by the third quarter, because Florida was blowing them out, but you take what you can get. I think they would much rather blow the doors off their opponent than have it come down to the wire.
Andrew: Do we need to get a Nick Saban rule here? If you don't stay for all four quarters, you lose your season tickets.
Nick: I'm here for that. When I was a student at Florida, I did not leave the football games. The bars can wait, guys. The bars can wait. The seniors deserved your full attention for four quarters. To their point, the seniors were out of the game by the fourth quarter, except for Lorenzo Lingard, Nay'Quan Wright getting in there for the fourth quarter for their final touches, most likely.
Andrew: Trent got in and Pouncey got in. Kahleil Jackson got in. A lot of guys got in. Engel got in at quarterback.
Nick: Kahleil Jackson, and I meant to mention this earlier, Kahleil Jackson was in in the second quarter of the game. I think that just goes to show you how thin Florida's receiving unit is right now. Obviously, two injuries, and behind that is a couple of guys that haven't had much experience. Kahleil Jackson is a good football player. Don't get me wrong. Walk-on receiver having an early impact against South Carolina.
Andrew: For sure. We got to go to the big news real quick, before we get out of here. It dropped at midnight on Thursday night. The Gators went out and flipped Jaden Rashada. He was in town on Saturday. He was a superstar. Fans are asking for his autograph and taking pictures with him, everything else. Mark my words, Nick, we're going to remember Thursday at the day the tide turned, the day that Billy Napier said, don't mess with me, because I'll get you back. The Gators are going to be fine. A lot of things are cooking behind the scenes in recruiting. A lot of things with guys committed elsewhere behind the scenes. Gator recruiting is going to be good. If they're not top five, they'll be close to top five in recruiting this year. Things are far from done in this recruiting class.
Nick: There you go. There's the quote of the season there from Andrew. Jaden Rashada was getting a lot of attention on the sideline, and rightfully so. Highly rated quarterback, California quarterback. Hanging a lot around Will Norman. Will Norman, by the way, Andrew, was supposed to be in Kentucky and ended up in Gainesville?
Andrew: Yeah. He didn't want to see Kentucky lose to Vanderbilt.
lot around Stacy Gage, which:
Andrew: Yeah. Things are going really well. Things are in the right direction. You look at where Billy is compared to where Cristobal is, and you like where you're sitting if you're a Gator fans. Things are going to be good. Things are getting better. Recruiting is getting better. NIL stuff is getting better.
Transfers are reaching out to Florida right and left. Big name transfers that could play significant time, including a couple quarterbacks. If Anthony Richardson decides to bolt, Florida will be looking for a quarterback. You don't want to go into the season relying on Kitna or Jack Miller to be your guy, and you definitely don't want the pressure of putting Jaden Rashada, a freshman, as the guy. You'll go look for a proven quarterback, and things are going good. You just need to finish this season strong. I can't stress enough how much winning these next two games and winning a bowl game would be. Finishing with nine wins in this season would be an absolute win. Win, win, win. Win against Florida State, who seems to be on a little bit of a roll.
the right word, heading into:
Andrew: I don't like it. I don't like it for the player or the team.
Nick: Yeah. I don't like it for either one of them. I still think the Gators, and this is if Richardson does not come back, the Gators need to go get a one-year rental. They need a one-year rental at quarterback. They need someone that's above average, someone that can move the football, someone that's accurate. Likely someone that's mobile as well, someone that can use their legs and kind of fits Napier's play style a little bit more. You take what you can get in the portal. I have hope that there's going to be a few intriguing options in the transfer portal at the quarterback position this year.
Like I said, it's a lot of uncertainty. We don't know. We don't quite know who the starting quarterback is going to be next year. Still a lot of decisions to be made from players on our team and players on opposing teams as well.
Andrew: Yeah. There's a lot to do there. Best thing you can do, and the easiest thing you can do, is just be prepared and have a plan. If you have a plan, you can figure it out. Billy Napier has a plan, and things are going to be just fine. Gators travel up to Vandy for a nooner in a stadium that will be about half full, and that half full will be still about half Gator fans, in Nashville. Early morning rise. Kentucky losing to Vanderbilt. Vanderbilt now snapped a 25-game SEC losing streak. Oh my. That's crazy.
Nick: I want credit. I want credit for calling out Kentucky. I said to one of my buddies after Florida played Kentucky, and after Florida lost to Kentucky, I said, if you put $100 on the opposing team's money line every week against Kentucky, you'll win money by the end of the season. It definitely cashed when they lost to Vanderbilt. Kentucky is the one game for me where it's a frustrating loss for the Gators, simply because Kentucky is just not good. They're not a good football team. We talked about offensive line and how it can kill football teams. The offensive line killed the Kentucky Wildcats this year. They're terrible. They're an awful football team.
Andrew: Will Levis is not good either. I don't care what people continue to say. He's a first-round pick, first pick. Whatever. You're bumping your head.
Nick: I think if Florida played Kentucky again, they would win by two touchdowns. I really do think that. Kentucky, they're just not a good football team. Kentucky was not a good football team when they beat Florida. Florida just wasn't better than them. That loss is going to just end up, it's the only loss this season that's super frustrating, in my opinion. It's a frustrating loss.
Andrew: That's the one. Obviously, the LSU game. If you get another stop or two, you win that game as well. Nick, we will be back on Friday. We will start previewing Florida-Vandy. Make sure to check us out on the web this week at GatorCountry.com and on social media @GatorCountry. Nick, we'll be back on Friday and be ready to go.
Nick: Yes, sir. Looking forward to it. 24 degrees, by the way. 24 degrees on kickoff for Florida versus Vanderbilt.
Andrew: That's going to be cold. Guess what? Run the football. Teams won't want to be getting pushed around by offensive linemen. Run the football.
Nick: Run the football.