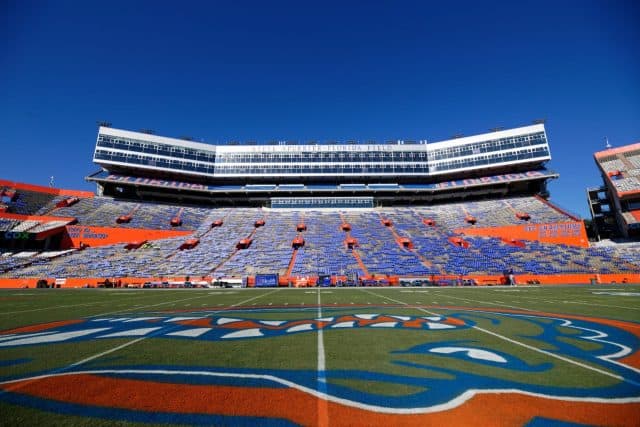 GatorCountry brings you a new podcast as we preview the Florida Gators home game against the LSU Tigers on Saturday night in the Swamp.
Andrew Spivey and Nick Marcinko break down what the Gators need to do on offense to knock off LSU as both teams come in with near identical stats on the offensive side of the ball.
Andrew and Nick also give you three guys to watch for the Gators on Saturday, plus we make our prediction on the game.
Transcript
Andrew: What's up, Gator Country? Your man, Andrew Spivey, back with Nick. Nick, it's game week for a big one. It's Florida-LSU, honoring Tom Petty in the Swamp. Not that you needed it to get any bigger than Florida-LSU, but it's Florida-LSU week.
Nick: Right. We said it last week on the podcast, it just seems like every game is getting bigger here for the Gators. Like you said, it's not really just because of this Florida-LSU matchup. Both these teams sit at 4-2. Both desperately need another SEC win. This is a big matchup, Andrew. I'm really excited to be there. I know you're coming down for the first time, so we're excited to have you. We're excited to get things going.
Andrew: The thing for me with this game is you look at it, and it's a mirror image of two programs, but not the mirror image of two programs, if that makes sense. I'll try to explain that. Obviously, you have Brian Kelly and Billy Napier both in first years of their rebuild. You have Brian Kelly, who is a long-time proven coach with expectations a little bit higher because of that, whereas Billy Napier just in his second job, fifth year as a head football coach at this level, so the expectations are a little bit different overall.
Again, I think LSU has some talent on this team. They have not played particularly well. Just got absolutely slaughtered at home by Tennessee. That was a shellacking. It wasn't even as close as the score suggests. Things aren't good for Brian Kelly. Fans are not particularly happy with him. I can't say that I'm shocked. If you had told me Brian Kelly was going to be well received in Baton Rouge, I'd have told you you're probably fooling yourself.
Nick: Right. The bottom line is Brian Kelly really, really needs to win this football game, because if he doesn't and starts off at a 4-3 record with losses to FSU and SA, that's not going to go over well in Baton Rouge, to say the least.
Andrew: No. From a recruiting standpoint, these are big games for both teams. Obviously, this year in particular, the two teams aren't really battling for the same guys, but in most years they are. Most years they do battle for the same guys. So, you look at it, and you need the momentum. We talk about this.
Again, this goes against everything I believe in, because I am one of those who is not a participation trophy. You're either the champion, or you're not the champion. You're either the best, or you're just not. But both of these teams have goals, obviously, to win the championship, but both of them are pretty much not going to win the championship. Their goals have definitely got to be to have a nine win season. That needs to be where they're at.
More importantly, have the momentum that recruits, the fanbase, the national media, everyone thinks that the program is heading in the right direction. This is a big game for both of them in that aspect. Both of them still have some of their bigger games remaining. As you said, they're both 4-2. LSU has Ole Miss coming up. They have Alabama coming up, and they have Arkansas and A&M coming up. They have four games that are absolutely brutal that they will probably underdogs in that game. Then you look at Florida, who has Georgia coming up in two weeks.
Both of these teams need a win this week to kind of get momentum going into that stretch where it's not fun. It's not. Florida going to Jacksonville is not going to be fun. Do I think Florida could pull off the upset? Sure. But it's going to be a war.
Nick: Right. This game is so important, because when you look at the record for both teams, they're 4-2. Then you look at the expectations. Let's say the Gators come out on top, and they move to 5-2. Andrew, I would say that that at the very least meets expectations. It might even pass expectations. A 5-2 start would be a pretty great thing for Billy Napier. Vice versa, when you look at LSU and Brian Kelly, if they start 5-2, I think a lot of LSU fans would be pretty pleased with that. If they start off 4-3, that's probably not where they wanted to be. This game is so important for kind of shifting momentum into the second half of the season.
Andrew: It is, because of just what you said there. Both teams are going to be measured in the SEC by each other.
Nick: Right.
Andrew: That just is what it is, because of both of them having new football coaches. Both of them are programs who over the last few years have not lived up to expectations. LSU surely hasn't. In my opinion, Florida hasn't either. Both of them have national championship expectations year in and year out, so you have to start comparing where these two programs are.
Again, I think that Florida is probably a little ahead of LSU. Obviously, that might be me being biased, because I am around the Florida program more so than I am the LSU program. Just from perception, it definitely seems like Florida is definitely in a little bit better of a spot. Recruiting wise for sure. Just overall than LSU is.
Obviously, this is a big game for several guys too. It's a big game for Billy Napier. I know he didn't want to talk about it, but when LSU didn't go full court press on him, because he was at their so-called little brother school at Lafayette, that pissed Billy Napier off. He thought he was good enough that he should have been one of the top one to two candidates at LSU, and not maybe three or four. Little bit there.
Montrell Johnson, Louisiana guy. Snubbed from going there. Corey Raymond, long time Tiger. You got several guys. Jabbar Juluke, former Tiger. You got several guys in this game that are going to want to win this football game in Gainesville.
Nick: Right. Napier has said it all week. All the players are aware of what's going on. These players, they know of this rivalry. Andrew, if you asked a lot of these players on the team, because everyone likes to talk about rivalries, Georgia, FSU, things like that. A good amount of players on this Florida Gator roster right now would say that LSU is the #1 rival. I think Richard Gouraige said it at the SEC Media Days this year.
Andrew: Yeah. I don't know that they're the #1 rival for me.
Nick: I'm not saying that either. I'm just saying there are players on this team that would put LSU as the #1 rival.
Andrew: Right. Now, if you look at it, there's been some incredible football games between the two. If you look at it, there's been some moments in this rivalry that have made it worse. The whole hurricane situation where LSU's former AD, that I will not name, kind of called Florida out for being scared. Florida ends up going to Baton Rouge, because they wouldn't come to Gainesville and play, and win that football game and take that win. It pushed them into the SEC Championship game.
You've had several games throughout the last 10 years or so that have made this rivalry better. I think every where when we talk about it going away kind of fuels it a little bit more, because it's all from the LSU side of things. A lot of people think that LSU might be a little scared to have to play Florida every year.
It's a rivalry, for sure. I still would put it behind Florida State and Georgia. That's just me.
Nick: I agree. It's right there. To me, it's the second tier kind of rivalry with like Tennessee and LSU. That's kind of where I have them. No doubt, the players are aware of what's going on in this game. They're definitely going to be amped up to play.
Andrew, you mentioned Florida being, in your opinion, a little bit in a better spot entering this week. I also agree with you. For a number of reasons, but the first being early on there was a lot of issues with Brian Kelly. I don't know if you remember after they lost to FSU in Week 0, or Week 1, I guess. There was some players that were acting weird and deleting things on Instagram.
Their star wide receiver, Kayshon Boutte, he has not really produced this season. He's fourth in the team in receptions, and entering the season he was their star guy. I think they had Malik Nabers kind of delete some stuff off Instagram. It was just weird. It seems like he was losing the team really early. Also, they're coming off of a 40-13 loss to Tennessee at home. Who knows how they're going to respond to that? That's unpredictable.
I will say I agree that Florida's just sitting in a little bit of a better spot. It's still close, because obviously both teams are 4-2. I would lean Florida, just as far as comfortability and kind of being prepared for this matchup. I do think LSU brings a very difficult task for Florida, especially on defense. We can get into that kind of breakdown later.
Andrew: I definitely think the buy in from Billy's standpoint is better. Here's the thing too. Brian Kelly is kind of like a Dan Mullen. Guys play for him. I don't know that they particularly love him. That's not everybody. I think it's a little bit of kind of the same. Whereas a guy like Ed Orgeron, everybody loved Ed Orgeron. I liked Ed Orgeron, just because of how funny he was. He's a funny dude. I think that you have that problem, and that is where you kind of look at it a little bit and say, he has a little bit bigger of a buy in process. I think that that's a little bit there.
It's hard to say it's all Brian Kelly. Obviously, Brian Kelly don't do him no favors with his personality, but I do think the buy in is there a little bit more with Billy Napier so far. I think overall it just seems like everyone knew Orgeron was not going to be the guy at LSU. Everyone kind of got that feeling, but at the same point, the players loved him still. The players still wanted to play for him. Whereas when Mullen left, there wasn't really a fight from the Florida guys.
Nick: Right. You mentioned LSU. It took a miracle run. I think most of us knew Ed was not going to be the guy at LSU, but it took a miracle run for him to win his National Championship. The had Joe Brady, Joe Burrow. I think 30 NFL players were on that team.
Andrew: Jamar Chase.
Nick: Jefferson. Every starter was drafted, and then the backups as well.
Andrew: Think about that. I know we're getting off here, but think about that. Justin Jefferson and Jamar Chase. That's two phenomenal players.
Nick: Yeah. I remember watching them both. Jamar was a little younger, and he was just as good. I was like, that was an offense to watch. I was at the game, getting off track, but I was at their playoff game against Oklahoma, and they threw up 49 points in one half.
Andrew: Yeah. Jamar should have been a Gator.
Nick: Yup.
Andrew: Tim Skipper had him. Let's get into this matchup a little bit. I think when you look at this game, and you can correct me if I'm wrong here, I think it's a little bit of tale of the same team, in a way, mirrored on offense. Again, we can nitpick it a little bit, but let's go through it here. Offensively, LSU is averaging 429 yards per game. Florida, 435. Florida's seventh in the SEC. LSU is eighth. Scoring, LSU is averaging a little over 31 points a game. Florida's averaging a little under 30 points a game. Eighth in the SEC for LSU and ninth for Florida. When you go to the rushing game, Florida's at 213. LSU is at 172. LSU had a little bit better of a passing game at 256 to Florida's 222.
So, you look at that. It's almost identical. Then you look at it a little bit, and you look at the quarterback position. Jayden Daniels, he struggled a little bit passing. That's kind of been a problem for him really is his accuracy, 121 for 176 overall. A little better, about 60%, 65%. Only seven touchdowns through the air.
When you look at this team, and you brought it up earlier off air, LSU has the running back by committee as well. They don't have one guy. Jayden Daniels leads the team in rushing. When you look at it overall, it is almost identical on offense for both teams. It's kind of scary the way it's almost identical on both sides of the ball.
Nick: Yeah. I think their game scripts are going to be very similar. You just mentioned the run game. Nay'Quan Wright has 44 carries. Trevor Etienne, 45. Montrell Johnson, 46. It's literally the exact same. Then when you look at LSU, they have four running backs that range between 32 and 35 carries. Four running backs. We have three. They have four.
Andrew: Right.
Nick: Then Jayden Daniels has 76 attempts on the season, which is double the next closest guy. Jayden Daniels is going to run the football. They're going to hand the ball off to their four running backs, and the Gators are going to have to stop them. To me, that's the early signs.
I'm looking at this, and there's also some differences between our offenses as well. Jayden Daniels is not turning the ball over as much as Anthony Richardson is. That's difference #1. Difference #2 I see is that Jayden Daniels has been sacked 20 times this season.
Andrew: Oh wow.
Nick: 20 times. Anthony Richardson has just taken four sacks this season. When I look at that, I'm looking at the Gator defense, and I'm saying, you got to get to the quarterback. Right? 20 sacks is a significant amount through six games.
Andrew: Right.
Nick: To me, that's the area that I'm looking at is the 20 sacks. That's the biggest difference, and that's definitely in favor of the Gators.
Andrew: Yeah. For sure. You look at Daniels. Anthony Richardson is at 1,182 passing. Jayden Daniels is at 1,215. Pretty close there overall. Again, Daniels won't turn the ball over through the air as much as Anthony Richardson will, but he also doesn't connect with his receivers as much either. They both struggle with accuracy. They both struggle with finding the open guy sometimes.
I think both teams are going to come into this game wanting to be physical. They're going to want to come into this game and want to control the line of scrimmage and keep the ball away from the other team. As all big games are, this game very well could be decided by who turns the ball over and who doesn't turn the ball over, out of Richardson and Daniels.
Nick: Right. Just another quick similarity I'm seeing, but this one is on special teams. LSU is not kicking very many field goals. The Gators haven't kicked very many this year either. LSU's kicker has just five attempts, and he's only made three of them. They're all from ranges 30-39. Like you said, lot of similarities in this game, but also some key differences.
Andrew: Especially on the defensive side of the ball.
Nick: Right. It's up the Gators to try to capitalize on those.
Andrew: Yeah. You go to the defensive side of the ball, and that's where things have a pretty big difference.
Nick: Right.
Andrew: LSU is fourth in the SEC, only giving up 328 yards a game. Whereas Florida is twelfth in the SEC, giving up 412 yards a game. LSU's only giving up 19 points a game, as Florida's giving up 25.3. LSU is giving up less than 200 yards passing a game, which is interesting, especially after the Tennessee game, but it will be interesting to see. Obviously, LSU's schedule has been a little bit easier than Florida's, especially against some of the offenses. It will be interesting to see just how LSU goes into this game and fairs in the passing game.
Obviously, we know they're going to come in and want to shut down the running game, but can LSU contain Anthony Richardson? They didn't do a good job of containing Hendon Hooker. Can they do a good job of containing Anthony Richardson? That'll be a key in the game. Then once Florida is able to get Richardson going, if they are, then how do they stop the running game when it now becomes kind of a two monster, where Richardson can run and throw at the same time?
Then also, how is the health of Anthony Richardson? Didn't run as much as you wanted to see in the first half of the Missouri game. Is he able to go and run? This is a game where you would really like Anthony Richardson to have a good amount of rush attempts.
Nick: Right. I think, ultimately, and I've said it all week, I think ultimately Anthony Richardson running the ball, Andrew, even if he's not that effective, I think it affects the game in so many different areas. Looking back to the Tennessee game, Anthony Richardson had 17 rush attempts. He never once broke one for a long run. He was just clipping them three to four yards a clip. I think he was 17 rushes for 60, 64 yards. It was something along those lines. It wasn't a crazy impressive performance on the ground from Richardson, but what it did was make the Tennessee defense watch him, and the linebackers had to play up a little bit more. That way he could go over top. We saw Richardson throw for 500 yards in that game.
I think just running the football with Richardson, even if it is not as effective as you might want it to be, even if he's battling with a hamstring injury, whatever the case may be. I think just showing that you're willing to run is going to help the Gators on the ground with the running backs and through the air.
Andrew: The thing too is you're seeing a lot of defenses now, obviously, playing the RPO game, because of it becoming a huge factor in offenses. You're starting to see a little bit at times where Anthony becomes predictable, especially like in the first half last week, where he didn't pull it at all. Teams now don't have to make sure D end stays home as much. He can't get predictable in this game to where LSU is able to say, we don't think he's going to run here. That's where he's got to be able to keep them honest. Keep that backside defender, or backside defenders, because most of the time it's multiple guys, keep those guys home, instead of allowing them to crash on your running backs.
Nick: Right. I think you mentioned the RPO. It's become such a prominent part of college offenses. It's like if you don't run the RPO, your offense is not very successful.
Andrew: Right. For me, obviously, you may have different opinion here, but when Florida's going well, it's when they're getting the rollout game going with Richardson. The bootlegs and that kind of stuff. You need to see that more in the game. When that happens, Anthony has got to be a willing runner in those opportunities, or it doesn't work. It's not as successful as when he's a willing runner.
Because when he's getting out on the edge, and the defender has to make a decision, do I go for Anthony and allow him to throw it over the top of me, or do I sit back and guard the pass and hope he doesn't run? That's been Florida's best play of the year a lot of times. You go back to the Utah game. In my opinion, it won them the game, the bootleg pass. You need that to happen in this game, and you need that to be something that LSU fears majorly.
Nick: My favorite play call against Missouri was the first play of the second half. It was just a naked bootleg, easy five-yard pass for Richardson to get things going. That was my favorite play call of the entire day, just because how simple it was. It was so effective. Richardson could have taken off running as well for probably about the same gain, but just quick dump. I think it was Keon Zipperer who caught the pass. I agree. You got to roll out Richardson. This season Richardson has been at his best outside of the pocket. That's just a fact.
Andrew: It's three things. You have three options there on those plays. You have the underneath. That's usually to Keon Zipperer. Then you've had the crossing route, and Anthony has been able to hit it a few times, because the second level defenders have kind of broken up to stop the pass, and he's been able to hit it a couple times on the second crossing route, the deeper crossing route to Ricky Pearsall and Justin Shorter a couple times.
You have three options there. It's three very easy reads to make. When Anthony gets flustered at times, you worry about him not going through is progressions and not reading the defense right. It's three easy reads right there. If the flat defender breaks up at you, you dump it to the easy guy, Keon Zipperer. If the linebacker and safety all break up on you, then you wait on the second crossing route to come up. If neither one of those guys break up at you, you take off and run.
It's a pretty simple read there, and it's something that you can run that play 10-15 times a game, if you're running the ball, and defenses don't have much of an answer for it. There's not much of an answer for it. Obviously, you would love your defensive end to stay home there, but I like Richardson's chances against 99% of defensive ends in college football. When he gets to the NFL and JJ Watt and those guys, maybe it's a different story, but in college I like his chances against most D ends.
Nick: Right. We have seen him throw D ends to the ground this season. I agree with you. I think what makes Richardson so effective in that kind of rollout play that we're talking about is the fact that these linebackers and these safeties have to keep their eye on Richardson as well. They can't just sit in their zone and defend their zone. They have to also watch Richardson, because if he takes off and runs, and they're not paying attention, he could take it to the crib. That's just the kind of athletic ability he has.
Napier mentioned in Wednesday's presser, they did a study on 3rd downs, and they found out that the most effective teams on 3rd downs are the ones with athletic quarterbacks. That's just the fact. It's a statistical fact that athletic quarterbacks are better on 3rd downs, simply because they have that option to take off and run. It's not just the option to take off and run. It's that these defenders have to know that and have to keep an eye on that. That can be distracting when you're watching a mobile quarterback move out. Someone could slip in your zone, and you don't even know.
Andrew: A lot of that is, you think about it, on 3rd down a lot of times you like to play press man and bring some guys.
Nick: Right.
Andrew: One guy gets out of his gap, and it's a gap for the running quarterback to take off and run. You look at the Missouri game. It was 3rd and 8, and Anthony went through one read. It wasn't there. One of the linebackers went through the wrong gap, he took off. He's gone. Got a 20-yard gain, 15-yard gain. It puts added pressure on the defenders.
You look at Florida, for instance, you don't like Ventrell Miller. You don't like Amari Burney. You don't like Florida's linebackers in one on one coverage against Jayden Daniels, chasing him down. That's not their game. You don't like that. Again, it all depends on Anthony running the ball. I've said it from the get go, and I'll say it again. This team will go and this team will come as Anthony Richardson does. If Anthony's on on Saturday, Florida has a big day. If he struggles like the Kentucky game, I don't know how they respond. I just don't. It's pretty simple for me. It's pretty cut and dry.
Nick: Richardson does, he affects the game in so many different ways, even when he's not necessarily on his game. I think, when you look at the Missouri game last week, he only threw for 60 something yards. I thought that he affected the game in a little bit different areas, even when he wasn't on his game.
Andrew: Right.
Nick: He can still be a factor for this Gators offense. I think that's the key. Can Richardson step up, like you're saying? Can he run through the gap that he sees? Can he escape the pressure?
Andrew: Right.
Nick: These are all factors that come into this game, because LSU is going to try to get to Richardson.
Andrew: Yeah.
Nick: He's got to be able to make plays.
Andrew: You look at it. Both teams are tied for first in the SEC with 12 takeaways. That shows that both teams want to get after the quarterback, and both teams pride themselves on takeaways. That's a recipe that's not been good for Florida, Richardson turning the ball over. That has been a recipe for good things for Florida in that they've been able to get some turnovers in games. It's allowed for some easy scores. You look back at the Missouri game. The first score was from a turnover, and then the second score came on a short field from Xzavier Henderson on a return game. Those are big things.
Obviously, you can't have turnovers that are short fields for this defense to cover against LSU, because Jayden Daniels can do the same thing that Anthony Richardson can do. That is create havoc there. You look at that, and you just hope that that's something that you win. You win the turnover battle overall.
Something else that I wanted to look at was opponent redzone percentage. Florida and LSU both been pretty good there. Both are under 80% allowing scores in the redzone. That's a really good stat for both teams overall. I think it's interesting to see. Especially with Florida, with a defense that has struggled like they have, to do that well in the redzone kind of speaks volumes a little bit to just how when it's time to man up they man up.
Nick: Right. A lot people, and understandably so, but a lot of people have had complaints about this Gator defense. Me and Andrew, we both have as well. I think when you look at this defense compared to last years, it may not rank up statistically. It may still be around the same, but there's improvements that are going on. The redzone defense is one of them. Gators have done a pretty good job there.
Another is the turnovers, like we just mentioned. Gators did not force turnovers last season. 12 forced turnovers this season. Look, Gators have won multiple games this season simply based off turnovers. Obviously, a lot of factors go into it, but think about it. Utah, Amari Burney interception in the endzone quite literally won the game. Utah was six yards away from winning. Let's go to USF. Jalen Kimber pick six, and then a couple drives later, was it Tre'Vez Johnson got an interception?
Andrew: Yup.
Nick: Huge interception. That's two plays right there. Missouri, Jayden Hill pick six. Gators won by seven points. When you look, I'm not saying it's the only reason the Gators won, but turnovers, especially turnovers when you capitalize on points, is huge. It's absolutely huge. If a team is going to give you points, you need to take them.
Andrew: Yeah. You've got to. Again, I hate to say Florida's offense has struggled, because that's not particularly true in some areas. In some areas, it is true. When you have an offense that's inconsistent, I guess is the best way to say it, allowing them to get up 10 points in Missouri off of basically under 100 yards of total offense, 80 something yards of total offense, and to go up 10 points. To allow that offense to settle in.
You take, for instance, go back to the Kentucky game, where had they been able to turn some of those opportunities in the second half of getting turnovers and that kind of stuff into some easy points, that's the difference in those games. They didn't have any easy drives in the Kentucky game. They didn't have any easy drives in the Tennessee game. They had to drive the length of the field multiple times. While, yes, this team is very capable of doing that, it's something they can't do consistently. A lot of that is because of the inconsistencies all around.
Nick: Yeah. I took a deeper dive into the Gators offense yesterday. Here's what I found out. I don't think that the Gators offense has been as the numbers, and the numbers don't predict a bad offense. The Gators rank seventh in total offense. That's middle of the road SEC. They have not been terrible, but I took a deeper dive.
The Gators are averaging the fourth most points per drive in the SEC. I looked at why. Why do the Gators rank so low in points per game and things like that, and total yards? Gators rank last in the SEC in drives per game, last in the SEC in plays per game, last in the SEC in average starting field position. The defense and special teams are doing zero favors for this offense.
Then I went a little bit deeper and found out that the Gators aren't punting a whole lot this year. They're really not. It's seemingly like the drives are either ending in, one, a missed field goal; two, a touchdown; or three, a turnover. Right? We've talked about the Gators and turnovers. Can't turn the ball over, especially when the defense isn't giving you enough opportunities, and you know that.
The Gator offense has to know that they're just not going to get that many opportunities, because of the defense's liability. You have to know that, and you just got to take care of the football. That's the key to this game. Take care of the football. I think if the Gators do take care of the football, they're going to be fine.
Andrew: Yeah. Here's another stat for you. Florida's is 35th in the country this year, they're only committing 5.33 penalties per game. Man, is that not a far cry better than last year.
Nick: I was asked in the Florida football mailbag what the biggest improvement was from Game 1 to now, and I said penalties. After the first three weeks, Andrew, there was some concern there. I think the Gators had a 10 penalty game and some other things. A lot of penalties on special teams, and it just wasn't looking great for Billy Napier and the Gators. These last three games, they have really turned a corner.
Andrew: Here's the thing. Not to interrupt you.
Nick: Go for it.
Andrew: It's not the dumbass penalties. Excuse my language. That's just what I call some penalties. The timing penalties, the hitting the guys 10 yards out of bounds, the throwing the shoe, the stupid penalties. The penalties that you just you know better. You shouldn't do. Obviously, you're always going to have games where you have holding calls. I'm a believer that you can call holding on every play. I'm a believer that you can call pass interference on every play, if you really wanted to.
You're going to have those penalties. You're going to. Obviously, you want to limit those, and they have. I think they had one penalty last week, and that was in the middle of the fourth quarter, and that was a false start on Ethan White. They didn't have a holding call.
The dumb penalties that shoot you in the foot are the penalties that cost you football games. For the most part of the year, Florida has not had those. I don't know that they've had a personal foul penalty for a late hit or unsportsmanlike or anything like that. They've had some dumb penalties where a block in the back on kickoff that are stupid, but I don't recall all year, and you can correct me if I'm wrong, I don't believe they've had any of those. That's just a big deal.
Nick: Yeah. Sorry to cut you off.
Andrew: Go ahead.
Nick: I kind of dove into this. This was a few weeks ago. I haven't checked the last three games, but there hasn't been many penalties in the last three games, so this data probably didn't change very much. I think there was two personal fouls, but they called the Justin Shorter chop block a personal foul.
Andrew: Right.
Nick: There was that one, and then the one Austin Barber, where he just drove the guy into the ground. Those are the only. Andrew, you said if you're going to get a penalty, that's the way to do it, right? Just drive him into the ground.
Andrew: Drive him into the ground.
Nick: You look at it that way, and those were early in the season too. It's just two personal fouls, to my knowledge, this season. Andrew, I went back and double checked. We talked about it on the podcast earlier in the week. Just one holding penalty on offense for the Gators this year. Just one. Through six games. I think the defense has had two. I don't think it's been a major issue. One holding penalty for an offense line through six games, I don't the last time that's happened for the Gators.
Andrew: Right. Exactly. When you look at that, that's improvement. Again, we're nitpicking here, and I get that. But when you're talking about improving the program, those are the things, the disciplined part of it, that you're improving of the program. LSU is averaging almost seven penalties a game, so they're not much worse. They're there.
Let's move on. I think it's my turn to pick first this week. I'm going to go with a Louisiana guy for my first pick of players to shine with Montrell. I got Montrell this week.
Nick: Interesting. I'm going to go with Brenton Cox. I've been critical of Brenton Cox to this point in the season, but I think the last two games he's put on some really impressive stuff. I think he's made a big time improvement. Gators got to get to the quarterback.
Andrew: Okay. I like it. If Florida's going to get pressure, you like Brenton Cox there, for sure. I'm going to go with another guy on offense. I'm going to go Ricky Pearsall. Obviously, you're going to have opportunities in this game to throw the ball. Anthony does seem to rely on Ricky in big spots. I got Ricky. Ricky is my pick.
ect from a guy returning from:
Andrew: Right.
Nick: Little bit inconsistent, but then against Missouri he was outstanding. He was the player of the week. Fantastic performance. I'm looking for him to build off that. I want to see consistent back to back good weeks from him. Guess what? The Gators need a solid cornerback. They need someone that's going to step up this season and really be that guy. In my opinion, Andrew, I don't think the Gators can continue rotating six, seven guys out there. They can, but I would just much rather have the solid guy that's an every down cornerback. I think if Jaydon Hill can put together another good week here against some talented LSU wide receivers, that's going to be a great thing for the Gators moving forward.
Andrew: You went two defensive players, and you didn't name the man.
Nick: Go for it.
Andrew: Come on.
Nick: The thing is, we know what he's going to do. I could name him every week. I could name him every single week. That guy is a football player. I said it before the season started, Andrew, and I'm pretty sure some people gave me some hate for it. I said Ventrell Miller is the best football player on this team. I said football player, not even defender. He's the best football player on this Gators team.
Andrew: I'm going to cheat. I'm taking him this week.
Nick: Okay.
Andrew: The man's going to get 10 tackles. I will say this. That was one of the most impressive football games from a linebacker I've seen in a long time from Ventrell Miller. It reminded me of another time I was in Louisiana, myself and my good friend, Nick de la Torre. We went and watched Dylan Moses play in high school over at the U Lab, and he made the first 21 tackles of the game for his team on defense. Ventrell Miller had that type of performance.
Nick: Yeah. I'm only 23 years old. I've only seen so many Gator games, but there were guys in the press box just jaw dropping. These were older guys. These are guys, I won't name names, but these guys that have been around for a long time, and they just couldn't believe what they were watching. It was coming up in conversation after the game. We were just saying, I don't know if we've ever seen a performance like that. It was just the most impressive performance I think that I've ever seen. He was just everywhere on the field. You looked one way, and you didn't see him, and then blink your eyes, he's there making a diving tackle to save a 1st down. It was incredible.
I'm going to go with our other top wide receiver here. I'm going to go with Justin Shorter. I'm going to go back to the offensive side here. LSU is going to be aggressive on defense. They're going to play some man. Shorter's going to have his opportunity to win over top. That's why he's my player to watch. I think he'll find the endzone in this one.
Andrew: I like it. Give me your pick.
Nick: We talking spread here?
Andrew: Just overall pick. We won't pick against the spread.
Nick: I'm going to probably get some hate for this, but I'm going to go LSU is going to win, 28-24. Pains me to say that, but when I look at this LSU offense, I look at Jayden Daniels. Like we mentioned earlier, I don't think he's a very impressive quarterback in the pass game, but what scares me going into this game is containing him.
The Gators have not done a good job this year of containing quarterbacks. We saw it against Hendon Hooker. If you go back and check Hendon Hooker stat lines for the rest of the games this season, he has not ran for that many yards. I think he ran for 90 yards against the Gators. Then we kind of saw it against Cam Rising a little bit too in the Utah game, and Gerry Bohanon has well.
That just scares me. He's a really running threat. I think the Gators keep this game really close. I think it comes down to the last second, but I just don't see the Gators having an answer for Jayden Daniels and this offense.
Andrew: You trust Brian Kelly.
Nick: No. The thing is it has nothing to do with Brian Kelly. This defense of the Gators this season, they obviously took a huge step up, but I do think my opinion has slightly changed throughout the course of the podcast, just because I was looking at more statistics and looking at what was going on. 20 sacks is a lot. That's a lot. I know the Gators have been a little bit inconsistent with getting the quarterback this season. My job is to kind of be honest and tell you how I see it, and I'm going to LSU. Like I said, I think it's a really close game.
Andrew: 27-21 Gators. Come on. LSU couldn't score on Tennessee. Florida scored on Tennessee. Brian Kelly. It's Tom Petty night in the Swamp. It is going to be mayhem in the Swamp. I like the Gators. This is personal for Billy Napier. I don't think people have talked about it enough. It's personal for Billy Napier. If Billy Napier wants to whip another team, outside of Alabama, it's probably LSU. He's already smacked Dabo once. That's okay. LSU. I'm usually pretty good about it. I got Florida this week.
Nick: I respect that. I've picked Florida to win this season, and I've picked them to lose. I picked them to beat Utah, and a lot of people did not. I picked us to beat Kentucky, did not win. I picked us to lose to Tennessee. We lost. I've got a decent record this year. I've got a decent record. I think I've only missed one game, and it was the Kentucky game.
Look, I think it's going to be a really close game. I think these teams matchup really well, and I think Vegas thinks so too. When you look at the spread, it's flirting between 2.5 and 3 points. It's been back and forth. Usually it's about a three point homefield advantage, as far as the spread is concerned. If these were playing at a neutral site, this game is a tossup.
Andrew: Right.
Nick: There's some defensive inconsistencies, specifically at containing. The defensive backs, I'm going to be honest, they, in my opinion, have taken a step back. I thought Jason Marshall played his worst game last week, Andrew. I went back and watched the film. He was just soft in the zone. In my opinion, I think Marshall's played pretty good ball to this point in the season, but last week was an issue. I just got done watching the film, and it just wasn't pretty stuff from him. LSU has got two or three really good wide receivers. Malik Nabers is their leading receiver, and he can beat you if you let him.
If the Gators defensive backs are soft in their zone, LSU receivers are going to find it. It's just the defensive inconsistencies for me. The LSU defense doesn't concern me too much. I think Florida has an opportunity to put up some points in this one. I just think it's a lot of running. It's going to chew some clock. That's why I think I have 28-24. I put it out in our official roundtable. We'll see there. I think that's it. I know I went with LSU winning.
Andrew: 27-21. We'll see who's right on Monday, my friend. Big recruiting weekend as well. It's going to be jampacked.
Nick: It is. Let me just tell you this, Andrew. I hope you're right. I really do. I hope you're right.
Andrew: I can't pick Brian Kelly.
Nick: I've never wanted to be more wrong in a pick than I am right now. My job is to tell you how I see it and to tell you what I think, and that's what I'm doing.
Andrew: I respect it. I just tell you I can't trust Brian Kelly. Ain't nothing about Brian Kelly I can trust. I can trust him to have bad dancing and bad Southern accents. That's about it. Big recruiting weekend as well. Lot of big names. We'll recap that on Monday as well. Make sure to check us out on GatorCountry.com and on the web. Follow us, as we'll have a lot of coverage on Saturday of recruiting, big game, Tom Petty night, everything else. Make sure to check us out, and we'll see everybody on Monday.