I have to take pause before delving into the metrics surrounding and perhaps to some measure predicting the next Florida Gators head coach, because last week this didn't turn out so hot. I did a metrics-heavy preview of the South Carolina game, and came up with 17 points as the point total that would have to be surpassed to beat the Gamecocks. Turns out 18 points would have in fact done it, and 17 sent the game into the overtime that they sadly pathetically lost. So if lightning strikes twice, the metrics around this hiring decision will ring true and define the benchmark required for the next Florida head coach…but the Gators may again fall short of attaining or surpassing them to get the home run coach it so desperately needs.
Never one to be daunted by superstition or common sense, let's look at the metrics and see how they shake out. Also, in Part 1of this series I detailed the seven criteria that the next Florida coach should have: driving philosophy, head coaching experience, offensive-minded coach, putting on a show, rock star cachet, recruit lights out and full-program shepherd. We will assume the first two criteria are necessities and lack thereof would be nonstarters. All coaches must have head coaching experience and must have the will to adapt their players to their systems. Also, it is difficult to judge the "Full-Program Sheppard" criterion having not followed the careers of all of these coaches, so that will be up to Foley to evaluate; rest assured, whatever he calls it, this is Jeremy's top priority along with winning big. I will also combine offensive-minded coach and putting on a show into one criterion, since they are linked and at a summary level there is no reason to separate them.
Among the many candidates that are most frequently mentioned, I found they fell into buckets of NFL coaches and four natural breaks among the college level: Home Runs, Base Hits and Strikeouts. Home Runs are the coaches about whom there are no doubts. Just what the doctor ordered. The A-list big-money hires. The Base Hits are coaches that would be an upgrade, bring some clout and a lot of promise but whose future as the head coach at Florida would be a wait-and-see event. No guarantees. The Strikeouts are coaches that won't turn many heads in Gator Nation except for turning them down to stare at the floor and wonder why Florida can't be attractive enough to a top flight coaching candidate to lure one away from lesser jobs.
First off, however I will address a laundry list of coaches that are sometimes mentioned with this coaching search but whom have almost no chance of being considered. There are the ones with whom there is either no mutual interest, or no interest from one side: Steve Spurrier, Mack Brown, Mike Shanahan, Kevin Sumlin, David Cutcliffe, Dan Quinn, Adam Gase, Kliff Kingsbury, James Franklin, Greg Schiano, Mark Stoops, Dana Holgorsen and Mike Gundy. Then there are those who will not be considered (or had darn well better not be) because they have no head coaching experience: Brent Venables, Kirby Smart, Chad Morris and Pat Narduzzi. Also not coming: Gus Malzahn, who is not leaving for a lateral move; Rich Rodriguez, who has generated NCAA troubles and has other integrity issues; and Dan Mullen, who has personality issues with Foley and most everyone else at Florida. Some folks are convinced one or more of these guys are real candidates, but as with everything else in this column, your mileage will vary.
On to the metrics…
The NFL Guys
Here are the four NFL guys that have been continuously mentioned in association with the opening. These are the metrics I've picked as the most important for fans as far as comparing the relative value and potential of each candidate. There are others I could have used, but didn't. Get over it.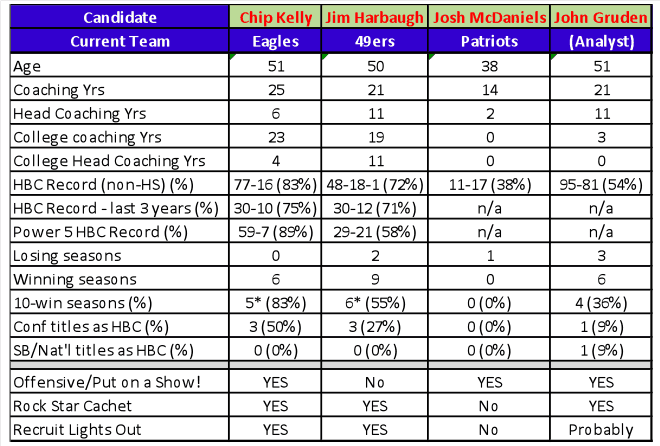 These are all the longest of long shots, for various reasons. Kelly has a show cause order for NCAA issues, Harbaugh has a personality disorder that would clash strongly with Jeremy Foley (and everyone else on the planet), Gruden has been rumored to be offered every job in the history of the game and never showed the slightest interest in any of them and McDaniels has no connection to college football, has shown no interest in coaching college ball and the only reason Gator fans keep bringing him up appears to be simply because he drafted Tim Tebow.
Kelly has the best winning percentage and by far the best winning percentage as a Power 5 head coach. Among the home run candidates, Harbaugh has one of the lowest winning percentages as a Power 5 coach, but recall that includes years rebuilding the Stanford program basically from scratch. Gruden is one of only two known targets to have won a national or Super Bowl title as a head coach.
The Home Runs
These are the five can't-miss guys who have been associated with the job opening. Five guys who would be almost guaranteed to win early and win big with Florida's talent, recruiting base and resources behind them. Opinions will vary on who does and does not belong in these groupings, but you know, these ones are correct.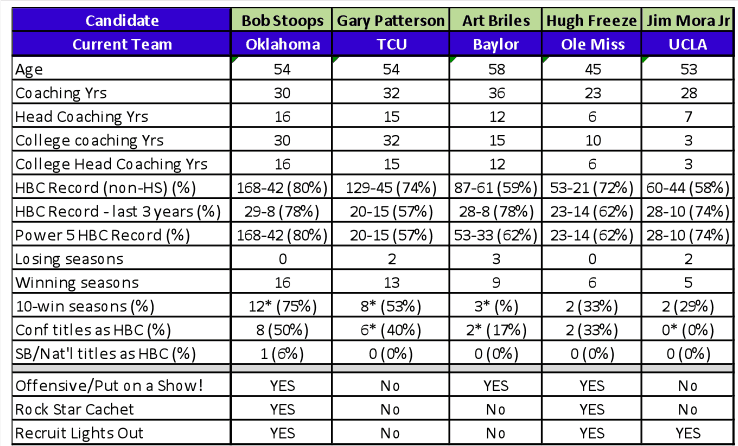 Briles is the old man of the entire group, but is not too old to take over at Florida. Looking at this as his final act of his career might be enough to pry him away from his comfort zone at Baylor. Freeze is one of the four youngest coaches in the field, and he has made several game day gaffes in the last few years that Will Muschamp never did. But none as egregious as say, Atlanta Falcons' coach Mike Smith has made twice this year, directly causing his team to lose two games through his shockingly horrendous late game clock mismanagement. But suffice to say he is not a finished product as a head coach, which is the biggest strike against him as a candidate.
Patterson's Power 5 record, which is the same as his last three years' record, is significantly mitigated by the fact that it was achieved in the first three years the program has ever spent in a Power 5 conference. He turned a moribund program into an annual BCS buster, and then in quick order turned it into a national power on the playoff bubble in just his third year in a Power 5 conference. Mora's biggest knock is that he has only been coaching college ball for three years. It may speak to his being a short-timer ready to re-enter the NFL ranks, except that anyone who followed his NFL career – and his frequent comments coveting college jobs while employed by NFL teams – would surmise that he may have started in the NFL out of family necessity or happenstance and his true goal was to be a college coach. The second part of the knock on Mora is that three years at the off-radar PAC team UCLA may just be a flash in the pan, and not a true measure of his long term college coaching ability.
Stoops has the second-highest winning percentage both overall and as a Power 5 coach, trailing only Chip Kelley in both categories. He joins Gruden as the only coach on the list to have a national title or Super Bowl ring in his possession. Stoops has been generally identified by most sources to be the odds-on favorite to get the job, despite Florida's numerous failures to bring him home to Gainesville in the past. Things may be different this time. Fact is, he accepted the Florida job twice before: once the Oklahoma brass were able to change his mind, and the second time Urban Meyer's decision to un-resign scuttled the homecoming. So this is not a case of simple one-way interest. He still owns his summer home in Crescent Beach next to Spurrier's. He has maintained his relationships and friendships with Jeremy Foley, Steve Spurrier and many prominent Gators over the years. And he knows this is the last chance he will get.
One of the primary reasons thought to prevent him from taking the job this time is his family. Though it is widely rumored (some would say "known") that wife Carol does not savor life in Oklahoma, but they have three kids in high school. Daughter Mackenzie is a senior and twins Isaac and Drake are freshmen football players. It is the toughest age groups of all to take kids out of school and transplant them across the country. However, in just a few years they will be out of school and out of the house. And the empty nest Stoopses will be stuck in Norman, Oklahoma until Bob retires. That is likely a big pill for them to swallow. If there is a family decision to be made here, it will be between forcing the twins to switch high school and move away from their friends for their last three years of school (Mackenzie could easily complete her senior year, with the family following dad to Gainesville after most of a spring semester apart, and then she would be off to college), and the looming specter of Bob and Carol living the rest of Bob's employed life alone in that mansion in Norman with nothing to do but coach football.
The Base Hits
These are guys I would accept with a very heavy dose of humility because it would mean we could not attract a truly elite candidate. These might turn out to be elite coaches, but there would be zero guarantee.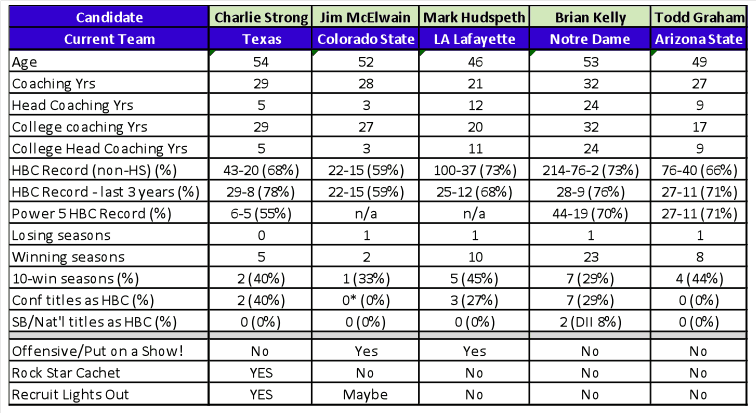 Charlie Strong will spark the most disagreement in this whole list, with many folks no doubt seeing him in the "home run" category. However, I see him as Will Muschamp with an extra year of head coaching experience: a defensive genius whose offense is completely dependent on having a great coordinator and/or a great quarterback. Strong had that great quarterback at Louisville and he drove the offense to good success (though not the dominant offense that Florida fans would demand). Charlie has national title rings as a coordinator, but so does Muschamp. The biggest reason I would welcome Charlie to UF is that I really like him…which is the biggest reason I would want Muschamp to stay. They are virtually the same coach.
Hudspeth and McElwain both scare me for the same reasons: their success has been brief and at a school too obscure and too without any real signature wins against the big boys. McElwain's Rams have only been impressive this year, and they do have wins over Colorado and Boston College, with a close loss to Boise State. Problem is, none of those teams are any good, and they are the type of teams that Colorado State has always upset on a regular basis (Colorado especially). Hudspeth has had perfectly consistent success at Louisiana Lafayette, with three-straight 9-4 seasons and probably heading for the same record this year. But in those four seasons, he is winless in his eight games against Power 5 conference teams, and has not been competitive with any of them except the 2012 Florida team (everyone remembers that 27-20 punt-6 escape by the Gators). Beating up a lot of Sun Belt teams every year just doesn't cut the mustard for me.
Brian Kelly would be a fine hire but he simply underwhelms with what he has done against Notre Dame's easy annual schedules. He is a short-timer for the NFL, though which should ward us away even more than his reported 76 billion dollar buyout clause. Graham might actually be the most appealing out of this group, which should tell you all that needs to be said about this group's lack of appeal.
The Strikeouts
Here are the guys who have been most frequently suggested as possible targets who would be huge disappointments. Not because they would definitely be failures at Florida, but because they are so far down the list in terms of high value target criteria that their hiring would either indicate that Florida has become a shockingly under-valued job and program in the coaching profession, or that the Florida brand has been so badly damaged the last six years that coaches do not see this as an advantageous position from which to win big, or simply that Jeremy Foley has lost his mind and thinks that another Zook/Muschamp/reaching far, far into left field is the appropriate way to go with this hire. Some of these guys would not be just left field, but outside the stadium altogether.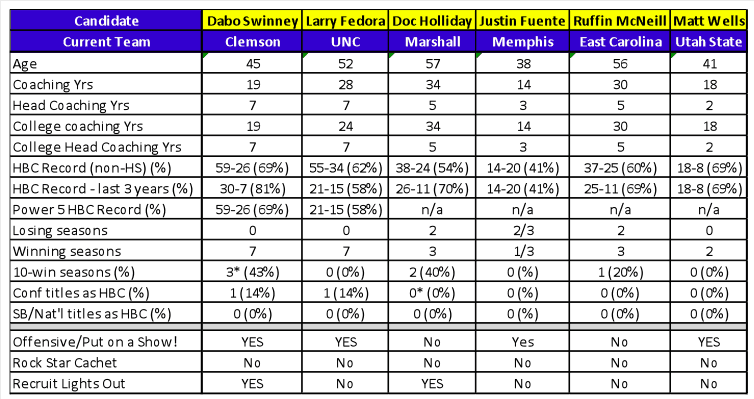 Dabo Swinney is the guy from this group who has been continually rumored to have garnered strong interest from Florida. And it would be a hire that would drive me to drink. It is not his coaching record at Clemson, mind you, but the fact that he has been at that school – which is the only ACC school capable of being a national elite program, and has such an easy path to ten or more wins each year that a trained monkey could do it at Clemson and even an untrained monkey could do it most of the time – for seven years and has still not become even a blip on the national screen, and has only one single conference title to his name. And that single conference title was not because the other team – FSU – has just been too dominant. FSU in fact has only won the title the past two seasons (and with the way they are struggling and the way Georgia Tech is surging, a third-straight is no lock). Virginia Tech has two titles and the Yellow Jackets one, same as Clemson, during Swinney's tenure. Another major indicator of his failure to meet Florida standards is his head-to-head record against his main rivals. He is 1-6 against Clemson's biggest conference rival FSU, 1-5 against its biggest rival of all South Carolina, and just 3-5 against the biggest rival from the opposite division Georgia Tech, including a loss in their only matchup in the conference title game. And most of those losses have been complete embarrassments, with four of six losses to FSU, four of five losses to Carolina and two of five losses to Tech being blowouts. So all Clemson has done under his watch is beat a lot of inferior teams that he should have beaten very easily. Basically the only thing Clemson has done well under his watch is play exciting offense and sign some big time recruits from other schools' home recruiting territory. You can chalk that success up to his offensive coordinator Chad Morris and his wide receivers coach Jeff Scott, who is arguably the best recruiter in the game today.
I won't go into detail about the rest of the group other than to say that some of them fail the Google test (Florida shall hire no head coaches that most recruits and fans have to use Google to identify), none of them have records that knock you over and you have to flip through a ton of pages scanning their yearly results to find any Power 5 teams with which they have competed, let alone beaten.
Final Thoughts
The theory has been floated that Foley would not have fired Muschamp mid-season, or possibly at all, unless he had another coach – "his guy" – already lined up, committed and ready to sign on the orange and blue dotted line. I think if there is truth to that, it is closer to Foley having a very strong indication of interest and willingness from his top choice, than to having him as a "done deal" (I couldn't finish a coaching search series without dropping that line at least once).
However, I think the reality of this theory is that Foley had to have had very strong indications of interest and willingness not from one but from multiple high value targets to have fired Muschamp when he did. And if he in fact only had one active bite on the many lines he cast into the blue, that one bite could not have been coming from the fishy jaws of Bob Stoops. Because of the history of commitment and reneging from Big Game Bob, there is no way Foley would inch out onto that high wire again without at least a few more nets beneath him.
Whoever the head coach is, I would like to add one more requirement to his hiring: retention of key assistants from the current staff. This is always important to player continuity, as well as simply keeping the parts of the outgoing staff that were working really well. I will put two names on that list that I believe MUST be retained: defensive line coach Brad Lawing and defensive backs coach Travaris Robinson. Both are great coaches (Lawing may be the best DL coach in the country) and simply invaluable recruiting assets. Robinson would be a great selection as the new coach's defensive coordinator, because of his aptitude and because the defensive scheme is as good as it gets and would be very foolish to scrap it in the transition. I would also strongly suggest that two more coaches be retained: offensive line coach Mike Summers and strength and conditioning coach Jeff Dillman. Summers has proven himself to be a minor miracle worker with the improvement he has yielded from the previously decimated and lost-in-the-woods offensive linemen, and Dillman is one of the most effective and revered S&C coaches in the country, in college football or any other circles.
Ultimately, whoever the new hire is, there will be some thrilled Gators, some disappointed Gators and some Gators who are downright depressed or angry over whom is hired. But I will try to keep this benchmark in mind: as long as the new head coach is a measurably better option than keeping Muschamp, then through the natural advantages of the flagship university in the greatest recruiting state in the nation, the best athletics department in the country and one of the richest and demonstrably elite public schools in the land, he will be a shirt-term and long-term success (barring more injury disaster as we saw in 2013, or something similar dealt to us from the cosmos). A name that excites recruits and a staff that retains some key members of the current group