Rob Sabin was between a colorful rock and a hard place.
The annual Florida-Georgia game in 2015 consisted of its usual split stadium; red and black blanketing one side, orange and blue highlighting the other. Fans were vehemently cheering on their team and for many, their alma mater. Thus was the case with two young ladies in the stands, seated in close proximity to their current rival, separated only by a very biased version of Switzerland.
Rob recalls-"My sister [who graduated from Georgia] came down this past year so I'm sitting between my wife and sister. One has on red and black and the other has on orange and blue and I just kind of have my hands crossed in my lap like 'This is great. I'm really enjoying this.' I enjoy the game, so I pay attention to what's going on and try to keep everybody happy."
These situations have become old hat for Rob and his wife Amanda now.
As graduates and fans of rival SEC schools, the Sabin's (yes that's their real name) have created a mix marriage of sorts, starting with a wedding reception that took the college football Internet world by storm…but that story will come in just a bit.
In creating this mixed marriage, or "divided house" as the license plates so elegantly word it, Amanda and Rob, along with couples all over the southeast, show us some basic rules to live by in relationships…especially during football season. Before getting to these life lessons though, it's important to first learn more about the two as individuals.
Rob, a native of Georgia, attended the University of Alabama in Tuscaloosa, Alabama. A massive fan of the Crimson Tide, he took on a sense of notoriety about halfway through his freshman year when a certain Nick Saban was hired as the new head coach for Alabama. Suddenly, Rob had to show people his license so they'd believe that his last name really was Sabin, because despite being spelled differently, they are pronounced the same. But then, it started to work in his favor.
"I'd be dropping off my dry cleaning and the lady would be like 'are you kin to Nick?' and I'd say 'yes mam, Uncle Nick' just joking around and they'd be like 'all right we'll have this ready for you in 12 hours, expedite it for you.' And getting reservations at restaurants that were full. It worked to my favor in Tuscaloosa as you can imagine, but I couldn't get a glass of water in Auburn if I tried. Or Gainesville for that matter."
Amanda, a native of sunny Florida, followed her family legacy to the University fo Florida and her beloved Gators.
"I'm a hard core Gator fan. I knew from the time I was born that I was gonna go to University of Florida, I went to grad school at University of Florida, I'm die hard."
The close proximity to Gainesville allows for frequent trips (it takes about two hours to travel from Ormond Beach to Ben Hill Griffin Stadium) and Amanda's family which now includes her Bama husband take advantage.
"We average four a season," explains Rob. "I wear white to the games."
And there in lies the compromise, which Sunday afternoon Hallmark movies say is the key to marriage.
There are several unwritten rules, which Amanda and Rob apply to their mixed marriage to better survive football season, and that will now be passed on to any other couple needing advice.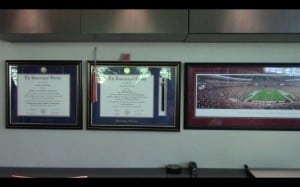 ***
Limits 
In a family that bleeds orange and blue, Amanda ran the risk of some judgment by bring in this Crimson man. Luckily her father knows his limits as well, and has passed that on to their marriage.
"My dad's pretty ok with [Alabama]," Amanda explains. "He kind of holds onto the old ideals so he was like 'as long as he's not a Miami fan he's fine' so I think that was ok but my dad likes to needle him, give him a hard time."
So while Rob is appreciative that his tales of more recent national championships are somewhat allowed at Gator Thanksgiving and Christmas gatherings, he has his own limits as well.
Guawfing, he lets it be known, "Nah nah, you'd never see me do the Gator chomp."
***
Compromise/ Support 
While Rob will never be seen doing the Gator chomp, he does relent on some traditions. After all marriage is about compromise…and keeping the mother-in-law happy.
"He does have to stand up and sway during [We Are the Boys]," Amanda says, "because the first time I took him to a game, my mom and dad have seats up higher, and she had her binoculars out to watch what Rob was gonna do when we sang We Are the Boys and he sat down through it and I had to sway around him and my mom had some words with him. And he'll never sit down through that ever again. He stands up, he doesn't sing, but he stands up because she said 'if you're not gonna stand up then you get out of the way!' He learned pretty quickly."
There are times though Rob may be missing from The Swamp for a whole quarter or more. Because while he's happily there with his wife and family, he still has allegiances to honor.
"We go with her family a lot to Florida games, but if Alabama is playing while Florida is playing, I will make sure I'm at a tailgate spot watching the game, then go into the game with them [later]."
Amanda hasn't had to test her allegiances just yet, thanks to scheduling and the much longer trip to Tuscaloosa.
"I haven't been to an Alabama game yet when we weren't playing Florida so I haven't, I mean I sit here and watch all of them with him so I haven't actually been in the stadium for one. But I don't know, I'd probably get into it a little bit."
Lifelong loyalties aside though, they've found a common thread of support for their betrothed.
"I stay pretty neutral," Rob explains. "But at the end of the day, she's my wife and I support her and whatever she enjoys doing. So if she's gonna cheer for the Gators, I'll be there standing behind her…maybe not cheering."
***
Personal space 
Another rule of a successful football season marriage according to Amanda and Rob is the importance of personal space.
"The first or second game that he ever came to with me was Alabama playing Florida in The Swamp," Amanda recalls. "And I brought one of my girlfriends and he brought one of his guy friends from Alabama, it was four years ago, and it was pretty tough. Because first of all I'm dating this Alabama fan, and we're newly dating and I'm still trying to decide 'can I do this'. Gators took an early lead and I'm super excited and then Alabama came back and just crushed us. And we left the stadium and we're sitting in the parking lot at the tailgate and he's all excited and trying to be nice to me and I'm just like 'leave me along, I need a few minutes'.
The situation was closely mirrored just this past season during Amanda's first trip to T-town.
"The first time I took her to Tuscaloosa was this past fall when Alabama played Florida in Tuscaloosa," Rob remembers. "The first half of that game was great. Going into halftime it was a close game. I think Alabama may have only been up by a touchdown. The second half was a blowout and she was not happy, again. Same result, two games in a row. It ended up being ok, we had some friends in town and we had a good time. But same type deal. She needed a couple of hours after game time to cool off.
Amanda feels confident though that eventually Rob will need his own personal space; "We'll have our day when we start winning and then he'll need time to cool off."
***
Fun 
There's something to be said for the wedding setting the tone for the marriage. And in the case of Rob and Amanda Sabin their wedding set the tone for a fun marriage, along with letting a vast majority of the college football world in on the fun.
While planning their nuptials in Key West, Rob knew the bar had been set for groom's cakes amongst his friends.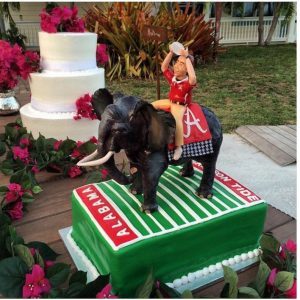 "A couple of my buddies had outlandish grooms cakes. I had a buddy of mine who had the painting of the Sistine Chapel where God is reaching out and touching fingers with Adam and replaced God's face with Bear Bryant and Adam's face with Nick Saban so that's when the wheels started turning. I knew Amanda and I were gonna get married, we were engaged at that point so I guess about eight months I had time to think about it. Then I had another buddy get married and he was a graduate of the University of Georgia and his grooms cake was a life-sized Georgia bulldog holding a life sized Maker's Mark bottle. So I was like I've got to be able to top these. And I think we were at her parents house or something and I looked over at her and was like 'I got it'."
Nick Saban riding an elephant onto the Alabama Crimson Tide football field, holding the BCS National Championship crystal ball.
It sounds like a kids wildest dream, but it was one Rob was determined to see come true. Amanda was the hardest sell as her initial response was "you're out of your mind. They can't do that."
The wedding caterer and the Key West baker were on board though and set out to create a cake that could top all others.
Then the real fun began.
"I knew he was gonna do something crazy Alabama whatever. So I was like 'I'll let it go, whatever'. So I got in contact with the cake baker and said 'I don't care what he does with his grooms cake, just let him do whatever, but make sure the inside of that cake is orange and blue and do not let him find out about it.' So then we went to do cake tastings down at the bakery and he decides he wants chocolate for his cake and I'm [thinking] 'you can't dye chocolate orange and blue. It won't show up'
So then I made a layer of my cake chocolate in case he was mad about not having it and went and changed the inside of his cake. And they nailed it too because at one point the caterer kept saying orange and turquoise and I said no it can't be turquoise. It has to be royal blue, gator blue."
When the wedding day finally arrived, the hustle and bustle pushed the thought of a mere cake far from the bride's mind. Then, it arrived.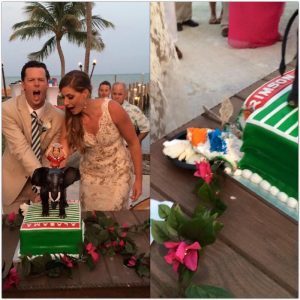 "We showed up to the reception venue and the cake baker was just bring the cake in," Amanda explains. "[They] were like do you want to see the cake, so we were like 'yea lets go get a sneak peek'. So we go in and he is freaking out. It was amazing. It looked so good. And the whole time I'm like 'don't spill the beans, don't' spill the beans. Don't anybody say anything'. I'm trying to rush him out; I didn't want anybody to say anything like 'oh wait till you see the inside'.
When the time came to see the inside, Amanda very carefully led him to the moment she had been waiting for.
"You know, there's so much going on around you on your wedding day," says Rob, "that it's hard to focus on one thing, but I remember I kept being guided through the cake cutting process and they were like 'no no'.
So I cut the first cake, which was her cake then I tried to hand her the cutter to cut the second cake which was mine and she was like 'no no you have to cut it' so I was like ok fine I'll cut it. I cut into it and she had the plate right there waiting for it and as the piece of cake turned, I looked at it and…just pure shock and fury…I thought there was gonna be a wedding and a divorce in the same day."
Speaking was out of the question in that moment, and for Rob only song would do.
"I don't know if I could really say much to her at that point. Shortly there after I could hear in the background my friends, after they saw what happened, broke out into the Alabama fight song. So I immediately ran over and joined the crew of guys so I could feel some sense of redemption I guess.
As the internet caught wind of this college football wedding reception showdown, Amanda and Rob saw their funny moment take over the offseason.
"I told her the next day," says Rob, "if this gets picked up, like if the pictures hit the internet, it's gonna break the internet in Alabama and she just laughed and said oh whatever. So Monday morning we wake up and were gonna leave the Keys and I guess somebody had tweeted out a picture and ESPN reporter Darren Rovell picked it up and from there it was just a whirlwind
Amanda: We started getting text messages like 'Oh my God Darren Rovell just tweeted' then it was 'ESPN just tweeted'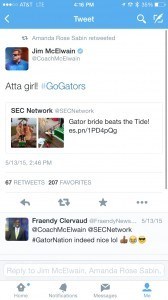 Rob: And then articles started coming out all day and the whole ride home, it's about a 6 hour drive, Amanda's on her phone the whole time like 'oh my God Sports Illustrated just wrote an article, oh my God Huffington Post just emailed me for an interview' so it was kind of fun just to watch it all unfold and see what happened."
***
It's with these five rules that Rob and Amanda Sabin set out to see what else happens in their marriage and life. They'll put them into practice yet again come fall, their fifth football season together, but first as a married couple.
And as their family expends, so will their compromises, but as they've already proven as a mixed married couple, they can find a happy medium for every football related issue…like children.
"Gators obviously," says Amanda confidentially.
"Oh come on," Rob responds. "We'll cross that bridge when we get there. (points to Alabama shirt insignia).
"Not Auburn," this from Amanda. "I think we can agree on that.
"We can definitely agree on that."